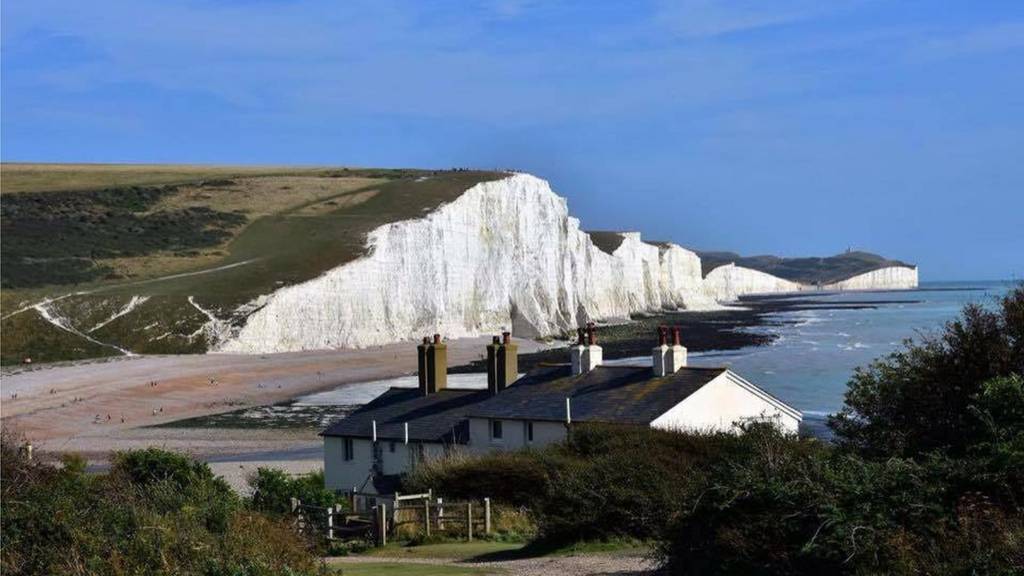 BBC Live: Sussex
Send us your comments, pictures and videos by tweeting us, emailing us or sending a message on Facebook.
Summary
Our live coverage has ended
Updates on Friday 16 September
Brighton need a late Tomer Hemed penalty to get past a dogged Burton Albion side in the Championship.
Read more

Kathryn Langley
BBC Live reporter
That's it from us in the Sussex Live team for this week.
We'll be back bright and early on Monday morning with all your latest news and updates - join us from 06:00 BST.
As usual, if you'd like to get in touch in the meantime you can find us on Twitter, Facebook, or send us an email.    
Have a great weekend.
Deaf blind runner's 100 medals challenge
Former Saltdean resident James Clarke is getting ready for his final run of a 100 Medals Challenge tomorrow.
The 38-year-old, who now lives in Surrey, has a rare genetic condition called Usher Syndrome, which affects his hearing, sight and balance.
He'll do the last of 100 runs tomorrow in Saltdean surrounded by his friends and family who are travelling from all over the world to join him.
Read more here.
Sussex Police: 'It's a miracle nobody died'

Kathryn Langley
BBC Live reporter
These horrific images released by Sussex Police show what happened after two young drivers raced each other on a dual carriageway near Worthing.
Man jailed for attempted murder of girlfriend
A Brighton man's been jailed for 20 years for stabbing his girlfriend more than 100 times after she refused to get him a drink of water. 
Jamiv Usman attacked the 19-year-old in front of her two-year-old son at their home. 
Police found the knife dumped in a hedge nearby.
They say it's a miracle she survived. 
New UKIP leader is South East MEP
It was announced today that the South East MEP Diane James had been elected as UKIP's new leader. 
The result was revealed at the UKIP party conference in Bournemouth at lunchtime and will see Ms James succeed the previous party leader, Nigel Farage.

Rachel Mackley
Weather Presenter
 The sunshine came to a dramatic end today, but what's the weekend got in store? Here's my forecast.  
'It means I'm not the only one'
#getinspired
The Rio Paralympics have been a massive success for ParalympicsGB - but what has it meant to children with disabilities in the UK?
Well, who better to ask than the children themselves?
If you want to find out more about disability sport click here - or find inclusive options on our full list of guides.
Police: If you see this man, call 999
Police want to speak to Frederick Johnathon King, also known as Fred King Junior, about a vicious attack on a man in Hailsham. 
Officers say he shouldn't be approached and that anyone who sees him should call 999. 
Flash flooding hits parts of England as thunderstorms dump almost half a month's rain in some parts within hours.
Read more
Revealed: John Lewis plans for Brighton
John Lewis has published plans for a new department store in Brighton. 
The retailer wants to convert the current Boots shop on the corner of Queens Road and North Street. 
They say the new store will create 250 jobs. 
The plans are being displayed at a public exhibition in Queens Road today and tomorrow. 
This afternoon's headlines

Kathryn Langley
BBC Live reporter
Police are looking for a Hailsham man over an attack in the town, a couple are wanted after computer equipment is stolen in Hove, and the gold paint on Eastbourne pier is here to stay.
I've got your #3in30 for Sussex.
Brighton and Hove Albion latest

Johnny Cantor
BBC Sussex commentator
The Seagulls travel to Burton Albion this weekend, in the first ever league meeting between the sides.
Brighton winger Kazenga LuaLua is out with a knee injury, while striker Sam Baldock will be assessed after missing Tuesday's 1-0 win over league leaders Huddersfield with a calf problem.
Read a preview of the match here.
And don't forget to join me and former Albion striker Warren Aspinall for full build-up and match commentary from 14:00 BST tomorrow on BBC Sussex.
UKIP new leader: Reaction in Sussex
Our political reporter Ben Weisz has been getting reaction to the news that UKIP has elected a new leader.
New UKIP leader: 'Age of velvet collars, pints and a fag is over'

Helen Catt
Political editor, BBC South East
Power here has changed from one South East MEP to another, but it's one who could not be more different. 
The age of velvet collars, pints, and a fag down the pub is very much over with Diane James. She's a much more straight down the line person.
A popular choice, she polled 8,451 votes in this leadership election, more than twice the number of her nearest rival, Lisa Duffy. 
Talking to people here at the UKIP conference, I know she's widely seen as a unifying figure, and that's going to be really important. UKIP is at risk of fracture at the moment, as it tries to decide what its future is in a world where the main reason it was founded - Brexit - has been achieved. 
That's going to be her biggest job here - deciding the future of the party. 
And she has some big shoes to fill. It's clear from the UKIP membership here at today's conference that Nigel Farage is absolutely loved.
Severe accident: A272 West Sussex both ways

BBC Travel
A272 West Sussex both ways severe accident, at B2133 Lordings Road.

Claire Cottingham
BBC Live reporter
We go back in time for the 150th anniversary of H.G. Wells's birth tonight, the Kent author who was inspired by the South East (and even had aliens blow up parts of Surrey!)
Well, Stephen Baxter, a science fiction author, explains the origins of that book, The War of the World.
Breaking
UKIP elects a new leader
UKIP deputy chairman and South East MEP Diane James has won the contest to replace Nigel Farage as the party's leader.        
A British music duo have been making history in the world of country music. 
Twin sisters Lizzy and Catherine Ward Thomas have shot straight to number one in the UK  album charts. 
Next month they bring their UK tour to Brighton.
What happened #onthisday in Sussex?

Kathryn Langley
BBC Live reporter
The A27 fully reopens for the first time since the Shoreham air crash, an attempt to evict protesters at Balcombe fails, and Southern launches a competition to build more carriages. 
Here's what happened #onthisday in Sussex.
Ordeal of kittens trapped in narrow drainpipe

Three tiny kittens who were plucked to safety after becoming trapped in a narrow drainpipe are now looking for new homes. Read more in the West Sussex County Times report here.   
Southern Railway shortlisted for a community award

Claire Cottingham
BBC Live reporter
After passengers have endured months of union strikes and disruption on the line, Southern Railway have been shortlisted for a community award. 
Govia Thameslink Railway is in the running for a Passengers Matter award thanks to the Association of Community Rail.
Southern services have been disrupted for months because of staff shortages and industrial action in a long running dispute over the role of conductors. 
The Unions have reacted with disbelief to news. 
The only 'hard work and community dedication' going on at Southern Rail is from the frontline staff who are being attacked and undermined by the company bosses at every turn."
Brighton Seafront Development
The go ahead has been given for an £11m project to rebuild the Victorian Shelter Hall on Brighton seafront. 
The City Council says it's become structurally unsound and must be rebuilt.

Kathryn Langley
BBC Live reporter
A new exhibition at a museum in Ditchling, East Sussex, is showcasing works of literature from the late 19th and early 20th century.  
Sussex's local newspaper stories
The Argus: Police hunt gunman linked to seven robberies
Eastbourne Herald: New homes plan put on hold  
Brighton and Hove News: Charities awarded £400k funding to help jobless adults find work
A charity match for a Sussex firefighter, a Worthing robbery is linked to other thefts and approval's given for an £11m development on Brighton seafront. 
Here's your Sussex #3in30 with Dan Maclaren.
Concern over Gatwick night flight proposals

Kathryn Langley
BBC Live reporter
Eight MPs from the South East have written to the government in protest at proposals by Gatwick to charge less for night flights than daytime flights.  

Rachel Mackley
Weather Presenter
Hello rain.
We've got heavy showers coming ahead for the rest of the day. 
Here's my weather report.
'I'm not buying a flint cottage in Snowdonia...'
South East MEP Nigel Farage is preparing to deliver his final speech as UKIP leader at the party's annual conference.
But is this the last we'll be seeing of him...?
ICYMI: Councillors refuse to endorse A27 improvements

Kathryn Langley
BBC Live reporter
All five options to improve a bottleneck on the A27 at Chichester have been rejected today by West Sussex county councillors.   
Good morning from your BBC Live team

Dan Maclaren
BBC Live reporter
We'll be here until 22:00 BST with all the news, travel, weather and sport for the county.
Remember you can get in touch on Twitter, on Facebook or send us an email.
Thanks to Will Snelling for this picture of Seven Sisters - it's our #photooftheday