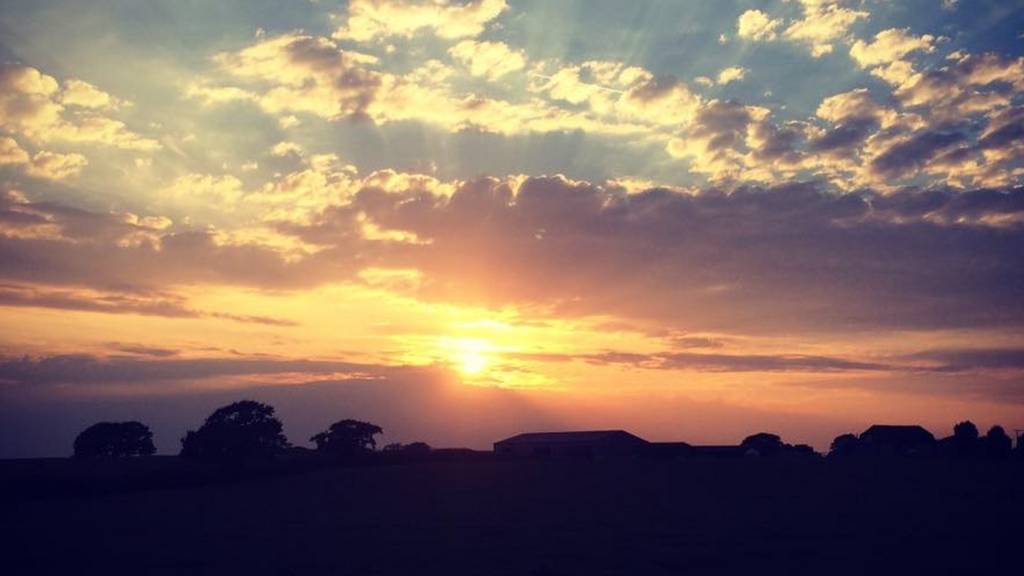 BBC Live: Sussex
Send us your comments, pictures and videos by tweeting us, emailing us or sending a message on Facebook.
Summary
Our live coverage has ended for today
Updates on Thursday 15 September
Kathryn Langley

BBC Live reporter

A27 improvements: Options rejected

Kathryn Langley

BBC Live reporter

All five options to improve a bottleneck on the A27 at Chichester have been rejected today by West Sussex county councillors. 

Breaking

Hundreds of homes without power

Nearly 350 homes are without power in the Portslade area of Brighton this evening. 

UK Power Networks say an underground electricity cable has broken and their engineers are at the scene working to fix it.

The power went off at 20:46 BST - the company says it's hoping to have it back on by 23:00 BST. 

More details here.

Say goodbye to the nice weather

Rachel Mackley

Weather Presenter

What's the weather got in store for tomorrow? Here's my forecast:  

'I'm not buying a flint cottage in Snowdonia...'

South East MEP Nigel Farage is preparing to deliver his final speech as UKIP leader at the party's annual conference.

But is this the last we'll be seeing of him...?

Concern over Gatwick night flight proposals

Kathryn Langley

BBC Live reporter

Eight MPs from the South East have written to the government in protest at proposals by Gatwick to charge less for night flights than daytime flights.

Petition to strip Coperforma of its NHS contract

Stuart Maisner

BBC Live reporter

There are more calls to strip Coperforma of its NHS contract to deliver non-emergency patient transport in Sussex. Former Eastbourne MP, Stephen Lloyd has started a petition calling on the NHS body that hired Coperforma to take back the contract. 

Yesterday drivers at one of Coperforma's sub-contractors, Docklands Medical Services, turned up to work to find a note on the door of the ambulance station saying that they'd closed, and blaming Coperforma for the problems.

Kathryn Langley

BBC Live reporter

A row over road improvements, anger over night flight proposals, and police hunt a man from Eastbourne. Here's a look at this evening's top stories for Sussex.

Chichester: Divided on road proposals

Kathryn Langley

BBC Live reporter

People in Chichester have been giving their views on how to improve the A27. The county council met this morning, with politicians refusing to endorse any of the five options proposed by Highways England. 

Here's a round-up of the top stories in our local newspapers this evening.

The Argus: Post Office staff strike today - Sussex branches affected.

Hastings Observer: Bexhill man arrested after Hastings man left with head injuries following robbery.

West Sussex County Times: Police helicopter and dog unit called to break-in.

Eastbourne Herald: Eastbourne cleaner jailed for sex offences.

Ordeal of kittens trapped in narrow drainpipe

Three tiny kittens who were plucked to safety after becoming trapped in a narrow drainpipe are now looking for new homes. Read more in the West Sussex County Times report here.

Copyright: West Sussex County Times

A27: Severe delays after road crash

There are some really severe delays on the roads this evening after an accident on the A27 in Brighton.

Belgian WW2 pilot honoured in Kent ceremony

Stuart Maisner

BBC Live reporter

The family of Belgian pilot, Albert van den Hove D'Ertsenrijk, killed fighting for the RAF in World War Two have travelled to Kent to attend a ceremony in his honour, on the 76th anniversary of his death.   

Karl Bowker is wanted by police after he didn't turn up to court charged with drug-driving. 

He was pulled over in his VW Golf in June. 

The 34-year-old tattooist from Winston Crescent in Eastbourne is accused of driving with cannabis in his system, possession of the drug and driving without a licence. 

Kathryn Langley

BBC Live reporter

A new exhibition at a museum in Ditchling, East Sussex, is showcasing works of literature from the late 19th and early 20th century.

LuaLua injury: Hughton responds

Johnny Cantor

BBC Sussex commentator

Brighton and Hove Albion's Kazenga LuaLua has been ruled out of action for six weeks. The winger underwent surgery on a knee injury yesterday. 

Albion manager Chris Hughton told BBC Sussex: ''It's a big blow…. He's been in good form, in training and the two cups games hence we didn't want him to go out on loan, all of that makes it even more disappointing."

'It really saddens me to see such polarisation'

Stuart Maisner

BBC Live reporter

The leader of West Sussex County Council has called for less conflict in the debate over a bypass for Chichester.

South East teams against new city-based cricket competition

Claire Cottingham

BBC Live reporter

Kent, Sussex and Surrey Cricket Clubs have all voted against new proposals for a new T20 competition.