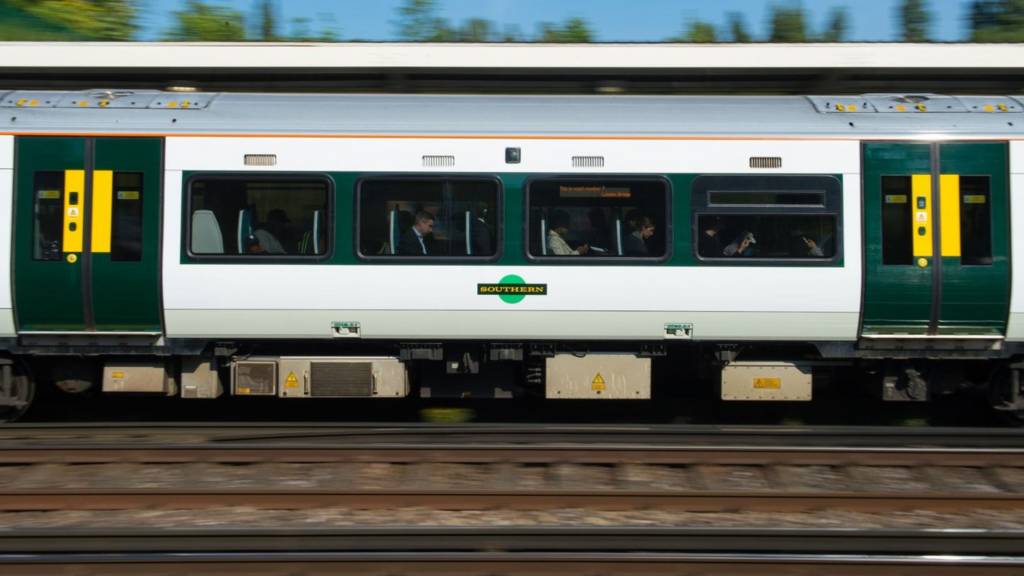 Southern Rail strike: Tuesday's updates
Send us your comments, pictures and videos by tweeting us using #SouthernStrike, emailing or sending us a message on Facebook.
Summary
Our live coverage has now ended
Updates from Tuesday 9 August 2016
RMT 'offended' by passenger ransom accusation

The RMT union has been accused of holding passengers to ransom by the Transport Secretary, Chris Grayling.

Speaking to South East Today, Paul Cox from the union said he was offended by the accusation.

The Government won't intervene in Southern rail strike

The Transport Secretary has dismissed calls for the government to get involved in the row between the RMT union and Southern rail. 

Despite the ongoing situation leaving thousands of people struggling to use the trains, he says he won't get involved. 

'There has to be a case for intervention'

A Sussex business leader has called for direct intervention by the government to end the #Southernstrike, during an interview with BBC Sussex.

Transport Secretary: 'Unions standing in the way of modernisation'

The Secretary of State for Transport has given his first interview since being appointed.

Last month Chris Grayling said dealing with the ongoing dispute between Southern rail and the RMT Union would be one of his top priorities.

Two days into this five day strike we asked him what he would be doing to try and end the action. 

Transport secretary: "Absolutely no excuse" for strikes

A statement has just been released by the Transport Secretary, Chris Grayling, condemning the #Southernstrike

Quote Message: There is absolutely no excuse for the RMT strikes which are designed to stop essential improvements of passengers' journeys. Passengers on Southern rail services are being made to suffer unnecessary inconvenience and disruption to their journeys because of the actions of RMT who are holding them to ransom. It has to stop. The union should accept the generous offer being made to them by the train operator and get their members back to work." from Chris Grayling Transport Secretary

Extra parking spaces for Airbourne

With one of the South East's biggest air shows due to start in Eastbourne on Thursday, contingency plans are being made to minimise the effect of the Southern strike.

Future on the line in Southern rail dispute

At a time when the driverless car is said to be just around the corner, the rail dispute that has brought five days of strike action to Southern trains seems to belong to another age. 

Our reporter Robert Plummer looks at the past, present and future of Southern rail.

Georgina Burnett

BBC Weather

After a bright morning the sunshine is expected to continue this afternoon but there is a risk of the odd shower.

Rail proposals would give 'better customer service'

As the strike on Southern rail services continues into its second day, bosses at Govia Thameslink - which runs the franchise - insist its proposals are safe and would create a better customer service. 

I'm off for the afternoon

Claire Cottingham

Local Live reporter

But Lauren Moss will take you through the latest on the Southern strike until 22:00 BST. 

Don't forget to keep in touch with the latest on your journey - you can tweet us using #SouthernStrike, email us or send us a message on Facebook.   

Have a good afternoon.

Mixed reactions on the second day of strike action

Claire Cottingham

Local Live reporter

As the misery continues for Southern rail passengers on day two of the proposed five-day strike, you've had your say on twitter using the #southernstrike hashtag. 

The history of 'Southern Fail'

The BBC's Newsbeat has taken a look at Southern's history of saying sorry for delays and cancellations. Have a read here.  

GTR offers talks to end five-day strike

Claire Cottingham

Local Live reporter

Rail firm Govia Thameslink (GTR) has invited the RMT union to talks "any time, any place, anywhere" to end a five-day conductors' strike.

Southern passengers are enduring a second day of disruption with 946 services cancelled. GTR called on the RMT to end "this pointless, needless and senseless" action.

The union claimed negotiators were "within an inch" of a deal but it was blocked by the government. Read more on the story here.

Crispin Blunt MP: 'I condemn the RMT's reckless strike'

Claire Cottingham

Local Live reporter

Crispin Blunt, who is the MP for Reigate and the chairman of the foreign affairs select committee, has expressed his thoughts on the five-day #SouthernStrike. 

Which routes have been affected by the strike?

Services at many train stations across the South East are cancelled again today or have a limited service running through them.   

Southern: 'RMT union is hell bent on disrupting passengers' lives'

Claire Cottingham

Local Live reporter

As the second day of strikes sweep across the south of England, Southern rail says its continuing to run a successful service, with "nine out of ten trains" reaching their destinations on time.

Quote Message: While the RMT union is hell bent on disrupting our passengers' lives with this needless strike, we continue to provide the best possible service we can in the circumstances. We urge them to call off this wretched strike and sit down and talk with us to end this dispute." from Alex Foulds Southern's passenger services director

Frustrated passengers at Three Bridges

These commuters we've spoken to say despite the strike the delays haven't been as bad today as usual.

The London Evening Standard splashes on the Southern strike costing London £100m. Take a look at their website here.

Copyright: Evening Standard

Southern strike: 'Considered quitting my job'

As day two of the five day strike on Southern rail continues one commuter has told us the ongoing difficulties has left her thinking she may quit her job.