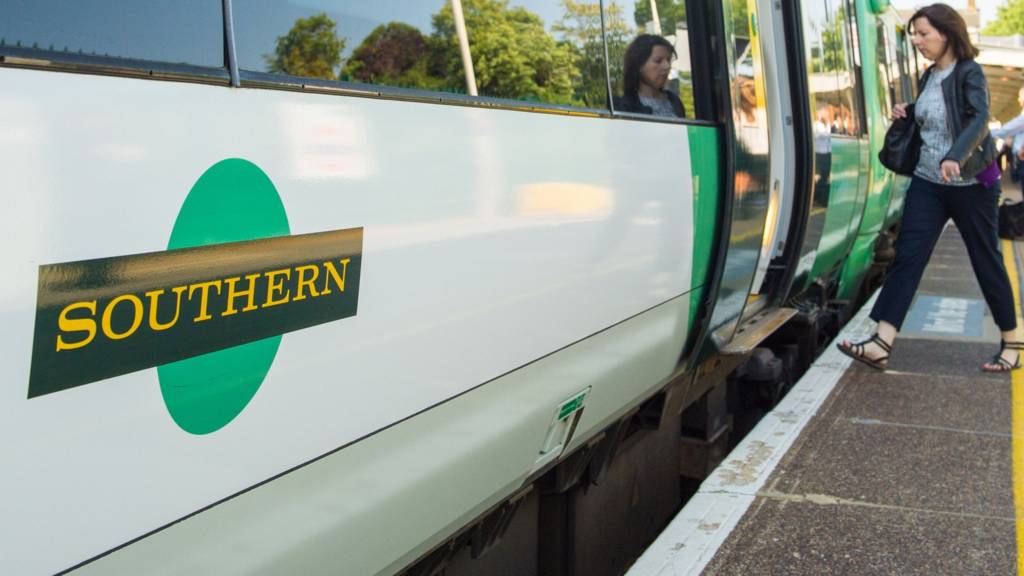 Southern Rail Strike: Latest updates
Send us your comments, pictures and videos by tweeting us using #Southernstrike, emailing or sending us a message on Facebook.
Summary
Our live coverage has now ended
Updates from Monday 8 August 2016
Severe disruption: M23 Surrey southbound

BBC News Travel

M23 Surrey southbound severe disruption, from M25 J7 to J10 for A264.

M23 Surrey - One lane blocked and queuing traffic on M23 southbound from M25 J7 to J10, A264 (Crawley), because of a broken down van. In the roadworks area.

To report traffic and travel incidents dial 0330 123 0184 at any time

Severe disruption: A29 West Sussex both ways

BBC News Travel

A29 West Sussex both ways severe disruption, around Hook Lane.

A29 West Sussex - A29 Westergate Street in Woodgate closed in both directions around the Hook Lane junction, because of Level crossing closure. Diversion in operation - vis teh A259.

To report traffic and travel incidents dial 0330 123 0184 at any time

Severe accident: A26 East Sussex both ways

BBC News Travel

A26 East Sussex both ways severe accident, from A22 to A272.

A26 East Sussex - A26 London Road in Ringles Cross closed in both directions from Black Down roundabout to Budletts roundabout, because of a serious accident. Traffic is coping well.

To report traffic and travel incidents dial 0330 123 0184 at any time

Severe accident: A22 East Sussex both ways

BBC News Travel

A22 East Sussex both ways severe accident, from B2102 Bell Farm Road to A272 Batts Bridge Road.

A22 East Sussex - A22 in Uckfield closed in both directions from Copwood roundabout to the A272 Batts Bridge Road junction, because of a serious accident. Traffic is coping well.

To report traffic and travel incidents dial 0330 123 0184 at any time

Pensioner left 'helpless' by broken lift

Stuart Maisner

BBC Live reporter

An elderly woman who lives in a block of flats in Bexhill says she's been left "totally helpless", after being told she'll have to wait until after Christmas for a broken lift to be repaired.

Hove rape suspect sought by police

A man's being sought by police following the rape of a woman in Hove.

The attack happened in the early hours of Thursday 20 September.

A man put his arm around the waist of a 25-year-old woman as she walked in Waterloo Street.

He offered money in exchange for sexual favours, and when she refused police say he raped her.

Detective Sergeant Paul Hitchcock, from Sussex Police, said: "If you were in the Waterloo Street area early on Thursday morning and saw what happened, or if you think you recognise this man, please get in touch with us right away."

Severe accident: A264 Kent anti-clockwise

BBC News Travel

A264 Kent anti-clockwise severe accident, around Groombridge Road.

A264 Kent - A264 Ashurst Road in Stone Cross blocked and stationary traffic anticlockwise around the Groombridge Road junction, because of an accident involving a overturned vehicle.

To report traffic and travel incidents dial 0330 123 0184 at any time

Two arrested over Hailsham hit-and-run

A 73-year-old man's critically ill after a hit-and-run in Hailsham.

He was found seriously hurt on the northbound side of the A22 just after 04:30 BST today, and taken to hospital by air ambulance.

A 28-year-old man and a 25-year-old woman from Hellingly have been arrested on suspicion of causing serious injury by dangerous driving and failing to stop after a road collision.

Police say a white car is being examined by forensics teams.

The road reopened just before 15:00 BST.

Call for details after seven deaths at single property

Sarah Booker-Lewis

Local Democracy Reporter

The deaths of seven people in a single property in two years have prompted an urgent call for more information.

Five of the seven deaths have happened in the past few months, according to a cross-party motion passed by members of Brighton and Hove City Council.

A report to the next meeting of the council's Housing and New Homes Committee will provide more information about the reasons for the deaths at Kendal Lodge in Newhaven.

The number of deaths prompted councillors to say: "While it is recognised that people living in temporary accommodation can be vulnerable and are going through a difficult time, this has to be a concern."

Cuts to services and social isolation were raised as reasons why more people may have died in temporary housing.

Green councillor David Gibson proposed the motion and said: "It appears people are more likely to die at Kendal Lodge than sleeping rough on the streets.

"We do not want to jump to conclusions but make sure there is a thorough and careful investigation."

The motion asked for information about all deaths in the council's temporary and emergency accommodation in the past two years.

Councillors also asked for more information about support services available in Newhaven, compared with the support on offer in Brighton and Hove.

The committee was told that East Sussex County Council had - from last month - cut all its services to the legal minimum. It does provide core services for adults with "critical and substantial" need.

Councillor Gibson said: "We need full information about support services in Newhaven, to establish whether people are isolated out of the city."

Officials have been asked to commission an independent survey of people staying at Kendal Lodge to identify their issues and concerns.

Labour councillor Clare Moonan said: "Any death in the city - or outside - of someone under our care is something we take very seriously."

She said that a great deal of work was taking place to safeguard rough sleepers and people in temporary accommodation.

Councillor Moonan said: "I hope it offers some reassurance to the people placed in emergency accommodation.

"I would not want people to think people in temporary accommodation are scared."

Council overspend on housing predicted

Karen Dunn

Local Democracy Reporter

The cost to Worthing Borough Council of placing people in emergency or temporary accommodation is expected to be £274,000 more than planned, while for Adur District Council the overspend is likely to be £54,000.

The figures for the 2018-19 financial year were discussed at a joint strategic committee meeting in Worthing.

Members were told that the increased spending reflected a rising demand coupled with a lack of affordable housing.

The committee's budget monitoring report for the first quarter stated: "Across the South East there is competing demand between local authorities for both emergency and temporary accommodation, the latter often being leased private sector accommodation.

"Whilst Adur and Worthing have made significant progress in leasing more affordable units of temporary accommodation, competition does mean that prices in some areas are being pushed beyond the reach of the councils, and the supply of suitable emergency and temporary accommodation within the borough is reduced.

"The councils are still faced with placing some clients in costly budget accommodation hotel chains when no other suitable options are available."

Elsewhere in the budget, the money made from parking in Worthing was £50,000 higher than expected, thanks to an increase in charges at the multi-storey car parks in High Street, Grafton, and Buckingham Road.

The meeting was told that "excess income" would be used to improve car parks "in future years".

With central government slashing the funding to local authorities, Worthing and Adur, like councils up and down the country, have had to take a long look at how their services are funded.

The meeting was told that Adur had committed to saving £1.365m on its 2018-19 budget, while the figure for Worthing was £1.981m.

As things stand, Adur looks set to overspend by £23,000, while Worthing will underspend by £189,000.