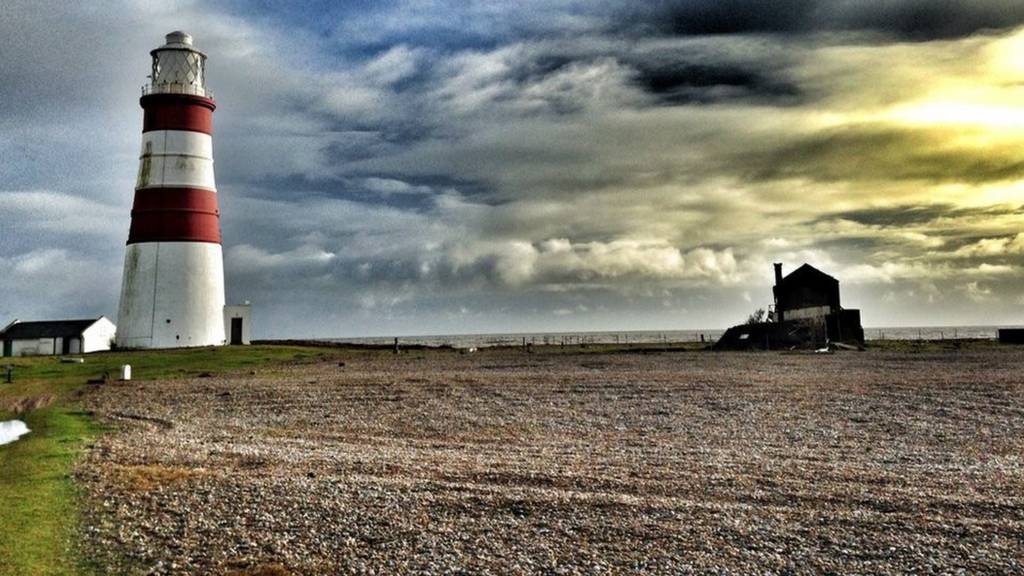 Our live coverage across the day

That's it for our live updates this week, thank you for joining us.

We'll be back again from 08:00 on Monday.

Until then, here's a quick look at the stories we've covered today:

A family-run business is destroyed by fire
Ram-raiders target a high street cash machine with a JCB
A man being chased by police is knocked over by a response car.

Have a great weekend.

Grenfell Tower: Celotex announces decision on cladding

Hadleigh-based Celotex has announced it is to stop the supply of a cladding system in buildings over 18m tall, following the Grenfell Tower fire.

The company had previously revealed it supplied insulation boards in the refurbishment of the west London tower block.

In a statement, Celotex said: "Celotex is shocked by the tragic events of the Grenfell Tower fire. Our thoughts are with everyone affected by this devastating human tragedy.

"We have been supplying building products for over 40 years and as a business our focus has always been to supply safe insulation products to make better buildings.

"We want to do everything that we can to support the government's ongoing response to the tragedy.

"We continue to offer our full cooperation with the investigations. Celotex notes the comments made by Scotland Yard at this morning's briefing in respect of the insulation used in Grenfell Tower. In view of the focus on rainscreen cladding systems and the insulation forming part of them, Celotex believes that the right thing to do is to stop the supply of Celotex RS5000 for rainscreen cladding systems in buildings over 18m tall with immediate effect (including in respect of ongoing projects), pending further clarity."

Evening forecast: Overcast night

Julie Reinger

BBC Look East weather

It'll be a rather cloudy night with an odd spot of rain and moderate west to south westerly winds. It'll be mild with temperatures falling to around 15C (59F).

Saturday will remain rather cloudy, with some very patchy light rain in the morning. A few bright or sunny spells should eventually develop and there may be a few afternoon showers too.

There'll be a mainly moderate south-westerly wind and highs around 23C (73F).

Cricket: Three changes for Suffolk ahead of T20 challenge

Brenner Woolley

BBC Radio Suffolk sport

All-rounders Jack Beaumont (pictured) and Kyran Young have been drafted into the Suffolk squad for Sunday's Unicorns East T20 in Bury St Edmunds.

Copyright: Suffolk County Cricket Board

Batsman Darren Batch is also included, with Jaik Mickleburgh, Martyn Cull and Michael Comber all unavailable.

Suffolk face Cambridgeshire in the first match at 1000 before Bedfordshire meet Hertfordshire at 1330.

The two winners will then face-off in the final at 1700.

"By its very nature, T20 cricket is unpredictable, but we know we will have to perform well if we are to progress," said coach Andy Northcote.

"We believe we have a team capable of being a match for anyone and we are looking forward to the challenge."

Gaffa Tape Sandy at Glastonbury

Richard Haugh

BBC Introducing in Suffolk

Bury St Edmunds band Gaffa Tape Sandy are due to play the BBC Introducing stage at Glastonbury shortly.

You can watch their set live, from 15:55, via the BBC website.

It's live, so be warned there may be swearing or flashing lights.

Copyright: Gaffa Tape Sandy

Man hit by police car 'has suspected broken leg'

Here's more on that story about the police chase in Ipswich....

A man who was being pursued by police ran across the road when he was knocked down by an unmarked response car, police said.

Suffolk Police said the man was on foot in the St Helen's Street area of Ipswich when the incident happened at about 13:40.

A police spokeswoman said the man has a suspected broken leg and has been taken to hospital.

St Helen's Street is closed while investigations take place.

Breaking

'Suspect' knocked over in police chase

A man is being treated for a suspected broken leg after he was struck by an unmarked response car during a police chase.

Officers from Suffolk Police were chasing the man through the streets of Ipswich at the time.

St Helen's Street is closed while an investigation takes place.

More on this to story to follow.

'World's biggest ship' leaves Felixstowe Port

A container ship claimed to be the biggest in the world has sailed away from the Port of Felixstowe.

The OOCL Hong Kong had on board more than 21,000 containers, filled with a variety of imported goods, including clothes, electronics and shoes.

A reception was held between the company and the port owner yesterday lunchtime.

The £125m vessel, which is almost 400m long and stands at 59m tall, left the port at about 13:45 today.

Owners of fire-hit business 'will rebuild and start again'

A family which has run a fire-hit business for more than 50 years has spoken of their shock and devastation.

Flames took hold at Finbows Furnishers at Finbows Yard, Bacton, just before midnight.

Suffolk Fire and Rescue Service said the cause of the fire is not yet known but it is not being treated as suspicious.

It has destoyed the furniture shop.

Owner Brian Finbow said: "I've been here since I left school, as has my sister and dad before us, and the next generation are coming along. I guess we'll just have to clear up and start again.

"It's pretty sad to see it in the state it's now in. I never thought I was going to see it like this. It was quite a shock when I turned up to see it ablaze."

Company director Jason Scruby, Mr Finbow's nephew, said the building was "ram-packed" with stock.

He said: "The business was expanding, going from strength to strength. I'm not sure what we're going to but we'll rebuild and start again."

Vintage coach travels from Norwich to the Shetlands

A vintage coach has returned home to Shetland after nearly 40 years.

It was gifted to the islands by owner Nick Taylor (pictured above with the bus) who restored her.

The 1950s Bedford drove off the overnight ferry from Orkney just after 19:30.

A small crowd gathered to welcome her back. For nearly three decades she was a lifeline for Shetlanders taking them to school to the shops and on trips around the islands.

The coach was bought by Mr Taylor in 2011, and he completed its restoration at his home at Weybread in Suffolk.

A visit from its Shetland-based former driver in 2013 persuaded Mr Taylor the coach belonged back on the island.

It left from outside Norwich Cathedral on Monday, after a blessing from the bishop.

Tribute to teenager who loved 'loud music, cool cars and selfies'

A 17-year-old girl who died in a car crash has been described as a "phenomenal, beautiful, strong-willed person" who was "loving life".

Copyright: Suffolk Constabulary

Isabelle Cottrell – known as Izzy - from Boxford was the passenger of a Vauxhall Corsa which collided with fencing on the A1071 at Hadleigh on Saturday just before 22:00.

The car was being driven by another young woman, who sustained minor injuries.

Izzy, who was studying bricklaying at Colchester Institute, was treated by ambulance staff but died at the scene.

In a statement, her family said: "Izzy was a wonderful typical teenager, who will leave a hole in everyone's lives that will never be filled.

"She loved her bed, loud music, cool cars, selfies, social media and always had good banter with anybody she came into contact with.

"She was beautiful inside and out and never realised what a wonderful person she was.

"We are devastated as a family as are so many friends. We will miss her so much that no words can ever express it."

Tributes paid to Tunstall motorcyclist

The family of a motorcyclist who died after a three-vehicle crash on the A12 have said he will "never be forgotten".

Copyright: Suffolk Constabulary

Gavin Chandler, 24, from Tunstall, was on the northbound carriageway at Foxhall, Ipswich, when his blue Yamaha motorcycle was involved in a collision with a black Ford KA and a grey Volvo.

The incident happened at about 20:00 on Wednesday.

Mr Chandler, an "avid" mechanic who worked at Jaguar and Land Rover in Ipswich, was taken to hospital but died from his injuries.

In a statement, his family said: "Gavin came from a close and loving family and had a wide variety of friends.

"He was loving, caring and kind. He will be deeply missed but never forgotten as he was loved by many."

Uniform rules need 'common sense' in hot weather

The mother of a teenager who was given detention for taking her blazer off in the hot weather has said "common sense" should prevail.

Molly Bailey and her friends were held back after class for four days this week at Ormiston Endeavour Academy in Ipswich for "breaching uniform rules".

She had opted to not wear her blazer in the 30C (86F) temperatures.

The school's policy however is for pupils to wear them in the corridors when moving from lesson to lesson.

Molly's mother Jo said: "All children should follow rules, I get that, but for four days they can relax them just for a little bit and let them take their blazers off and feel more comfortable."

The school said pupils can take their blazers off while in the classrooms, at break and lunchtime, and while going to and from school.

It said in this instance, the pupils refused to put them on while in the corridors and then refused to go into their lessons.

Hockey: Suffolk star reacts to World Cup qualification

Brenner Woolley

BBC Radio Suffolk sport

Furniture shop fire 'not suspicious'

The cause of a fire which destroyed a furniture shop has been described as "undetermined but not suspicious".

Flames broke out at Finbows Furnishers at Finbows Yard, Bacton, near Stowmarket, just before midnight.

Firefighters were unable to save the furniture shop but managed to contain the fire to protect surrounding properties.

At the height of the fire, six fire engines were sent to the site plus a water bowser from Newmarket. One crew remains at the scene.

Station commander Mark Walker said they will remain there until they are sure the fire has been extinguished.

He said: "We're not treating it as suspicious but it's undetermined."

Speedway: Louis surprised by margin of victory

Brenner Woolley

BBC Radio Suffolk sport

It's now 10 home wins in a row for Ipswich Witches after last night's 59-33 success against Workington Comets at Foxhall.

Kyle Newman was the Suffolk side's rider-of-the-meeting after scoring a 15-point paid maximum.

"The fight was there (from Workington) and the racing was great, I just thought they would present a fair challenge to us which didn't turn out to be," Witches director of speedway Chris Louis told BBC Suffolk.

"I won't take anything from our lads though, they were right on top of their game, making very good starts, riding very determinedly. It was fantastic."

Ed Sheeran to arrive at Glasto via chopper

Sunday's Glasto headliner Ed Sheeran has been speaking to Radio 2's Chris Evans this morning and he reiterated his dislike of festivals.

Slightly awkward.

We're sure he'll have changed his mind by the end of the weekend though as he walks off the Pyramid Stage to chants of "Ed, Ed, Ed, Ed, Ed."

He also reveals that he's getting "a chopper in" and has bought a "freaky mask" in case he wants to go out celebrating post-gig.

So there you go Ed fans - just look out for the man in the mask on Sunday night. Easy.

Bee Gee Barry Gibb also featured on the show this morning.

Barry will occupy the traditional Sunday afternoon legends slot this year and he revealed which of the band's songs will "live forever" for him.

Clue: No disco ball required for this one.