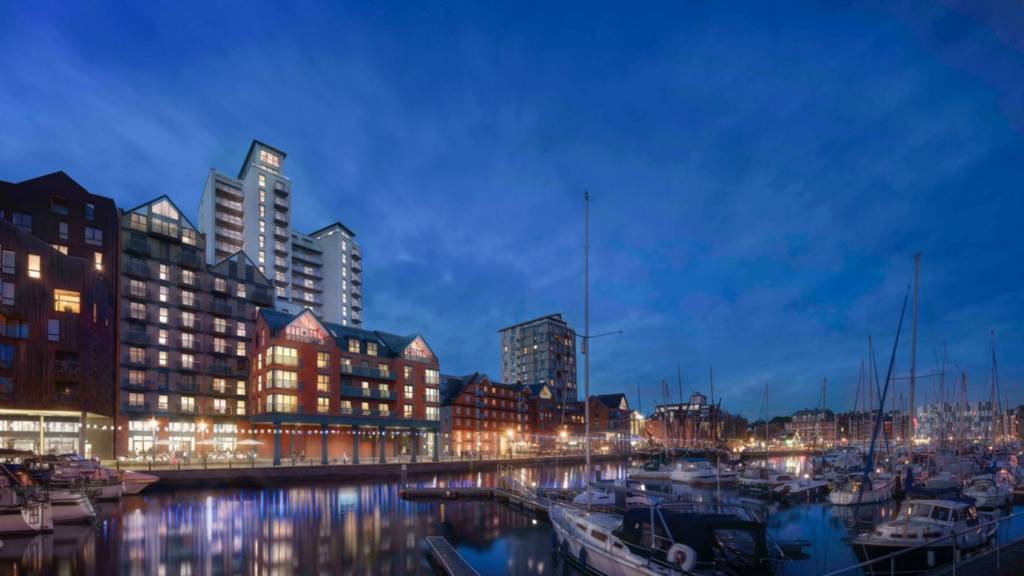 Our live coverage across the day, and the week

It's that time on a Friday when we reluctantly switch off our computers and head home, to recharge our batteries ready for a resumption of live coverage on Monday morning.

Among the cornucopia of delights we've brought you today has been:

A massive financial boost which will enable the Winerack on Ipswich Waterfront to be completed
A look-ahead to Record Store Day on Saturday
A happy ending to a story about a horse who found himself stuck in a pond

If you're running in the marathon on Sunday we salute you, and wish you well.

If like the rest of us your weekend plans involve a little less exercise, then enjoy, and don't forget to join us again next week.

Weather: Cloudy with bright spells and much cooler

A largely cloudy night with some patchy light rain pushing down from the north. The winds becoming light and variable and lowest temperatures around 6C (43F). 

Once the last of any overnight rain has cleared, Saturday will be relatively cloudy with odd showers feeding southwards. There should be some bright or sunny spells and a top temperature of 13C (55F).

A cold start to Sunday with a touch of frost in places, it'll then be largely dry with some brightness and sunshine at times and the small chance of a shower. Temperatures again reaching around 13C (55F) at best.

BBC Weather has more local forecasts.

Government cash to help hospitals cope with winter pressures

Cleah Hetherington

BBC Radio Suffolk

The West Suffolk Hospital (pictured), and the James Paget, which serves patients in the north of the county, are each going to receive £1m of government funding to help them cope with winter pressures.

Ipswich Hospital will receive just over £495,000.

The money was announced in the Budget last month. 

Have you ever wondered how you can become a candidate in the election?

Philippa Taylor

BBC Local Live

If Theresa May's recent announcement of a snap election in June has made you yearn to be an MP, here are a few guidelines for you to consider.

You can't stand if you're:

Under 18
A member of the police forces
A member of the armed forces
A civil servant, a judge or a peer
You're subject to a bankruptcy restrictions order or a debt relief restrictions order

If none of those conditions preclude you, and you're either a British citizen, a citizen of the  Republic of Ireland or a commonwealth country (with certain provisos) then you're over the first hurdle, and will need to consider these regulations:

You need a completed set of nomination forms and a deposit of £500 
You also need an election agent
You probably want to plan and run a campaign

There - it's almost as simple as that. So what's stopping you? I'm off now to see how much money is in my piggy bank.

Firefighters helped to rescue what's been described as a "large" horse from a pond in Great Cornard near Sudbury this morning.

The animal, which was stuck in four foot (1.2m) of water at New Farm, off Joes Road, had to be sedated before the rescue could be carried out.

It was then moved to a paddock, apparently none the worse for its ordeal.

Dozens of drivers due in court over speeding charges

Forty drivers are due before magistrates in Ipswich today charged with speeding on the Orwell Bridge.

It's claimed one driver broke the speed limit nine times in a 25 day period.

Thousands of drivers have been clocked speeding on the stretch of road since a 60mph limit and average speed cameras were introduced to try to improve bridge safety.

'Take the leg away, and he will run another marathon'

#Get Inspired

Those were the words of Denise Arthey to doctors after she and her husband Chris were involved in a road accident while on holiday.

Chris and Denise are just some of the thousands of inspiring runners who will be taking part in the London Marathon on Sunday. 

Read more about there story here and follow the live text commentary on this website from 08:25-16:00 BST on the day.

If you're taking part in the race - or know someone who is - let us know by using the #GetInspired on social media and we could feature your message!

Award for McCarthy from League Managers Association

Tributes paid as victim of fatal crash named

A man who died following a collision on the A140 on Saturday afternoon has been named by police.

Austrin McKenna, who was also known as Sam, was 51 and came from Wetheringsett.

He died in Ipswich Hospital after being seriously injured in a three-vehicle collision between Little Stonham and Mendlesham.

Paying tribute, his family said: "Aus was a unique soul who lived life to the full."

They added that he was able to put people at ease and was generous, kind, gentle, loving, sensitive and thoughtful.

He was married with one son.

Ryman League: Leiston preparing for final push

Brenner Woolley

BBC Radio Suffolk sport

Leiston will secure a place in the Ryman Premier Division play-offs if they win at Enfield Town tomorrow on the last day of the regular season.

Needham Market - who host Billericay Town - also have a slim chance of finishing in the all-important top five, although that requires other results to go their way. 

Lowestoft Town round off their campaign at home to Harrow Borough while relegated AFC Sudbury are at Canvey Island. 

In the North Division, Bury Town head to Great Wakering Rovers.

Record Store Day: Live music, hunt the record... and vinyl galore

Richard Haugh

BBC Introducing in Suffolk

Copyright: Record Store Day

Independent record shops around the country are gearing up for the 10th Record Store Day tomorrow - with limited edition releases galore tempting people to part with their money.

To celebrate the day, some of our local shops are hosting live performances - with Tram in Ipswich kicking things off tonight with sets from Bessie Turner and Marc Newby.

Tomorrow, they have live music from Jack Rundell, Strike the Sun and Sorrdes (the artist formerly known as Deadpoole).

Meanwhile, Vinyl Hunter in Bury St Edmunds is promising coffee and bacon rolls for those queuing to get their hands on the new releases. They've written a detailed post on what to expect. 

As for live music, they'll be hosting SIAH and Saltfen, who are releasing a split 7" flexi disc.

But back in Ipswich, Out of Time Records is taking a different approach to the day and is offering a £10 voucher to any one who can find a record they've desperately been trying to get rid of.

Are you running in London this weekend?

#GetInspired

Meet Fran - she's just one of the many thousands who will be taking on the London Marathon this weekend.....

If you're taking part in the race - or know someone who is - let us know about it using the #GetInspired hashtag on social media and we could feature you in our live text commentary or messages on the TV coverage during the day. 

Weather prospects for Sunday's marathon

Ipswich have 'no chance' of signing Tom Lawrence - McCarthy

Brenner Woolley

BBC Radio Suffolk sport

Ipswich fans can forget about seeing leading goalscorer Tom Lawrence in a Town shirt next season, according to manager Mick McCarthy.

The 23-year-old has been a revelation during his season-long loan deal from Leicester City, scoring 11 goals and assisting another nine.

"For one, I think Tom will have his heart set on the Premier League and I think that he'll get that," said McCarthy. "If they were going to sell him there'll be a lot of takers." 

"Tom's been brilliant and we've all loved him, everybody has really appreciated what he's done but I think he's got his heart set on Premier League football and why wouldn't he, so I'd say it's not a chance."

Taylor Swift bigs up Ed Sheeran for Time Magazine

Image caption: Ed and Tay-Tay: BFFs forever

Can Ed Sheeran do anything wrong?

Not in the eyes of BFF Taylor Swift or, you know, Time Magazine.

Sheeran has been named among the magazine's 100 Most Influential People of 2017.

And Tay-Tay was on hand to write a tribute about the Thinking Out Loud star and his cultural significance.

She wrote: "A few years ago, in a rare moment of admitting feeling defeated, Ed said to me, 'I'm never going to win a Grammy.'

"Yes, you are, I said. You're going to sweep the whole thing one of these years'."

She added: "It was a few weeks later when he met me in a dance shoe store in London, where I was picking out rehearsal outfits, and said, 'You have to hear this.'

"It was a song he'd just finished called Thinking Out Loud, which went on to win Song of the Year at the Grammy Awards in 2016.

Quote Message: Congratulations to my friend Ed, for the legacy you've already built and the brilliant hook you probably just came up with five minutes ago."

We've all got a friend like that though haven't we?

Read Taylor's full tribute to Ed here.

Winerack funding: Your views

Philippa Taylor

BBC Local Live

There's been a mixed reaction on our Facebook page, to news that £20m is going to be spent completing the building on the Ipswich Waterfront known locally as the "Winerack":

Tracey Godfrey writes: "Great news. I hope when it is finished that they keep the name 'The Winerack' as its address"
Adi Bennett posts: "More wasted money in Ipswich, so rich people can live .nice one"
Jose Lopez Lerena says: "Noooooo!!!! I will miss our particular Stonehenge... Unlikely!!! Great news!!!"

What do you think? We'd love to hear your thoughts - send us an email, or join in the Facebook conversation.

Dog needs emergency surgery after fishing line accident

A dog owner from Trimley St Martin has been left with a vet's bill for hundreds of pounds, after her pet became tangled up in discarded fishing line.

Megan Bateman had taken Luna for a walk on the beach at Old Felixstowe near an area known as the dip, when she realised Luna was hurt.

The line was wound so tightly round her back legs she couldn't move, and the hook had gone through her hind leg.

Megan said: "I would just hope that people would take their rubbish away and not leave things on the beach so this kind of thing doesn't happen again in the future."

Luna needed emergency surgery, together with injections and a course of antibiotics.  

Speedway: Witches still looking for their first away win

Brenner Woolley

BBC Radio Suffolk sport

It's back-to-back defeats for Ipswich Witches who went down 54-35 at Redcar Bears in the Championship last night.

Copyright: Stephen Waller

The Witches could be without Nico Covatti (pictured) for tomorrow's return meeting at Foxhall after the Argentinian was taken to hospital with an arm injury after a fall in heat 12. 

Meanwhile, it's been confirmed that Rory Schlein - who top scored for Ipswich with 10 points - is going to double up with Wolverhampton Wolves in the Premiership.