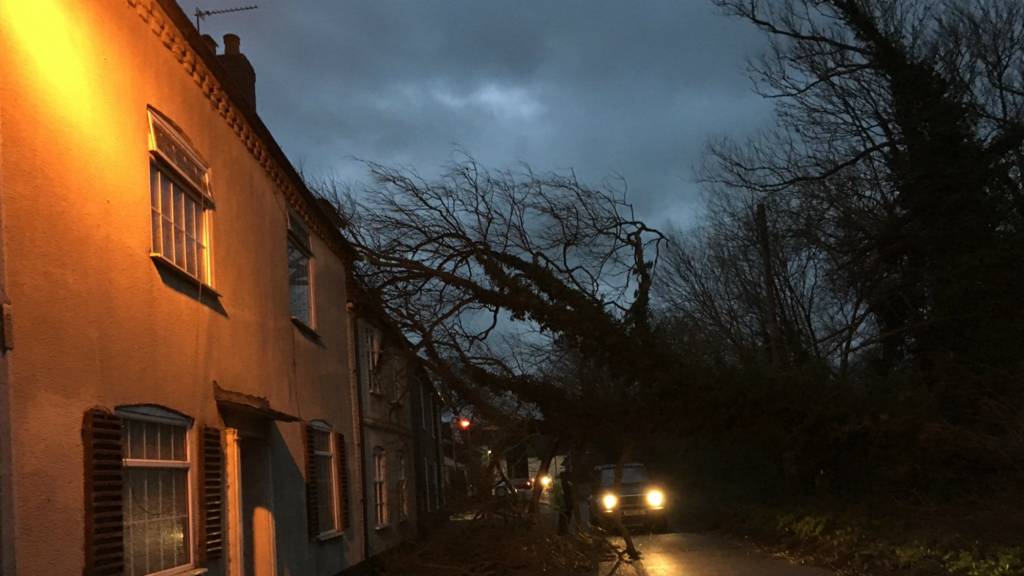 By Phil Cartwright

BBC Sport

Our live coverage across the day - and the week

This time last week we signed off with some of the lyrics from the Sound of Music so we'll stay with a musical theme this week, but this time, it's bang up-to-date.

Ed Sheeran's chart success continues as three tracks from his latest album Divide lie within the top four of the Official Singles Chart.

Shape of You - in top spot for the seventh straight week
How Would You Feel - released last week to celebrate his birthday - in second place
Castle On The Hill - his "love song for Suffolk" drops one place to fourth

If you're an Ipswich Town fan, we hope you'll be in fine voice too, as the East Anglian derby takes place on Sunday at Carrow Road .

We've brought you lots of good stuff during the day - scroll down and check it out.

Have a great weekend.

More memories of past Ipswich vs Norwich derbies

We're gearing up for the derby between Norwich and Ipswich on Sunday and so we found a few more pictures of past clashes featuring Blues victories, as promised earlier.

Here's a photo from Ipswich Town's 3-2 win in April 2009. It shows Pablo Counago (left) of Ipswich battling with Jason Shackell of Norwich during the Championship match.

And this photograph shows Danny Haynes of Ipswich evading a tackle from Ryan Bertrand during the league match at Portman Road in April 2008, which Town won 2-1 .

And here's a picture of the two mascots of the teams - Crazee Horse from Ipswich Town and Captain Canary from Norwich City - waiting to run in the fourth Mascot Grand National at Huntingdon Racecourse in 2002.

Rail services affected by tree blocking line at Stowmarket

Overnight weather: Dry at first with patchy rain later

Julie Reinger

BBC Look East weather

A dry start to the night across the BBC East region with clear spells, but patchy rain will eventually spread in from the north-west. 

The winds will pick up to a moderate-to-fresh south-westerly, and temperatures will drop to 3C (37F).

Saturday will be blustery with a fresh, occasionally strong, south-westerly wind. 

Early rain will clear eastwards and it should then become drier and brighter, before more rain spreads in from the north-west. 

Highs of 10C (50F).

Get the full forecast where you are from BBC Weather .

Shops report drop in trade since start of roadworks

Guy Campbell

BBC Radio Suffolk

Business leaders and drivers in Lowestoft have voiced their frustrations after a major roadworks scheme got under way on Monday.

Sue Patterson, from Palmers department store  says customers and staff have been struggling with early morning queues: "They have been late because they couldn't get through Oulton Broad, but I think what is happening is that people are now knowing they've got to take more time to get to work.

"I'm not concerned about the workers, because they'll get here anyway, what I'm concerned about is the shoppers.

"What I want them to know is that we are open and if you want to leave a little bit later in the morning, you'll get here ok."

Some shops in Oulton Broad have reported a 70% drop in trade.  

Concern over stroke support cuts in Great Yarmouth and Waveney

A charity which has helped hundreds of stroke survivors says it is having to close a local branch because it has lost its funding.

The Stroke Association supports people in their own homes and provides an outreach worker in Great Yarmouth and Waveney. 

Copyright: Science Photo Library

But the Great Yarmouth and Waveney Clinical Commissioning Group (CCG), the local NHS health commissioners, have said they can no longer afford the service.

Ritired DJ Ken Mason, who lives alone on a caravan park near Great Yarmouth, said the support he received from an outreach worker provided by the Stroke Association was vital after he left hospital following a stroke.

"Without the support I would have ended up either dead or in hospital," he told the BBC.

Sara Betsworth (pictured), of the Stroke Association, criticised the CCG for "salami slicing" an important service.

"The CCG should be talking to us and to stroke survivors and local people, because my understanding is they haven't been talked too," she said.

The CCG declined an interview, but said it made the decision "because the Stroke Association said it could not continue providing the same level of service for the money which was available". 

It says the charity signposts people to information and does not fulfill a health role. This is disputed by the Stroke Association.

Lowestoft man's death 'couldn't have been prevented'

Steve Martin

BBC Radio Suffolk

An independent review has found the killing of a Lowestoft man in November 2014 couldn't have been prevented.

Karen Kimber killed her father Dennis Nicholls at the home they shared in Kirkley Run.

She had a long history of mental illness, and strangled him believing he was "the devil". 

The Waveney Community Safety Partnership has published a report which suggests the police, GPs, the mental health trust and social carers did what they thought was appropriate and no other course of action could have prevented Mr Nicholls' death. 

Suffolk's mental health trust had contact with Ms Kimber on the day of the killing, but it said there were no signs of what was to come. 

Karen Kimber was sentenced to a hospital order, detaining her into the care of medical professionals after admitting manslaughter .

Ambulance response to Storm Doris Coddenham incident

We brought you news earlier of an incident in Coddenham on Thursday, where an ambulance crew member had to get out of the emergency vehicle and tell drivers to let them through as they were on their way to Ipswich Hospital.

The East of England Ambulance Service has issued a statement saying: "We always advise motorists to be wary of hearing sirens behind them and seeing blue lights in their rear view mirrors, and to pull over in a safe and timely fashion when it is possible to do so."

The village was gridlocked because of the closure of the Orwell Bridge, due to Storm Doris.

The couples divided by football rivalry

Philippa Taylor

BBC Local Live

I can't help thinking a draw at Carrow Road on Sunday is the only way these "divided" families from Stowmarket are still going to be speaking after the game, and even then they would have to agree it was a fair result.

Separating vehicles on the Orwell Bridge 'not a viable option'

Back to Police and Crime Commissioner Tim Passmore's suggestion that the Orwell Bridge should remain open to cars in severe weather.

We contacted Highways England for a comment, and their spokesman said: "We are currently working with partners and stakeholders to reach solutions to address the significant increase in traffic levels in Ipswich when the Orwell Bridge is closed. 

"Separating vehicles susceptible to the effect of side winds is not currently a viable option due to the layout of the A14 approaching the bridge. 

"There isn't an obvious filter point, such as roundabouts, at which to divert them and this would create unacceptable safety risks to those who would have to separate the traffic. 

"The diversion activity itself would also create further congestion along the A14."

Ipswich Town: McCarthy faces midfield dilemma

Brenner Woolley

BBC Radio Suffolk sport

In terms of team selection, the main talking point among Ipswich Town fans heading to Sunday's East Anglian derby will be who should start in midfield.

Cole Skuse (pictured left), Toumani Diagouraga, Emyr Huws and Grant Ward are all battling it out for three positions, although manager Mick McCarthy seems to be suggesting it'll be Skuse plus two others.

"He's got serious competition now, but it still doesn't mean he's not an automatic choice," said the Ipswich boss.

"You have to let your guard down and not play well but I can't honestly, hand on heart, say Skusey has done that. 

"He's been terrific. Although it is a difficult decision as they've all played well."

Ryman League: Six-pointer at Bloomfields

Brenner Woolley

BBC Radio Suffolk sport

There's no doubting the biggest game of tomorrow in the Ryman Premier Division - third-placed Needham Market at home to leaders Bognor Regis Town.

Copyright: Needham Market FC

Three defeats in four games have seen the Market Men fall six points behind their visitors, so the Suffolk side will see it as a must-win if they're to keep their title dream alive.

Leiston , who are also having a little wobble, entertain Wingate & Finchley, Lowestoft Town host Enfield Town while AFC Sudbury head to Metropolitan Police.

In the North Division,  Bury Town will be looking to avoid a seventh straight defeat at home to Maldon & Tiptree.

Norwich bookshop nominated as top independent

Shops in Norwich, Bedford, Huntingdon and Suffolk have been nominated for the title of top independent bookshop in the country.

The Book Hive in London Street, Norwich, which opened about eight years ago, has been named with four others in the East category of the British Book Awards.

The bookshop's owner Henry Layte said: "It's always nice to be be on this list. The only reason I decided to set up an independent bookshop in Norwich was that there wasn't one in the city."

Mr Layte has also started publishing books with Propolis Books, which is due to publish the new collection by celebrated poet Simon Armitage. 

Other shops in the East category to be nominated are: Niche Comics in Huntingdon,  Lindum Books in Lincoln,  Harris & Harris in Clare in Suffolk (pictured below) and  Rogan's Books in Bedford.

Copyright: Harris & Harris

Tom Tivnan, features and insight editor of The Bookseller, said: "We have really been astounded this year by the sheer breadth, depth and quality of the entries. Whittling them down to the shortlists has been an extremely difficult process. It's still tough out there for indies, but these shops are showing how resourceful, creative and passionate booksellers can not only survive, but thrive in today's market."

Customers can say share their views on the bookshops with The Bookseller Magazine online  here.

Orwell Bridge: Another suggestion for car drivers

We've been looking at the merits or otherwise of allowing car drivers to use the Orwell Bridge when it's closed to high-sided vehicles.

Andrew Brown has emailed us  saying: "The closing of Orwell Bridge is never done lightly.

"Unlike many bridges, users of the Orwell Bridge experience changing wind conditions from one side of the bridge to the other. 

"Then there is the question of people's competence to manage their vehicle under such difficult conditions."

Mr Brown goes on to ask whether the bridge could be left open for cars on some occasions, with regular testing by competent drivers on perhaps an hourly basis, to check whether conditions had deteriorated.

He signs off: "The solution will only be found by getting the highways people, along with the police and maybe some driving instructors round a table or going over the bridge together to actually consider the various aspects of this idea."

Norwich vs Ipswich derby memories

With the latest local derby football match between Norwich City and Ipswich Town on Sunday, we thought we'd bring you some photographs of previous games.

Here's one from April 2011 of Norwich City players celebrating Gareth McAuley's own goal when Ipswich Town lost 5-1 at Portman Road during the Championship match.

And from May 2015, here's a photograph of Norwich City fans show their support prior to the Sky Bet Championship play-off semi-final second leg match between Norwich City and Ipswich Town at Carrow Road. Norwich won 3-1  (4-2 agg).

We'll fish out some happier memories for Ipswich fans later.

Storm Doris costs store 'thousands'

Luke Deal

BBC Radio Suffolk

The manager of the B&M store in Stowmarket  has been weighing up the cost of damage caused by Storm Doris.

Keith Sharp said: "The top part of the roof was blown off."

This picture shows two holes in the ground on the right where there were flagpoles.

"We had security in overnight last night just in case there were any problems within the store," Mr Sharp added.

"We closed the store for safety reasons just in case there was any more problems. 

"We lost a fair chunk of trade, and then with the roof damage that's happened there, it's in its thousands."

Hoolahan wary of improving Ipswich

Chris Goreham

BBC Radio Norfolk sport

Norwich City's Wes Hoolahan had admitted The Canaries might have been better off playing Ipswich Town a month ago. 

The Irishman goes into Sunday's Carrow Road clash with an impressive derby record, having won six and drawn two of the eight that he's played in. 

City face an Ipswich side unbeaten in four games. 

"Ipswich are well drilled and organised and Mick [McCarthy] has them playing well now," said Hoolahan. 

Homeless man says there are around 100 people sleeping rough

Jon Wright

BBC Radio Suffolk

A rough sleeper in Ipswich says there are so many homeless people in the town he can't get a sleeping bag from a charity shop.

The man, who often sleeps on cardboard in an underpass, claims there are around 100 people sleeping rough, which also causes problems getting emergency beds: "There's a few - there's churches and that, but they're all full. 

"By the time you get there, the beds are gone, totally gone. 

"There's too many people out on the street, it's hard. 

"It's even hard to make a few quid - people can't keep giving can they?"

Ipswich Borough Council and Ipswich Housing Action Group (IHAG) estimate the number of homeless people in the town to be between 20 and 30.

Ipswich Town: McGoldrick wary of 'magician' Hoolahan

Brenner Woolley

BBC Radio Suffolk sport

Ipswich Town striker David McGoldrick has made no secret of his admiration for Norwich City attacker Wes Hoolahan.

The pair, who are team-mates with the Republic of Ireland, will be on opposite sides of the East Anglian derby divide at Carrow Road on Sunday.

"He's one of the best I've played with," said McGoldrick. "He's a magician in training, you just can't get the ball off of him. 

"We're going to have to be very wary of him. 

"He still should be playing in the Premier League in my eyes, he's a wonderful player."