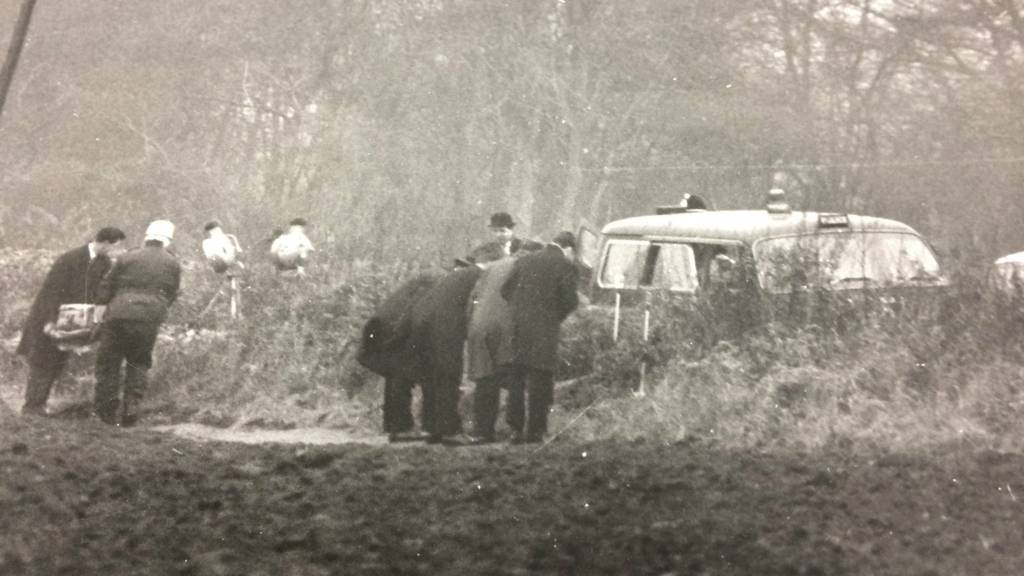 Summary
Updates for Friday, 6 January 2017
Corrie private investigation team describe their mission
Petition launched to fight hike in business rates
Ipswich Town manager says FA Cup run could boost league form
Ed Sheeran releases a 'love song for Suffolk'
Anniversary of disappearance of 'Operation Tattingstone' teenager
We're heading home now, but we'll be back from 08:00 on Monday, raring to go after the break. 

Among the stories that we've featured today:

We'll leave you with the thought that Ipswich Town haven't had an FA Cup win since they beat Blackpool in 2009-10, whereas Lincoln last advanced from the third round in 1975-76. 

Have a great weekend.

Help, but not interference, being offered by Corrie Mckeague private investigation team

A pledge of help, but not interference, is being made from the private investigation team who have been enlisted to try to find missing RAF Honington serviceman Corrie Mckeague.

Copyright: Suffolk Police

Mr Mckeague went missing on a night out in Bury St Edmunds on 24 September. Private investigators are being paid for with the help of a crowdfunding appeal.

Forbes McKenzie said: "Our mission is to create clarity within the huge depths of data that has accrued since September.

"There's an awful lot on social media, on the Find Corrie Facebook page. 

"There's also his own social media feeds which his mother Nicola has the passwords for, so in the first instance, that's what we're going to be looking at."

Overnight weather: Feeling a tad warmer, with outbreaks of mainly patchy rain

Alex Dolan

BBC Look East weather

It will be a cloudy, misty evening and night with outbreaks of generally light, patchy rain.

Less cold air moving in behind the rain, so temperatures not dropping as low overnight.

Minimum temperature: 3C (37F).

Tomorrow rain will clear eastwards, but it'll remain rather cloudy and rather gloomy.

Top temperature: 8C (46F).

Get the full forecast where you live, from BBC Weather.

Is Framlingham ready for a statue of Ed?

Ipswich's metal Christmas tree: Your thoughts

We've been asking for your thoughts on where the metal Christmas tree that's been on display in Ipswich over the past few years should go, now that agreement has been reached for the town to have a real one.

There have been a lot of suggestions on our Facebook page - here are some of the positive ones:

James Dean writes: "The waterfront, outside the uni building. Would look fantastic! It's a shame it's going, a massive fuss over nothing. It looks impressive on the cornhill"
Jackie Walker says: "What a shame, I love that tree. Something a bit different. Really hope it's put somewhere so that I can continue to admire it!"
Maggie Fitton posts: "I would like it to go into the Heath Road hospital, and for what it is worth, I think it is of our time, beautiful..."

Copyright: Stuart Atkinson

But not everyone thinks it's worth keeping, with the below just some of the suggestions for where the tree should go:

New home needed for Christmas tree

The metal Christmas tree that's graced Ipswich town centre in recent years is in need of a new home, now that it's been agreed that a "real" tree will be used on the Cornhill this year.

Copyright: Ipswich Borough Council

Borough council spokesman Max Stocker says Sailmakers has been suggested as a new home.

"There is certainly merit in that, it could be seen by many thousands of people coming round on the bus and coming through from Crown Pools," he said.

"But again the Waterfront, or elsewhere, so we definitely haven't made our minds up."

Where would you like to see the tree in future? Drop us an email, or join in the conversation on our Facebook page.

Driver stopped while on phone has vehicle seized

Ryman League: Needham keen to get back on track

Brenner Woolley

BBC Radio Suffolk sport

Needham Market will be looking to bounce back from Monday's 5-1 loss at Leiston when they host Folkestone Invicta in the Ryman Premier Division tomorrow.

The Marketmen remain second in the table, a point off the top.

Leiston head to Burgess Hill Town, AFC Sudbury are at Enfield Town, while Lowestoft Town can do Needham a favour when they entertain third-placed Havant & Waterlooville.

In the North Division Bury Town will be looking for their fourth straight win at Cheshunt.

Rugby union: Bury kick-off 2017 on the south coast

Brenner Woolley

BBC Radio Suffolk sport

Bury St Edmunds rugby players will be hoping a new year means a change in fortune when they return to action after the Christmas break tomorrow.

The Wolf Pack will be trying to end a run of four successive defeats when they head to Worthing.

Bury are currently 10th in National League Two South.

Win your way to the FA Cup Final

#PeoplesCup

Sign up to the FA People's Cup and you could win your way on to the hallowed Wembley Stadium turf at half-time during the FA Cup Final.

Entries are now open and you can find out all the details here.

Ed Sheeran invited to perform at the University of Suffolk summer ball

Petition launched to fight hike in business rates

More than 700 people have signed a petition which has been launched in Southwold against business rate increases which could see costs treble for some retailers.

Suffolk Coastal MP Therese Coffey says she's written to all the local businesses and is trying to get a meeting with the treasury minister responsible for the valuation office agency.

She said she's also given businesses details of how they can appeal.

"It seems that the valuations officers made various assumptions about rent which isn't exactly the case on what people actually pay, so I think there are good reasons for people to be able to appeal."

Business rates set to treble for Southwold retailers

Independent retailers in Southwold are facing a doubling, or even trebling of their business rates, putting them in line with Bond Street in London, the most expensive street in the country.

Rebecca Bishop, owner of the Two Magpies bakery and cafe, said: "I've done quite a bit of research around the country and I can't find anywhere else outside of Bond Street that's facing the increases that we in Suffolk are."

At the moment she's paying about £4,500 a year, but her business rates are set to rise to about £15,500 over five years.

"This is going to hit me really really hard. It's going to put £10,000 on my bottom line... it's just crazy," she said.

The rises are a result of new rateable values for businesses flagged up by the government back in September.  

Couple convert kitchen into American diner

Luke Deal

BBC Radio Suffolk

An Ipswich couple won't have to travel far this weekend to mark the 82nd anniversary of the birth of Elvis Presley in authentic surroundings.

Howard and Shirley Brown have this wallpaper up in their kitchen, which they've converted into an American diner.

Mr Brown said: "We used to go to the States quite a bit and I always went into the diners. Shirley bought the jukebox, and one thing led to another."

Mrs Brown says she loves it now, but admits she found it a bit daunting at first.

"I got onto the websites and saw all the equipment that was for sale and it just inspired me, it's just great, it's turned out lovely," she said.

Ed Sheeran not planning another year off

Kelly McCormack

BBC Radio Suffolk

Ed Sheeran says taking a year off is something he's not going to do again in a hurry.

While he was co-presenting the BBC 1 Radio Breakfast Show this morning, he admitted that he'd been listening to the radio when his song Don't came on "and not knowing the words to it".

"I've relearnt everything now, I've spent like a day relearning everything," he said.

Quote Message: I think the next time I take a break it'll be two weeks, not a year." from Ed Sheeran

Oops Ed, perhaps referring to 'driving at 90' wasn't such a good idea

Philippa Taylor

BBC Local Live

Police have responded to lyrics in Ed Sheeran's new single Castle on the Hill, described as a "love song for Suffolk".

The song, one of two released today by the singer after a year away, features the lyrics "driving at 90 down those country lanes".

Lincoln will play without pressure, warns Webster

Brenner Woolley

BBC Radio Suffolk sport

Speaking from experience, Ipswich Town defender Adam Webster is warning his team-mates to beware of the under-dog ahead of tomorrow's FA Cup tie against Lincoln City.

This time last season the 22-year-old was part of the Portsmouth team that knocked the Blues out after a replay.

"They'll have nothing to lose," said Webster. "We didn't last year, we came here to face a Championship side so you're buzzing just from that point of view. 

"The shackles will be off for them so that's what makes it tricky. If you're the lower league side there's literally no pressure on you as you're not expected to win and that's what they'll be feeling like."

Mick McCarthy says FA Cup run could boost league form

Brenner Woolley

BBC Radio Suffolk sport

Ipswich Town manager Mick McCarthy has told BBC Suffolk Sport this would be a good year to have a cup run.

McCarthy will be looking for his first ever FA Cup win as Blues boss when his side hosts National League leaders Lincoln City in the third round tomorrow.

"Well we're not in the play-off positions are we? Or in and around them. Which in previous years we have been. 

"It's a game we need to win, it's an important game for us. Who knows, if we can win this and then get another cup tie and win it, it might just give us a bit of impetus in the league."

Suffolk FA: French moving on to pastures new

Brenner Woolley

BBC Radio Suffolk sport

Suffolk FA's football development manager Nathan French is leaving his position to become Respect project officer with the FA.

The 30-year-old from Ipswich said: "I am really excited by the new opportunity that I have with the FA; most people involved in football are aware of the Respect programme and I feel I have got a great opportunity to develop this across all levels." 

According to the FA's website, the Respect programme is aimed at ensuring "a safe, positive environment in which to play the game".