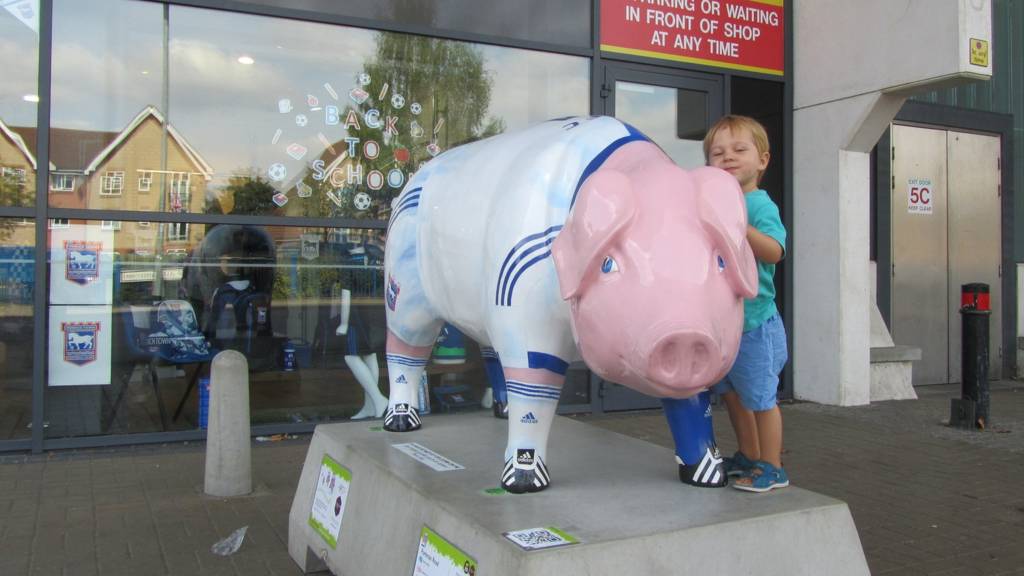 Our live coverage across the day

The team here is signing off from Suffolk Live for the weekend, but we'll be back from 08:00 on Monday.

Before we go, here's a reminder of some of the stories we've brought you during the day:

Police have issued CCTV images of a car they want to trace in connection with an armed robbery in Beccles last week
A shortage of nurses is affecting community hospitals in the north and east of the county
The queue for tickets to see Daniel O'Donnell at the Ipswich Regent next April, which go on sale tomorrow at 10:00, started shortly before 05:30 this morning

Have a great weekend.

Overnight and Saturday weather: Dry and clear, with spells of sunshine

Dan Holley

BBC Look East weather

It will stay dry tonight with long clear spells, but high cloud will increase from the west through the early hours. Not as chilly as last night, with temperatures falling to 8C (46F) in a light southerly breeze.

It should be dry on Saturday with spells of hazy sunshine, although large amounts of high cloud at times. Feeling warm with temperatures reaching highs of 24C (75F), but with a noticeably gusty southerly wind.

Get the full forecast where you live at BBC Weather.

Travel: Collision closes A134 in Fornham St Martin

The A134 in Fornham St Martin is closed in both directions at the B1106 Fornham/Great Barton roundabout, because of a collision.

Peter Swan

BBC Radio Cambridgeshire sport

The Cambridgeshire meeting got off to a very special start at Newmarket earlier, with The Shetland Pony Grand National.

The ponies were ridden by jockeys aged between eight and 13, in a flat race at the Rowley Mile. 

The race was eventually won by Kinvara Garner, on her pony Smokey Jo.

Watch the full video over on the BBC Cambs Sport Facebook page.

Severe accident: A134 Suffolk northbound

BBC Travel

A134 Suffolk northbound severe accident, before A1302 Cullum Road.

Scarecrow event gets under way

Kate Williams

BBC Local Live

Among the exhibitors in this year's Scarecrow Event on the Ravenswood estate in Ipswich, is Melanie Munday, who's created a character from the film ET, which sits in pride of place above her front door.

Speaking on the 20th anniversary of the closure of Ipswich Airport, Melanie said she met her partner Alan while skydiving from there: "We were both very sad to see the airport go and had to go as far as Peterborough to carry on skydiving," she said.

"We say we've reclaimed our own bit of the airport by buying a house here."

Lib Dem win confirms SCC as hung council

Suffolk's latest Liberal Democrat county councillor said he was "overwhelmed" to be elected to represent the market town of Hadleigh.  

Lib-Dems win Hadleigh by-election

Vikki Irwin

BBC Radio Suffolk political reporter

Liberal Democrat Trevor Sheldrick has won the by-election for Suffolk County Council in Hadleigh, caused by the resignation of Brian Riley (pictured) at the end of July.

Cllr Riley had moved to the USA in 2015, but said he could still carry out his duties.  

The result is the eighth local government seat the Conservatives have lost in Suffolk in the last few months.

Man jailed for grooming and sexual activity with a teenager

A man's been jailed at Ipswich Crown Court for four years for grooming and having sexual activity with a teenager from Suffolk who has learning difficulties.

Copyright: Suffolk Police

In August 2015, Christopher Woakes, 31, of Shirehampton in Bristol, contacted a number of underage girls online via the social media platform Kik - one of them was the 15-year-old.

The girl's parents became suspicious and contacted the police. Woakes was arrested after he was seen hanging around near the girl's home.

Woakes had previously pleaded guilty to the offences. He must also spend an extended period of two years on  probation upon his release from jail.

Man charged following fail-to-stop collision in Ipswich on Tuesday

A man has been arrested and charged, following a fail-to-stop collision in Fore Hamlet in Ipswich on Tuesday.

A young woman pedestrian was knocked unconscious and sustained swelling and bruising.

Copyright: Suffolk Police

A 33-year-old was arrested this morning and taken into custody at Martlesham, where he was interviewed in connection with the collision.

He's been charged with failing to stop following a road collision and bailed to appear before magistrates in Ipswich next month.

Speedway: Hawkins taking nothing for granted

Brenner Woolley

BBC Radio Suffolk sport

Ipswich Witches team manager Ritchie Hawkins is refusing to get carried away by last night's 58-32 win over Edinburgh Monarchs in the first leg of their play-off quarter-final.

Copyright: Stephen Waller

"We've got to go to Edinburgh looking to win. They have beaten many a side over the years by more than 26 points," said Hawkins. 

"They are the two-time reigning champions, but we looked like a side that believed they can win and we were the most determined team to win and we need to carry that on next week." 

The second leg is in the Scottish capital on Friday, 30 September.

Darts: Wright faces a tough Champions League opener

Brenner Woolley

BBC Radio Suffolk sport

Suffolk's Peter Wright (pictured) will play 16-times world champion Phil Taylor on day one of the Champions League of Darts tomorrow.

Premier League winner Michael van Gerwen and Scotland's Robert Thornton are the other players in Pool A.

The group stage is played in a round-robin format, with the top two players progressing to the semi-finals. 

There'll be extensive coverage of the event on BBC TV.

Good news from Portman Road regarding Luke Hyam

Cole Skuse: Teddy Bishop will play at the highest level

Graeme Mac

BBC Radio Suffolk sport

The fact that Teddy Bishop has been used sparingly by Ipswich Town this season has been a huge source of frustration for many Blues fans.

But fellow midfielder Cole Skuse is urging for patience with regards to the homegrown talent, and believes the 20-year-old will play a big part in the coming months. 

"He's not the sort of kid you can just throw in to play 50 games after a year out injured. He needs looking after and the gaffer is doing that," Skuse said. 

"He'll come back and play a massive part throughout the season because he's a very good player. 

"In my eyes, he will play at the very top."

Grant Ward hoping to put an end to Leeds' winning run

Ipswich attacking options excite Cole Skuse

Graeme Mac

BBC Radio Suffolk sport

Cole Skuse believes Ipswich Town will be involved in the race for promotion this season and says the Blues would be challenging the top two at present, but for a couple of wrongly disallowed goals.

The midfielder has praised manager Mick McCarthy's recent activity in the transfer market, which has brought together the most creative mix of players he has known in his time at the club. 

"Tom Lawrence can create a shot out of nothing and we know what Jonny Williams can do. Grant Ward, meanwhile, has had an unbelievable start," Skuse said. 

"It's exciting from a deeper midfielder's point of view to know that if you give them the ball, they can go and create something." 

BBC Sport is providing live text commentary of Leeds Utd v Ipswich, which kicks off at 15:00 tomorrow.

Stewart on Trial With Blades

Concern over future of healthcare services in north of county

Guy Campbell

BBC Radio Suffolk

The county councillor in charge of health says he's worried about the future of both the Patrick Stead Hospital in Halesworth and Beccles Hospital (pictured), because of staffing issues.

Tony Goldson said: "I am very, very concerned because East Coast Community Health seem to have a problem in recruiting and retaining staff.

"Beccles Hospital is meant to be the centre for intermediate care, for the whole of the Great Yarmouth and Waveney area, when the Patrick Stead actually closes."

We have contacted the local clinical commissioning group requesting a response to these comments, and will bring you their reaction when we get it.

No secrets ahead of first Haverhill derby

Graeme Mac

BBC Radio Suffolk sport

Haverhill Rovers and Haverhill Borough meet tonight in the 2nd round of qualifying for the FA Vase.

It's a first ever meeting between the two clubs at a revamped New Croft facility that boasts a state-of-the-art 3G pitch. 

Rovers boss Ben Cowling (left) helped form Haverhill Borough in 2011 before switching sides earlier this season. Martin Westcott (right), the Borough manager, is a former teammate. 

"The two teams know each other inside out and there will be very few secrets," said Westcott. 

"The whole town is really excited about the game and people just want to see both teams do well."