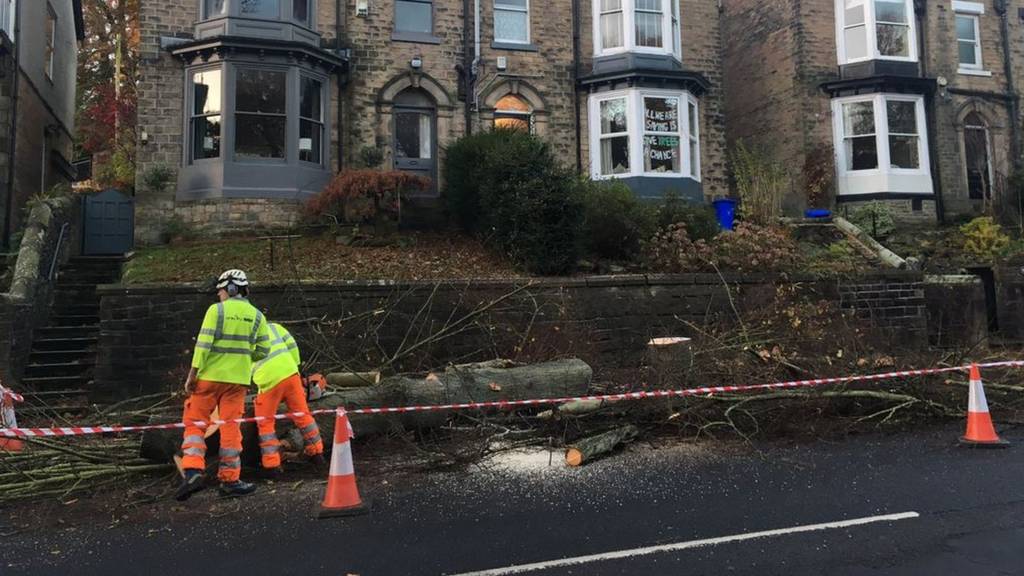 BBC Local Live: Sheffield and South Yorkshire
Summary
Residents angry over trees felled in Rustlings Road in Sheffield
A woman has died in a house fire in Rotherham
Police give details of a schoolgirl who was raped in Canklow, Rotherham
Live updates on Thursday 17 November 2016
Five things we learned today

Claire Renwick

BBC Radio Sheffield

That's the end of our live coverage today, thanks for your company. 

I'll be back from 08:00 with all the latest news, sport, travel and weather from across South Yorkshire.

Here's five things we learned today:

Arrested pensioners defiant after tree felling protest

Claire Renwick

BBC Radio Sheffield

Two pensioners have vowed to continue protesting over the controversial cutting down of trees in Sheffield, despite being arrested and spending eight hours in a police cell  contractors and police descended on their street in a "dawn raid".

Retired sociology professor Jenny Hockey, 70, and her friend, retired teacher Freda Brayshaw, 71, were arrested in Rustlings Road, during an operation former deputy prime minister Nick Clegg described as being more akin to a well-planned anti-terror raid than a morning of tree-felling. 

The women have now been released without charge.

Mrs Hockey said: "It's devastation. These are healthy trees. These are extremely valuable trees.

"What can you do in that situation except exercise your right to peaceful protest and that's what we chose to do."

'Name and shame' fly-tippers says Sheffield resident

Ronan Sully

Radio Kent Sports Reporter

A member of the Firth Green Tenants and Residents Association has said people who dump rubbish in the area should be "named and shamed".

Mick Daniels says the community has "gone down hill" due to fly-tipping, irresponsible landlords and anti-social behaviour.

He blames the council for not prosecuting people who dump rubbish illegally.

Quote Message: In the last month we set up a new joint Anti-Social Behaviour and Community Safety Team with the police and we're working with them more closely than ever. Officers are also working closely with colleagues from Private Housing Standards, Environmental Services and Community Development to make sure we provide a combined response to the issues. " from Jayne Dunn Sheffield City Council

Safe seating at football matches discussed

Premier League clubs are discussing the issue of safe standing areas at football matches today. 

It is understood a few clubs are keen to discuss the matter at a routine meeting between the 20 top-flight clubs.

All-seater stadiums have been compulsory in the top two divisions in England since an inquiry into the 1989 Hillsborough disaster, which claimed the lives of 96 Liverpool fans.  

Any changes to the existing legislation would require government approval.  

Winter is coming: Watch out for icy roads

Here's something to watch out for if you're driving late tonight or in the early hours.

BBC Look North's weather presenter Abbie Dewhurst is keeping an eye on those potentially tricky conditions:

Nick Clegg: 'Someone has lost the plot' over tree fiasco

Andy Kershaw

BBC Radio Sheffield News

Nick Clegg, the MP for Sheffield Hallam, has been meeting protesters and residents after seven trees were chopped down near Endcliffe Park before sunrise.

Mr Clegg has now written to Sheffield City Council to ask who decided to carry out the felling in Rustlings Road at such an early hour.

Watch him talking with demonstrators below:

Listen: Chesterfield boss on Dave Allen

Andy Giddings

Sports Editor, BBC Sheffield

Danny Wilson has paid tribute to former chairman Dave Allen, who quit his role with the League One side earlier this week. 

You can hear my interview with the Chesterfield boss below:

Trio released over Sheffield tree protest

Andy Kershaw

BBC Radio Sheffield News

Three people who were arrested for trying to stop trees near Endcliffe Park from being cut down have been released without charge.

There were angry scenes in Rustlings Road this morning after council contractors began felling trees with chainsaws at 05:00.

Amey - the firm employed to carry out the work - say the trees were either diseased, dangerous or causing damage.

Sheffield City Council says it will replace the trees.

Missing Barnsley man found

Claire Renwick

BBC Radio Sheffield

A man who vanished after going shopping in Barnsley last Saturday has been found.

Concerns were raised after 50-year-old Steven Jackson failed to contact family and friends.

Copyright: South Yorkshire Police

Weather Watchers: Rainbow over Thurnscoe

Thanks to our Weather Watcher, Oldnija, for this photo of Thurnscoe.

Keep them coming!

Sport: Dave Allen officially no longer Chesterfield director

Kate Linderholm

BBC Local Live, Sheffield

Former Chesterfield chairman, Dave Allen, is officially no longer a director of the club after his name was removed from books at Companies House. 

He resigned earlier this week following a meeting of shareholders.

We understand Chesterfield need to raise in the region of £200,000 in the next month to avoid going into administration.

Sheffield musician hits out at 'despicable behaviour' of council over tree felling

Claire Renwick

BBC Radio Sheffield

Singer and guitarist Richard Hawley has taken to Facebook to blast Sheffield City Council for its handling of this morning's tree cutting near Endcliffe Park.

Three protesters were arrested after contractors turned up in Rustlings Road before dawn to fell several trees despite a campaign to save them.

Copyright: Richard Hawley/Facebook

Fancy a selfie for Children in Need?

Have you heard about our Children in Need challenges this year?

The BBC Look North team is attempting five challenges in five days. 

They've already tried wingwalking and a bit of Strictly-style dancing...and today it's the Selfie Challenge.

Who can get the most selfies? It's presenter Amy Garcia and weatherman Paul Hudson in Wakefield versus presenters Harry and Lara in York.

We'll keep you up to date on how it's going...

Weather: Cold with clear spells

A more organised band of heavy showers will cross the region during the afternoon bringing a risk of hail and thunder. 

Feeling cold with brisk winds.  

Investigation under way into cause of fatal house fire in Rotherham

Andy Kershaw

BBC Radio Sheffield News

A joint police and fire service investigation has begun into the cause of a blaze at a house in Thurcroft last night, in which a woman died.

The body of 37-year-old Margaret Appleby was found inside the property in Rotherwood Crescent - her 57-year-old mother managed to escape.

Police aren't treating the incident as suspicious.

Breaking

Man arrested over rape of Rotherham schoolgirl

Claire Renwick

BBC Radio Sheffield

Detectives investigating the rape of a teenage girl in Canklow on Monday have arrested a 47-year-old man.

The 15-year-old was attacked in a wooded area off Rother View Road as she walked to school.

Watch: Tree campaigner vows to 'fight for those arrested'

Mick Lunney

BBC Local Live, Sheffield

A protester involved in this morning's stand-off with tree fellers and police on a Sheffield street says a crowd funding appeal's been set up to cover the legal costs of those arrested.

There's been an 18-month campaign to save trees in Rustlings Road next to Endcliffe Park, but council contractor Amey has cut down seven out of eight of them.

Watch: Rotherham house fire latest

Andy Kershaw

BBC Radio Sheffield News

Fire investigators have begun trying to find out what caused the fatal blaze in Thurcroft last night, in which a 37-year-old woman died:

Man charged with attempted murder

Claire Renwick

BBC Radio Sheffield

A 49-year-old man has been charged with attempted murder and criminal damage after a man was stabbed in Doncaster earlier this week.

Jonathan Swift, of Seaforth, Mersyside, has been remanded in custody and will appear at Doncaster Magistrates Court later.

Emergency services were called to a house in Surrey Street on Tuesday evening, following reports that a 26-year-old man had been attacked -  he remains in a critical condition in hospital.   

Two other men who were also arrested have been released without charge.