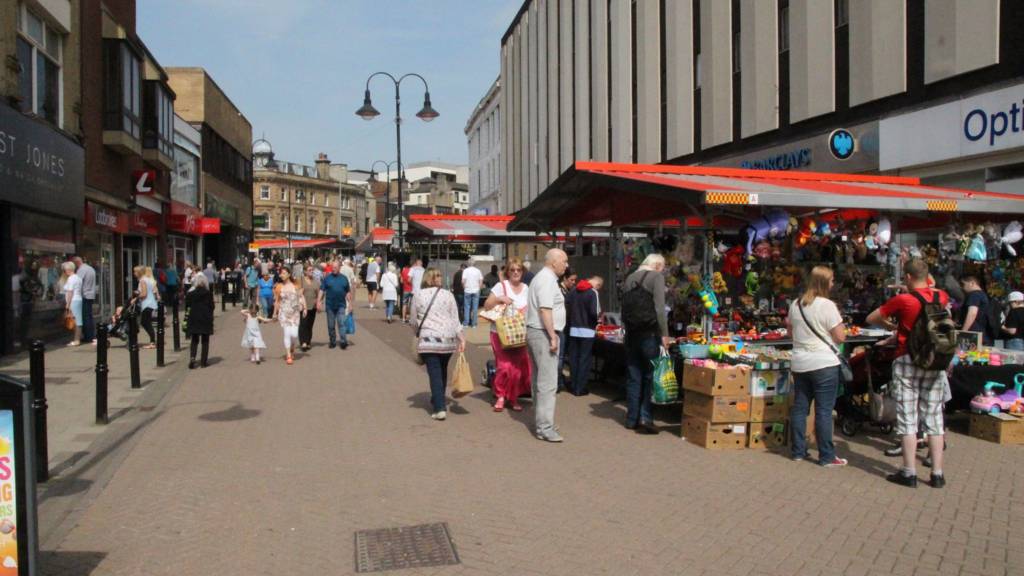 BBC Local Live: Sheffield and South Yorkshire
Summary
News, sport, weather and travel will resume at 08:00 on Tuesday
Live updates on Monday 12 September 2016
Goodbye: Five things we learned today

Kate Linderholm

BBC Local Live, Sheffield

That's it for today but there will be more from the news blog tomorrow from 08:00. If you have something to share please get in touch.

Funds needed for drugs education programme in Sheffield

Gina Bolton

BBC Radio Sheffield

A Sheffield-based drugs prevention programme called Dying for Drugs is calling on people to help raise cash for an education project. 

Steve Shaw is using crowdfunding to raise £25,000 to fund a project to educate young people about the dangers of drug use. 

Steve's a former drug addict, who's been clean for 16 years.

Sport: Sam Morsy wants Oakwell move to be permanent

Jonathan Buchan

BBC Radio Sheffield Sport

Countdown begins to Special Olympics in Sheffield

Special Olympics GB now has its National Games flag flying over Sheffield United's Stadium.

Copyright: Special Olympics GB

It's less than 11 months until this event  for 2,600 athletes with learning disabilities from across England, Scotland and Wales. 

It will be the largest disability sports event of 2017 and is held every four years.  The Bramall Lane Stadium will host the Opening Ceremony on Tuesday 8th August 2017. 

Weather: Cloudy tonight and fairly warm

Paul Hudson

Weather presenter, BBC Look North

Cloud and isolated spots of drizzle will ease away during the evening, leaving mostly clear skies, and the risk of mist or fog patches forming in places by dawn. It will also be a very warm and humid night. 

And tomorrow? It's going to be scorchio!   

Police release image of man who tried to grab girl in Barnsley

A ten year old girl in Barnsley was approached by two men on grassland near to Dodworth Road and Plumber Street on Saturday 13 August.

One of them grabbed the girl's arm before she ran away.

Officers have now released an e-fit of one of the men and want help in identifying him.

TUC urges Government to champion British steel

Delegates at the TUC's annual conference in Brighton are pressing Ministers to ensure that UK steel is used in all major construction projects.

Tim Roach, from the GMB union, says the industry has been "neglected" : 

Time is running out for the Sheffield Eagles

Rebecca Kerry

Journalist, BBC Radio Sheffield

The future of the Sheffield rugby league club has been cast into doubt because a potential investor has pulled out of putting money into the Eagles. 

They are due to move into a new stadium at Don valley. John Whaling the Chief Executive says the city has a month to rescue the club:

Kell Brook was a punch away from career-ending injury

Nick Wilson

BBC Radio Sheffield

Sheffield boxing trainer Dominic Ingle says he had to throw in the towel during Kell Brook's defeat to Genaddy Golofkin as he was one punch away from a career-ending injury.

The fight came to an end in the fifth round when Ingle chose to pull his fighter out of the contest due to a broken eye socket. 

Sections of the crowd booed Ingle when he entered the ring, but he has defended the call:

Sheffield takeaway owner robbed outside his home

Ronan Sully

Radio Sheffield reporter

A Sheffield business owner says he doesn't feel safe in the city, after being the victim of a violent robbery.

Mirza Azar owns Sanam Kebabish on Staniforth Road. 

He says he now fears for his life after attackers stole £8,000. 

Gold for Sheffield's Will Bailey in the table tennis in Rio

Sheffield's EIS training facilities have proved medal-worthy yet again as Will Bailey wins a gold medal in the Paralympics.

The table tennis player took a silver in London but four years later has improved enough to go top.

Severe disruption: M1 South Yorkshire southbound

BBC Travel

M1 South Yorkshire southbound severe disruption, between J33 for A630 Catcliffe and J32 for M18 affecting A57.

Fatal collision on M18 in Doncaster

A 45-year-old man has died in a collision on the M18 at Hatfield.

A black Audi A3 left the carriageway of the M180 at the traffic island of J5 yesterday afternoon, hitting the safety barrier and travelling down the grass embankment, before landing on the southbound carriageway of the M18 on its roof.  

The 45-year-old driver was pronounced dead at the scene. Three passengers were seriously injured and  taken to hospital.   

Stars make art to help Rotherham Hospice

There's an exhibition of artwork at Coterie Gallery in Rotherham by celebrity artists in aid of Rotherham Hospice. 

Copyright: Rotherham Hospice

 Brian Blessed, Judy Dench or Julia Donaldson among others may have done this.

Copyright: Rotherham Hospice

Or it could be by a famous illustrator. 

Copyright: Rotherham Hospice

Make a bid and they can be yours. The exhibition is at the Coterie Gallery until the end of the month.

Severe disruption: M180 Lincolnshire westbound

BBC Travel

M180 Lincolnshire westbound severe disruption, between J3 for M181 and J2 for A161 Gainsborough.

Dexter the police dog is bit paw-ly after a busy week hounding criminals

Kate Linderholm

BBC Local Live, Sheffield

Police dog Dexter is resting up with two legs in plaster after a busy week. 

Last Tuesday officers were running after a suspect who fled over garden fences; Dexter sniffed him out, hiding some distance away from where he was last seen
Immediately after this SYP Operational Support officers had a fail to stop with a vehicle, and Dexter was needed to look for some abandoned property - he found a stash of drugs
Dexter spotted another dog, ran into the road and was hit by a car
Dexter was rushed  to the vets and treated - he had some internal bleeding
Dexter is on kennel rest but he is going to make a full recovery. He has been given some very lovely plasters for his front legs and has been chomping through treats

Dexter's handler released a statement: 

Quote Message: He has not suffered any broken bones or serious internal bleeding. Not bad for a dog which was knocked about 25 feet down the road by a car travelling at about 30 MPH. He is expected to be on cage rest and various meds for about a week after which he will be back chasing bad guys and hopefully not BMWs! I'd just like to say thank you to everyone who assisted at the scene of the incident and afterwards. Your support was greatly appreciated and the team feeling and genuine concern for Dexter was very comforting"