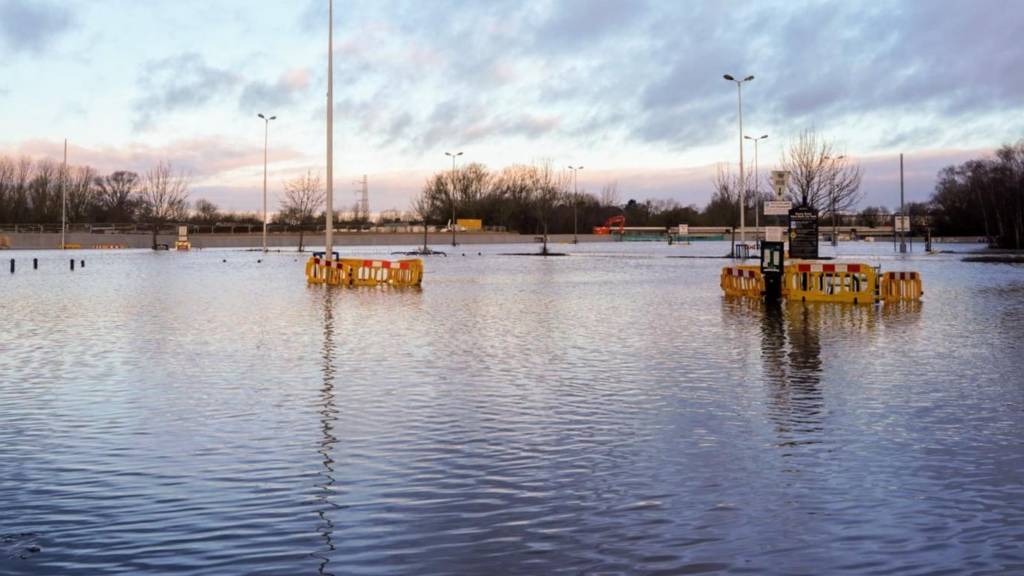 Our floods coverage across the day

We've been bringing you coverage today of how heavy rain from Storm Christoph is affecting the West Midlands.

There's been localised flooding in Staffordshire, Herefordshire, Worcestershire and Shropshire, where residents and authorities brace for more. River peaks may not come until Saturday in some areas, according to the Environment Agency.

There has also been rail and road disruption, and some rescues from vehicles. A flooded road to a hospital, where there's a vaccination centre, has been an additional issue this morning.

On that recap, updates for the region are now switching to our regular Midlands Live service. Keep an eye out here, though, for more updates, should the picture change once more.

We didn't just have rain overnight, it turned to snow in parts of the West Midlands.

Liam Ball recorded the blizzard in Telford, Shropshire:

BBC Weather Watchers Freckles in Rudyard, Staffordshire, and Peter Steggles in Rushbury, Shropshire, snapped snowy scenes too:

Copyright: Peter Steggles

River peak in Bewdley 'probably a metre below February 2020'

The River Severn's peak in Bewdley, Worcestershire, is among those that could now come on Saturday, the Environment Agency says.

Copyright: Environment Agency

More defences have been going up in the town today after others were installed earlier this week.

The agency's Dave Throup tweeted the river's peak would probably be "about a metre lower" than the highest level in February last year which caused widespread damage in the town.

Some river peaks 'may not come until Saturday'

There looks to be a changing picture this afternoon.

Earlier we reported the Environment Agency (EA) was expecting river levels to peak later on Thursday.

But as water from this week's heavy rain makes its way slowly through the rivers of the West Midlands, that forecast is changing.

The EA said that while in some cases it expected river levels to start falling on Thursday afternoon, in others, peaks could come on Friday or even Saturday.

Copyright: J at Severn Ridge

Image caption: Flooding in Severn Stoke, Worcestershire

The EA has more than 40 flood warnings across the region. Worcestershire is subject to most, with 12 in place so far.

There are also 10 in Staffordshire, nine in Herefordshire, eight in Shropshire and, with a new county to be implicated, three in Warwickshire.

Swans on Worcester's banks-bursting river

BBC Radio Hereford and Worcester

The level of the River Severn is rising and in some places in Worcester it has spilled over its banks, which while not good news for most is an opportunity for others. Take a look at this group:

'Anxiously watching' as water levels creep higher

Among the many keeping an anxious watch on the rising river levels in Herefordshire will be BBC Radio Hereford and Worcester reporter Nicola Goodwin.

Last year, she was stranded in her home, close to the river, with the water "above her wellies":

Here's a flashback...

This time, nearly a year later, she said: "We're used to winter floods, we live near the river so it's what we expect.

"In recent years, the floods are happening more often and the water levels are far higher though. In February we had two foot of water in our home and had to live upstairs for three days.

"For the next 48 hours I'll be anxiously watching the water and preparing to move everything upstairs once again."

Drivers told not to ignore road sign flood warnings

Drivers are urged not to ignore signs saying roads have been closed due to flooding.

Copyright: Herefordshire Council

Herefordshire Council made the warning in a tweet which said Holme Lacy Road, Hereford, was shut.

Several other routes in the county have been closed and include the A4110 south of Lawton's Cross, near Leominster and the B4350 Clifford to Whitney on Wye Toll Bridge.

Copyright: Herefordshire Council

Your photos: Flooding in Shropshire

BBC Weather Watchers in Shropshire have been capturing the extent of flooding in the county today.

Hannah took this of the rising River Severn in Shrewsbury:

In Ludlow, user Weatherwizard snapped the River Teme which has burst its banks:

Fields have been flooded in Lydbury North, as Ken M saw:

Around the web: Widespread flooding after snow and rain

Flooding has been the main headline for many today:

Alert over Covid jabs due to flooded hospital road

People heading to get their Covid vaccination at a hospital are being warned one of its entry roads has flooded.

Copyright: The Robert Jones and Agnes Hunt Orthopaedic Hospital

It's the route by the entrance to the vaccination hub at The Robert Jones and Agnes Hunt Orthopaedic Hospital, in Gobowen, Shropshire, that's underwater.

The NHS trust said people coming for their jab should try to access the hospital from the Whittington direction instead.

Deer park shut after flooding

The deer park at Attingham Park, Shrewsbury, has been closed due to flooding, the National Trust says.

The rising level of the River Tern means both bridges have had to be shut, it adds.

Copyright: National Trust

When floods meet a pandemic

As we reported earlier, there are flood warnings in place for nearly 40 areas of the West Midlands.

Those spots are in Staffordshire, Herefordshire, Worcestershire and Shropshire.

So far, disruption has not been as severe as that experienced elsewhere in England and Wales. But for those wondering how the situation - including evacuations - is being managed amid a pandemic, here's a brief explanation:

People have been told Covid rules let them leave their homes in an emergency.

Prime Minister Boris Johnson said the government was "totally prepared" for the dual crises of flooding and the pandemic and that Covid-secure facilities would be available for any people forced to evacuate as a result of the weather.

Rising waters force car park closure in Stafford

A car park in Stafford has been shut after the heavy rain brought by Storm Christoph.

Here's a look at the scene...

Copyright: BBC Weather Watcher Z70

The borough council said the Doxey Road long stay site had been closed.

Two flood warnings are in effect in the town and the Environment Agency says levels on the River Sow are expected to remain high today.

Warning to drivers over flooded routes

Drivers in Herefordshire have been warned not to try to drive into flood water after another rescue in the county.

The bridge in Bredwardine is flooded, West Mercia Police says and adds one car has already needed assistance after getting stuck.

Here's how things look there...

Copyright: West Mercia Police

Near Hereford, bus services to Rotherwas have been suspended due to flooding:

Watch: River bursts banks in Tenbury Wells

BBC Radio Hereford and Worcester

Drivers facing more flooded roads

Flooding is affecting more roads across several counties this morning in the West Midlands.

This photo shows the route at Hadley near Ombersley, just past the Bowling Green pub, Worcestershire County Council says:

Copyright: Worcestershire County Council

In Staffordshire, drivers are having to go slowly on the A34 Stone Road due to flooding just before the junction with Chase Lane, Tittensor, police say:

Copyright: Staffordshire Police

Herefordshire Council tweeted the latest list of roads affected by flooding in its county:

Five flood warnings for Hereford

BBC Radio Hereford and Worcester

One of the areas already seeing flooding is Hereford which is currently subject to five flood warnings.

The level of the River Wye is expected to keep rising through Thursday and into Friday, the Environment Agency says.

These photos show the extent of flooding so far on Holme Lacy Road and Lower Bullingham Lane:

Four-times flooded cafe braces with rest of Shropshire

Preparations for potential flooding have been scaled up in Ironbridge, Shropshire, with temporary barriers installed along the river.

Copyright: Telford and Wrekin Council

A flood alert has been issued for the area, the lowest of the three levels the Environment Agency uses.

But further upstream on the River Severn, a number of higher warnings have been issued and residents will have fresh memories of last year's widespread floods.

Defences have also been installed at the Dale End Cafe in Coalbrookdale which suffered floods four times in 2020:

Copyright: Telford and Wrekin Council

More flood barriers installed in Bewdley

More flood barriers are being installed in Bewdley, Worcestershire, today.

Bewdley suffered widespread flooding last year when river levels rose and poured over the top of barriers in Beales Corner.

Copyright: Environment Agency

The Environment Agency had already put up temporary barriers in the town earlier this week, with Beales Corner among the sites.

The latest are being placed along the south side of the River Severn.