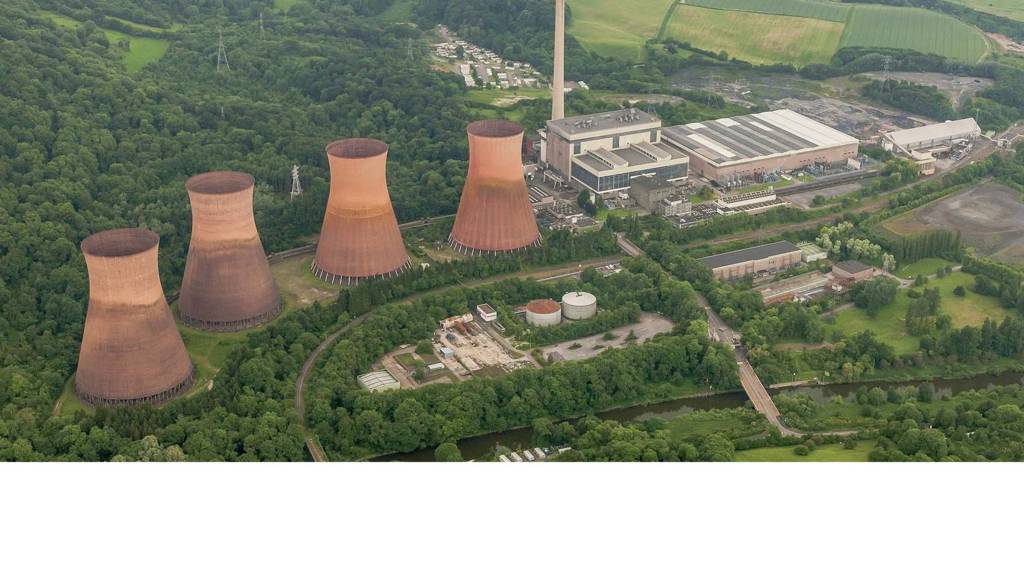 Ironbridge towers demolished: As it happened
Hundreds of people gather to watch as a former power station's cooling towers are brought down.

That's all for cooling tower demolition coverage

That's it for our coverage of the Ironbridge cooling towers demolition.

We hope you enjoyed it.

A reminder that you can still share your memories and photos on the BBC Shropshire Facebook page.

An emotional moment for some onlookers

Some of the onlookers today got quite emotional when the cooling towers came down.

Barb from Shrewsbury was watching from Buildwas and said: "I'm actually quite tearful to be honest, it's sad. Looking out there now, you would never know anything has been there. The smoke has completely cleared and it just seems empty."

In Coalbrookdale, James told us: "it's been a part of everybody's lives for so long and we've become attached to them and it's going to be so strange not to see them."

And Owen, who worked on the construction of the tall tower that still stands, said: "As a child I can remember it as it looks now, except there was a farm there obviously with cattle. Now it's a lovely valley again."

Watch: Slow motion footage of cooling tower demolition

Want to watch the towers come down in slow motion?

Of course you do!

Demolition of turbine hall continues behind the scenes

While all eyes have been on the cooling towers today, a lot of work has been going on inside the power station to demolish other structures.

Harworth Group said it started in June with the removal of asbestos sheeting from the base of the cooling towers and since then a lot of work has been done to clear the turbine hall, next to the towers.

The machinery in this turbine hall once helped deliver power for up to 750,000 homes.

Harworth group said the demolition work was likely to last 27 months.

Plans to extract two million tonnes of sand and gravel

Before work starts on any homes on the power station site, Harworth Group wants to start extracting two million tonnes of sand and gravel from the land.

It said it planned to submit an application this month to extend Buildwas quarry and extract 400,000 tonnes a year over a five-year period, starting next year.

The company said the sand and gravel extraction wouldn't require blasting and the cleaning would be done on another part of the power station site, before it is sent out.

It plans to have the quarry working between 07:00 and 19:00 on weekdays and 07:00 on Saturdays and said when the work is complete it would restore the site, ready for homes to be built there.

Harworth said it hoped to transport 75% of the the sand and gravel by rail, to reduce the number of lorries on local roads.

Housing planned for power station site

Once the power station buildings have been cleared, the owner wants to see about 1,000 homes built on the 350-acre site.

Harworth Group, said it also wanted shops and offices, leisure facilities and a school on part of the land.

Shropshire Council is consulting on the principle of the development, and Harworth said it was also talking to Network Rail with the intention of improving the Albert Edward rail bridge, to allow passenger trains to stop there.

Harworth said the development was expected to take between 10 and 15 years to complete.

Your comments: "How will Telford stay cool now?"

There have been hundreds of comments on the BBC Midlands Facebook page, from people watching the cooling towers come down.

Michael Davies commented: "So sad as I worked there for many a year with happy memories but it's progress and good for the environment."

And Caroline Willis wrote: "Wow so sad, grew up with them in the background."

Mitchell Edwards cheekily asked: "How will Telford stay cool now folks?"

And this is our favourite, from Lisa-Jayne Farr: "Have a completely irrational fear of cooling towers. This will be therapeutic."

Watch: A poem for the cooling towers

BBC Radio Shropshire challenged listeners to write poems about the cooling towers and has recorded a selection of them.

This is Jackie Ingham reading her entry: The cooling towers, from my study at Pulverbatch.

Demolition marks end of 87 years of power station history

The cooling towers will come crashing down in a few minutes, but it took six years to get it up and running, after construction started in 1963.

Parliamentary approval for the coal-fired power station had been granted the previous year and it was designed to be hidden from sight, as far as possible, within the Ironbridge Gorge.

These photos show the towers being constructed and are from the collection of David Price-Cooper.

Copyright: David Price-Cooper

An older power station, which opened in 1932, already existed on the site and it was eventually decommissioned in the 1980s.

The newer power station, which converted to burning woodchips in 2012, stopped producing electricity in November 2015 and was sold by Uniper to Harworth Group in June 2018.

Copyright: David Price-Cooper

'I felt the house vibrate'

Plenty of you have been commenting on the demolition on Facebook and it seems like the explosions could be heard for miles around.

Joanne Burroughs wrote: "So emotional iconic towers gone. A part of our beautiful landscape."

Tim Beech wrote: "Heard the explosion in Priorslee several seconds later. Like a long, deep rumble of thunder."

Karin Lawrence: "Same here in Dawley Bank, felt the house vibrate and the dogs started barking because of the thundery rumble."

Sharon Harris said she could feel the "shudder" in Woodside.

What else is on the power station site?

The cooling towers are the most visible part of Ironbridge power station, but as you can see from this photo, they were just part of the overall site.

The building you can see with the tall chimney is the turbine hall and Harworth Group said the site also included a social club with sports pitches, timber pavilion and golf course, previously excavated pits, and waste tips containing ash from the power station.

Copyright: Harworth Group

The company said the demolition work was expected to continue into 2021 and the removal of the fuel ash won't start until March and will take two years to complete.

'A huge part of the landscape'

Loads of you are sending us your memories and thoughts today on the BBC Midlands Facebook page.

Beccy Bradburn wrote: "Very sad. A huge part of the landscape that was there on my way to work this morning, will be gone on my way home. Such a sad day having grown up with them always being there."

Pam James added: "I feel quite emotional about them going. I've always thought they actually enhance the landscape."

Louisa Graham posted: Shame. It may not be a castle, the Tower of London or a piece of ironwork, but it is still worthy of saving. They are an icon of their era too."

Watch it again: The moment the towers came down

We just can't watch this video enough - the moment the Ironbridge cooling towers came down.

There were hundreds of people photographing the moment, filming it, live streaming it or just watching it for themselves.

And they stood in eerie silence, mesmerised by the moment.

And this was BBC Correspondent Phil Mackie's view:

Towers obliterated from landscape

And this was the view from a bit further away courtesy of Telford and Wrekin Council.

Copyright: Telford and Wrekin Council

Copyright: Telford and Wrekin Council

The Ironbridge Power Station cooling towers have gone.

It only took a few seconds in the end and we heard the bangs after we saw the structures crumble.

Some people are leaving the surrounding hills now and getting in their cars, but others are still there, some hugging each other.

Watch live: Cooling towers blown up in explosive demolition

More aerial shots of power station cooling towers

We've seen some really spectacular aerial photos of the cooling towers, including this one that Jase Garton shared on the BBC Midlands Facebook page.

He said: "I took this at 1000ft above the towers just before they powered down the station for its final time".

And this photo was taken by a pilot from RAF Cosford.

They tweeted "The towers have been a great navigation aid for pilots in the skies over Shropshire since they were built."

Demolition 'too emotional' for some former staff

People who used to work at Ironbridge Power Station have said there was a great sense of community among the staff and some will miss the cooling towers when they are gone.

Trevor Sidaway from Wiltshire (second right) worked there for 20 years, before leaving in 1997 and said: "If you had a problem you could ask anyone and they would help you. You were never stuck for anything."

Trevor Childs (far left) from Much Wenlock agreed and said "power stations tend to be like that, but Ironbridge was particularly so. We looked after each other."

Some will watch the cooling towers come down and they were invited to be part of the event, but Andy Holden from Shrewsbury (second left) said: "I've spent nearly 40 years maintaining the place, running the place, looking after it, doing my job as best that I could. Don't want to be part of the demolition."

He explained: "The power station has been part of my life, it was nearly 40 years. It's helped me raise my children, it's helped me pay off my mortgage and it's gone now and I do miss the place, I miss the camaraderie and the work."

Trevor Childs said: "They looked nice, they blended in, but they were part of a power station, the cooling towers. The problem is, to keep them would have cost an absolute fortune."

Do you have memories of the power station or its cooling towers? Email us

88-year-old among hundreds gathering to watch the towers

Among the hundreds of people climbing the hills to watch the cooling towers come down is 88-year-old Ethel Martin.

She has travelled from down the road in Dawley to watch the big event and was helped up Strethill.