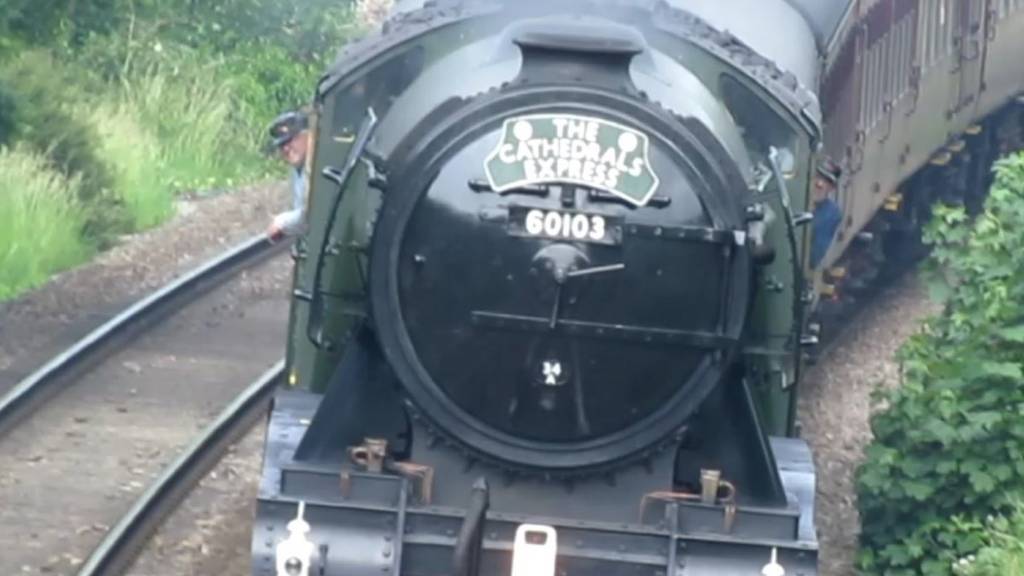 BBC Local Live: Shropshire
Summary
Flying Scotsman locomotive passes through Shropshire
Inquests open into deaths of Shropshire pair in microlight crash
Councils to meet to discuss future funding of libraries
Updates on Wednesday 8 June 2016
Flying Scotsman steams through Shropshire

The Flying Scotsman has travelled through Shropshire this afternoon.

Our live coverage across the day

We'll be back with our usual mix of news, sport, travel and weather from 08:00 tomorrow, but keep an eye out here for more updates this evening and into the morning.

Weather: Another warm and hazy night

Shefali Oza

BBC Midlands Today

We're due another warm night with plenty of hazy cloud, so open some windows!

Plans to extend Ellesmere quarry

Plans to extend workings at a north Shropshire quarry could get the go-ahead. 

Planning councillors meet next Tuesday and the recommendation from council officers is to approve the plans by Ellesmere Sand and Gravel to extend the workings on Wood Lane in Ellesmere, by almost 20 hectares. 

The plans have been amended to address hydrological concerns about the impact on nearby Colemere.

Watch: The Flying Scotsman reaches Craven Arms

Andy Giddings

BBC Local Live

We've had so many photos and videos of the Flying Scotsman in Shropshire today and it's a pity we can't show you all of them.

This one, taken in Craven Arms, is worth a look though - because the train is moving a lot slower than in the previous videos.

There's more about the Flying Scotsman's visit on Midlands Today from 18:30 on BBC One.

Football: TNS sign Scottish defender

James Bond

Sports Producer, BBC Shropshire

The New Saints have signed Scottish defender Steve Saunders on a two-year deal. 

The 25-year-old's has played for Motherwell, Ross County and Dumbarton.

He's also got one cap for Scotland.  

Shropshire musicians excited at Glastonbury opportunity

Shropshire artists AKA George and Zach Said have been speaking about their excitement at being chosen to perform at Glastonbury.

Zach said he was told to keep the news a secret, but had to tell his mum as soon as he heard!

Zach says he hopes this opportunity will help promote his work and called it "mindblowing".

George Barnett (AKA George) says he got the news a week ago and has been planning a 30 minute set, featuring some of his best work.

Quote Message: I've always dreamed of playing on a stage at a festival so this is a dream come true." from Zach Said Shropshire musician

Headlines: Flying Scotsman passes through county; library and leisure service funding discussed

Andy Giddings

BBC Local Live

These are our top stories this evening:

- The Flying Scotsman passes through the county

- Town and parish councils meet to discuss library and leisure service funding

- Plans to extend Ellesmere quarry

Sculpture planned for Shrewsbury recycling centre

Preparations are being made for the creation of a work of art to stand outside the waste recycling centre at Battlefield in Shrewsbury.

The revolving metal sculpture is being made from parts of a Shropshire-built Victorian gas holder that's no longer in use.

Steve Mitchell from waste firm Veolia (pictured above) says they wanted something which sends out a message about recycling.

And artist Jessica Jackson (above, right) explained it would represent a never-ending cycle of arrows, bringing together the site's medieval past and it's current use.

Hague attacks 'irresponsible' Leave camapign

Former Foreign Minister and ex Tory leader Lord William Hague has been speaking out today against what he calls "irresponsible" message from the Leave campaign.

In a speech at Chatham House, he set out his own Eurosceptic credentials - how he fought to keep Britain out of the euro most notably - before setting out some of the risks facing the country at the present time.

"To add to those risks at a time of uncertainty, without any clear idea of what the alternative plan might be is irresponsible and potentially dangerous."

It comes as the deadline for registering to vote is extended to Thursday night.

Watch: The Flying Scotsman arrives in Shrewsbury

Here's more video of the Flying Scotsman passing through the county.

This one was filmed in Shrewsbury by BBC Shropshire presenter Eric Smith.

Giant 'sinking ship' sign erected by EU Leave campaigner

Tim Page

News Editor, BBC Shropshire

With the EU referendum getting closer, both sides are getting out the posters, placards and leaflets. 

But the owner of Cound Hall, David Sykes-Waller, has gone one step further with a giant road sign that he is calling the EU Titanic. 

Leave campaigners will "christen" it on Friday.

But not everyone agrees with campaign boards springing up all over the county and Telford & Wrekin Council won't allow any on its property, after rows in previous elections about people defacing them.

Watch: Flying Scotsman passes through Hadnall

Did you see the Flying Scotsman passing through Shropshire?

This video was taken in Hadnall a short time ago.

Flying Scotsman heads through Church Stretton

Watch on BBC Radio Shropshire's Facebook page as the Flying Scotsman passes through Church Stretton on its journey south.

Claim of 600 homes at Clive Barracks 'way off the mark'

Rumours that an Army barracks earmarked for closure could be turned into 600 homes are "way off the mark", a Shropshire councillor insisted today.

Copyright: Shropshire Star

Headlines: Flying Scotsman due in county; councils to debate libraries; new hospital parking cameras

Andy Giddings

BBC Local Live

Our top stories this afternoon:

- Shropshire waits for arrival of Flying Scotsman

- Councils to debate libraries funding

- New parking cameras switched on at Telford hospital

Photos: Shropshire waits for Flying Scotsman

The Flying Scotsman is due to pass through Shropshire over the next hour or so and rail enthusiasts are lining the bridges and railway embankments around the county, hoping to catch a glimpse.

This photo was taken in south Shropshire a short time ago.

Parking cameras switched on at Telford hospital

Andy Giddings

BBC Local Live

The number plate recognition cameras have been turned on at Telford's Princess Royal Hospital today, meaning you don't have to pay at a machine any more.

Instead, the cameras will scan your vehicle as you arrive and leave and you will be charged for the time you spend there.

The cameras, which have been in use at the Royal Shrewsbury Hospital since 2013, also give you the option to pay over the phone or online and there are now pay machines outside the Women and Children's centre.

Flying Scotsman passing through Shropshire over the next hour

Andy Giddings

BBC Local Live

The Flying Scotsman will be travelling through Shropshire over the next couple of hours.

It's due to pass Whitchurch in the next hour and will continue non-stop through Wem, Shrewsbury and Church Stretton, before a scheduled half-hour break in Craven Arms.

People are being urged not to trespass on the line, after recent incidents across the country.

Last night 700 people turned up to see the 93-year-old locomotive at the Crewe Heritage Centre.

Charlie Slater

BBC Weather presenter

The Met Office has issued a yellow warning for heavy, thundery showers this afternoon and evening across the West Midlands. 

While most will avoid the showers, there is the potential for a few isolated heavy, thundery bursts that could lead to tricky driving conditions and localised flooding.