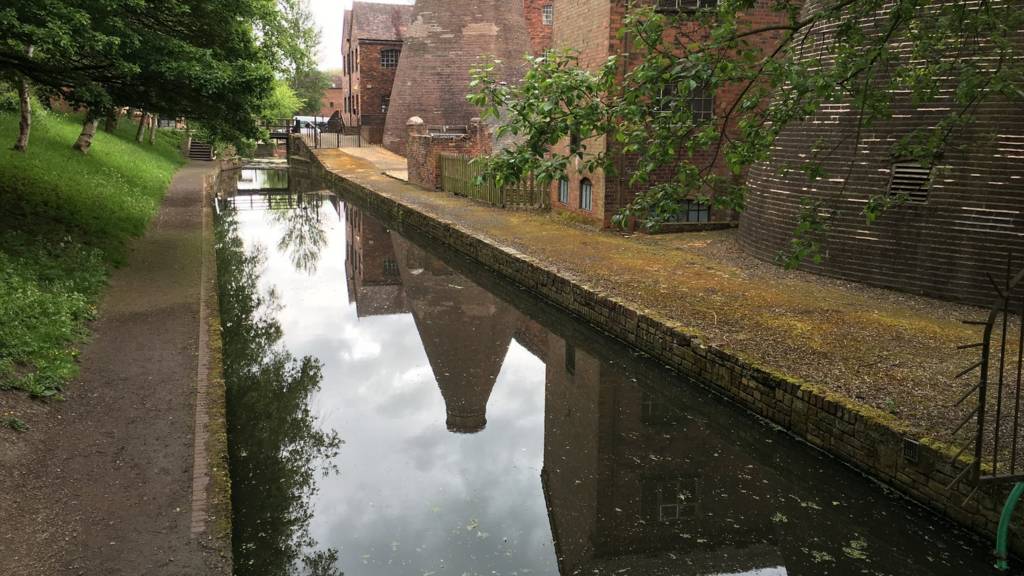 BBC Local Live: Shropshire
Summary
Woman cut free from car after Telford crash
Plans drawn up for new Shifnal swimming pool
Shropshire councillors fight back after no confidence vote
MP wants further Deepcut barracks inquiry
Updates on Wednesday 1 June 2016
The weather for the West Midlands

Our live coverage across the day

We'll be back with our usual mix of news, sport, travel and weather from 08:00 tomorrow, but keep an eye out here for more updates this evening and into the morning.

Weather: A grey end to the day in Shropshire

Shefali Oza

BBC Midlands Today

There's no sign of the cloud lifting over Shropshire and it should be another overcast night.

Police want to talk to 'good Samaritans' after sexual assault

Police want to speak to two "good Samaritans" who stopped to help the victim of a sexual assault in Telford.

The victim was attacked by two teenage boys in an alleyway off Kesworth Drive in Priorslee on Sunday, between 20:00 and 20:30.

Two 17-year-olds from Telford, have been arrested on suspicion of sexual assault and released on bail until 1 July.

BBC Weather Watchers: A cloudy day across Shropshire

It's been a cloudy day over Shropshire and the BBC Weather Watchers have been sending in some gloomy-looking photos.

This one was taken near Church Stretton.

Parish vote of no confidence labelled 'extreme and irrational'

One of the Shropshire councillors responsible for Weston Rhyn has described the parish council's vote of no confidence in the unitary authority "extreme" and "irrational".

The parish council held the vote, complaining it's missed out on road safety improvements and that Shropshire Council isn't responding to its concerns.

But councillor David Lloyd said this complaint "baffled" him and insisted his authority does value Weston Rhyn.

Quote Message: I'm disappointed because I have had and still have family living there. I've always had a warm regard for Weston Rhyn." from Councillor David Lloyd Shropshire Council

Shropshire's Rob wears nappy for fundraising naked bike ride

A Shropshire nurse will be sporting an unusual cycling costume this weekend in a bid to highlight an illness that has affected his family.

Watch: Telford volunteer swaps his desk for the garden

Sam Fleet

Journalist, BBC Shropshire

Normally Matt Jewkes works on speed awareness courses for TTC in Telford, but he was given permission to take a day off and do a bit of volunteering.

So he went to help out the homeless charity Stay in Ketley Bank.

The company is encouraging other members of staff to follow his example and is offering them time off, without losing pay.

Headlines: Woman cut free from Telford crash; councillors fight back after no confidence vote

Andy Giddings

BBC Local Live

These are our top stories this evening:

- Woman cut free from car after Trench Lock crash

- Shropshire councillors fight back after vote of no confidence

- Rejection of Ludlow 'Hobbit home' plans welcomed

Wind turbine hold-ups could 'put patients at risk'

Fears have been raised that lorries carrying wind turbine parts through Shropshire and Mid Wales could cause hold-ups for patients travelling to hospital.

Copyright: Shropshire Star

Olympic professional boxing move criticised by Richie Woodhall

The decision to allow professional boxers to compete at the Olympics has been criticised by Shropshire's Richie Woodhall - who won bronze at the 1988 games.

He thinks the move is to "make the sport more attractive" and that the Olympics should be a place for up-and-coming boxers to launch their careers.

But Woodhall, who turned pro to win the WBC super middleweight title, doubts the biggest stars will take part, saying the qualification process will probably put them off.

Quote Message: I think amateur and professional boxing are two totally separate sports. To bring professionals into an amateur Olympic setup is wrong. Traditionally it's always been a sport to spring launch athletes into a professional career." from Richie Woodhall Boxing commentator

Shropshire farmer bets his future on a different kind of milk

Vivienne Nunis

Business reporter, BBC News

A Shropshire dairy farmer is betting his future on a different kind of milk - one high in a protein called A2.

Neale Sadler's black and white Holsteins have been specially bred to produce it and the A2 milk looks and tastes like conventional cow's milk, but proponents claim it is more easily digested.

The Food and Agriculture Organization have declared today World Milk Day and Mr Sadler, who has been producing A2 milk for the last four years, claims it has cleared up his eczema.

But some scientists in Australia say the claims over its health benefits are exaggerated.

Quote Message: I've had eczema all my life. Within three weeks of converting our herd to A2, my eczema disappeared. It was astonishing. I never would've believed in all the years that I've had eczema that it was linked to a dairy intolerance, but it was." from Neale Sadler Farmer

Woman cut free from car after Trench Lock crash

The driver of a car has been cut free after a crash with a lorry at the Trench Lock interchange in Telford this lunchtime.

The woman, in her 50s, was taken to the Royal Shrewsbury Hospital with neck and back pain and a minor injury to her arm.

The driver of the lorry and a passenger in the car were unhurt.

Headlines: Woman cut free from car; call for more Deepcut inquiries; Shifnal pool plans

Andy Giddings

BBC Local Live

These are our top stories this afternoon:

- Woman cut free from car after Trench Lock crash

- MP wants further Deepcut barracks inquiries

- Plans for new swimming pool in Shifnal

Pictures: Plans for Shifnal swimming pool

Andy Giddings

BBC Local Live

The plans for Shifnal's new swimming pool show a two-storey building backing on to the M54, with 61 parking spaces.

They've been drawn up by Pinelog, a company which specialises in designing pools and it says it's hoping the plans will pass through without a problem, because the principle of a pool on this land has already been approved by Shropshire Council.

If the plans are approved, the project could receive £750,000 from developers Redrow and Bovis, as part of the deal to build 400 homes at that end of town.

Councillor says decision to reject 'Hobbit home' is good news for Ludlow

Andy Giddings

BBC Local Live

The decision of a planning inspector to reject plans for a home set into the hillside in Ludlow has been welcomed by one local councillor.

Andy Boddington says the "Hobbit home" at the bottom of the Linney, on Burway Lane (pictured below) would have damaged the appearance of the town and the view of the castle.

Shropshire Council had thrown the plans out in September, but the applicant Andrew Badlan was hoping to overturn that decision by appealing to the planning inspector.

Ludlow man thanked for Queen's tapestry

Genevieve Tudor

Journalist, BBC Shropshire

A man from Ludlow's delighted he got a reply after sending the Queen a tapestry as a 90th birthday present.

Jack Andow has been making tapestries all his life, and donating them to charity.

The reply, written by the Queen's Lady in Waiting says "letters like Jack's gave Her Majesty much pleasure and encouragement".

Planning application for Shifnal swimming pool

Andy Giddings

BBC Local Live

Plans for a new swimming pool in Shifnal have been drawn up, 33 years after people in the town backed the idea in a petition.

A developer has set aside land for the building on the soon-to-be-built Haughton Road estate and the Shifnal Town Council wants to see a 25m pool along with a gym and an aerobics room.

The town council is also suggesting there could be a rugby pitch on the site, which backs on to the M54, and has submitted the plans to Shropshire Council.

Call for further Deepcut barracks inquiries

An MP is calling for a dossier of abuse allegations at the Deepcut Barracks to be re-examined as an inquest into a teenage recruit's death is due to end on Friday.

Private Cheryl James, whose parents live in Llanymynech, was found with a bullet wound to her head in November 1995.

MP Madeleine Moon plans to table a parliamentary question asking what happened to the soldiers accused of rape, sexual and physical assaults and bullying at the base in Surrey between 1995 and 2002.