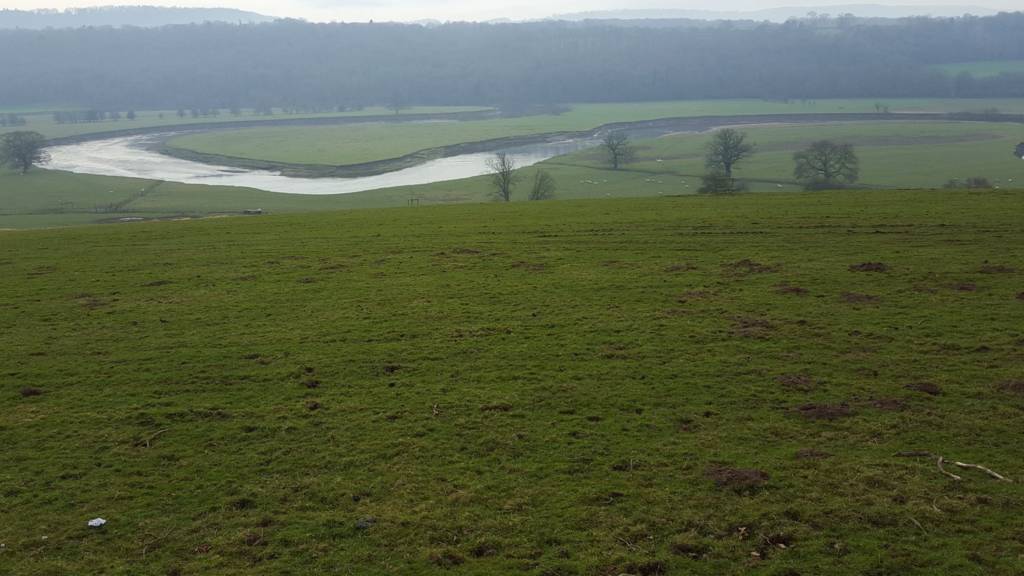 BBC Local Live: Shropshire
Summary
Man found with 'serious' head injuries in Shrewsbury
Bid to create 'quiet lane' in Little Wenlock
Walker left in 'excruciating pain' thanks rescuers
Shropshire's libraries are facing further cutbacks
Updates on Tuesday 24 May 2016
Weather for the West Midlands

Weather for the West Midlands.

World War Two fan's hoard fetches £80k

Our live coverage across the day

We're back at 08:00 tomorrow with our usual mix of news, sport, travel and weather, but keep an eye out here for updates through the evening and into the morning.  

Watch: 360-degree video of band in session for BBC Introducing

BBC Introducing in Shropshire

Here's something a bit different...

Band 'Hill Valley High' came in to play their track 'Move Closer' for BBC Introducing in Shropshire on Saturday. We filmed them in 360° video.

Crackdown on illegal fishing in Telford

Andy Giddings

BBC Local Live

The police, Environment Agency and local angling groups have been out at seven fishing pools around Telford, checking up on rod licences, clamping down on poaching and generally trying to put a stop to anti-social behaviour.

They've called it Operation Leviathan and say they found five people without licences and gathered information about fish which have been stolen in recent weeks.

Kevin Pearson from the local Angling Trust told us the number of people without a licence was surprising, because the checks were carried out on a quiet Monday night.

There are plans for more spot checks around the county in coming weeks.

Oswestry taxpayers could be faced with a hefty bill

Oswestry & Border Counties Advertizer

Council tax in Oswestry could soar if the town decides to take responsibility for services which at the moment are funded by Shropshire Council.

Weather: Light cloud and sunshine for the rest of the day

Don't expect summer temperatures, but we'll have patchy sun for the rest of the day.

Bridgnorth woman's search for the woman who found her dog

A Bridgnorth woman is trying to trace the woman who found her missing dog, 80 miles away in Merthyr Tydfil.

Donna Burgess says they met yesterday when she was reunited with her pet, Ava, but she was so excited she forgot to say thank you or take any contact details.

Donna believes her dog was taken by thieves at the weekend, but doesn't know why they decided to let the animal go.

More than 100 sign up to help Shropshire boy with cerebral palsy

Andy Giddings

BBC Local Live

More than 100 people have so far signed up for a charity fundraiser in Shropshire in July to help pay for life-changing treatment for a boy with cerebral palsy.

Harry's Potter involves people walking or running the 18 miles (29km) between the hospitals in Telford and Shrewsbury.

Over the past four years, the event has raised £65,000 of the £80,000 needed to send Harry Morgan-Shirley to America for surgery and for the follow-up physiotherapy.

Headlines: Investigation after man found with head injuries; bid to create 'quiet lane'; injured walker thanks rescuers

Andy Giddings

BBC Local Live

These are our headlines this evening:

- Police investigate after man found with head injuries in Shrewsbury

- Bid to create 'quiet lane' in Little Wenlock

- Walker thanks emergency services for rescuing him

Police report attempted theft from electricity substation

Police believe a group of men may have been trying to steal property from an electricity substation at Easthope.

They were called out to reports of the men behaving suspiciously yesterday afternoon. But the group, they say, appears to have been scared off when watched by a member of the public.

The men are said to have left in a silver Ford Transit van.

BBC Weather Watchers: A sunny day across Shropshire

It's been fairly mild today, but we've had plenty of sunshine as you can see from these photos sent in by the BBC Weather Watchers.

Here we have a road just outside Ludlow (top) and fields near Norton (bottom).

BBC Shropshire 'Place of the Week': Horsehay

Mark Elliott

Reporter, BBC Shropshire

This week, we've chosen Horsehay as BBC Radio Shropshire's "place of the week" and we'll spend the week speaking to people living and working there.

We started with a trip to see the Telford Steam Railway, which has big plans to extend its track down to Ironbridge.

It also has the rights to run "Polar Express" trains at Christmas, based on the animated Tom Hanks movie and tickets are already on sale.

Football: Shrewsbury's Mellon wants a smaller squad

James Bond

Sports Producer, BBC Shropshire

The Shrewsbury Town manager, Micky Mellon, says he'd like a smaller squad next season.

He accepts that isn't always possible with injuries and suspensions forcing him to bring in extra players.

But he believes it's better for team spirit to have fewer "squad players", so everyone can feel involved.  

Plans to create 'quiet lane' in Little Wenlock

Andy Giddings

BBC Local Live

There are plans to make Spout Lane in Little Wenlock a "quiet lane".

It means Telford and Wrekin council would actively promote the route to cyclists, walkers and horse riders, but cars wouldn't be banned.

The parish council says it's come about because of traffic concerns raised by local residents and a meeting to discuss its status will be held on 13 June.

Headlines: Investigation after man found with head injuries; search for more part-time firefighters

Andy Giddings

BBC Local Live

These are our top stories this afternoon:

- Police investigation after man found with head injuries

- Search for more part-time firefighters in Wellington

- Walker thanks emergency services for rescuing him

Chelsea Flower Show 2016: New Shropshire rose inspired by Roald Dahl

Walker thanks emergency services for rescuing him

Andy Giddings

BBC Local Live

A 71-year-old man who fell three metres into a stream in Shropshire's Carding Mill Valley last month has been talking about the accident and thanking the emergency services who rescued him.

Ian Dutton from Liverpool was on a four-day walking holiday in the area, when he lost his footing near the Lightspout waterfall and broke part of his pelvis.

Copyright: Shropshire Fire and Rescue Service

Mr Dutton was found by fellow hikers and it took six firefighters an hour to carry him down narrow paths to a waiting National Trust Land Rover.

He spent three weeks in hospital and is now back at his home in Mossley Hill.

Quote Message: We were on our way down from the waterfall when I decided to take what I thought was a quicker route, lost my footing, and fell about 10ft and ended up sitting in a stream at the bottom. The pain was excruciating." from Ian Dutton Walker

EU debate for Telford students

Students in Telford will have the chance to question local councillors this afternoon, ahead of the EU Referendum. 

The town's College of Arts and Technology is hosting the debate to stimulate student interest in the issues. 

Labour's Bill McClements and the Lib Dem's Bill Nicholson will be on the "remain" panel, while UKIP's Denis Allen and the Conservative Barry Tillotson will represent the "leave" campaign.