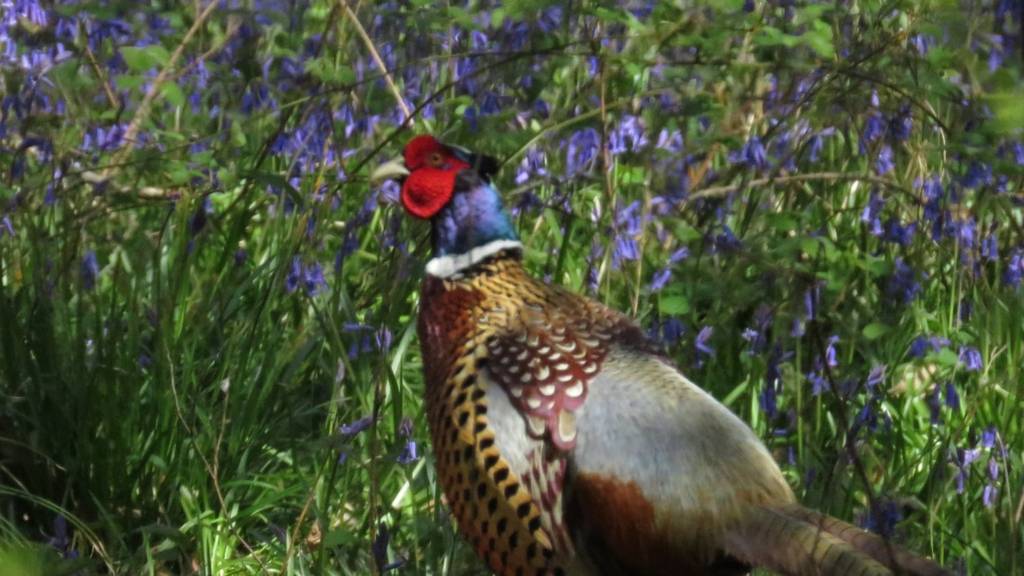 They used stolen cars hidden inside a lorry to carry out the raids across England and Scotland.
Read more
Thanks for reading. We'll be back from 08:00 tomorrow with more news, sport, weather and travel from around Oxfordshire.
People banned from property linked to drug dealing in Didcot
A court order has been made banning anyone from entering a property in Green Road, Didcot, that is suspected of being used by drug dealers.
The partial closure order was granted by Oxford magistrates on 19 April after complaints from other residents.
Thames Valley Police presented them evidence of "a catalogue of anti-social behaviour linked to drugs supply emanating from the address".  
The order will be in effect for three months and prohibits anyone, including residents, from being on the premises for the duration of the order.
PC Stuart Betts said: "Anyone who is tempted to allow drug dealers into their home needs to be aware that we will do whatever is necessary to protect our communities."
Animal sanctuary facing increased numbers

David Lumb
BBC South Today
The Blue Cross charity in Burford has seen an increase in baby animals that need rehoming.
The animal sanctuary needs to raise £15,000 to deal with the demand.
Brain injury victim steps up training on incredible fundraising trail

Burglar steals cash from 84-year-old woman
Police are appealing for witnesses after burglary in Dry Sandford between about 16:00 and 17:00 on Wednesday.
An 84-year-old woman was asleep in her front garden when someone entered her home through an insecure window and stole cash.
Officers would like to speak to anyone with a large amount of cash that can't be explained, or who saw a dark blue hatchback with two white men who were in their late teens or early 20s in the area.
Filming for Morse's Endeavour spotted outside gym
ITV's ever-popular 1960s prequel to Inspector Morse - Endeavour - will be returning to our screens later this year. But will it include shots of the South Moreton Fitness Club?
Crews were spotted on Turl Street earlier this week, and now Shaun Evans and Roger Allam are sculpting their guns in South Moreton's favourite gym (other fitness-related activities are available). 
Here is a rather happy member of staff from the gym next to Inspector Morse's Mk II Jag and corresponding police car.
Send us your snaps of the filming of Endeavour in Oxford by email. 
Playhouse to go ahead following actor's death
The UK tour of Arthur Miller's Death of a Salesman is to go ahead despite the death of lead actor Tim Pigott-Smith.
The play will be performed at the Oxford Playhouse from Tuesday 11 to Saturday 15 July and Nicholas Woodeson (pictured)is taking over the lead role of Willy Loman. 
The theatre said the decision was made "after close consultation with the acting company, creative team and their touring partners Royal & Derngate Northampton".
Woodeson is an Olivier Award nominee, having appeared in The Audience, The Homecoming, and Rocket to the Moon. Away from the stage, he was also in Skyfall, Taboo, and The Living and the Dead.
Upgrades 'not required' at Thames United ground following promotion
Thame United's chairman has confirmed to BBC Radio Oxford there will be no need for any upgrades to their Meadow View Park stadium following promotion. 
The ground already meets Southern League requirements set when Aylesbury United started ground sharing with them. 
Thame won promotion from the Hellenic League this month and Jake Collinge feels the club has come a long way in the last decade.
I recall standing outside the old Windmill Road ground with a BBC Radio Oxford reporter talking about the plans to find ourselves another home - a grounding that could take us forward on a footballing front - and it's taken us that period of time to get the new ground and get back to the level of football we were playing at.
Police appeal following fatal quad bike crash
Thames Valley Police says it is still looking for witnesses to a fatal quad bike crash on 3 April.
Rider Christopher Abbott, 22, from Tidworth, Wiltshire, was taken to hospital by ambulance and died the next day after crashing on the A4095, between Chesterton and Kirtlington.
PC Phil Hanham, of Bicester Roads Policing, said: "We are continuing to appeal for witnesses to this collision, in which a young man sadly lost his life.
"In particular, we would like to speak to the occupants of a dark-coloured estate car which was believed to have been in the area at the time of the collision and its occupants may have witnessed what happened."
Swinford Toll Bridge back in the day
Our travel presenter Al Ryan is often broadcasting updates on the traffic on the Swinford Toll Bridge.
As this picture shows, there was a time when it wasn't quite so busy...
Steven Brocklehurst
BBC Scotland news website
A gang that blew up cash machines across the UK, including four in Scotland, stealing hundreds of thousands of pounds, is sentenced.
Read more
Ags Connolly performs 'Nothin' Unexpected'
Witney country singer Ags Connolly popped by our studios to perform a track from his new album as part of the BBC Introducing in Oxford programme.
You can watch his session below.
Road traffic collision in Old High Street, Headington
South Central Ambulance Service is currently dealing with the aftermath of a collision between two cars in Old High Street, Headington.
It sent an ambulance to the scene at 10:27 and is "assessing and treating one male patient with chest pain", a spokesman said.
Andrew Smith MP to stand down: Your reactions
Yesterday we reported Oxford East Labour MP Andrew Smith had decided not to stand in June's snap election. 
You've been us giving your reactions.
David Hale said: "Brilliant for the area which I lived. He lived in the community which he represented unlike most."
Anne Mandry said: "I have never supported the Labour Party but when a human being dedicates 30 years of his life to doing what he thinks is best for his community then I think he deserves respect and thanks." Anthony Greenfield said: "Andrew Smith has been a brilliant MP and has helped me on several occasions fighting for our area... Thirty years of commitment and at 66 he deserves a retirement to enjoy the years he has left."Michael Taylor said: "Andrew was a solid and committed MP, and before that a very strong advocate of the needs of East Oxford and Cowley." 
Ben Dean tweeted: "Sad, very good local MP whom I never heard people say a bad word about." Ralph Roberts also tweeted, calling him a "truly great MP".However, Mark Davies said: "I suspect he, like many others, has seen the train wreck to come and made a decision which may well have been delayed previously. He isn't the first labourist to announce he's stepping down... and he will not be the last. I would jump if I was him too!" 
Witney MP says PM 'not scared' of election debates
Witney MP Robert Courts has defended Theresa May's decision not to take part in TV debates ahead of the planned general election.
"She debates with Jeremy Corbyn every week live in Parliament, which is televised, and of course people can watch that, so there's no question of her being scared," he told BBC Oxford.
"What she's clearly wanting to do is to get out and take the message directly to the people."
Debenhams unveils turnaround strategy
Debenhams, which has stores in Oxford, Witney and Banbury, is going to review the future of 10 of its 165 UK department stores.
It's planning to close 11 of its warehouses, including one of its major distribution centres, which employs more than 200 people. The company hasn't disclosed which sites are at risk.
Squatters appeal for place to stay
Natalie Verney
BBC Radio Oxford
People in Oxfordshire are being asked if they'd be happy to house a homeless person, to help them get their lives back on track.
The plea comes from the people behind the Iffley Open House project, a group that's seen squatters take up residence in disused buildings across the city.
Neo, who chooses to live on the streets and has been part of the project, says it would give homeless people the chance to hold down a job and save money.
What we're asking is that people put a homeless person up who's actually working, and accept a week's rent at a time, to give them a chance to get their life together... and then they can possibly move on to their own place and have the money for a deposit.
Weather: Cloudy and a little rain
Oxford tops national business list
Howard Shannon
BBC Radio Oxford News
Oxford has today been named the number one place in the UK to set up a business.
It's based on an analysis of more than 154,000 Google search terms and 63,000 national business listings that reveals where online demand isn't being met by local supply.
Inverness came second and Cambridge third.
Hello and welcome to BBC Local Live for Oxfordshire on Thursday 20 April.
Stick with us as we bring you the latest news as it breaks across the county.
You can be part of the conversation via email, Twitter, or Facebook.  
Thanks to Rebecca Allen from Oxford for today's main image, which she snapped yesterday.
"While trying to capture the perfect bluebell photo at Harcourt Arboretum, I captured this lovely pheasant instead," she told us.
If you'd like to share your pictures with us, please send them to oxfordshire@bbc.co.uk.