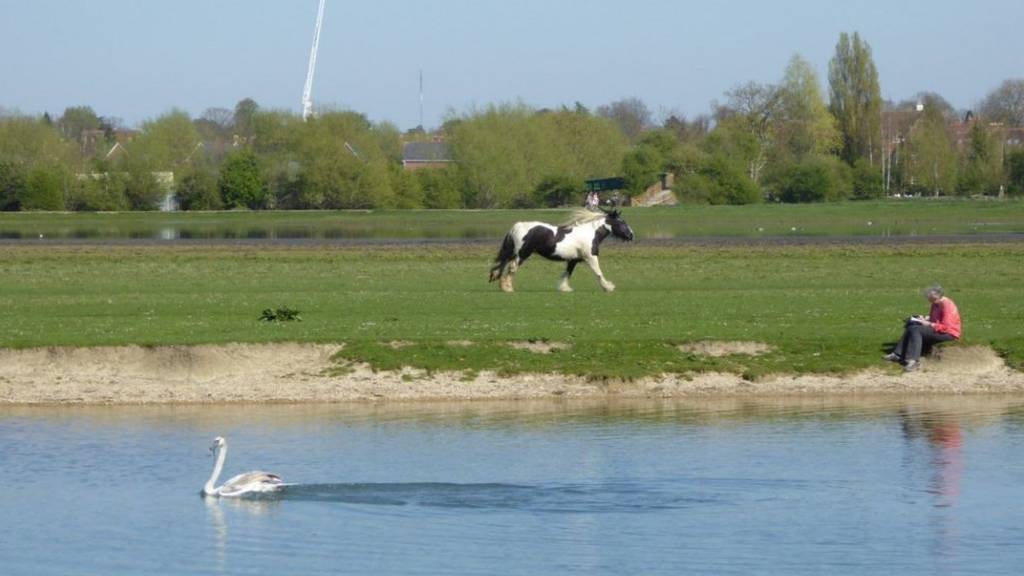 Thanks for joining BBC Local Live for Oxfordshire today.

The service returns tomorrow at 08:00.

Tonight's weather: 'Chance of rain'

There's a chance of a spot of rain tonight. But where the skies stay clear - a touch of frost. 

Minimum temperatures of 2C (36F).

Large number of tyres dumped in field

Fifty-six tyres have been found dumped in a north Oxfordshire field.

A street cleansing team from Cherwell District Council discovered the flytip beyond the wall of a layby containing bottle banks off the A422 Stratford Road between Wroxton and Balscote. 

Environmental enforcement manager Mark Harmon said: "Due to the amount of tyres which were dumped at the scene we suspect this offence was committed by a motoring business or fraudsters posing as legitimate waste collectors. 

"In this case the act is deliberate and prolonged which shows a blatant disregard to the environment, wildlife and our officers who are tasked with clearing the mess. Not only that, it is innocent taxpayers who ultimately lose out as they have to foot the clean-up bill."

Voluntary smoking 'ban' adopted for Oxford play areas

Oxford City Council has rolled out a "voluntary smoking ban" across its 80 children's play areas.

The city council ran a three-month trial – between July and September 2016 – in three play areas: Cutteslowe Park, Florence Park and Sandfield Road.

The ban will only be voluntary, and signs explaining it has been installed across the play areas over the last two weeks  

A consultation found that 71% either agreed or strongly agreed that the voluntary ban had improved the play experience for them and their children.

Copyright: Science Photo Library

Fire service to assist ambulance crews in locked home incidents

Howard Shannon

BBC Radio Oxford News

People who fall ill at home and require urgent assistance could now find Oxfordshire County Council Fire and Rescue Service forcibly breaking into their homes.

Until now South Central Ambulance Service or the police would force entry when a patient is unable to answer the door.

In a six-month trial, the fire service is now being asked to assist their blue light colleagues because they carry the equipment needed to break in and can access properties at height.

The initiative hopes to reduce the delay in delivering medical care to patients and minimise the time ambulance crews are delayed at incidents.

Wargrave fire station to stay open for another year

Cash and gold jewellery stolen from safe

Police are appealing for information after a "high-value" house burglary in Kidlington.

Between 16:45 and 18:00 on 5 April a male climbed through the window of a house on Beech Crescent and stole a safe from the wall. A CCTV hard drive was also stolen.

The safe contained a large amount of cash and a quantity of Turkish and Bulgarian gold jewellery and coins, including necklaces, bangles, rings and earrings.

PC Nathan Davis said: "This burglary took place at a busy time of day, and a significant amount of highly sentimental jewellery was stolen."

A 15 year-old boy from Bicester has been arrested on suspicion of burglary and has been released under investigation.

Is Andrew Smith's seat safe?

Bethan Phillips

Political reporter, BBC Radio Oxford

Andrew Smith's decision not to stand as a candidate does mean that Oxfordshire will get at least one new MP this summer.

And other parties will now be looking at the Oxford East constituency with interest.

It's seen as a safe Labour seat - Andrew Smith got a majority of more than 15,000 at the last election, with the Conservatives getting a surprise second place.

But look back to 2005 and the Liberal Democrats came within 963 votes of winning.

Watch: MPs back snap general election

In total 522 voted for a UK general election to be held on 8 June. 

Here's the moment Buckingham MP and Speaker of the House of Commons made the announcement. 

Witney MP welcomes early election

Robert Courts said he supports Theresa May's decision to call a snap election "to secure the strong and stable leadership our country requires".

He said: "In West Oxfordshire, this election is therefore about two issues: Stable, strong leadership for the country, and ensuring that West Oxfordshire has influence in and on Government. 

"That is what I offer, and that is what I seek."

Andrew Smith: A blast from the past...

'Drunk driver', 18, jailed over motorcyclist death

An 18-year-old man has been jailed for four years and eight months for killing a motorcyclist while drink-driving.  

Daniel Beaumont of Springfield, Ipsden, Oxfordshire, admitted causing death by dangerous driving and driving while over the alcohol limit.

Beaumont crashed into Michael Dix, 27, from Reading, on the A4074 near Ipsden, in November, Oxford Crown Court heard.

Police said Beaumont's driving "could easily have caused greater loss of life that night".

General election: MPs expected to approve snap poll on 8 June

Theresa May's plan for a snap general election on 8 June is set to be authorised by MPs,.

Wantage MP and former Conservative minister Ed Vaizey has told BBC Oxford he thinks the prime minister was right to call the early poll.

The election is today expected to secure the two-thirds Commons majority it requires to go ahead, with Labour's Jeremy Corbyn welcoming the PM's surprise announcement yesterday.

Mrs May said that she wanted to secure the backing of the British people for her Brexit negotiations.

Oxfordshire's only Labour MP will not stand in 8 June election

Oxfordshire's longest-serving MP Andrew Smith has announced he will not stand in June's snap election. 

In a letter to his constituents, the Oxford East MP said: "This election is for a Parliament which is likely to run until 2022, when I would be over 71."

By the time of the General Election on 8 June, Mr Smith will have served the Labour stronghold for 30 years. 

The former work and pensions secretary came under criticism by some Labour supporters in 2015 when he provided the 35th vote required for Jeremy Corbyn to stand in the party's leadership election. 

Subsequently the former city councillor called on the Labour leader to resign his position. 

The Oxford Labour Party said the National Executive Committee will begin selection procedures for the party's PPC.  

Labour to discuss next Oxford candidate

Bethan Phillips

Political reporter, BBC Radio Oxford

Oxford Labour says there will be a selection procedure by the National Executive Committee.

They're meeting tonight to discuss candidates.

Breaking

Oxford East MP Andrew Smith to step down on 8 June election

Lilley Mitchell makes a new friend...

Coda the Saker Falcon is helping BBC Oxford's Lilley Mitchell learn what it takes to be a falconer this morning.

Travel update: Delays expected in Oxford today

Al Ryan

BBC Oxford travel presenter

Today drivers can expect delays throughout the day on Parks Road in Oxford because of temporary traffic lights at junction of Parks Road and Banbury Road.