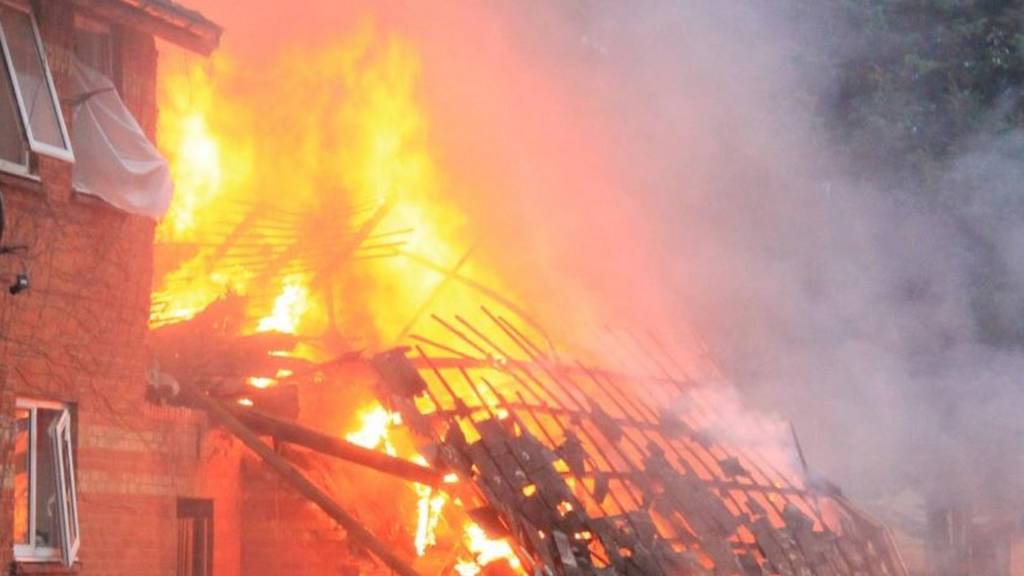 Summary
Explosion in Osney Mead
Six fire crews in attendance
A number of people have sustained injuries
Thanks for joining us today. We will be back at 08:00 tomorrow for more news, sport, weather and travel. 

Nuclear archive opens in north Scotland

A national archive for the civil nuclear industry has opened on the north coast of mainland Scotland.

More than 70 years' worth of information and up to 30 million digital records are to be stored at Nucleus in Wick, Caithness.

They include papers, photographs and plans from nearby Dounreay, as well as Harwell in Oxfordshire, Trawsfynydd in Snowdonia and Sellafield in Cumbria.

Nucleus will also store local archives dating back to the 16th Century.

Block of flats damaged in explosion and building collapse

A block of flats in Osney Mead has been damaged after an explosion in the Osney Lane and Gibbs Crescent area. 

There were earlier reports of firemen helping free people from the flats. 

Six fire crews are currently in attendance at the scene, were an explosion was reported at 16:45 GMT. 

Copyright: Alexander Hammonds

Copyright: Alexander Hammonds

Copyright: Alexander Hammonds

Osney Mead explosion: 'Unknown if any are injured'

Thames Valley Police has said it is unknown whether anyone is injured in an explosion in Osney Mead, west of Oxford city centre. 

Previously Oxfordshire Fire and Rescue service said there were "several injuries". 

Eye witness Amy Glees said: "I was outside the industrial units opposite. 

"Trains carried on at first. Fire got very hot very quick." 

Breaking

Several injured in Osney Mead explosion

Several people have "sustained injuries" after a "huge explosion" in Osney Mead, west of Oxford city centre. 

Thames Valley Police have told members of the public to avoid the area. 

The incident took place at 16:45 in the Osney Lane and Gibbs Crescent area, police say a property has collapsed as a result of the explosion. 

Six fire crews are currently in attendence. 

Six fire crews in Osney Mead after 'huge explosion'

Six fire crews are currently at Osney Mead in Oxford after reports of a "huge explosion". 

Passerby Mark Gray said: "There's a dozen police cars down there and about two ambulances."

Breaking

Reports of big explosion in Osney Mead

Residents and workers near Osney Lock have reported a "huge explosion" in the area. 

Amy Glees, who was near the scene, said: "[It] shook all the buildings". 

Which county council budget proposals do you love the most?

It's Valentine's Day and love is in the air for Oxfordshire County Council. 

As they decide this year's budget, Bethan Phillips asks residents what proposals they love the most  

Debates continue on county council budget...

As we said earlier, councillors are debating this year's budget proposals today.

Our political reporter Bethan Phillips is tweeting from the scene. You can follow her updates here.

Injured man found on road in Nuneham Courtenay

Police are looking into the reason why a man was in a road in Nuneham Courtenay with serious injuries just after midnight.

Officers received a report of the 20-year-old man being on the A4074. He's now being treated in hospital.  

A spokesman said: "The road had to be closed between the Goldenballs and Berinsfield roundabouts for several hours while officers investigated the scene to determine the circumstances which led to the man's injuries."

It reopened at about 6:30. Police are appealing for anyone who saw anything unusual to come forward.

Man arrested on suspicion of Headington murder

A 27-year-old man who was arrested on suspicion of attempted murder yesterday, following the stabbing of a man in Headington, has now been arrested on suspicion of murder and remains in police custody.  

Copyright: PHILIP SMITHSON

Senior Investigating officer Det Insp Dave Hubbard, from Thames Valley Police's major crime unit, said: "I am aware that this will be a concerning incident for the local community.

"We believe this to have been an isolated incident, and we are now in the process of conducting a thorough investigation. 

"Members of the public may see an increased police presence in the area over the coming days whilst we conduct enquiries."

Breaking

Murder investigation launched after Headington stabbing

A murder investigation has been launched after a man was stabbed in Oxford.

Thames Valley Police was called at 15:00 yesterday to reports that a man in his 30s was stabbed on Windmill Road, Headington.

He was taken to the John Radcliffe Hospital with life-threatening injuries where he later died.

His next of kin have been informed.

Copyright: PHILIP SMITHSON

Oxford research finds listening to other cultures' music 'improves attitudes'

Listening to music from other cultures improves people's attitudes to those cultures, Oxford University researchers have said.

It follows experiments by music psychologists where listeners were played West African or Indian pop music and then showed positive feelings towards the target culture.

Professor Eric Clarke, of the Music Faculty at Oxford University, said: "Music performs a whole range of psychological and social functions, bringing people together in powerful ways, and shaping people's emotions and behaviours.

"And it's important to recognize that music can also be very divisive. But at a time of increasing nationalism and isolationism, the findings of our study provide encouraging evidence for music's capacity to increase cultural understanding."

Council launches petition against Oxfordshire 'devolution'

Lucy Bickerton

BBC Radio Oxford

A petition has been launched by Oxford City Council against the county council's proposal for a unitary authority. 

The city council says the voice of Oxford would be lost, and services could be at risk. 

However, Oxfordshire County Council thinks the move would save money and simplify processes. 

More than 600 people have signed the petition since it was set up. 

Christmas opening date for Waitrose

Fog sensor to be installed on M40 for driver safety

A new fog sensor is to installed on the M40 near junction 9, though it is not expected to happen until after April 2017.

Highways England said it would improve driver safety in the area.

It's been two years since a fatal crash there in heavy fog involving more than 30 cars, in which a man died.