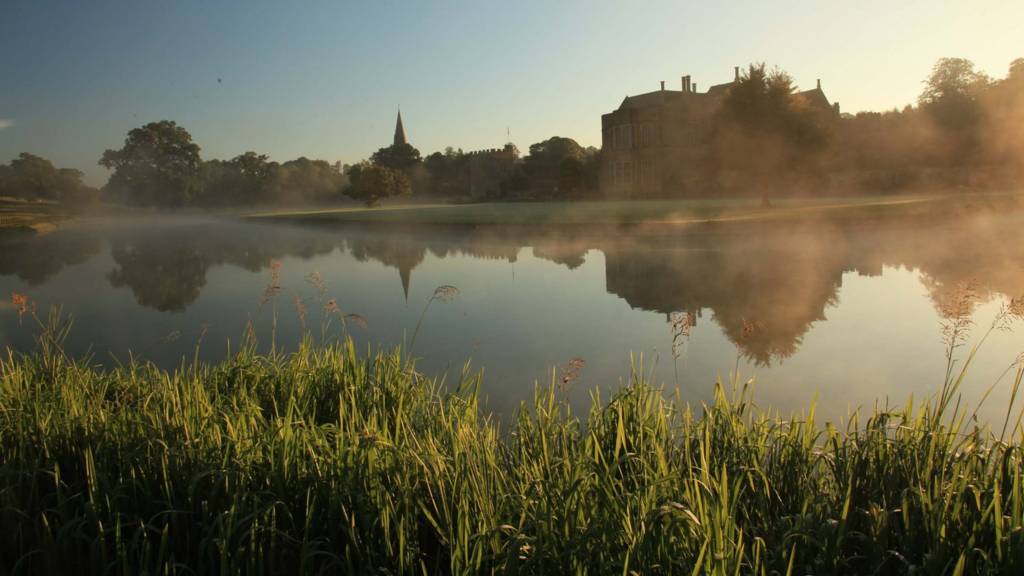 Oxfordshire Live: Thursday 22 December
You can get in touch by email, on our Facebook page or on Twitter @BBCOxford.

That's all for today. BBC Local Live for Oxfordshire returns tomorrow at 08:00.
One of John Logie Baird's engineers, now aged 104, looks back on his part in the invention of the television.
Read more
Tonight's weather: 'Dry and cold'

It will stay dry and cold tonight, perhaps with a brief touch of frost in sheltered rural spots such as the Vale of the White Horse. 
Southerly winds will then strengthen a little towards the end of the night. 
Minimum temperature 3C (37F). 
Lights raise money for Great Ormond Street

Travel update: Lines open after signal delays

Travel update: Long delays on A420 outbound

There are long delays on the A420 Oxpens Road / Botley Road outbound in Oxford between the A4144 Abingdon Road junction and the Botley Interchange.
Your pictures: St Mary the Virgin church
Thanks to Xuguang Liu who took this picture today near Kidlington.
He says it's a view of the "village church of St Mary the Virgin over the meadow of River Cherwell".   
If you've a picture you'd like to share with us please email it here.
Travel update: Bus services delayed in Oxford
Heavy traffic in Oxford is causing delays to bus services.
Travel update: Signalling delay at Oxford station

Parking enforcement officers are clamping down on people misusing disabled blue badges. 
If a person is found using a friend or a partner's blue badge without them in the vehicle, it is confiscated. 
BBC South Today followed two parking enforcer officers as they caught a badge abuser in the act. 
"It has been really interesting"
The Bishop of Oxford on what he's been up to over the last six months.


Bishop Steven Croft:

"I've been getting around the whole diocese, so Berkshire, Buckinghamshire and Oxfordshire - visiting churches, and I look after the city of Oxford in a particular way.

"I'm spending a day in each diocese, so spending time with clergy, members of the congregation, and doing a big Q and A in the evening. It has been really interesting.

"People have been really lovely and welcoming."
Baird engineer Andy Andrews dies
Andy Andrews, who recounted to us his first hand experiences of working with television pioneer John Logie Baird, has died, the BBC has learned.
His daughter Val said: "Dad had such a good innings, enjoyed his life, and ended it as he wished."
Mr Andrews passed away on Monday night.
A spokesperson for the Henry Cornish Care Centre described him as "such a kind man with beautiful sparkling eyes".
"Even when Andy was dying he only wished to make us feel good. We will miss him."
Oxfordshire County Council sends 90 redundancy letters to children's centre staff as authority makes cuts to services.
Read more
Council send 90 redundancy letters days before Christmas
A council has sent 90 staff redundancy letters in the week before Christmas. 
Staff at Oxfordshire County Council's children's centres were sent the letters as the council prepares to cut funding for more than half of its facilities by March 2017. 
 The authority admitted the timing of the news is "very regrettable" and added staff were "fully updated" throughout the process. 
The job losses come after 32 other staff members were made redundant. The council said in the first round of cuts, 24 people took voluntary redundancy.
Young Women's Music Project sessions
This week BBC Introducing in Oxford dedicated a whole show to the Young Women's Music Project, an Oxford collective that provides support for young women who want to make music together.
The programme featured a series of sessions, including this one by Ithar MK, performing her track Say My Name.
Also performing was Ally Guppy, with a spoken word performance called Undiagnosed.
You can listen back to the whole show here.
Travel update: Slow on Bloxham Road northbound in Banbury

There's slow traffic on the A361 Bloxham Road northbound in Banbury around the B4100 Oxford Road junction.
Man punched during mobile phone robbery near Randolph Hotel
At around 01:00 on Saturday a 20-year-old man was walking along Beaumont Street near the Randolph Hotel when he was approached by a man who asked for the time, police said.
The offender snatched the phone from his hand, pushed him over, and punched him twice.
The man sustained minor injuries but did not require hospital treatment. His stolen phone is a black iPhone 7 Plus 128GB with a tan leather case.
Police said the suspect is white, about 23-years-old, of medium build, around 5ft 5ins, and has light blonde hair which was short on the side and long on the top. He was wearing a dark blue jumper and blue jeans.
Morning headlines: Local NHS criticised for not publicizing £200m cuts

Campaigners have criticised a decision not to release full details of £200m of cuts to Oxfordshire's hospitals. The publication of the plan has been repeatedly delayed
A woman from Southmoor has accused the Home Office of "staggering incompetence and indifference" after her Indian husband wasn't granted a visa to live in the UK
Thames Water say fat from cooking has caused nearly 40,000 blockages this year, and the problem gets worse at Christmas 
Signalling fault causes slower trains to London
Oxfordshire town gets festive makeover on Google maps
An Oxfordshire town has been given a festive makeover for Christmas on Google maps.
Pictures of Besselsleigh on the website appear with illuminations from a Google mapping car, taken in 2014. 
Our television was 'wonderful invention'

It has been 80 years since the BBC started broadcasting its first regular TV service. 
One man who helped pioneer the very first television is Andy Andrews, from Chipping Norton, Oxfordshire. 
Now 104 years old, he told the BBC about the part he played in those groundbreaking days.
No direct services to Paddington from Friday
London Paddington will close on 23 December until 29 December, meaning there will be no direct rail services from Oxford to the station. 
The closure is due to rail line upgrades between the train station and Ealing Broadway, and will affect Great Western Railway (GWR) services. 
A spokesman said: "These improvement works will ultimately increase capacity and connectivity in London and the Thames Valley, and on the wider Great Western network. 
"New trains are already in operation on some GWR routes and more are on their way during the course of 2017 and 2018 – delivering more seats and more frequent services."
Plans for future of local NHS due to be released

Hugh Pym
BBC News Health Editor
Forty-three out of 44 Sustainability Transformation Plans - which are intended to overhaul the local NHS - have been published across England so far, but the plans have been overshadowed by controversy, with critics arguing they are part of a secret cuts agenda.
The final one, covering Oxfordshire, Buckinghamshire and Berkshire, has been marred by local arguments and protests by campaigners who believe Horton General Hospital in Banbury will be downgraded. 
A summary version of this plan is due by Friday.  
Oxford weather: Stubborn fog
Today is going to be sunny but we are starting off with some stubborn fog this morning. 
It will be relatively sunny for the majority of the day with temperatures hitting 8C. 
Travel latest: Foggy morning across the county

Al Ryan
BBC Oxford travel presenter
Good morning from the Oxfordshire Travel Control Centre, it's looking very foggy on the cameras so do take extra care. 
On the A44 Woodstock Road it's very foggy between Peartree to Wolvercote, also at Langford Lane
There are reports that the temporary traffic lights on the A4130 between Wallingford and Henley are stuck on red at Crowmarsh Gifford, so do take care in this area
Visibility is very poor on the A40 Woodstock Road between Bladon and Begbroke
Welcome to Oxfordshire Live