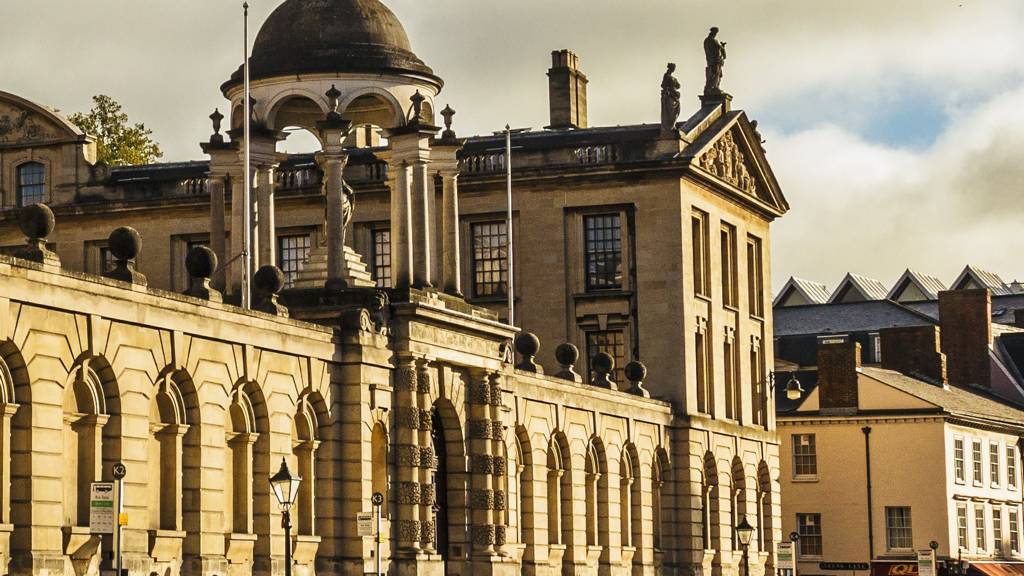 Summary
Lorry driver in hospital after A34 crash, which led to major tailbacks
NHS failing grieving families, says report after Southern Health scandal
JR parking to be debated
Thanks for reading today. We'll be back from 08:00 tomorrow with more news, sport, weather and travel from around Oxfordshire.

Terminal Oxford student whose friends raised £60,000 dies

A terminally-ill Oxford University student whose friends raised £60,000 to make his dreams of travelling the world come true has died.

Copyright: Matt Greenwood

Matt Greenwood, 21, was given nine months to live in October after bone cancer in his hip spread to his lungs. 

His friends and family were determined to help him complete his "bucket list". Matt would have started his fourth year studying Engineering at St Edmund Hall this October.

Copyright: Matt and friends

Image caption: Matt (centre) should be in his fourth year of university

Professor Keith Gull, Principal of St Edmund Hall, said in a statement: "He was a brilliant student and an extremely brave man, constantly thinking of others and giving thanks for what others had done for him.

Lost 100-year-old Christmas song found at Bodleian Library

A lost Christmas "drinking" song by English composer George Butterwoth has been discovered at the Bodleian Libraries in Oxford, recorded for the first time, and is being put on display this week.

County council passes motion over 'distressing' John Radcliffe parking

Today Oxfordshire County Council overwhelmingly passed a motion calling on no NHS services to be moved to the John Radcliffe Hospital until the parking situation has been addressed.

Last month the leader of Oxford City Council said the 730 spaces at the medical centre are "simply inadequate".

The county council motion said: "[The] council finds the present situation unsatisfactory and is dismayed at the knock-on effect this is having on those who need to visit principal hospitals [and] further notes that these pressures have already been, and will be further exacerbated by the centralisation of services from local hospitals, such as maternity services from the Horton Hospital in Banbury to the John Radcliffe. 

"As the transport authority, it is the wish of Oxfordshire County Council that no further services are centralised from any local hospitals across the county until such time as suitable measures have been put in place to mitigate the distressing parking circumstances."

Travel update: Broken down car causes A34 delays

There are delays of 20 minutes on the A34 southbound between Weston on the Green and the Peartree Interchange because of a broken down car blocking a lane.  

Police appeal for footage of van driven down wrong way on A40

Police are appealing for footage of a van that allegedly drove down a 70mph dual carriageway in the wrong direction. 

Thames Valley Police said the incident, which took place near Oxford on the northbound A40 on Forest Hill, was reported to them by a member of the public at 14.00. 

The Oxford Mail has published dash cam footage showing the van, and the police have asked for a member of the public to share the video with them. 

CQC report: Government to publish preventable death stats

The government will publish all preventable deaths after a CQC report criticised how families were treated during the process. 

The investigation, which began in April, was sparked by the death of 18-year-old Connor Sparrowhawk in Oxford. 

Speaking in the House of Commons, Health Secretary Jeremy Hunt said he would set up a "learning disabilities mortality review programme" nationwide. 

He also said he expected the number of avoidable deaths to increase because hospitals will get better at recording and identifying preventable deaths. 

Mr Hunt praised Connor's mother Dr Sara Ryan for her "determined campaigning for a proper investigation".

He added: "Thanks to Dr Ryan's efforts, many improvements will be made to the care of people with learning disabilities, and many lives saved."

Oxford Business College 'broke advertising regulations'

A further education college that advertised a "two-year business degree" misled the public, according to the Advertising Standards Authority (ASA). 

Oxford Business College (OBC) said in a TV advert that students could "complete [a] business degree in two years". 

But OBC does not award degrees and anyone completing a diploma would need a "top-up" year at a university. 

The ASA said the college's advert breached regulations and could not be shown in its current form.

Connor Sparrowhawk death: 'Sick of hearing lessons need to be learned'

The mother of a man who died after he drowned at a health facility in Oxford says she is "sick of hearing that lessons need to be learned". 

Dr Sara Ryan, mother of Connor Sparrowhawk, spoke to BBC Breakfast after a new report found that bereaved families had been let down by the NHS. 

The report said that the deaths of patients with learning disabilities and mental illnesses were not adequately investigated. 

Speaking to Dan Walker, she said: "I don't think [the problem] is getting worse, I just think we're exposing it more. 

"The exposure is coming around because of families and campaigners and not the health regulators, who should be the ones who know these deaths aren't being properly investigated. 

"We're sick of hearing that lessons need to be learned."

Deaths of patients with learning disabilities 'accepted by NHS'

Unexpected deaths of patients with learning disabilities or mental illnesses are "accepted" too often by NHS trusts, according to a new report by the health watchdog.

The Care Quality Commission (CQC) said that families of patients who died felt shut out from investigations. 

It comes after a year-long investigation into how deaths are investigated across the healthcare system. 

The investigation was sparked by the death of Connor Sparrowhawk. The 18-year-old, who had a learning disability and epilepsy, died in 2013 while receiving care at an Oxford treatment centre run by Southern Health NHS Trust. 

Following campaigns by Connor's family, an independent investigation found his death was entirely preventable, there had been failures in his care and neglect had contributed to it.  

The nightmare of parking at Oxford's John Radclife Hospital is to be debated by county councillors later.

It follows a BBC video showing how hard it is to get a space at the JR. 

Conservative councillor Arash Fatemian, who's put forward the motion, spoke to Radio Oxford.

Michelle Roberts

Health editor, BBC News online

Phil Edwards: The U's must make amends for poor FA Cup showing

Robyn Cowen

Presenter, Radio Oxford Sport

Oxford United must make amends for their poor FA Cup showing against Macclesfield, according to defender Phil Edwards. 

The player, on loan from Burton Albion, said the side needed to pull out all the stops at their second round replay tonight at the Kassam Stadium. 

He said: "We're looking to put a few wrongs right, really. We've got to put our game onto them rather than their game on us. [Macclesfield] did well in the Conference League, so it's not going to be an easy game, they've got a few good players."

Severe accident: M40 Oxfordshire southbound

BBC Travel

M40 Oxfordshire southbound severe accident, between J9 for A34 and J8A for A418.

M40 Oxfordshire - One lane closed on M40 southbound between J9, A34 (Bicester) and J8a, A418 (Oxford), because of an accident.

Check local traffic and travel reports for:

Travel update: One lane closed on M40 southbound

Al Ryan

BBC Oxford travel presenter

On the M40 southbound one lane is closed due to an accident between junction 9 near Bicester and junction 8A
There are delays of 35 monited on the B4015 from Golden Balls roundabout to Clifton Hampden traffic lights
In Abingdon there are delays of up-to 25 minutes on the A4183 Oxford Road, traffic is also running slow on B4017 Dunmore Road and it is taking 15 minutes to get through the A415 Ock Street and Stratton Way

WATCH: Oxford to Oxford Parkway in 60 seconds

Oxford station is now joined up with Oxford Parkway (meaning direct trains to London). Take the journey in 60 seconds...  

Lorry driver in hospital after crash on A34 southbound

A lorry driver's been taken to hospital with serious injuries after a crash between two lorries on the A34 southbound. 

South Central Ambulance Service says the driver of the other lorry was treated at the scene. 

 The road was closed to aid recovery work but has since been reopened.