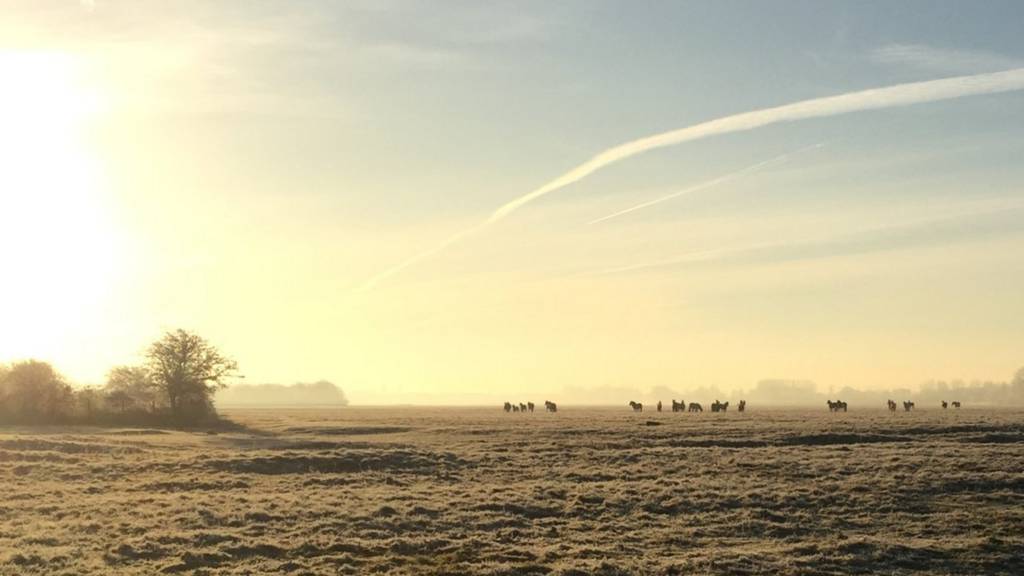 Summary
Body recovered from River Ock, Abingdon
Proposed Oxford-Cambridge rail line included in government overhaul plans
Reoffender seeks fresh start with Oxford charity
BBC Local Live for Oxfordshire returns tomorrow at 08:00. See you then.

Firefighters raise more than £100k for charity on 100-mile bike ride

A team of 18 Oxfordshire firefighters have raised £102,000 after embarking on a 1,006-mile bike ride from John O'Groats to Land's End, spanning the whole length of Great Britain. 

The team completed the challenge in 14 days in May 2016 in memory of their colleague Joe Wilkins, who in a car crash while cycling in May 2012. 

Chief fire officer Dave Etheridge OBE said: "To smash the £100,000 target and raise over £102,000 for The Fire Fighters Charity which supports serving and retired firefighters and their families is just phenomenal.  

"It has been an incredible team effort by all involved." 

Police constable sacked for lying about bad back

A police constable from Thames Valley Police has been sacked from Thames Valley Police following a misconduct hearing.

Christopher Field, who was stationed at Banbury (pictured), was dismissed for gross misconduct after taking sick leave for a bad back despite being well enough to work, the hearing concluded.

A police spokesman said: "Information came to light that suggested he was fit for duty and therefore sick leave was not appropriate."

Deputy Chief Constable John Campbell said: "We obviously recognise the importance of supporting injured officers and do all that we can to support their return to work. 

"PC Field was offered such support but did not take advantage of it. Instead he chose to mislead the Force and as can be seen such actions have no place in Thames Valley Police."

Travel update: Lane blocked on A34 northbound at Hinksey Hill

One lane is blocked and there's queuing traffic on the A34 northbound in South Hinksey at the Hinksey Hill Interchange, because of an accident involving two cars.

Transport secretary set to pledge commitment to new East West Rail link

Travel update: Oxford bus services delayed

Travel update: Queues on A40 Northern By-Pass westbound

There's queuing traffic on the A40 Northern By-Pass Road westbound in Oxford between Marston and the Cutteslowe Roundabout.

Carvings to be unveiled on Eynsham trail

Two near life-size carved figures of railway linesmen are to be unveiled on Friday on the Wharf Stream Way Art Trail in Eynsham.

They depict two railway workers at rest at a spot where the Oxford to Fairford rail line ran from 1862 until 1968. They were carved by Godfrey Phillips from Cassington.

He said: "I don't think I have ever made such a popular work with lots of local people and visitors making a special journey to visit the site. Many of the Siemens factory people have also popped in at lunchtime to see the progress. It's by far the best received artwork I have ever made."

Gordon Beach, chairman of Eynsham Parish Council, called them a "very exciting addition to this popular trail which is so well-used by local people and walkers".  

Weather outlook: Murky but mild

Road closures lifted following recovery of body in Abingdon

A Thames Valley Police spokeswoman has given us more information about an incident that happened in Abingdon this morning.

She said officers were called at about 6:20 following reports of a fear for welfare incident in Wilsham Road.

She added: "Officers attended the scene along with the fire service who recovered the body of a man from the River Ock. 

"The ambulance service also attended the scene. Sadly, the man was pronounced dead at the scene.

"The death is being treated as unexplained but is not believed to be suspicious. 

"Formal identification has yet to take place but the next of kin have been informed and are being supported by specially trained officers. 

"The road closures that were in place around the area have now been lifted."

Appleton wants to repeat 'Wembley experience'

Robyn Cowen

Presenter, Radio Oxford Sport

Oxford United head coach Michael Appleton has dismissed suggestions that the EFL Trophy is a competition the club doesn't care about, as it gave them such good memories last season. 

United target a place in the third round tonight away to Southend. 

After reaching the final of what was then called the Johnstone's Paint Trophy last year, Appleton told us no matter how much criticism the revamped competition has come under, taking the U's to Wembley is an experience he'd like to repeat.  

If you're not making the trip to Roots Hall this evening for whatever reason, your BBC Radio Oxford sports team will be there. 

Join Jerome Sale for a midweek sports special tonight from 19:00 on 95.2FM and digital radio.    

Severe accident: M40 Oxfordshire northbound

BBC Travel

M40 Oxfordshire northbound severe accident, between J10 for A43 Brackley and J11 for A361.

M40 Oxfordshire - One lane closed on M40 northbound between J10, A43 (Brackley) and J11, A361 (Banbury), because of an accident.

Check local traffic and travel reports for:

Charity 'inspired' by leukemia patient's dedication to fundraising

An Oxfordshire woman who helped raise £28,000 for leukemia research before dying of the disease has been given an award for her charity work. 

Alice Byron, a 21-year-old student at Cardiff University, was treated at the Churchill Hospital in Oxford. She died in July. 

Copyright: Family handout

After being diagnosed with the blood disease in February, she worked alongside her family to raise awareness, recruit donors and fundraise for the Anthony Nolan Trust. 

The blood cancer charity awarded her the Shirley Nolan prize posthumously at a ceremony in London, which was collected by her family. 

Chief Executive Henny Braund said: "Her passion for our lifesaving work epitomised the ethos of our charity. 

"I continue to find myself inspired and humbled by the dedication and strength of people like Alice."

Copyright: Anthony Nolan Trust

Miss Byron's father, Jonathan, said; "We are, and always will be, immensely proud of her immeasurable strength, courage, and love for life."

FA Cup replay prices reduced

Oxford United Football Club has announced reduced tickets prices for the FA Cup replay against Macclesfield. 

They're £10 for adults, and £5 concessions. The date is to be confirmed but we expect it to be Tuesday the 13th.

Travel update: Queues in Tubney

There's queuing traffic on the A420 in both directions in Tubney at the Church Road junction, with congestion to the A338 junction and to the Abingdon Road junction.

More prison staff announced

Serena Martin

BBC Radio Oxford

The government says it will create jobs in Oxfordshire as part of plans to recruit extra prison officers for the country's jails. 

The new prison staff will be based at HMP Bullingdon near Bicester, with hiring due to start in the New Year. 

The Justice Secretary Liz Truss is promising more than 2,000 additional staff across the prison estate to address safety fears.

Copyright: M J Richardson

Sutton Courtenay girl honoured by Cancer Research UK

A four-year-old girl from Sutton Courtenay has won a Star Award from Cancer Research UK for her bravery coping with Wilms Tumour, a rare type of kidney cancer.

Elize Thiery was treated as part of a clinical trial at the John Radcliffe Hospital and now has scans every three months. She is currently clear of cancer. 

Copyright: Cancer Research UK

Her mum Stefania, 30, said: "Elize has been through the most traumatic experience, yet she faced it with enormous courage and resilience.

"For several weeks at the start of her treatment she cried every day. She was afraid of the needles and doctors and nurses who were trying to help her.

"But she proved herself to be really strong and grew to like and trust the medical staff more and more each week.

"The first time she didn't cry during an appointment we had been told her tumours had shrunk. She made us feel very, very proud."

Jenny Makin, Cancer Research UK Kids & Teens spokesperson for Oxford, called Elize a "true 'star' who richly deserves this accolade". 

Travel update: St Helen's Wharf in Abingdon still closed

St Helen's Wharf in Abingdon is still closed between the Wilsham Road junction and the West Saint Helen Street junction, following this morning's police incident.

Your pictures: Little Wittenham frost

Thanks to Biren Rathod for this chill-inducing picture of morning frost at Little Wittenham.

If you've a picture you'd like to share with us please email oxfordshire@bbc.co.uk.