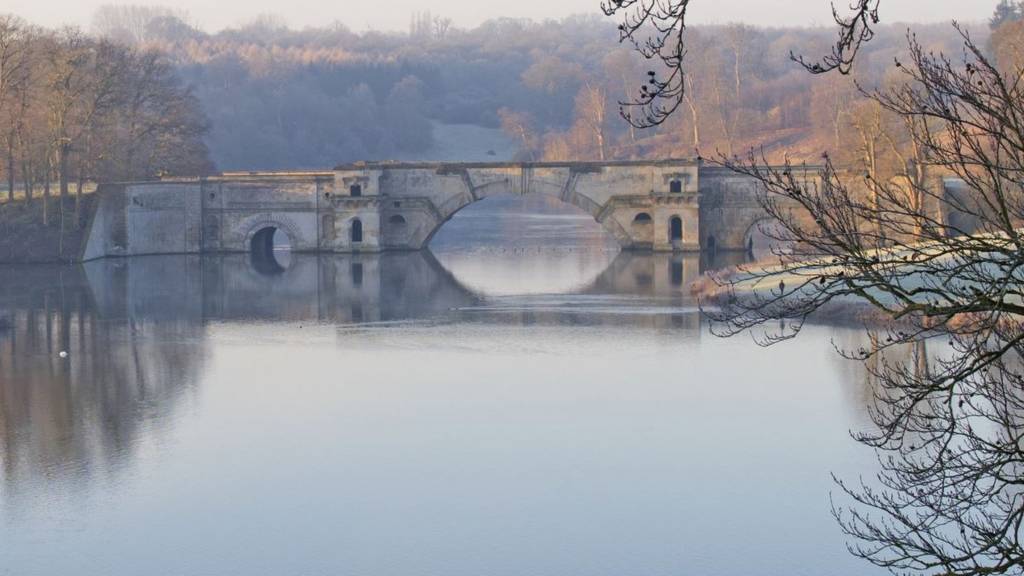 Summary
Disabled dancer taking legal action over ban
Cold day with temperatures as low as -4C
Disabled boy takes first steps
  Thanks for joining us today. We'll be live again from 08:00 on Wednesday.  
Henley Festival wins award for Elton John performance
Henley Festival has won Headline Performance of the Year at the UK Festival Awards for Elton John's opening night performance.
Elton John and his band opened the festival to a sold-out audience on 6 July. It is the first time the festival has won the award.
Severe disruption: M40 Oxfordshire southbound

BBC Travel
M40 Oxfordshire southbound severe disruption, between J8A for A418 and J6 for B4009.
M40 Oxfordshire - Queuing traffic and one lane closed on M40 southbound between J8a, A418 (Oxford) and J6, B4009 (Watlington), because of a broken down vehicle.
Check local traffic and travel reports for:
The death of a tree surgeon who sliced his neck open with a chainsaw was just "bad luck", an inquest hears.
Read more
Two freed from car after Boars Hill crash
At 00:30 this morning a car crashed into a garden on Cumnor Road in Boars Hill and on arrival firefighters found that two people were trapped inside.
A resident had called the emergency services and was helping to rescue the people in the car. 
Hydraulic cutting equipment was used to rescue one of the occupants after paramedics had already freed the first person.
Station Manger Simon Belcher said: "This is a timely reminder that conditions are getting colder and slippery out there, drivers should slow down and drive according to the conditions of the road."
Brackley Town to host Mickleover Sports tonight

Jerome Sale
BBC South Today
Brackley Town may have one eye on Saturday's FA Cup tie at Blackpool - but before that they have a second chance to progress in the FA Trophy. 
The Saints host Mickleover Sports at St James Park tonight - with the winners away to AFC Fylde in the next round.
Politicians call for single consultation over downgrade of Banbury's Horton Hospital

Banburyshire's leaders have joined forces in calling for public consultation on downgrading the Horton's services to be done in one go.
17th century men 'were misleading' over gender numbers
Men in the 17th Century were not outnumbered by women, despite what sexists at the time said, new research suggests.
According to Dr Margaret Pelling, a historian at Oxford University, books, pamphlets and religious works from the time are packed with mentions of there being more women than men, though there were no statistics to back this up.
She said: "It seems to have been taken for granted that there were more women than men in 17th century England, yet one of very few population surveys of the time suggests this was not the case.
"Early modern men were most likely to make numerical claims about women where there were too many of a 'problematic' kind.
"Women were expected to be silent, chaste and more or less confined to the household, their identity submerged in that of a husband, father or master."
Hedgehog rescued from recycling box netting
A hedgehog in Witney has been freed after getting tangled in the netting used to cover a recycling box.
RSPCA inspector Helen Mead was called to rescue the hedgehog from the box outside a house in Pelican Place, in Witney, and called on people to avoid using nets.
She said: "The hedgehog had managed to get himself completely tangled around his body and had been struggling to get free.
"Thankfully, he didn't have any injuries from the incident and he was taken to a local wildlife centre to be fully checked over. 
"He was very lucky, as we do regularly get called to incidents where the animal tangled in netting is injured seriously, sometimes fatally."
'Hint of Christmas' at Bodleian
It's beginning to feel a little like Christmas.
Travel update: Wooton road closed because of power cables

The B4017 Cumnor Road in Wootton is closed in both directions between the Robinson Road junction and the A420 junction, because of fallen power cables.
Alexander Kirkley 'loved working with trees'

Janet Kirkley, the mother of Alexander Kirkley, who died following an accident with a chainsaw in Oxford, has described him as a "very kind caring person who was very aware of issues in the world and had a great sense of social responsibility". 
He loved working with trees, "being part of nature and being out in the wild and knew how important trees are to the planet," she added.
She described the accident as "just a fluke of nature" and "very unfair" but plans to take part in presentations and courses to give guidance to people who go in the industry in the future.
"[I will remember my son] by his smile. He was just a lovely young man."
Alexander Kirkley 'lived life to the full'

Oxfordshire coroner Darren Salter said: "He lived life to the full and made many achievements, it's apparent he was a skilled arborist and he was safety conscious so I wouldn't want to attribute any blame on him."
He added: "It seems like it's one of those rare things that can happen."
Pathologists said his injuries were "unsurvivable", the court heard.
Holly Green with the latest forecast
An 18-year-old man is arrested after a motorcyclist was killed following a collision between a lorry and a car near Wallingford.
Read more
Breaking
Alexander Kirkley inquest: Verdict of accidental death

A verdict of accidental death has been recorded at the conclusion of the inquest into the death of Alexander Kirkley.
It found that on 12 February at about 16:35 hours he sustained fatal neck injuries while operating a chainsaw as he was cutting down branches from an ash tree in the rear garden of a property in Campbell Road, Oxford.
He was declared dead at 18:30 hours at the John Radcliffe Hospital.
Alexander Kirkley inquest: Chainsaw incident 'was bad luck'

David Fussel, of the Health and Safety Executive said that the incident was "bad luck" and that all equipment and individuals complied with safety regulations.
The jury will return with a verdict for Mr Kirkley's death later today.
Breaking
Alexander Kirkley inquest: Tree surgeon killed by own chainsaw

A tree surgeon died after his chainsaw kicked-back and hit his neck causing loss of blood and a cardiac arrest, a jury inquest has heard.
Alexander Kirkley, 32, of Spencer Crescent in Oxford, was suspended in a large tree removing branches in Cowley when the incident occurred on 12 February.
His colleague James Tanner told the inquest that the arborist "held his neck" and then passed out.
Doctors at the John Radcliffe Hospital immediately operated on Mr Kirkley in an attempt to stop the bleeding, but despite their efforts he was pronounced dead later that day.
Breaking
Man arrested following fatal Wallingford collision
An 18-year-old man from Wallingford has been arrested after a man was killed following a collision just after midnight involving a lorry, a motorcycle and a car.
The 27-year-old motorcyclist from Reading died at the scene on the A4074 near Wallingford. His next of kin have been informed. 
A man was arrested on suspicion of causing death by dangerous driving, and driving whilst over the prescribed alcohol limit, and is currently in custody.
Your pictures: 'Beautiful frost' in Oxford
Thanks to Jeff Slade for this picture of the "beautiful frosty morning". Taken in Oxford.
Travel update: Queues in Buckland

There's queuing traffic for two miles on the A420 in both directions in Buckland at the Buckland Crossroads junction in the roadworks area.
Temperature plummet and gritters out as Oxfordshire hit by cold snap

Travel update: Slow traffic in Bicester

There's heavier than usual traffic on Buckingham Road southbound in Bicester before the B4100 North Street junction. 
Congestion is on the A4421 to the Stratton Audley junction.
It was a freezing morning in Abingdon
A lot of you will know that it was a chilly start this morning, but if you weren't up at the crack of dawn avid photographer Becca Collacott caught the misty and icy morning in Abingdon. 
Police concern over London drug gangs coming to Oxfordshire
Hardened drug gangs from London could descend on Oxfordshire because they see it as a "soft target", according to the National Crime Agency (NCA). 
Criminals from the capital - where knife crime and gangland shootings are more common - are more likely to pick Oxfordshire as a target for establishing addictive drug markets as the area is easier to control with less violence, it says. 
Head of drug threat and intelligence at the NCA Tony Saggers said: "A lot of the gang members are young.
"A lot of the gang members are young and/or may be exploited. What we see is they've become quite adept at finding young people who have time on their hands and may not be looked after as much in the community."
Mr Saggers added that the issue is not unique to Oxfordshire and he said that London drug gangs have targeted a number of areas across the country. 
Severely disabled boy takes first steps
 A 12-year-old boy, who could not walk, has taken his first steps using a spider-like contraption. 
Oscar Scott Towers lives with Au-Kline syndrome, which affects his brain, respiratory system and his ability to walk. 
But after receiving intense therapy from charity Footsteps, based in Dorchester in Oxfordshire, he has taken his first independent steps using hoists. 
His mum Hazel Scott said it has made him more confident.
Travel update: Broken down car on A34 northbound

Al Ryan
BBC Oxford travel presenter
There are delays on the A34 northbound between the Milton and Hinksey Hill interchanges due to a broken down car
The roads are quite slow between Witney and Eynsham, as well as Cassington and Wolvercote
In Oxford city centre Jack Straw's Lane has been closed due to a burst water main near the B4150 Marston Road
Travel update: M40 lanes reopened

Al Ryan
BBC Oxford travel presenter
All lanes are open on the M40 southbound after a crash between junction 10 and junction 9, but there are still some delays after an earlier accident
On the southern bypass road there's congestion from the Hinksey Hill interchange and the Kennington roundabout
A reminder that there are temporary traffic lights at the Kennington Road junction due to archeological investigation works until 9 December.
On the A420 there are delays of 10 minutes between the Appleton turn-off to Bassel Leigh
Wheelchair user 'banned from dance floor'

Clive Coleman
BBC legal correspondent
A disabled dancer is taking legal action after he was banned from an event over claims his wheelchair damaged the dance floor. 
Oxford resident Fred Walden, 54, says he was humiliated when staff at a Jive Addiction event last October told him to stop dancing. 
He is suing the company for discrimination under the Equality Act. 
Weather: Cold but sunny and dry
It's a very cold start to the day but with plenty of sunshine, it could even be wall-to-wall blue sky for the majority of the day. Temperatures will only creep to a maximum of 4C and temperatures could get as low as -4C. 
Morning travel bulletin: Issues on the M40

Al Ryan
BBC Oxford travel presenter
Here's the early travel bulletin straight from the Oxfordshire travel centre:
It's another story of woe on the M40 unfortunately, after a two-van crash southbound between junction 10 Brackley and junction 9 A34. There are delays of 30 minutes
There were earlier delays on the A34 southbound following an accident on the Botley interchange slip road, but this seems to have cleared
The A4074 near Wallingford is closed in both directions due to an earlier accident, the road should open shortly
In Wootton, the Cumnor Road is closed due to an accident, two cars were involved and there are fallen power cables at Robinson Road, the road has been closed since midnight

Good grief, I don't know about you but my hands are blue from my morning commute, I think it's time to get out the Long Johns . 
Anyway, good morning and welcome to the Oxfordshire live page, we'll be doing that Tuesday jig throughout the day and will be giving you the latest news, sports and travel from across the county. 
We will, of course be bringing you the weather and, suffice to say it's cold, very cold. But I'm not a meteorologist so we'll bring you the ever-delightful Holly Green to shed some light on what's happening in the ether. 
Remember to send us your photos from across the county for this week's Oxfordshire's Big Picture. Anthony Morris has provided us with another corker - the sunset over RSPB Otmoor last night. Make sure you send us your snaps by email.