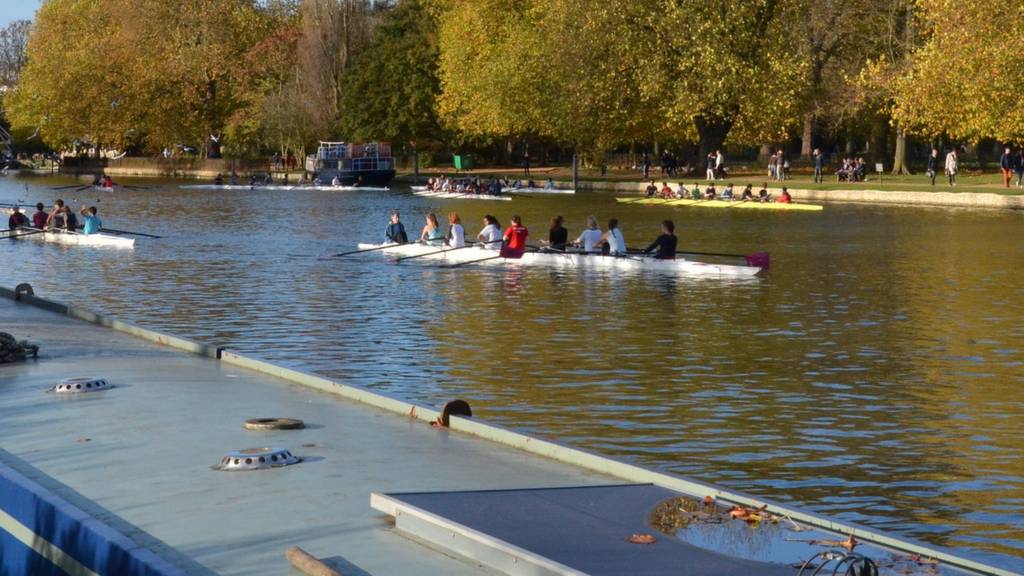 Oxfordshire live: Wednesday 23 November
You can get in touch by email, on our Facebook page or on Twitter @BBCOxford.
Summary
News, weather and travel updates from Oxfordshire on Wednesday 23 November 2016
Oxfordshire funding bid slashed by £367m
Five-mile tailbacks after crash on northbound A34
No plans to provide more parking at Oxford hospitals
BBC Local Live for Oxfordshire returns tomorrow at 08.00. We hope to see you then.

Streatley Hill still shut after lorry gets wedged in road

Oxford hospitals working on 'parking masterplan'

Oxford University Hospitals NHS Foundation Trust has responded to the car parking issues we have reported on today.

It said: "The trust is aware of the difficulties many people have when parking at our hospitals in Headington, particularly at the John Radcliffe site.

"Currently, the number of car park spaces available is determined by planning permission given by Oxford City Council having consulted Oxfordshire County Council. Looking ahead, the trust has been working on an infrastructure masterplan... and aims to address the complex issues of vehicular access and parking at our sites."

While it said "current access and parking problems will not be solved overnight" it added that it was hoping to have concepts ready by early next year.

Tonight's weather: 'Outbreaks of light rain'

This evening and overnight it'll be largely cloudy with outbreaks of mainly light rain. 

It will become breezy, especially over the Cotswolds and other high ground. 

Minimum temperature 5C (41F).

Travel update: Slow on A415 Abingdon Road

There's very slow traffic on the A415 Abingdon Road in both directions in Clifton Hampden at the B4015 Oxford Road junction.

WATCH: Can you find the fairy doors?

Tiny fairy doors have been popping up in Oxfordshire. Can you find them?  

Travel update: Heavy on A34 northbound around Hinksey Hill

 There's heavy traffic on the A34 northbound in Oxford around the Hinksey Hill Interchange.  

County council deputy leader welcomes £110m rail funding

The government has announced £110m of new funding for an east-west rail link between Oxford and Cambridge.

Oxfordshire County Council deputy leader Rodney Rose welcomed the announcement and said the line was "very important" to the region's economy.

It will use part of the former Varsity Line that was decommissioned in the 1960s and will also connect Milton Keynes, Aylesbury, and Bedford. 

Chancellor Phillip Hammond said £100m would be spent to "accelerate" the construction of the Oxford to Bedford section, and £10m to explore options for the Bedford to Cambridge route. 

WATCH: Queuing for a house

Oxford students have been queuing for days this week to secure the house of their choice.  

Robot seal aids dementia sufferers

Serena Martin

BBC Radio Oxford

Paro, a robotic baby seal pup, has been introduced to residents of an Oxford care home. 

It is an advanced robot with sensors so it responds when you touch or speak to it. It can learn the more you interact with it and moves its head and tail as if it is alive. 

 Since it arrived three months ago at the Longlands care home, part of The Orders of St John Care Trust, staff say it has had a huge impact on residents. 

They say the seal offers all the benefits of animal therapy without the risk of infection, need for feeding or getting bored and wandering off when people want a cuddle. 

Confident fathers have happier children, says study

Confident fathers who embrace becoming a parent are less likely to have children who display behavioural issues before their teenage years, a study says.

The Oxford University research stresses the importance of a man's attitude to fatherhood soon after birth.

This can influence later behaviour more than undertaking childcare and chores.

The study assessed if fathers were confident with their child, formed a strong bond and felt closer to their partner as a result of parenthood

Breaking

Government confirms £110m for Oxford to Cambridge rail link

At least £110m has been pledged to rebuild the Varsity Line between Oxford and Cambridge, linking the two university cities for the first time since 1967. 

The western section of the East West Rail, which has been exploring the rail link since 2008, received approval in Chancellor Philip Hammond's Autumn Statement. 

This comes after the government also accepted proposals to build a £27m road link between the two cities.

Colin Taylor 'had passion for football'

In a statement, Susan Taylor said her husband had a "passion for football". 

He worked for the club in a voluntary, unpaid basis, dealing with its business interests and day-to-day running, and worked hard to "turn the club around and get things back on track". 

She said he was private about his depression and saw it as "a failure in himself". 

On the day before his death he went to a meeting in London to speak to potential sponsors and watched the team play Chesham United away.

She said he seemed in a good mood and later fell asleep in his chair, but in the morning he was gone and had left his phone and wallet behind. 

When she drove to the football ground she saw three boys who said they had seen his body.

Colin Taylor death 'not suspicious'

Det Sgt Anthony Maddison, who investigated the death of Oxford City Football Club director Colin Taylor, said it was "absolutely not" suspicious. 

He told Oxford Coroner's Court there was no suicide note, but Mr Taylor left two footprints on the football stand, near the spot where he died.

There have long been parking issues at Oxford's John Radcliffe Hospital, but are they getting worse?

 Here BBC reporter Katherine da Costa tried to park on a Tuesday morning.

'We can't get in the house'

Tim Schulz, who lives in the annexe of the house which has been hit in Streatley said: "It's pretty insane actually. I don't know how he ever thought he could get round the corner. 

"He's totally taken out the chimney stack, so we can't get in the house, because it might fall in the house. 

"The best case scenario is it falls into the road."

Tim said he heard a "crunching" as the lorry hit. 

"He said my other half came out the shower, then we came outside and there was a truck which had taken out the chimney.

"It's taken a wedge out of the side of the pub, it was a bit more substantial than the chimney stack.

"I can't tell if the lorry or the pub has come off worse."