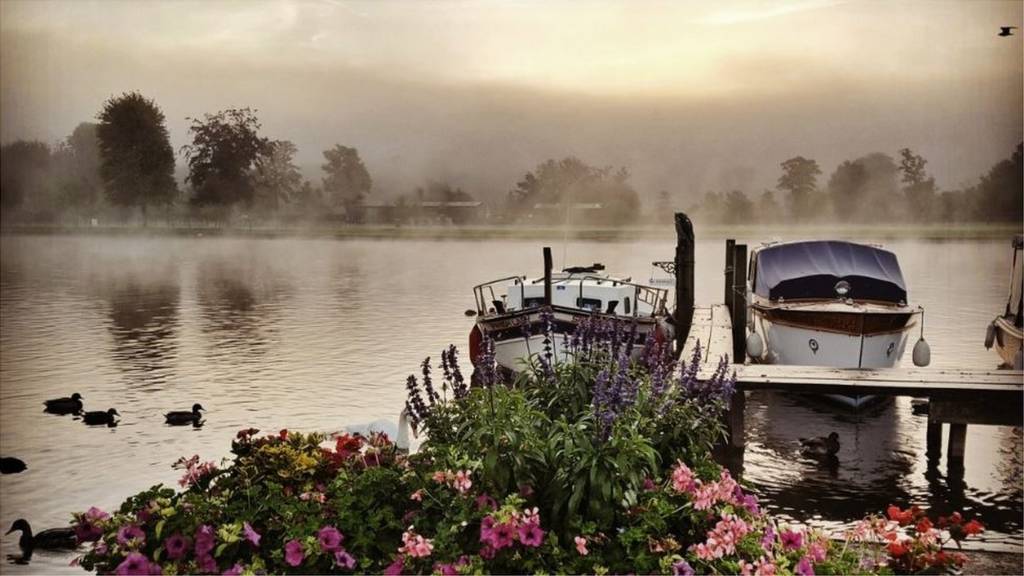 Summary
Man in his 80s robbed and attacked in Sutton Courtenay
Four men charged with 35 offences linked to child sex exploitation investigation
BBC Local Live for Oxfordshire returns tomorrow at 08:00. Please do join us then.

Tonight's weather: 'Clear and cool'

This evening and tonight showers will ease, then all is clear and cool. 

Minimum temperature 2C (36F).

Chilton slip roads now open

New slip roads at Chilton opened today. They cost £11m to build and took 13 months to construct.

David Nimmo Smith, cabinet member for transport, said they were "part of a coordinated package of investment in the transport infrastructure for the Science Vale area".

Talking to the 'Alexa' gadget

If you have no-one to do your sums, your spelling, order your dog food, or play rock, paper, scissors with, you could consider getting better acquainted with 'Alexa'.

The world according to a six-year-old

From BBC Radio Oxford presenter Ali Jones...

Witnesses sought after serious M40 crash

Police are looking for witnesses after a crash on the M40 in Oxfordshire yesterday left the driver, a 53-year-old woman, with serious spinal and head injuries.

She was taken to the John Radcliffe Hospital, where she remains in a critical condition.

It happened at about 9:07 when a silver Mercedes ML270 travelling in lane two of the northbound carriageway between junctions 10 and 11 left the road, went up an embankment and overturned, coming to rest on its roof on the hard shoulder.

Investigating officer PC Wayne Martin said: "I would like to speak to anyone who saw the collision or who saw the vehicle travelling, prior to the collision. 

"I would also like to speak to the driver of a black Audi who was driving close to the scene and who may have witnessed the collision."

Gas replacement works on Banbury Road

Gas company SGN has told us about the work it's currently doing on the Banbury Road that has seen manually-operated temporary traffic lights set up, and has apologised for the inconvenience to drivers.

A spokeswoman said: "We're carrying out gas mains replacement work in Banbury Road, Oxford. 

"We started work today, as agreed with the local council, and all continuing well, we anticipate our work will be completed tomorrow. 

"The temporary traffic lights will be removed later this evening. We will put the temporary lights back in place tomorrow when we return to complete our work, which will be during off-peak hours, when we'll be completing the reinstatement of the road surface."

Missing girl hit by lorry

A 17-year-old girl reported missing from Harwell last night was hit by a lorry on the nearby A34, Thames Valley Police has said.

She sustained serious but not life threatening injuries and was taken to hospital by the ambulance service. She is still in hospital. 

A spokeswoman said: "Officers closed the road while the incident was being dealt with. It was closed for about three hours and has since reopened."

Tourist buses return to Oxford

Stunning double rainbow in Charlton

No-one enjoys getting caught in the drizzle, but it can have some incredible outcomes. 

Once again, photographer Anthony Morris has snapped some dazzling shots for Oxfordshire's Big Picture, this time of a double rainbow in Charlton. 

Copyright: Anthony Morris

Copyright: Anthony Morris

Make sure you send us your snaps by email to be in with a shot of being featured in tomorrow's Oxfordshire's Big Picture. 

Millionaires sued by former live-in housekeeper

Stephen Hawking at Oxford Union

Stephen Hawking has been announced as a guest at the Oxford Union.

Copyright: AFP/Getty Images

The physicist, cosmologist, and A Brief History Of Time author will be addressing Oxford students on Monday.

Invention aids blinking patients

A new device invented at the Oxford Eye Hospital has helped 60% of patients who suffer from blepharospasm - involuntary blinking. 

The Oxford Eye Hospital has developed a "press-up", a rubber pad that puts pressure on the forehead, that can be attached to a person's glasses.   

Chinese visitors are back in numbers in Kidlington

Four men charged with historical child sex exploitation

Four men have been charged with 35 offences linked to a child sex exploitation investigation in Oxford. 

The offences are thought to have taken place between 2000 and 2005.

The men, aged between 34 and 42, have not been named for legal reasons, but five other men have already been charged in connection Operation Rolo, where Thames Valley Police raided a number of houses in the city last month.  

Oxfordshire Sports Awards nominations close soon

Ross Heaton

BBC Oxford Sport

There's just under 24 hours to go to get nominations in for this year's Oxfordshire Sports Awards. 

The window for nominations will close at midday tomorrow. 

The ceremony, hosted by BBC Oxford, will take place at the Kassam Stadium on 27 January.

LIVE: Diamond Light Source

BBC Oxford is live at the UK's only mega microscope at Sarnjeet's beam line at Diamond Light Source, taking questions...  

Eye spasm patients helped by revolutionary clip-on device

People whose eyes involuntarily close could be helped by a simple clip-on glasses device, developed by Oxford Eye Hospital. 

About 60% of blepharospasm patients - tight closure of eyelids - have seen improvement in there condition with a rubber pressure ball, which confuses the brain and stops the eyelid from closing. 

Oxford Eye Hospital is now looking for funding to develop the device for use worldwide. 

How Oxford reacted to the US election

Donald Trump's surprise election win has caused protests and riots across the US this morning, but how did Oxford react during the election? Our political reporter Bethan Phillips went out to speak to people as the election results came in.