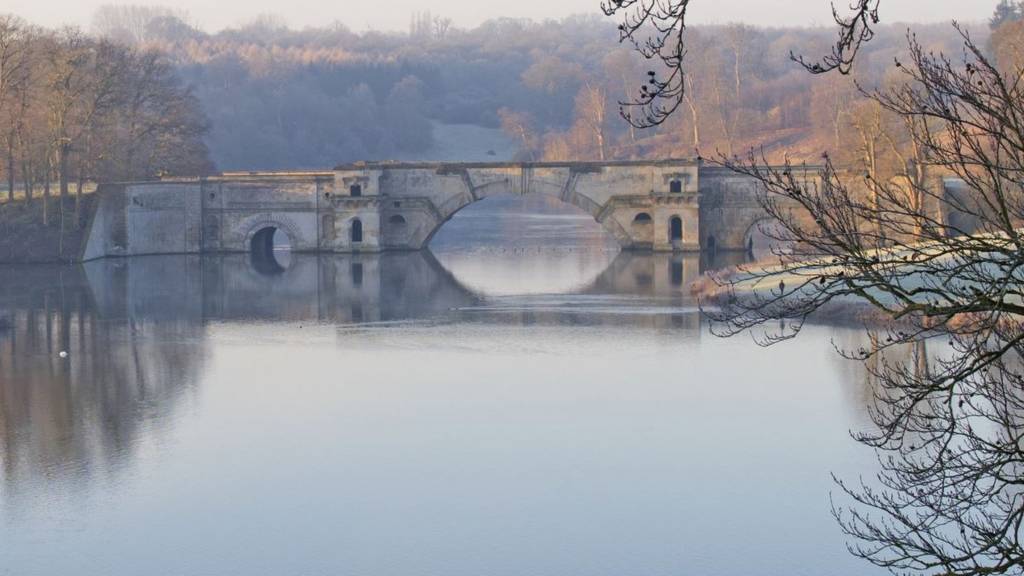 Summary
Electrification of rail lines to Oxford and Henley "deferred"
Three Army bases and one RAF base in Oxfordshire among sites to be closed by MoD
A34 reopens after crash between two lorries
One in three calls attended by Oxfordshire Fire and Rescue and Service are false alarms
Thanks for joining us today. BBC Local Live for Oxfordshire returns tomorrow at 08:00.
Afghanistan poet winning awards in Oxford
Weather: 'Some heavy rain'

There will be rain later, which will be heavy at times. 
The winds will pick up too, making it feel cold. 
Minimum temperature 2C (36F).
Toblerone won't be the same
There's a lot of big news in the world today, but the decision to space out the distinctive triangular chocolate chunks in Toblerone bars is causing major upset in the country. BBC Radio Oxford mid-am producer Jamie Ryan's homemade gif serves as a reminder that the chocolate bar's disappointed celebrity fans will likely include fallen-from-grace BBC presenter Alan Partridge.
A football compensation tribunal rules Oxford United must pay Plymouth Argyle an initial £200,000 for Curtis Nelson.
Read more
Trial date set for 1980s rape case
The trial of Philip Spriggs, who has been charged with the attempted rape of a girl in Oxford in the 1980s, will take place at Oxford Crown Court on 2 December.
Thames Valley Police arrested Philip Spriggs, 52, formerly of Oxford, following a re-investigation by its major crime review team. 
The attack on the teenager took place in January 1986 near Pullens Lane.  
Brackley Town on BT Sport TV

Ross Heaton
BBC Oxford Sport
Brackley Town are set for a financial boost after their replay against Gillingham in the FA Cup.
The match has been picked up by BT Sport TV.  The tie is on 16 November at 19:45.
Mini workers back strike action
BMW group car workers have backed industrial action over plans to close their final salary pension schemes.
Unite said it will now make arrangements to hold a ballot that could result in strike action following the 96% vote in favour.
Members from Cowley, Farnborough, Goodwood, Hams Hall in the West Midlands and Swindon took part in the vote, with a turnout of 75%.
National officer Tony Murphy said the "massive vote" demonstrated the "depth of anger among BMW workers".
Travel update: Queues in Abingdon

There's queuing traffic on the A415 Ock Street in both directions in Abingdon at the B4017 Drayton Road junction in the roadworks area. 
The congestion is to the Marcham Interchange and to the Burycroft junction.
Public Space Protection Order introduced in Banbury
Howard Shannon
BBC Radio Oxford News
An order to stop begging, rough sleeping and alcohol consumption on the streets of Banbury has been approved after a public consultation showed overwhelming support.
Cherwell District Council says it will now introduce a Public Space Protection Order in the town centre to combat complaints about incidents of antisocial behaviour.
It follows a five-week public consultation which showed 90% of respondents supported proposals to tackle antisocial drinking, 84% endorsed proposals to stop begging, and 79% said they wanted an end to rough sleeping.
In a statement the council says the purpose of the order isn't to punish people - they claim it's about making Banbury town centre "a safe and welcome area for everyone".
Overwhelming support for order to stop begging and antisocial behaviour in Banbury

Oxford United EFL Trophy match tonight

Robyn Cowen
Presenter, Radio Oxford Sport
Oxford United travel to Stamford Bridge tonight in their final group game of the EFL Trophy. 
They take on Chelsea U23s side, knowing a win would send them through to the second round. 
The introduction of academy sides from the Premier League and Championship has drawn strong criticism, with some supporters continuing to boycott the competition. 
United captain John Lundstram told BBC Radio Oxford while he understands the fans views, he also sympathises with development players from the top sides as he came through the Everton youth system himself.
They're young boys who want to be playing other people's first teams and it's a good chance for them to be going out to showcase their talents.
'Network Rail will get a roasting'

Paul Clifton
Transport correspondent, BBC South Today
The wires to power new trains were due to reach Oxford this year, with Bath and Bristol next year. The whole £5.5 billion project was due for completion in 2018. Network Rail won't give a new date. 
But the aim now is by 2024. Yes, that is an overrun of truly spectacular proportions and Network Rail will get roasted for this. 
Some may question whether the work will ever happen. 
But in reality many passengers will barely notice. They will still get new, more frequent intercity trains. But for much of the journey they will have to run on old fashioned diesel instead of quieter, faster, cleaner electric power.
Council campaign to 'tackle mental health stigma'
Oxfordshire County Council has begun advertising a mental health hotline to help break the stigma of people discussing mental wellbeing. 
The campaign, called "We All Matter" will be featured across the county and promotes people who are worried about their mental health to speak up and talk to counselling services. 
Oxfordshire Mind chief executive Dan Knowles said: "All too often people facing challenges with their mental health don't know who to speak to. Oxfordshire Mind exists to offer support and respect to anyone suffering a mental health challenge – no matter how big or small – and our team are ready to help."
Part of a £2.8bn project to electrify the Great Western route is "deferred", affecting routes to Oxford, Berkshire and Bristol.
Read more
Man charged for 'historic attempted rape'
A 52-year-old man who previously lived in Oxford has been charged with attempting to rape a teenage girl in the 1980s. 
Philip Spriggs is accused of pulling the victim to the ground in Pullens Lane on the evening of 30 January 1986. He's accused of threatening her with violence and attempting to rape her before fleeing the scene. 
He will appear at Oxford Magistrate's Court later today. 
First outing for the gritters across the county
After a never-ending summer, the cold weather has finally hit Oxfordshire with temperatures getting down to -4C in some areas of the county. 
Oxfordshire County Council sent out 28 gritters yesterday afternoon for the first time this winter. 
The gritters covered about 1,200 miles of roads across Oxfordshire, the same distance between London and Iceland. 
Oxford electrification 'deferred' by government
The Department for Transport has "deferred" the electrification of the rail line between Oxford and Didcot Parkway indefinitely.
The project - part of the £2.8bn Great Western Railway modernisation - was due to fully electrify the route from Cardiff to London by 2018, but the scheme has already been delayed. 
It was estimated to cost £874m in 2013, but spending has spiralled out of control, causing some MPs to call it "staggering and unacceptable". 
Other lines affected include major routes to Bristol, Bath, and Berkshire.
Wantage MP 'very supportive' of barracks closure
Ed Vaizey has said that he is "very supportive" of the closure of three Ministry of Defence (MoD) sites across Oxfordshire by 2040. 
Speaking on Radio Oxford, the Tory MP for Wantage said: "The MoD has vast estates and as tax payers we would expect them to look at how they use them.
"I would expect the regiment to maintain its links with Didcot... I certainly don't want to see that link go. In the fullness of time we'll know what the proposals are of the relocation."
Breaking
Electrification delays
Four electrification projects which are part of the programme of work along the Great Western route have been deferred, transport minister Paul Maynard announces.
They are: 
electrification between Oxford and Didcot Parkway
 electrification of Thames Valley Branches (Henley & Windsor)  
electrification of Filton Bank (Bristol Parkway to Bristol Temple Meads)
electrification west of Thingley Junction (Bath Spa to Bristol Temple Meads)
Three Oxfordshire barracks to close by 2040
Three Army barracks across Oxfordshire have been earmarked for closure after the Ministry of Defence (MoD) announced the sell off of 56 sites across the UK. 
Dalton Barracks in Abingdon, Vauxhall Barracks in Didcot and St David's Barracks in Bicester were all announced in the proposals, which were presented to Parliament by Defence Secretary Michael Fallon last night.   
Currently the MoD's land holdings are three times bigger than London, and cost £2.5bn to maintain.
Radio Oxford's Lilley Mitchell has been offering her services collecting leaves today...
Oxford travel latest: Crash on A44 causing traffic

Al Ryan
BBC Oxford travel presenter
There is currently heavy traffic on the Peartree interchange after a collision on the Woodstock Road roundabout, involving two cars and a lorry. Elsewhere:
There are delays of 25 minutes on the A4165 Banbury Road from Kidlington to the Cutteslowe lights
On the B4017 in Drayton there are 15-minute delays
The Horspath road to the Eastern Bypass Road is suffering 25-minute delays at the moment 
Morning headlines: A34 reopens after overnight closure

Here are today's headlines from the team at BBC Radio Oxford:
The A34 has reopened after a crash between two lorries closed the road throughout yesterday's evening rush hour
Nearly one in three calls attended by Oxfordshire Fire and Rescue Service are false alarms caused by smoke detectors 
Three Army bases in Oxfordshire are among more than 50 sites due to be closed nationally by 2030
Work on a pipeline connecting the John Radcliffe and Churchill Hospitals can start on 28 November Much of the work on the hospital sites is complete, but the pipeline has been held up by planning problems
Oxford weather: It's brrrrracing this morning

Dan Downs, Weather Forecaster
It is another cold one with a lot of temperatures below freezing. We can expect rain later on, probably hitting Oxford at about 17:00 with temperatures getting no higher than 6C 
Travel latest: The usual traffic across the county

Al Ryan
BBC Oxford travel presenter
Good morning from the Oxford travel centre, as per usual, the A34 is looking weighty but luckily not closed. Here's what's happening on the roads so far this morning:
A34: Southbound is congested between junction 9 and Weston-on-the-Green, and northbound it is getting busier on the approach t the Hinksey Hill Interchange
M40: Traffic is building from junction 8A to junction 6, where there is a 50mph speed restriction through roadworks
A40: Eastbound is patchy from Witney to Barnard Gate and Eynsham to Cassington
City centre: George Street is closed between Cornmarket Street and New Inn HIll Street due to urgent telecommunications repair works
Hello, good morning, and welcome

To borrow a phrase from Officer Crabtree in 'Allo 'Allo, "good moaning". 
Me and the lovely Anna Browning will be with you all day - well, until 18:00 - providing the latest news, weather and all-important travel updates from across Oxfordshire. 
Remember you can get in touch with us by email, Twitter and Facebook.