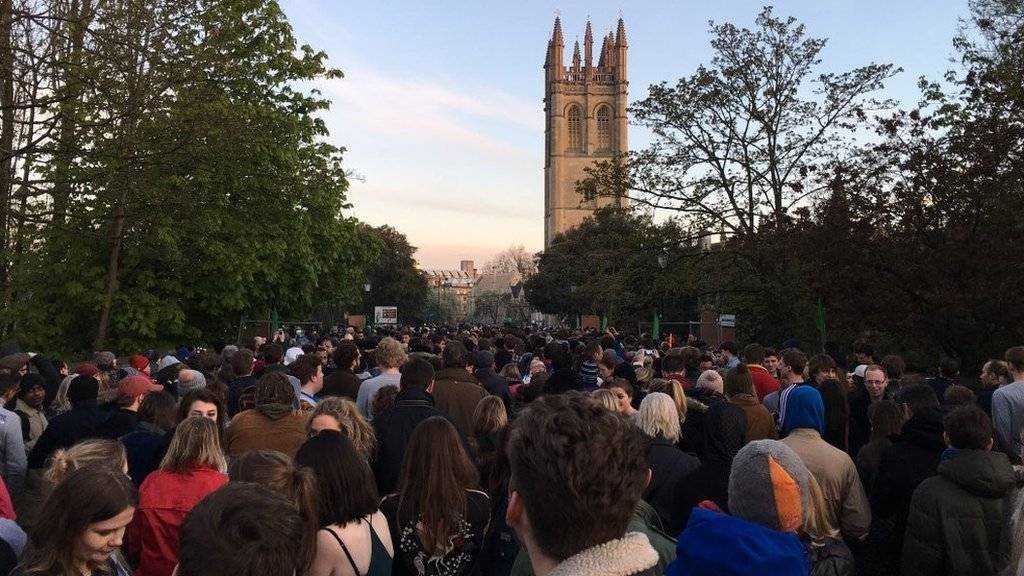 As it happened: Oxford celebrates May Morning
 And here's cheers to May!  

It's been a record turnout, according to Oxford City Council. Numbers are up from 5,000 to a bumper 25,000.

Image caption: Crowds on Magdalen Bridge at 06:00

As in all good things, it looks like May Morning in Oxford is drawing to a close. We've seen in the dawn to the sound of Magdalen College Choir, as far as we're aware no-one jumped in the River Cherwell, and there's been a dancing - a tree :) - and music in Broad Street.

World exclusive tree interview

Ever wondered what a radio interviewer questioning a tree looked like?

Well like this...

Image caption: BBC Radio Oxford's Danny Cox interviews tree. A career high surely?

If you found yourself, I don't know asleep or something at 06:00 this Bank holiday Sunday morning, you might have missed Magdalen College choir singing in May from the top of the college's tower. Well, here they are:

Looks like things are winding down at Magdalen Bridge. Almost as if 25,000 people were never there three hours ago.

Image caption: Magdalen Bridge is now open to traffic

In an exclusive interview for the BBC, the tree was asked by Radio Oxford's Danny Cox how it felt being a tree. Well, for one thing, you can't see much. And then there's the attention, he said. 

Image caption: Tree gets attention

Quote Message: This year I've been mobbed. from Jack the Tree Oxford City Morris Men

So the BBC in Oxford has a whizzy new 360 degree camera. Take a look at its first outing.

There's a little healthy competition brewing on Broad Street. Tree... and now bells.  

I think I'm in love.

Is there any more to say? 

And they've interviewed a few more revellers.

Quote Message: "We've come over from Switzerland, from Zurich, specially for this!"

Meanwhile, the clean-up begins.

So, here was the scene on Broad Street at 05:00. Amazing what the dawn brings in Oxford on 1 May.

Image caption: Broad Street anticipating the May Morning fun

Ok, so are you in Oxford welcoming the dawn of May. Email us your picture, impressions etc at oxfordshire@bbc.co.uk     

Rob is wearing antlers coming out of a bowler hat.