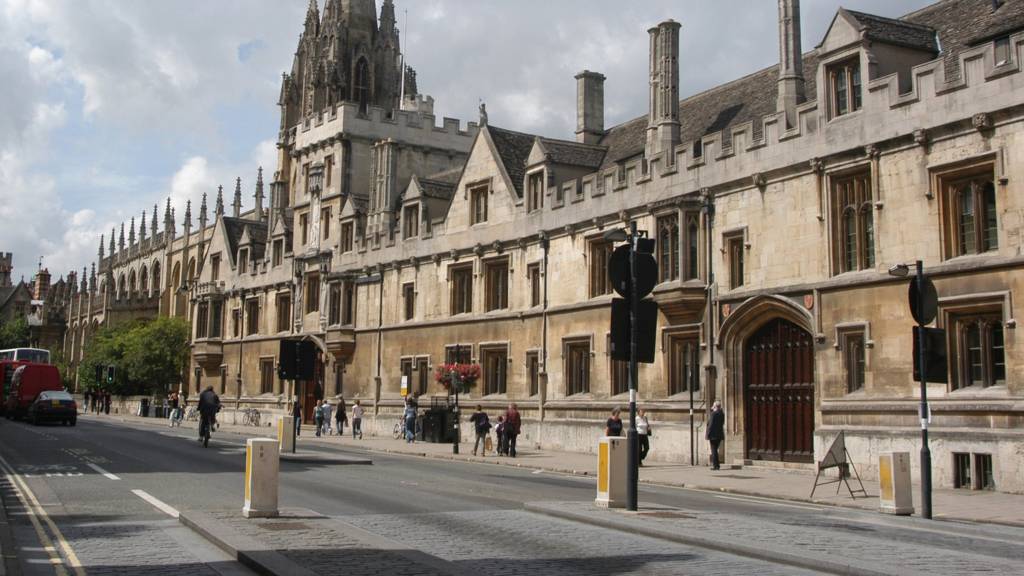 BBC Local Live: Oxfordshire
Summary
Updates on Wednesday 6 January 2016
Our live coverage through the day

Tonight's TV: Bullingdon Prison, Goldsmiths robbery and farming conference

View the video below to see what Geraldine Peers has in store for viewers on South Today this evening  at 18:30.

Weather: 'Band of heavy rain overnight'

Alexis Green

BBC South Today weather presenter

It's a mainly dry end to the day. A band of heavy rain will sweep in from the west and with it the winds will be brisk from the south west with temperatures dropping overnight to about 6C (43F).

Sport: Thrower Hedman to face Winstanley

Robyn Cowen

Presenter, Radio Oxford Sport

Oxfordshire darts player Deta Hedman's quarter-final opponent at the BDO World Darts Championships will be Lorraine Winstanley after she beat Rachel Brooks earlier. 

  The match takes place at the Lakeside tomorrow.  

Breaking

Hospital pipeline contractor suspends work

Bethan Phillips

Political reporter, BBC Radio Oxford

The contractor behind the pipeline between two Oxford hospitals is stopping work until it obtains planning permission.

Ashley Malin, project development director at Vital Energi, said: "Works associated with the energy link underground utility services and the formation of the service trench have been suspended whilst discussions... continue. 

"We will continue to work closely with Oxford University Hospitals Trust, the local planning authority, residents and stakeholders to minimise disruption."

Latest headlines: Pipeline planning and chicken understanding

The top stories on Local Live today:

Queues at B480 Cowley Road roadworks

Al Ryan

BBC Oxford travel presenter

There's queueing traffic on the B480 Cowley Road in both directions at Shelley Road in the roadworks area.

There are temporary traffic lights in place for emergency water main works.  

Lane closures following road accidents

Al Ryan

BBC Oxford travel presenter

One lane is closed and there's queueing traffic due to accident involving a caravan on the M40 northbound between Junction 5 A40 (Stokenchurch) and Junction 6 B4009 (Watlington).

There's also a lane closure due to an accident involving two vehicles on the A34 northbound before the M40 Junction 9 for the A41 (Bicester).

Cropredy shop owner and staff targeted in crime wave

B4012 Thame Park Road partially blocked

The B4012 Thame Park Road is partially blocked in both directions between the Thame Park Road junction in Thame and the A40 junction in Tetsworth because of an accident involving two vehicles.

Work on hospital pipeline 'should be stopped'

Patrick Coulter, acting chair of the Highfield Residents Association, has said work should stop on the pipeline between the Churchill and John Radcliffe hospitals (pictured) after it was revealed there was no planning permission in place.

He said: "I think it will send all the wrong messages if people can carry on major projects without planning permission."

The BBC has contacted Vital Energi for comment, but Oxford City Council told us that while it supports the project in principle, the contractor needed to bring its work "into compliance".

Volunteers wanted for vaccines against Typhoid

Oxford University scientists are asking for volunteers to try out a possible new vaccine for Typhoid fever.

Copyright: Science Photo Library

They say about 2,000 people in the US and in Oxford have previously taken part safely, "in the process providing vital information about the disease and how to beat it".  

Professor Andrew Pollard, director of the Oxford Vaccine Group, said: "We hope to see it rolled out to prevent infection and save lives in some of the poorest communities in the world."  

CCTV footage of Oxford jewellers raid

Thames Valley Police has released a video of masked men smashing displays and stealing valuables from an Oxford jewellers.

Seven men broke into the Clarendon Centre in Oxford and forced open the shutters at Goldsmiths, before stealing watches in the New Year's Eve raid.  

Oxford scientists monitor chicken flock behaviour

Marcus Liddell

BBC Radio Oxford

It's hoped the spread of a potentially fatal food poisoning bug could be stopped, thanks to Oxford research. 

Zoologists think they can identify birds that may carry "campylobacter" by filming flocks of chickens - it's because less movement in chickens can be a sign they have the infection. 

Dr Frances Colles, from Oxford University's Department of Zoology, told us that there are 70,000 reported cases each year, but that the real figure may be seven to 10 times larger.

Flood alerts across county

Latest headlines: Pipeline's planning plight and Oxford farming debated

The top stories this afternoon:

'Unusual research' in Wytham Woods

Oxford University has tweeted this lovely video of a researcher at work in the "laboratory with leaves" that is Wytham Woods.

Doesn't it look like a winter wonderland?

Deal to buy police vehicles 'to save force thousands'

A new consortium deal to buy new police vehicles will save the Thames Valley Police force £140,000 over two years, it has been claimed.

Weather: 'Odd sunny spell, but cloudy too'

It will be mostly dry with a shower or two, and we may even be able to see the odd sunny spell coming out as we head through today.

But it will probably be fairly cloudy, with temperatures about 7C (45F).  

Deta Hedman: 'I play darts on my lunch break'

Ross Heaton

BBC Oxford Sport

Oxfordshire darts player Deta Hedman is through to the World Championship quarter-finals after a straight forward victory over Australian Corrine Hammond yesterday. 

She is semi-pro, holding down a full-time job with the Royal Mail, but says her colleagues and employers have been understanding of her determination to do well at the darts. 

"I asked if they could put a dartboard up, so I have my lunch and then have 10 to 15 minutes on the board just to keep my arm in. Everybody plays now on the board."