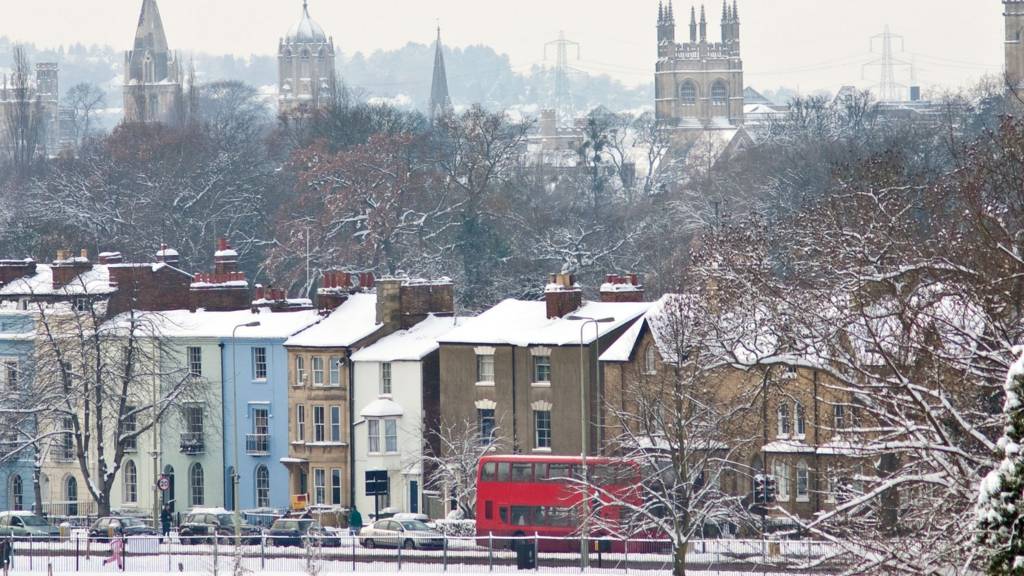 BBC Local Live: Oxfordshire
Summary
Updates on Thursday 1 January 2015
Disorder's roots psychological

As part of the BBC's World War One at Home series, we looked at the role Oxfordshire played during the conflict.

At the beginning of the war, shell shock, what we now call post-traumatic stress disorder, was a new idea, with many theories put forward about its cause. But an Oxford academic called William McDougall established that its roots were psychological.

He worked with victims in a tented hospital area in part of New College.

Tonight will be cloudy for much of the night, with occasional light rain which will become heavier during the early hours before it clears to the east. It will be windy, especially over The Chilterns and other high ground. Drier, clearer and colder conditions will then follow into the dawn period, and winds will also ease.

Minimum temperature: 6C (43F). Check the forecast near you.

Pram found in lake search

A team of five experts including Chris Stevens from Oxford Scuba and Diving Club has kept the annual tradition of recovering rubbish from Hinksey Lake.

He told BBC Radio Oxford: "It was chillier than I expected. John Waterhouse found a pram this year. People seem to keep throw in more rubbish unfortunately.

"It was fantastic fun, glad I didn't get too muddy and I can feel my feet again now!"

Jools Holland, 10CC and more

Will Banks

Assistant editor, BBC Radio Oxford

I'll be revisiting the best of Oxfordshire's summer music festivals.

Featuring performances from Jools Holland's Rhythm 'n' Blues Orchestra featuring Melanie C, Fairport Convention, 10CC and many more on BBC Radio Oxford at 18:00.

Catch up on University Challenge

Missed last night's special Christmas episode of University Challenge between Oxford's Lady Margaret Hall and Hull? You can catch up here on the BBC iPlayer.

Highways Agency tweets: All lanes are now open on #A34 northbound nr #Woodstock #Oxfordshire following an earlier accident. Thanks to @tvprp. No delays

I've been talking to James Luxford about the great films of 2014.

He told me: "Oxford has once again provided the location for many Hollywood hits including Brad Pitt's Fury, horror film The Quiet Ones and costume drama Belle."

What was your favourite? Let us know via email, Facebook or Twitter.

Generally cloudy with strong winds. Gusts of 40 to 50mph are possible over the Chilterns. Outbreaks of rain and drizzle are expected later in the day and it will feel relatively mild despite the wind.

Maximum temperature: 12C (54F). Check the forecast near you.

One lane is closed northbound and there's queuing traffic on A34 after Weston-On-The-Green because of an overturned car.

More on BBC Travel for Oxfordshire.

Chris Stevens from Oxford Scuba and Diving Club has had an interesting New Year's Day - he went diving into Hinksey Lake to collect rubbish.

Last year he found a bicycle and a moped. And two years ago he found a cash register and a silver candle stick holder.

I'll be speaking to him at 15:35 to find out how he got on and what, if any, surprises he found.

Replacement bus service in operation

Here is the moment that Dr Ian Ashpole took a final measurement this morning confirming that 2014 was the warmest year Oxford has seen since records began 200 years ago.

He took the measurement at the weather station at Green Templeton College.

Last year a project was launched to mark the start of World War One and its impact on Thame.

It's called Thame Remembers and it's hoping to place a special cross on the grave of every person from the town that has died in recent conflicts.

Newborns on New Year's Day

Paul Jenner

Newsreader, BBC Radio Oxford

We've just heard that three babies have been born at the John Radcliffe Hospital today.

The first of the three entered the world at about 00:30. All the newborns are said to be doing well.

On lunchtime BBC South Today

A 32-year-old man cycling a bike on the A3 has died after a crash involving several vehicles.

Police were called to the A3 southbound this morning, soon at about 07:30. It happened just after the Hindhead tunnel at Bramshott. We'll have more on this story on BBC South Today at 13:00 on BBC One.

'Oxford sees warmest year'

Conflicts project strikes chord

A project honouring those from Thame who died in conflicts has gathered a lot of support in its first year, according to those behind it.

The Thame Remembers scheme, which aims to put a cross on every place where 190 people from the town passed away.

Mike Dyer from the project says they've delivered 25 crosses so far, adding: "There have been varying reactions, but it struck a chord with most of them, one in particular wrote a beautiful journal and it was obviously an extremely moving experience for him."

All the best action from the Cup

You can watch the FA Cup's 50 Greatest Moments on the BBC iPlayer now.

Rio Ferdinand and Helen Skelton look back at the most celebrated, most shocking and most memorable moments from the greatest domestic football cup competition in the world.

Paul Jenner

Newsreader, BBC Radio Oxford

Don't just turn up at A&E if you're simply feeling unwell - That's the message from Oxfordshire's Clinical Commissioning Group which is responsible for providing our health services.

It wants to make sure NHS services are used appropriately over the new year period. They say the 111 number is the best number to call if you're ill, and it's not an emergency.

Regeneration work due to start

Work's due to start on the final stage of Bicester's Pioneer Square regeneration project.

A five-storey community development is due to be built on Franklins Yard car park. The multimillion-pound project will house a new library, a hotel, shops and offices.

There'll be no new parking spaces created, but there will be provision for bicycles. Environmentally-friendly features will be installed, including solar panels. The work should be complete by spring 2016.

More on Oxford's 'warmest year'

As well as saying it's been the warmest year on record in Oxford, Dr Ian Ashpole from the Radcliffe Meteorological Station says he has noticed some trends occurring in recent years.

He told BBC Radio Oxford: "Sixteen of the 18 warmest years since 1815 have occurred since 1989. Those are extraordinary figures.

"The flip-side of the coin is that we are not getting the very cold years either. Despite the odd cold spell in recent years none of the 50 coldest years since 1815 have occurred after 1990."

Efforts to cut domestic abuse

Paul Jenner

Newsreader, BBC Radio Oxford

Police in Oxfordshire are trying to stop a rise in domestic violence over the new year.

In 2013, over the eight-day festive season Thames Valley Police received an average of 117 reports of domestic abuse per day - an 8% increase than normal.

Officers say they're working with other agencies to reduce the risk to victims.

'Warmest year' for Oxford

The temperature on average across 2014 in Oxford was higher than the previous record by 0.1C, the Radcliffe Meteorological Station has found.

The final measurement for 2014 was at 09:00 today at the weather station at Green Templeton College.

The average annual temperature for 2014 was 11.5C. The previous warmest year was 2006, with an average of 11.4C.

Breaking

2014 'warmest year for 200 years'

The year 2014 was the warmest year in Oxford for 200 years, according to Dr Ian Ashpole, observer for Oxford's Radcliffe Meteorological Station.

If you missed it, the BBC Radio Oxford special on footballers of Oxford United in their first season in the Women's Super League is on iPlayer.

We looked at the challenges that the team face on and off the pitch.

Alex Lester

BBC Radio Oxford

Recordings have just been being taken to find out if 2014 was the warmest year in Oxford for 200 years. Temperatures were taken at the Radcliffe Observatory.

Ian Ashpole is the observer for the Radcliffe Meteorological Station and a research scientist. I'll be speaking to him to do some number crunching. Click the Live Coverage button to listen now.

Today's wintry banner image was taken in December 2010, capturing Oxford's snow-covered spires from South Park. I wonder when we'll have the first snow of the year?

Copyright: Howard Stanbury

You can see more of Howard's photos on his flickr page.

Post office raid: Man arrested

A 28-year-old man has been arrested in connection with a robbery at a post office in Risinghurst.

Cash was taken during the raid in Downside Road on Tuesday evening after a thief threatened staff with a weapon. No-one was injured. Police want anyone with information to call 101.

Perhaps some bright or sunny intervals this morning, but generally it will be cloudy. Later the wind strengthens, with gusts 40 to 50mph possible over the Chilterns. Outbreaks of rain and drizzle are expected later in the day. It will feel relatively mild despite the wind.

Maximum temperature: 12C (54F). Check the forecast near you.

No reported major incidents

Good news for motorists this morning as the roads are looking fairly clear across the county.

There is a lane closed and the bus lane is shut on the A40 London Road westbound in Headington, between Thornhill park-and-ride and Headington roundabout, because of roadworks.

More on BBC Travel for Oxfordshire.