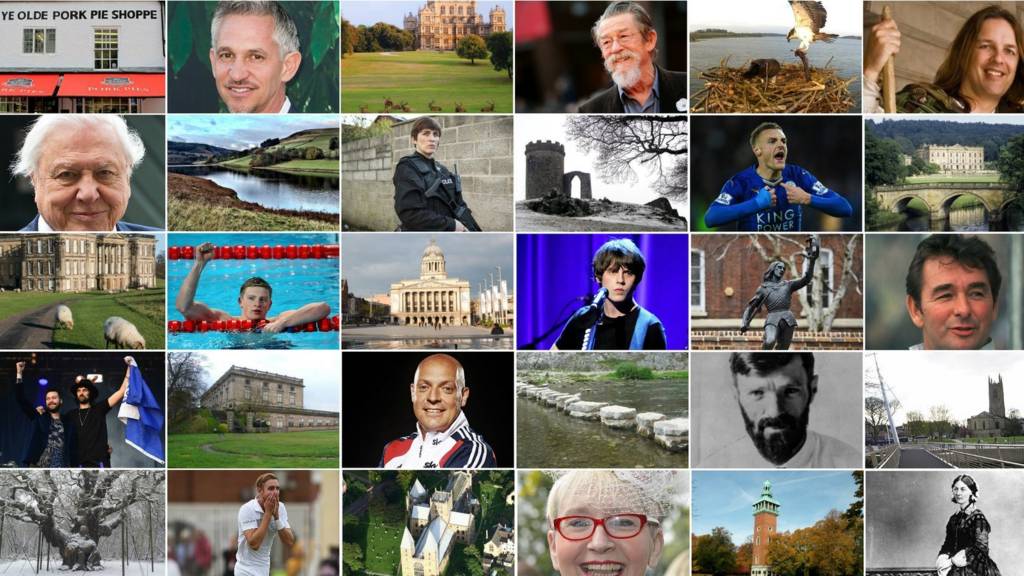 Latest updates: East Midlands Live
Listen live to your BBC local station in Derbyshire, Nottinghamshire and Leicestershire.
Summary
Murderer absconds from open prison
Neglect 'contributed to' student's suicide
Woman arrested over stabbing bailed
Homes hit by 'nightmare' fly infestation
Smart motorway upgrade cost £125m
Lords question cost of HS2
Trust to sell nature reserve to raise funds
Rams are going to Wembley
Live updates for Thursday 16 May
Caroline Lowbridge

BBC News

Severe disruption: M1 Derbyshire northbound

BBC News Travel

M1 Derbyshire northbound severe disruption, from J28 for A38 Alfreton to J29 for A617 Chesterfield.

M1 Derbyshire - One lane closed on M1 northbound from J28, A38 (Alfreton) to J29, A617 (Chesterfield), because of a broken down vehicle. Traffic is coping well.

To report traffic and travel incidents dial 0330 123 0184 at any time

Our live coverage across the day

The East Midlands Live page has now finished for the day however some posts linking to BBC articles may continue to appear.

Full live coverage will continue at 08:00 on Friday.

Weather: A cloudy day with some rain

Cloud is expected to become more extensive through tonight and will thicken enough to give some light showers.

Copyright: mikespencerpics

Friday will feel fairly cool and there will be rather a lot of cloud, thick enough to produce some showers.

Boy band singer 'proud' of Rams

The One Direction singer and "lifelong Derby County fan" Niall Horan has said he's "proud" of the team after they beat Leeds in a play-off semi-final thriller last night.

He followed this tweet with another saying: "This is by far the most together I've seen the club in years."

Rabbit dies after failed rescue missions

There's been a sad outcome to a failed rabbit rescue mission in Nottingham.

On Friday the fire service and RSPCA responded to reports of a rabbit stuck on the ledge of a building on Burton Street five metres above the ground. They were unsuccessful at rescuing it and returned on Monday.

After several days of trying "extremely hard" to bring the rabbit to safety the RSPCA has confirmed the animal has died.

It said: "This is not the outcome that anyone wanted."

Man charged with having imitation firearm

An 18-year-old man has been charged with a firearms offence after a fight in Market Harborough.

Police have said it happened outside the King's Head and the Nag's Head pubs on Church Street in the early hours of Saturday 16 March.

Matteo Heathcote, from Cromwell Crescent in the town has been charged with possession of an imitation firearm with intent to cause fear of violence.

He is due to appear at Leicester Magistrates' Court on 27 June.

Cricket: Essex beat Nottinghamshire by eight wickets

Nottinghamshire have been heavily beaten in their County Championship match in Chelmsford.

Essex reached the target of 105 for the loss of just two wickets, with Sir Alistair Cook unbeaten on 40.

Earlier, Notts were bowled out for just 158 in their second innings.

'Minor crack' in historic castle wall

Scaffolding has been put-up at Newark Castle after a crack was spotted in a wall of the Grade I-listed building.

Part of a footpath has also been cordoned off after what's described as a "minor crack" appeared in the middle tower of the curtain wall facing the river.

The district council has said it's seeking the opinion of experts before carrying out any work.

Convicted murderer absconds from open prison

A man convicted of murder in 1993 has absconded from Sudbury open prison.

Stephen Archer has been missing since yesterday.

Anyone who sees him has been advised by police not to approach him but to call 999 immediately.

Copyright: Derbyshire Police

Derbyshire Police have described the 48-year-old as white, 5ft 10ins tall and of slight build.

He has a cross tattoo on the inside of his right forearm and a dagger tattoo on his left forearm.

Archer is believed to have links to Nottingham and Lancashire.

Chilwell looks forward to England's 'big games'

It looks like Leicester's Ben Chilwell is excited to be named in the 27-man England squad for the UEFA Nations League Finals.

Man sexually assaults woman in park toilets

David Pittam

BBC News Online

A 40-year-old man may be deported after he sexually assaulted a young woman enjoying a day out with her family.

Christian Mihai, of no fixed abode, approached his victim in the women's toilets at Darley Park Café in Derby.

He grabbed hold of her and kissed her hands, tried to kiss her face and rubbed up against her before she managed to escape, police said.

Copyright: Derbyshire Constabulary

He pleaded guilty to sexual assault and was sentenced to 16 months imprisonment, put on the sex offenders register for 10 years and given a restraining order stopping him from contacting his victim or entering the park for three years.

Mihai is now automatically liable for deportation and the Home Office will make a decision on this.

Det Con Harry Bashir, of Derbyshire Police, said the incident had a "profound and lasting impact on a vulnerable young woman".

Funding for art graduate internships

A Nottingham arts venue has been awarded almost £300,000 to help students pursue careers in the creative industries.

The funding will enable Lakeside Arts at the University of Nottingham to offer some students graduate internships and run a creative academy for undergraduates.

Woman bitten by white Westie

David Pittam

BBC News Online

A woman had to be treated by medics after being bitten by a Westie this weekend.

The 48-year-old was attending Swadlincote's Festival of Transport when she was attacked on Sunday.

Police want to speak to this (admittedly quite pixellated) couple about the bite, and have apologised for the quality of the image.

Copyright: Derbyshire Police

Foxes players make Southgate's top 27

Ben Chilwell and Harry Maguire have been named in the 27-man England squad for the UEFA Nations League Finals.

The Leicester City players will hope to make the final squad of 23 that will head to Portugal for the semi-final match against the Netherlands next month.