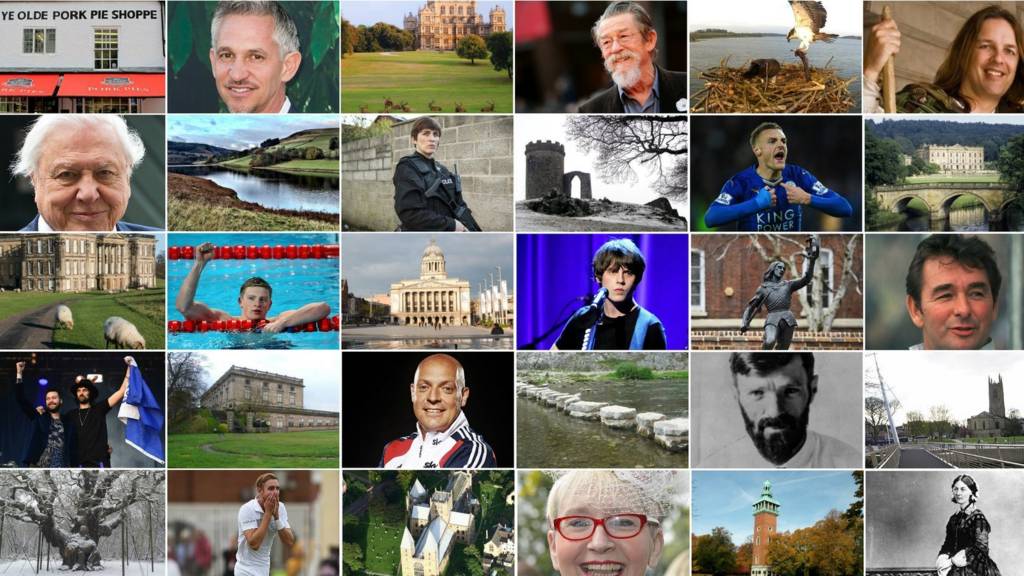 Severe disruption: M1 Leicestershire southbound

BBC News Travel

M1 Leicestershire southbound severe disruption, from J19 for A14 to J18 for A5.

M1 Leicestershire - One lane closed on M1 southbound from J19, A14 (Catthorpe Interchange) to J18, A5 (Rugby), because of a broken down vehicle.

To report traffic and travel incidents dial 0330 123 0184 at any time

Our live coverage across the day

The East Midlands Live page has now finished for the day however some posts linking to BBC articles may continue to appear.

Full live coverage will continue at 08:00 on Tuesday.

Weather: A bright start to Tuesday

Rich Davis

BBC Weather presenter

Rather cloudy at first this evening with some showers.

As the evening progresses the cloud and any showers will clear leading into a dry, clear and chilly night.

Tuesday will begin bright and chilly although it will turn increasingly cloudy as the day progresses.

Severe accident: M1 Derbyshire southbound

BBC News Travel

M1 Derbyshire southbound severe accident, from J25 for A52 Brian Clough Way Nottingham to J24 for A50 Nottingham South.

M1 Derbyshire - One lane closed and slow traffic on M1 southbound from J25, A52 (Nottingham) to J24, A50 (Nottingham South), because of an accident.

To report traffic and travel incidents dial 0330 123 0184 at any time

Woman found dead with dog named

A woman who was found dead at a house in Derbyshire has been named as 77-year-old Dorothy Bowyer.

The body of a dog was also found inside the property on Western Lane, Buxworth, last week.

Copyright: Derbyshire Police

Police were called shortly after 04:00 on Thursday 14 February.

They later arrested 25-year-old William Blunsdon from Buxworth, who's since been charged with murder and criminal damage.

Broken down LGV causing A38 delays

There are delays on the A38 roundabout at J28 of the M1 where two lanes are closed due to a broken down LGV.

Recovery is now at the scene.

Copyright: Highways England

Flybmi 'won't be the last airline failure'

Flybmi's announcement that it had collapsed summed up the airline industry's woes: fuel costs, green taxes, Brexit uncertainty, falling passenger numbers.

It might have added fierce competition, but that is probably a statement of the obvious.

Several European airlines have folded or hit financial trouble during the past two years. Britain's Monarch collapsed in October 2017, while Germany's Germania filed for insolvency earlier this month.

Air Berlin and Alitalia went bust, although the latter was propped up by the Italian government.

So why are so many airlines failing?

Travel expert Simon Calder went to the heart of the problem when he told the BBC that the airline industry's problem is: "There are simply too many seats and not enough people."

According to the International Air Transport Association, the number of flights in Europe has risen more than 40% compared with a decade ago. At the same time, though, fares have fallen, squeezing margins and reducing financial room for manoeuvre.

So, will there be more airline failures? "Yes, I think definitely," says Ascend Consultancy analyst Peter Morris.

Elderly man hospitalised by bollard crash

An 80-year-old man has suffered serious injuries after crashing into a bollard in Nottingham.

The man was driving a Hyundai 4x4 on the Colwick Loop Road in Netherfield when he crashed early this morning.

He was taken to the Queen's Medical Centre for treatment.

Fears HS2 plans could be scrapped

Chris Doidge

BBC Radio Derby, political reporter

Political leaders in the Midlands are expressing growing concerns over HS2. Some feel the latter sections are now more likely to be scrapped than go ahead.

At a meeting earlier the Midlands Engine chairman Sir John Peace said he "fears we risk losing it" and said London-based media keeps hitting the project.

Nottingham City Council leader Jon Collins said he thinks it's "less than 50/50" that Phase 2b gets through Parliament and gets built.

He compared it to the "on, off, on, off" midland mainline, and said HS2 could be "off" soon.

Your comments: Military honour for 'amazing man'

Lots of you on Facebook have been commenting on the award presented to Herbert Thorpe from Long Eaton.

The 95-year-old war hero has been awarded France's highest military honour.

Copyright: Erewash Borough Council

Pat Lilley said: "What an amazing man. Thank you from my heart for all you did for our country."

Thomas Moran said: "What a hero - you rock Herbert."

Charlotte Victoria Hubbard said: "You Sir are a real hero. Thank you and congratulations."

'Outstanding' carer recognised by council

Hannah Meredith

Journalist, BBC East Midlands Today

A woman from Leicester, who's looked after more than 100 people with learning disabilities over the past 20 years, has received a special award from the city council.

Gill Evans is a Shared Lives carer offering respite, short-term and long-term care to adults who need additional support.

She has been given an Outstanding Contribution certificate to thank her for her efforts.

Alfreton midfielder scores 45 yard winner

Nick Smith

BBC News Online

Pick that one out!

Danny O'Brien scored one of the goals of the season this weekend, netting his side's second goal in a 2-1 win against league leaders Chorley in the National League North on Saturday.

Boots marks anniversary with new jobs

Boots has announced it's creating an extra 170 job opportunities for young people.

The pharmaceutical chain, which has its headquarters in Beeston, is 170 years old this year and is marking the anniversary by working with the Princes Trust.

The charity supports 11 to 30-year-olds who are struggling at school or unemployed.