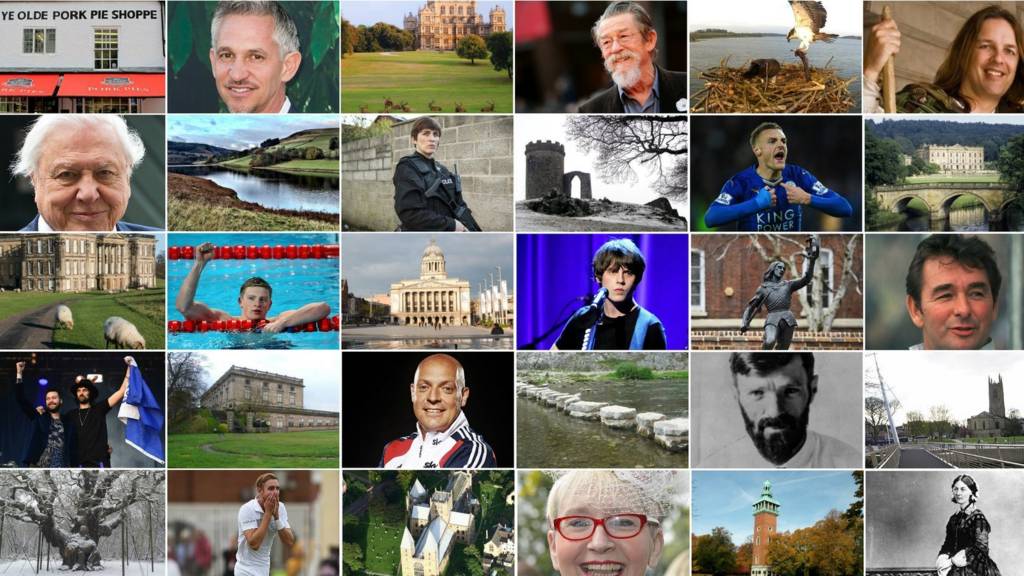 Our live coverage across the day

That's it for dedicated live coverage for this week. We'll be back with the full East Midlands Live service from 8:00 on Tuesday.

Weather: Cloudy and wet for the Bank Holiday weekend

Whatever you're doing this weekend make sure you keep the raincoat and brolly to hand!

It's going to stay mainly dry tonight but there is a risk of some heavy showers tomorrow and Sunday. It is going to stay relatively warm but there could be a risk of some thunderstorms.

Then on Monday we will have some sunny spells with a few showers possible.

Travel: All lanes on M1 now open

A52 contractor says costs 'out their control'

Chris Doidge

BBC Radio Derby, political reporter

Work to increase road capacity around Derby's Wyvern retail park has doubled in cost with an estimated final bill of £30m.

A spokesman for Galliford Try, which is the city council's contractor on the A52 roadworks, said: "Some costs issues outside of our control have arisen on the A52 project.

"We're currently working closely with Derby City Council to understand the reasons for them more clearlyand see how they can be mitigated."

River walkway remains closed because of vandals

Eddie Bisknell

Local Democracy Reporter

A popular Derbyshire visitor attraction will remain closed over the bank holiday almost a month after vandals forced its closure.

Several tension wires were cut on the Millennium Walkway, in New Mills, on 3 May and it is not due to be repaired until Tuesday.

CCTV appeal after charity box theft

Police have released this CCTV footage of a man they want to speak to after a burglary at a North Wingfield pub.

The Blue Bell Inn on Station Road was broken in to at around 03:40 on Wednesday and a charity collection box for Ashfield Hospice was taken.

Shop worker chases out armed robber

A shop worker in Wollaton chased out an armed robber last night after he was threatened with what looked like a gun.

A man dressed in dark clothing and carrying a firearm went into the Mahals Conveninence Store in Trowell Road just before 22.00 but was challenged and pushed out of the shop by the member of staff.

Insp Gordon Fenwick, from Nottinghamshire police, said: "Incidents like this are incredibly rare and we'd like to reassure the local community that we're doing everything we can to catch this offender.

"We will be stepping up patrols over the coming days and we have several leads to follow up as part of this investigation."

More work needed to finalise swimming pool plans

The new leader of Derby City Council said more work needs to be done on plans for the replacement Moorways swimming pool.

Conservative Chris Poulter says a 25 metre pool instead of the planned 50 metre pool may be more viable.

Copyright: Derby City Council

Mr Poulter added that while local swimming clubs had been promised an Olympic-sized pool, he said they needed to take into consideration the needs of everyone in Derby.

It follows reports yesterday that the previous Labour administration announced plans were on track and a 50m pool would be open by 2020.

Politicians seek police chief meeting after stabbing

Concerns have been raised about policing and resources in Arnold after the latest stabbing this morning.

Two Gedling Borough Council leaders and MP Vernon Coaker have released a statement calling for an "urgent meeting" with the chief constable and local inspector of Nottinghamshire Police to talk about residents' worries over crime and anti-social behaviour.

Mr Coaker was joined by leader John Clarke and deputy leader Michael Payne to say in a statement: "We are seeking reassurances and action from the police, including a greater police presence in our local community."

They continued: "In spite of Nottinghamshire Police's recent repeated use of dispersal orders in Arnold town centre, there are ongoing problems with crime, anti-social behaviour and a general fear of crime is increasing."

The trio said they wanted to see more police in their area and "firmer action" from officers to stop another stabbing from happening.

Two people, aged 24 and 17, have been arrested on suspicion of affray following a stabbing in the early hours of this morning.

Severe disruption: M1 Leicestershire northbound

BBC News Travel

M1 Leicestershire northbound severe disruption, between J23A for A42 and J24 for A6 affecting J22 for A50.

M1 Leicestershire - One lane closed and queuing traffic on M1 northbound between J23a A42 and J24, A6 (Kegworth), because of a broken down lorry. Travel time is 60 minutes. Congestion to J22, A50 (Coalville).

To report traffic and travel incidents dial 0330 123 0184 at any time

Severe accident: M1 Leicestershire southbound

BBC News Travel

M1 Leicestershire southbound severe accident, between J24 for A6 and J23A for A42 affecting J25 for A52 Brian Clough Way Nottingham.

M1 Leicestershire - One lane closed and queuing traffic on M1 southbound between J24, A6 (Kegworth) and J23a A42, because of a multi-vehicle accident. Travel time is 20 minutes. Congestion to J25, A52 (Nottingham).

To report traffic and travel incidents dial 0330 123 0184 at any time

Man denies attacking woman in Ilkeston

A 42-year-old man has pleaded not guilty to the attempted murder and rape of a woman in Ilkeston.

Anthony Dealey, from Erewash Square in the town, also denied robbery and sexual assault.

It's after a woman was attacked on Queens Avenue in the early hours of 26 November.

Mr Dealey will stand trial at Derby Crown Court in September.

Predicted cost of A52 works 'to double'

Mike O'Sullivan

Reporter, East Midlands Today

An inquiry has been announced into the spiraling cost of major congestion-easing roadworks around the A52 Brian Clough Way.

The predicted cost of the work, which started in the summer of 2017, has risen from £15m to £30m, Derby City Council said.

The new Conservative administration at the council is looking for an independent expert to investigate the problem.

The council is unable to state yet whether or not the roadworks will be completed by the target date of March 2019.

An extra £8m needs to be found by the council in the short term to keep the project going. Extra costs are being blamed on changes to the design, which has yet to be finalised.

Police boss opposes festival

Eddie Bisknell

Local Democracy Reporter

A festival at the Elvaston Castle Country Park faces the axe after criticism from the police over fears that there would be an increase in crime and disorder caused by drunk party-goers.

Summer Gathering Festival Limited has applied to South Derbyshire District Council to host two days of live music and dance performances, for over 18s, at the site near Derby from August 18-19.

However, due to the application asking for permission for alcohol to be sold for 12 hours on each day, the police have urged the authority to reject the proposals.

Live music, recorded music and dance performances would be staged for 13 hours each day.

Tickets are already on sale for the Saturday of the festival.

Derbyshire police's Chief Constable Peter Goodman, wrote in an objection letter: "It can be reasonably said that with alcohol being available for twelve hours on both days that there will be a proportion of people who become drunk, which causes an elevated issue in relation to crime and disorder. There are far too many questions unanswered particularly for a 'one off' festival of this size at this location.

"It is the opinion of the chief of police that this application should not be granted."

Memorial for WW2 glider mission

A 5m (16ft) high memorial to one of the most daring operations of WW2 is now soaring high at the national arboretum in Staffordshire.

Specialist glider crews landed behind the enemy lines at what was known as Pegasus Bridge to prevent German reinforcements from driving the Allies back into the sea.

Herefordshire blacksmith Bromley O'Hare teamed up with the Allied Special Forces Association to create the metal sculpture.