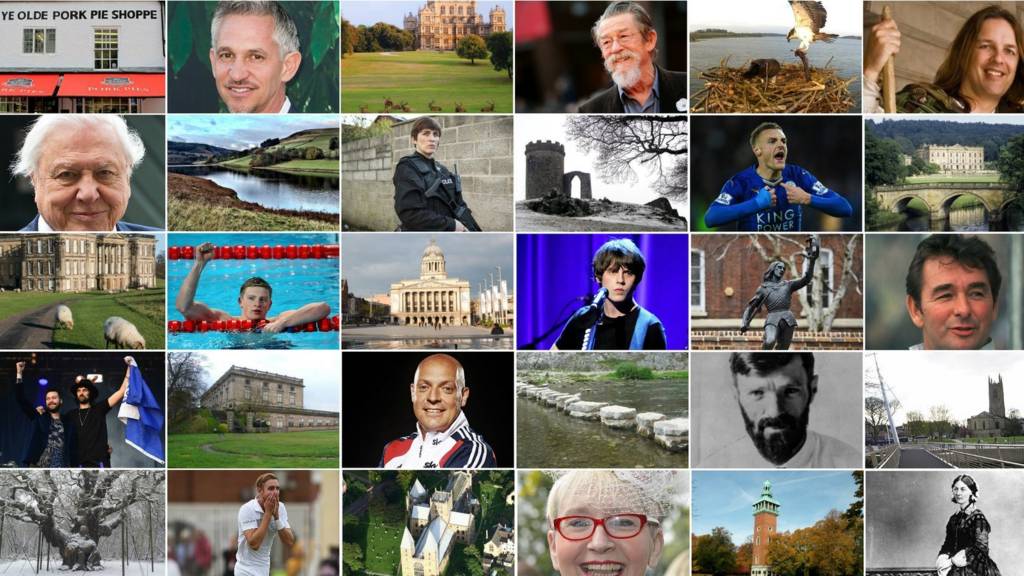 Latest updates: East Midlands Live
Listen live to your BBC local radio station in Nottinghamshire, Derbyshire and Leicestershire.
Our live coverage across the day

Today's updates have finished and will resume at 08:00 on Monday.

Severe disruption: A46 Leicestershire southbound

BBC News Travel

A46 Leicestershire southbound severe disruption, at A5630 Anstey Lane.

A46 Leicestershire - Queuing traffic and the main road is closed, with traffic being routed around the junction and back on again, on A46 southbound in Anstey at the A5630 Anstey Lane junction, because of a police incident. Diversion in operation - via the exit and entry slip roads.

To report traffic and travel incidents dial 0330 123 0184 at any time

More snow photos from across the region

Thank you to everyone who has submitted their snow snaps today - it's been lovely to see.

More of the white stuff is expected over the weekend so keep those cameras out and ready.

This was the snow in Hathersage earlier this afternoon...

This was the scene in Mickleover...

And this pic in Smalley certainly looks festive.

Police appeal over missing woman with dementia

Police are appealing to the public for help after a woman who suffers from dementia went missing this afternoon.

Gurmit Kaur, 65, was in Leicester city centre with a relative when she went missing at about 14:00.

Copyright: Leicestershire Police

Leicestershire Police said she was last seen outside the Bowling Green public house, formerly known as the Polar Bear, on Oxford Street and was heading towards De Montfort University.

She was wearing a dark jacket and possibly dark trousers but had no phone or money with her.

Police are asking anyone who has seen Gurmit or knows where she is to contact 101.

Severe accident: M1 Derbyshire southbound

BBC News Travel

M1 Derbyshire southbound severe accident, between J30 for A616 and J29a for Markham Lane Markham Vale.

M1 Derbyshire - Slow traffic and one lane closed on M1 southbound between J30, A616 (Worksop) and J29a, Markham (Markham Vale), because of an accident.

To report traffic and travel incidents dial 0330 123 0184 at any time

East Midlands weather update: A bitterly cold night ahead

Anna Church

Weather Presenter, BBC East Midlands Today

A yellow warning for snow and ice remains in place for Derby, Derbyshire, Leicestershire until tomorrow evening.

The Met Office has also issued an amber warning for snow across the East Midlands on Sunday.

This evening will be dry but bitterly cold with the risk of ice on untreated surfaces - and a few snow showers are still possible.

Travel: 'Black ice' on Peak District road

Six vehicles targeted in Hallaton

Motorists are being urged to keep their valuables out of sight.

Breaking

Boy charged with rape after school incident

A 15-year-old boy has been charged with rape and possession of a knife in connection with a reported incident at a school in Nottingham.

Nottinghamshire Police said the incident was reported at about 13:10 on Friday, November 10.

The boy has been remanded in custody and will appear at Nottingham Magistrates' Court tomorrow.

Nottingham stars visit London exhibition

Sir Paul Smith and Vicky McClure are Nottingham's ambassadors in London today, highlighting the city's cultural and creative connections at the National Portrait Gallery.

The designer and actress have been talking about their lives, work and relationship with Nottingham as part of the gallery's current exhibition of pictures of the city and its people.

Sir Paul said: "What is so fantastic is the sheer volume of people that have come out of Nottingham over the years...it is not just creativity...there were famous movies like Saturday Night and Sunday Morning, the Playhouse, tons of great stuff."

Soubry gives Brexit deal 'warm welcome'

Anna Soubry, the Conservative "remainer" MP for Broxtowe, who's been critical of the Brexit process so far, has praised the Prime Minister on the last-minute deal with the EU.

The deal moves Brexit talks to the next phase and has agreed no "hard border" with Ireland and protected rights of EU citizens in the UK and UK citizens in the EU, according to Theresa May.

No specific figure for the so-called divorce bill has been set in the document but Downing Street says it will be between £35bn and £39bn.

Local Labour MPs have been less supportive of the deal.

Nottingham East's Chris Leslie tweeted that Northern Ireland border issues had been "kicked into long grass".

SPOTY: Skater is 'one to watch' - Jayne Torvill

Speed skater, Elise Christie, is one of the 12 contenders in the running for this year's BBC Sports Personality of the Year.

Nottingham skating legend, Jayne Torvill, has given the triple world champion her backing.

Torvill, who won the the award in 1984, said: "It's been a long time since someone from the ice has been nominated for Sports Personality.

"It's fantastic that Elise could win three gold medals at the world championships. What a very talented young lady."

Christie, who lives in Nottingham, took the 1,000m, 1,500m and overall titles at the World Short Track Speed Skating Championships in Rotterdam and won bronze in the 3,000m.

Named Sunday Times Sportswoman of the Year, she also won a World Cup event in South Korea as she bounced back from being penalised in all three of her events at Sochi 2014.

Victoria Park attack: Group warning over safety

A community group for Leicester's Victoria Park has said more work is still needed to make the area safe.

It comes after Charlie John Pearce, 17, from West Avenue in Leicester, was convicted of the attempted murder of a woman in her 20s, who he raped and bludgeoned with a paving slab in the park in July.

Mags Lewis from the Friends of Victoria Park group said although a lot of work had been done to improve the park, she sometimes felt unsafe passing through.

She said: "I usually cycle through it but I must say when it is late at night, I think twice... it should be my right to be able to walk through that park because it is such a well-used route into the town."

Leicester City Council said it was in the "process of preparing a proposal to expand the provision of CCTV cameras within Victoria Park".

'Rare' gold jewellery taken in burglary

Several pieces of jewellery have been stolen from a house in Mapperley Park.

Nottinghamshire Police has released images of the items, which are mostly gold and quite "rare and distinctive".

Copyright: Nottinghamshire Police

It was taken from a house in Chestnut Grove at about 18:30 on 22 November.

Police say the offenders were two men in their 20s who were wearing dark clothing.

Severe disruption: M1 Leicestershire southbound

BBC News Travel

M1 Leicestershire southbound severe disruption, at J24 for A6 affecting J23 for A512.

M1 Leicestershire - Queuing traffic on M1 southbound at J24, A6 (Kegworth), because of an earlier broken down vehicle. In the roadworks area. All lanes have been re-opened. Congestion to J23, A512 (Loughborough).

To report traffic and travel incidents dial 0330 123 0184 at any time

Rat droppings found in train kitchen

Rat poo has been found in the kitchen of an East Coast mainline train.

The RMT union said the droppings - found on a Virgin Trains East Coast service (VTEC) - presented a risk to staff and passengers.

The rail union has accused the operator of showing a "shocking attitude to hygiene and health".

Virgin Trains East Coast said it was an isolated incident, and the area was cleaned before being put back into use.

Places served by the London to Edinburgh route include Retford and Newark in Nottinghamshire.