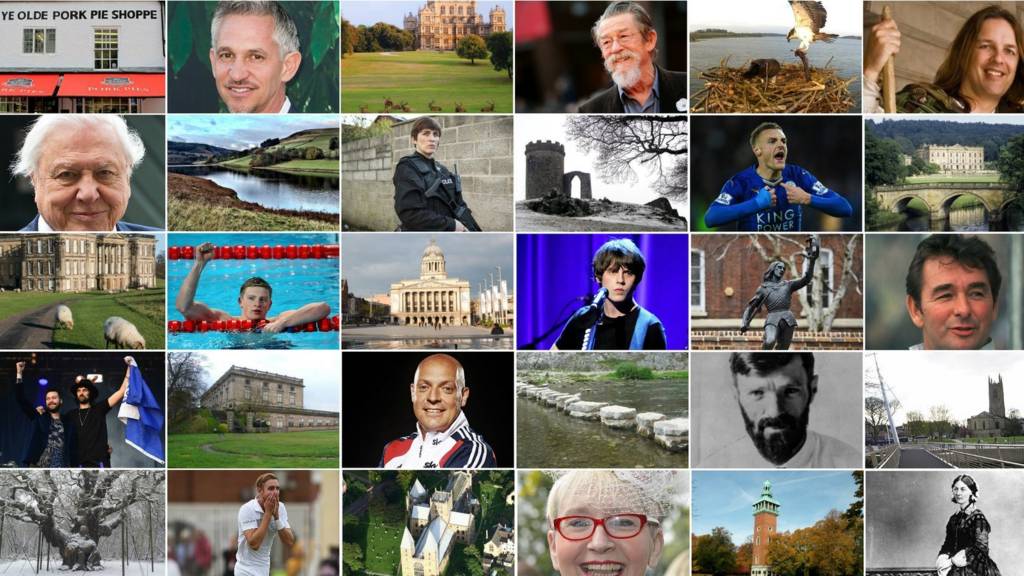 Severe accident: A50 Derbyshire westbound

BBC News Travel

A50 Derbyshire westbound severe accident, between J3 A514 Swarkestone Road Swadlincote and J5 A516 Derby Road.

A50 Derbyshire - A50 closed and slow traffic westbound between J3, A514 (Swadlincote) in Chellaston and J5, A516 (Etwall) in Hilton, because of an accident.

To report traffic and travel incidents dial 0330 123 0184 at any time

Severe disruption: M1 Derbyshire southbound

BBC News Travel

M1 Derbyshire southbound severe disruption, at J30 for A616.

M1 Derbyshire - Slow traffic and one lane closed on M1 southbound at J30, A616 (Worksop), because of a broken down vehicle.

To report traffic and travel incidents dial 0330 123 0184 at any time

Our live coverage across the day

That's it for today's live updates. We'll be back with more from 08:00 tomorrow.

Weather: Dry but cloudy night

It'll be mostly dry tonight although there is the chance of drizzle under thicker cloud. It'll be quite cloudy tonight with some clear spells.

Jubilee Square ice rink taking shape

Looks like the ice rink in Leicester's Jubilee Square is coming along nicely - it's due to open on Saturday.

Taxi office fire 'happened at worst possible time'

The owner of a Derby taxi firm says he's "heartbroken" after a suspected arson attack caused major damage to his offices in Curzon Street.

Derbyshire Police have appealed for information on the blaze, which broke out at PJ Cars at about 06:00 yesterday.

Mudas Ahmed said: "I just couldn't believe it. It's the busiest time of the year and our drivers rely on that spot.

"The backroom's totally finished and the flat above that has come down. The only room left is the front room - it's the only room that's safe at the moment, everything else has gone."

A46 to stay closed for repairs

Shock closure for city centre bar

Christmas party revellers are having to find a new venue for their festive drinks after the closure of a Nottingham bar.

The Bear and Lace, on the corner of Maid Marian Way and St James's Street, shut its doors at the end of November without warning.

Your photos: Misty Rutland

It's been a bit foggy in Rutland this afternoon. Pete took this photo near Market Overton.

Lengthy tailbacks after M1 crash

Oh dear - Highways England says there are three miles of queuing traffic on the M1 northbound up to J25 following a crash.

Severe accident: M1 Leicestershire northbound

BBC News Travel

M1 Leicestershire northbound severe accident, between J24A for A50 Derby and J25 for A52 Brian Clough Way Nottingham.

M1 Leicestershire - Two lanes closed and queuing traffic on M1 northbound between J24a, A50 (Derby) and J25, A52 (Nottingham), because of an accident involving a lorry and a car. In the roadworks area. Travel time is around 75 minutes.

To report traffic and travel incidents dial 0330 123 0184 at any time

Concern over lack of peregrine breeding activity

Eric Simpson

BBC News Online

Peregrine falcons have failed to breed in part of the Peak District for the first time in more than 30 years.

A new report on birds of prey in National Park shows there were eight peregrine pairs in the Dark Peak but no new chicks in 2017.

The Peak District National Park Authority said it was a "real cause for concern" although peregrine numbers in the White Peak had improved.

The report also highlights a number of birds of prey persecution incidents.

Firefighters finish putting out burning pile in Hilton

Firefighters have finished dealing with a pile of waste in Hilton that's been on fire for almost two weeks.

Efforts to put out the blaze in Sutton Lane, which started on 22 November, have been hampered by difficult ground conditions and concerns about contaminated water run-off to the nearby Hilton Gravel Pits, a designated Site of Special Scientific Interest.

Copyright: Derbyshire Fire and Rescue Service

Bob Curry, area manager for Derbyshire Fire and Rescue Service, said: "Firefighting has now ceased and we are in the process of handing the land back to the landowner.

"I'd like to thank everyone who has participated in the multi-agency response to this incident, and their efforts in coming together to resolve the incident as quickly as possible."

Victoria Park attack: Rape victim 'hit with paving slab'

A 17-year-old boy raped a woman in a park and left her for dead after using a paving slab to cause her "truly dreadful" head injuries, a court has heard.

Leicester Crown Court was told the teenager attempted to kill the victim and dragged her into undergrowth, where she was found by a passing cyclist almost an hour later.

The boy, who cannot be named because of his age, has admitted causing grievous bodily harm, two counts of rape, and stealing the victim's handbag, but denies attempting to murder her in Leicester's Victoria Park on 3 July.

After showing the jury CCTV of the defendant allegedly carrying a paving stone, Mr Aspden told the court the woman was walking through the park when the defendant appeared at her side, violently forced her to the ground and raped her.

He said: "There was violence throughout. He struck her repeatedly. She was hit on the head at least twice with that heavy object that the defendant had brought with him for that very purpose.

"As a result of those blows she suffered truly dreadful, life-threatening head injuries."

The trial continues.

Rare 'holy grail' of telephones found

A "rare" example of the "first modern telephone" has been uncovered at an antiques market.

A jade green General Post Office (GPO) telephone, dating back to 1934, was brought to the market in Market Harborough and is set to be sold at auction later this month.

"This is the holy grail of telephones," Adrian Rathbone, from Hansons auctioneers said.

"Back in the 1930s, if you were affluent, a member of royalty or lucky enough to be a film star, you could apply to the GPO for a telephone in a colour other than standard black.

"Only three other colours were on offer - ivory, Chinese red and jade green. These were more expensive to make and incurred substantially increased rental fees.

"They were a luxury few could afford in the depression era. To have one was a statement of wealth".