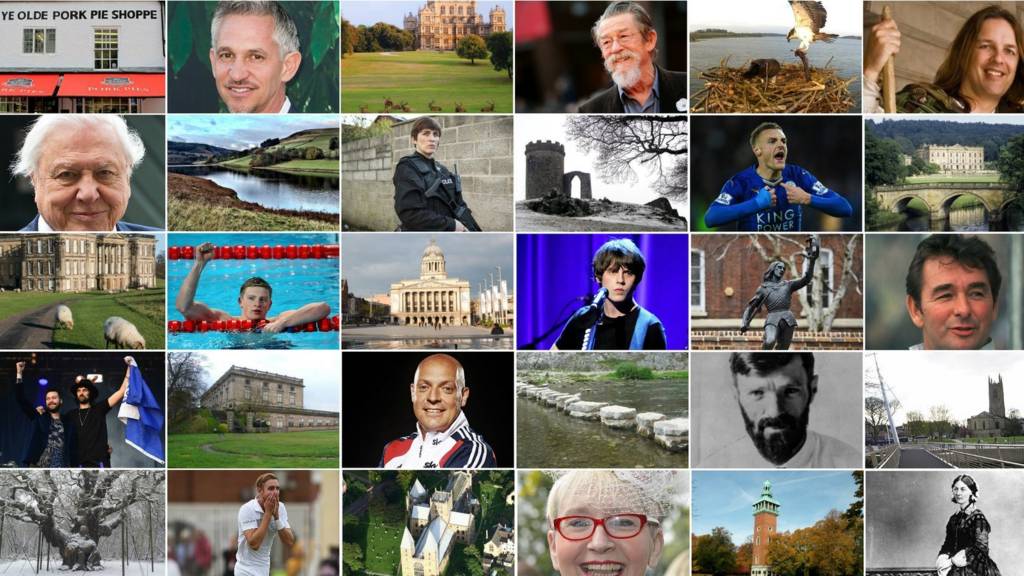 Summary
Pensioner's terrified 999 call after armed robbery released
Council pledges more than £100k to help the homeless
Nottingham's Ice Bar is back and it's twice the size
Investigation into firework devastation continues
University makes 'misleading' claims
Derby to get own Walk of Fame
Live updates for Wednesday 15 November 2017
Severe accident: A511 Derbyshire both ways

BBC News Travel

A511 Derbyshire both ways severe accident, between A514 Hartshorne Road and Butt Lane.

A511 Derbyshire - A511 Burton Road in Woodville closed and queuing traffic in both directions between New Inn Roundabout and the Butt Lane junction, because of a serious accident.

To report traffic and travel incidents dial 0330 123 0184 at any time

Our live coverage across the day

Regular live coverage on this page has ended for the day, but breaking news, sport and travel updates will continue to appear through the night.

East Midlands Live returns from 08:00 Thursday morning.

MP reports tweets after Brexit mutineers front page

Maryam Qaiser

BBC Local Live

At least five threatening tweets have been reported to the police by Broxtowe MP Anna Soubry.

She said it came after a number of pro-European Conservatives, including Rushcliffe's Ken Clarke, were branded "Mutineers" in the Daily Telegraph this morning and "Collaborators" in the Daily Mail.

Ms Soubry said the move amounts to "bullying" and told the House of Commons the matter had been referred to the police.

Prime Minister Theresa May says she hopes that parliament can "come together" over Brexit and is insisting that she's "listening carefully" to the government's critics.

Weather: Cloudy night with mist and fog

It will be a cloudy night with some mist or fog developing and a few spots of drizzle possible by dawn.

Early fog patches will soon clear to brighter spells tomorrow morning but it will be cloudy with outbreaks of rain moving in from the northwest by midday.

This rain and cloud will clear to the southeast during the afternoon with sunny skies following on behind with a maximum temperatures of 11 Deg C (52F).

Family deck out their property with thousands of lights

Maryam Qaiser

BBC Local Live

These Christmas decorations have become a bit of a family tradition at one home in Nuthall.

Copyright: Nottingham University Hospitals Trust

The Swifts used hundreds of lights and baubles to decorate their home in Nuthall and this weekend will officially turn them on, ably assisted by the Siddiqui family, off Channel 4's Gogglebox.

Thousands of people have visited their property over the years, raising more than £80,000 to date for charities.

This year they are fundraising for Hayward House, the palliative care unit at Nottingham City Hospital and When You Wish Upon A Star.

Here's hoping this year is as successful as last, pictured.

Copyright: Nottingham University Hospitals Trust

Peter Shilton: 'Jack Butland should be England goalkeeper'

England's most capped player Peter Shilton has told the BBC that Stoke's Jack Butland should be first choice goalkeeper for his country.

Butland (pictured) missed the recent goalless draws with Germany and Brazil with a broken finger.

Jordan Pickford and Joe Hart each played in his absence.

Shilton played 125 games as keeper for England and made 1,249 appearances for clubs including Leicester City, Derby County and Nottingham Forest.

Amy Woodfield

BBC Local Live

Worth knowing if you're about to hit the road near Ashby-de-la-Zouch.

Pedestrian hit by van in Woodville

Amy Woodfield

BBC Local Live

A pedestrian has been hit by a van on High Street in Woodville. The road is now closed.

Police have said the man on foot suffered "serious injuries" and has been airlifted to hospital in Nottingham.

Officers praise man who caught violent robber

Giles Taylor

BBC East Midlands Today reporter

Police have praised a man who single-handedly apprehended a violent robber.

Claudio Rosu, 24, (pictured) carried out a series of attacks in Beeston in September, the court has heard.

The Romanian national was eventually tackled by local man Nick Martin on Beeston High Road, two days after he had seen a CCTV appeal for Rosu.

Nick (pictured below) said: "I look over at the doors of Sun Valley amusements and he just came walking out of the doors and I instantly recognised him.

"I sprinted after him just down the road and got him in a choke hold. He was wriggling to get through, he was biting, scratching, spitting but he managed to get into his wallet and he was pulling out money and saying 'I'm sorry'... I think he was thinking he was getting some sort of karma."

Rosu was today jailed for four years after pleading guilty to robbery, assault and theft at Nottingham Crown Court.

The judge expects him to be deported as soon as his sentence is finished.

Your comments: Donating umbilical cord blood

Some of you have been in touch on Facebook to share your stories of donating umbilical cord blood.

It's after the Anthony Nolan charity made an appeal for more new mums to register to donate theirs after giving birth.

Jess Burton said she donated the cord from her twin girls born in June - they have matching vests to prove it.

So did Cher Williamson when little Matilda was born in August.

Copyright: Cher Williamson

Charlotte Ryan said: "I donated four years ago and they found a match and my sons cord saved a life. It's not until recently in July when I gave birth the ladies from Antony Nolan told me that not everyone's cord actually matches and she cried when I told her Tyler's did. As it's very rare. Nice knowing you saved a life."

Money stolen during robbery at convenience store

Maryam Qaiser

BBC Local Live

Cash has been stolen during a robbery at a shop in Bestwood.

Nottinghamshire Police said a man went into Bargain Booze in Beckhampton Road and demanded money from the till.

It is thought he then ran towards Pedmore Valley at about 22:00 yesterday.

Officers said the suspect was white, in his 20s and was wearing dark clothing.

Man 'critical' after Chaddesden stabbing

Amy Woodfield

BBC Local Live

Police have arrested a 19-year-old man in connection with an assault on a man in Chaddesden last night.

They've said the victim was found on Race Course Park after being stabbed. He remains in a "critical condition" in hospital in Nottingham.

Investigations into the assault are continuing. Police believe another person was involved.

New strike action over special schools pay

Maryam Qaiser

BBC Local Live

Unison members at Derby's special schools have voted to take new strike action over the city council's pay review.

The industrial action had stopped earlier this year with the two sides in the dispute appearing to have come to a deal.

Unison has accused the council of going back on its promises, but the council says it did what it said it would.

Antique Christmas tree to be auctioned for charity

Amy Woodfield

BBC Local Live

This is one of Britain's first ever artificial Christmas trees.

It was brought by Diana Rigby's parents in the 1930s and is thought to have come from Woolworths at a cost of just sixpence.

Mrs Rigby said the 3ft 6ins Christmas tree used to take pride of place her family home when she was growing up.

She said: "It used to come out every Christmas and it was the main family tree. I don't remember much about those days, or how it was decorated, but my mother told me I once thrashed the tree around when I was very little because I was angry that she'd put the baubles on without me."

Mrs Rigby, from Derby, has decided to sell the tree at auction to raise money for children's Cancer Research.

Badger rescued from sewage tank

Amy Woodfield

BBC Local Live

How many people does it take to free a badger from a giant tank? Quite a lot apparently.

The fire service received a call from the RSPCA requesting assistance to release the animal trapped inside a tank used for processing sewage in Whetstone.

Thankfully, it wasn't full at the time.

They then had to wait for a vet to arrive to sedate the animal but once it had been tranquillised two firemen managed to go inside and retrieve the badger.

At least there was a happy ending after all that.

Megan Bannister: Schoolgirl 'left to die on backseat'

Amy Woodfield

BBC Local Live

A Leicestershire schoolgirl was left to die on the backseat of a car, a court has heard.

Jason Burder and Adam King have gone on trial at Birmingham Crown Court following the death of 16-year-old Megan Bannister.

Copyright: Family handout

Miranda Moore, prosecuting, said the defendants drove the girl around while ringing escorts and stopping to buy beer.

Megan was found half-covered by a coat, lying in the back of a car that had been involved in a crash near Enderby on Sunday 14 May.

Mr Burder and Mr King, both 28, are accused of her manslaughter by gross negligence by supplying her with MDMA, strangling her and then neglecting her life-threatening condition.

Blood tests revealed she had "10 times the amount of MDMA" in her system than either of the two men.

Mr Burder, of Braunstone Avenue, and Mr King, of Waltham Avenue, Leicester, deny wrongdoing and the trial continues.