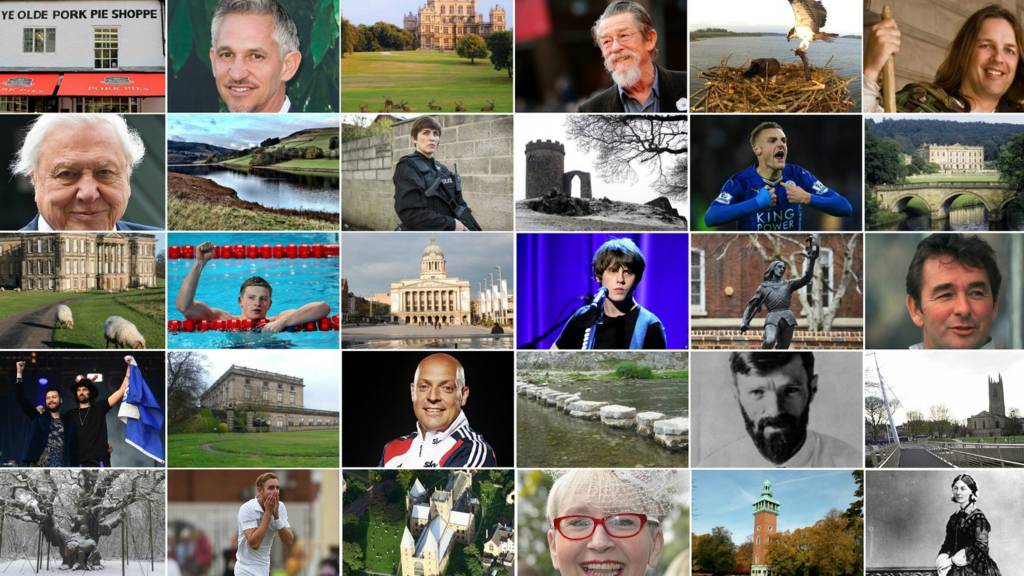 Our live coverage across the day

That's the end of our live updates for this week. They'll resume again at 08:00 on Monday.

Weather: Mainly dry night ahead

Anna Church

BBC East Midlands Today weather presenter

It's a dry and pleasant end to the day with plenty of sunshine before dark.

It remains dry overnight with clear spells at first however a few showers are possible by dawn.

Minimum temperatures of 12C (54F).

Severe disruption: M1 Derbyshire northbound

BBC News Travel

M1 Derbyshire northbound severe disruption, between J30 for A616 and J31 for A57 Sheffield.

M1 Derbyshire - One lane closed on M1 northbound between J30, A616 (Worksop) and J31, A57 (Sheffield), because of a broken down vehicle. Traffic is coping well.

To report traffic and travel incidents dial 0330 123 0184 at any time

Drug taker walked through city centre with trousers down

Gavin Bevis

BBC Local Live

A 35-year-old man has been jailed after walking through Derby city centre with his trousers down.

Police said Scott Taylor is believed to have taken formerly legal psychoactive drugs before the incident on Wednesday.

He was jailed for 32 weeks by magistrates after admitting a public order offence, outraging public decency, criminal damage, two counts of shoplifting, stealing a bicycle, and vehicle interference.

Copyright: Derbyshire Police

Tenielle Hardwick, from Derbyshire police, said: "This incident shows the dangers of taking synthetic cannabinoids and that the user has no idea what is happening to them when under the influence of the substance.

"Scott Taylor's behaviour, in the middle of the day and in the city centre, was absolutely unacceptable.

"People who visit our city do not deserve to be faced with someone exposing himself and acting in the way that he did."

Cricket: Ex-England bowler Shahzad on trial with Foxes

Richard Rae

BBC Radio Leicester cricket reporter

Former England fast bowler Ajmal Shahzad is on trial at Leicestershire.

Shahzad, who has played for Yorkshire and Nottinghamshire, is currently a free agent having been released by Sussex last month.

The 32-year-old played one test match for England in 2010 against Bangladesh and has also featured in 11 one-dayers and three T20 internationals.

Thousands of vials and syringes dumped in Worksop

Gavin Bevis

BBC Local Live

Nine barrels full of what appear to be vials have been dumped in a lay-by in Worksop.

Bassetlaw District Council said the unmarked items were found on the A57 near Five Lane Ends along with a number of syringes.

The vials have been sent to a laboratory for analysis and the county council has sealed off the lay-by.

Copyright: Bassetlaw District Council

Liz Prime, from the district council, said: "This is one of the worst fly tips we have ever seen in Bassetlaw.

"Whoever has dumped this has done so without any thought or concern for anybody else, solely to make money.

"This type of waste should be disposed of in a controlled manner, which will incur costs, not be dumped in a layby for the council tax payer to foot the bill for disposal."

Severe accident: M1 Derbyshire northbound

BBC News Travel

M1 Derbyshire northbound severe accident, between J29a for Markham Lane Markham Vale and J30 for A616.

M1 Derbyshire - Two lanes closed and queuing traffic on M1 northbound between J29a, Markham (Markham Vale) and J30, A616 (Worksop), because of an accident.

To report traffic and travel incidents dial 0330 123 0184 at any time

Nottingham drug dealer jailed for French smuggling trip

Calum McKenzie

BBC Local Live

A man who attempted to distance himself from a drugs smuggling operation has been jailed for ten-and-a-half years.

Copyright: National Crime Agency

Garvey Barnes, 36, of Mansfield Road, Nottingham let his girlfriend carry a suitcase of cocaine onto a ferry from France to the UK.

Kimberley Brown, 27, of Walters Row, Dudley was arrested in Dover in November 2015.

Officers from the National Crime Agency (NCA) and Border Force found Brown's case had cocaine with a street value of up to £240,000 inside.

Copyright: National Crime Agency

Using mobile phone evidence, the pair were convicted of being concerned in the importation of class A drugs by a jury at Canterbury Crown Court.

Brown has been sent to prison for four-and-a-half-years.

Copyright: National Crime Agency

Watch: Derby student plots one-way mission to Mars

Gavin Bevis

BBC Local Live

Ryan MacDonald hopes to be one of the first people to set foot on the red planet - even though it means he'll never be able to come back.

Football: 'First class' Forest ready for new season, says Warburton

Calum McKenzie

BBC Local Live

Nottingham Forest boss Mark Warburton claims his squad are in a "good place" ahead of their season opener against Millwall tonight (19:45).

Copyright: Nathan Stirk/Getty Images

Forest, who are without the injured Matty Cash and Jamie Ward, could hand debuts to six players.

Ex-Rangers boss Warburton told BBC Radio Nottingham: "We are in a good place. We had a good pre-season and we have good quality within the squad.

"It's foolish to make rash predictions or bold statements about where we will finish, but we know we have worked very hard.

"The work ethic and commitment from day one of pre-season has been first class."

Jake Bugg premieres new tune

Gavin Bevis

BBC Local Live

Good news all you Jake Bugg fans - the Nottingham tunesmith has just unveiled his new single.

How Soon The Dawn has a laid-back, summery feel. Listen here.

Hospital boss: Parking problems should ease soon

Sally Swinfen

BBC Radio Derby newsreader

The man in charge of the Royal Derby Hospital says the new 600-space car park planned for behind the nearby Aldi store should reduce parking problems for visitors.

Gavin Boyle, chief executive of Derby Hospitals Trust, told BBC Radio Derby the extra spaces will be used by staff, freeing up places for patients nearer the hospital.

He also said in the long-term the hospital still hoped to build a multi-storey car park.

Scrapping Midland Mainline electrification is 'golden opportunity missed'

Calum McKenzie

BBC Local Live

The East Midlands Chamber of Commerce has written to the transport secretary to demand a meeting to try to persuade him to reconsider his decision not to proceed with the electrification of the Midland Mainline.

Chris Grayling said the decision not to electrify the line north of Kettering through the East Midlands would spare passengers the "disruptive" electrification work.

Instead, the government said it planned to use bi-mode trains, which can switch between electric and fuel power.

Copyright: DANIEL LEAL-OLIVAS/AFP/Getty Images

But in its letter, copied to local MPs as well, the chamber has urged the government to rethink its plans.

"We are not convinced that the switch to bi-mode trains will result in the same level of improvements that electrification would bring," it reads.

"We believe that a golden opportunity to enhance growth - for a modest investment against comparable projects - is being missed."

Manu Tuilagi 'could be picked for autumn internationals,' says Jones

Chris Jones

BBC 5 live rugby union reporter

England head coach Eddie Jones has said he would be prepared to select Manu Tuilagi as early as the autumn internationals in November.

The Leicester centre, 26, has not played for England since March 2016, and has been out of action since January because of a knee injury.

However, Jones has picked Tuilagi for a three-day pre-season training camp, starting on Saturday.

"If he's fit and ready to go, we'll play him," Jones told BBC Radio 5 live.

"He demolished New Zealand before, and if he's fit and he's got the right desire, then he's always got a chance to get selected for us.

"He's got a number of club games to show us whether he is going to be right or not."

Your Questions: Who was Polly Bott of Polly Botts Lane in Ulverscroft?

Calum McKenzie

BBC Local Live

Chris Bell got in touch via Leicestershire: Your Questions to ask "who was Polly Bott of Polly Botts Lane in Ulverscroft?"

It would appear that not much is known about Polly Botts, so much that an internet search I did pulled up no information.

However, Charnwood Borough Council pointed me in the direction of Stoneywell, a National Trust-run property nearby and they have been able to provide an answer.

Paula Nichols, assistant house and collections manager at Stoneywell, said: "Polly Bott was a resident of Polly Bott Cottage (which is still there), and this is situated just beyond the beck on Lea Lane.

"In the 1950s the council wanted to re-name some of the roads and one of the Gimson family (possibly Basil who was resident until 1953) put forward Polly's name.

"There are various rumours about Polly too. Some say she died of something grim - possibly Tuberculosis, whilst others say she was a witch. None have been substantiated but add to the mystery."

A38 reopens after woman's death

Gavin Bevis

BBC Local Live

Watch: Bakewell Show organiser on 'worst ever conditions'

Gavin Bevis

BBC Local Live

The organisers of this year's Bakewell Show say this year's event has been a "disaster" because of the muddy conditions.

The show is due to celebrate its 200th anniversary in two year's time but Janet Bailey told the BBC the show was becoming less and less financially viable.

She said: "We're not in a healthy financial situation because we've had a couple of years of weather like this."