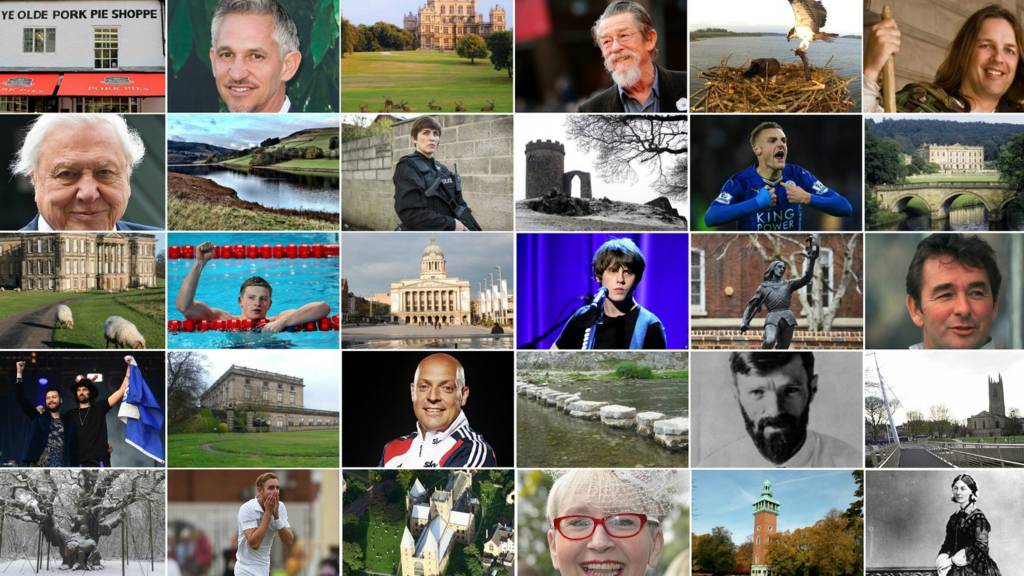 Summary
Updates for Friday 2 June 2017
Son claims Mick Philpott was 'framed'
Ex-BBC host found woodland sex 'erotic'
Cyclist told 'to go away' by police after near-miss
Man 'critically injured' in Leicester
East Midlands property hotspots revealed
Stage being built for Elton John gig
Tennis: Boulter and Clarke get Surbiton wildcards
News, sport, travel and weather updates resume at 08:00 Monday
Our live coverage across the day

Our live updates have now ended and will return on Monday from 08:00.

Weather: Clear and mainly dry night ahead

Alexandra Hamilton

BBC weather presenter

Showers will steadily die down this evening leaving some clear spells overnight.

Lows of 10C (50F).

Mick Philpott 'writing poems about the children he killed'

Calum McKenzie

BBC Local Live

Mick Philpott is writing poetry about his children while he serves time for killing them, according to his son.

Copyright: Channel 5/The Philpotts: five years on

Philpott was jailed in 2013 for 15 years for killing six of his children in a fire at his Derby house.

Michael Philpott, who has never spoken on TV before, revealed how his father was spending his time in jail in a soon to be broadcast Channel 5 documentary.

He told The Philpotts: five years on: "My dad's been trying to get some counselling as well, but he's struggling.

"He spends a lot of time writing poems about the kids. He expresses how he feels in poems. Sometimes it's memories about their future and how things would have been. Just stuff like that."

Severe accident: M69 Leicestershire southbound

BBC News Travel

M69 Leicestershire southbound severe accident, at M1 J21.

M69 Leicestershire - M69 lane closed on exit slip road and heavy traffic southbound at M1 J21, Leicester, because of an accident.

To report traffic and travel incidents dial 0330 123 0184 at any time

Pollution 'kills all life' in a stream

Maryam Qaiser

BBC Local Live

A stream in Netherfield Lagoons has been so badly polluted all life has been killed in it along with a large amount of vegetation on the bank, Gedling Conservation Trust said.

Samples have been taken for analysis but the source of the pollution is not yet known at the Nottinghamshire nature reserve.

The trust says a smell is associated with the contamination and the stream discharges into the River Trent.

Copyright: The Gedling Conservation Trust

Mark Glover, chairman at the trust which owns the nature reserve said: "It has contaminated a stream running through the most important nature reserve in Gedling, killing everything that lived in it.

"The smell in the area is horrendous and, considering the polluted water crosses a public right of way, it is possible that there is a threat to human health."

The BBC has contacted Nottinghamshire County Council and the Environment Agency.

Your photos: June across the East Midlands

Calum McKenzie

BBC Local Live

Thanks to BBC Weather Watcher KevH for this stunning pic of Ladybower Reservoir in the Upper Derwent Valley in Derbyshire.

Sticking with Reservoirs - the pic below is from another of the BBC Weather Watchers, Pete, at Holwell Reservoir near Melton Mowbray.

Thanks as well to Bird Watcher for this pic of the chapel in Clumber Park, Nottinghamshire.

An excellent effort all round I think you'd agree?

Watch: Jean slows traffic with a hair dryer

Maryam Qaiser

BBC Local Live

Watch: Building Elton John's 60ft stage

Calum McKenzie

BBC Local Live

Here's a look behind the scenes at preparations for Elton John's concert at the County Ground in Derby...

BBC Election Panel: Have you decided who to vote for?

Maryam Qaiser

BBC Local Live

The BBC held an election debate on Wednesday with senior politicians from seven parties.

The Prime Minister, Theresa May was was not part of the debate.

We been asking a panel of voters with much campaigning going on ahead of the 8 June election, has this changed your views on who to vote for?

Wayne, Nottingham: "Yes. I'm less inclined to vote conservative. Fox hunting vote, dementia tax have contributed to this change."

Ron, Leicester: "Not changed..sticking with Labour..they have more things which are relevant to me."

Tess, Nottingham: "No not changed and already voted as a postal voter. so cannot change now

Yasmeen, Nottingham "No I will be voting labour"

Kirstie, Derby: "No not changed"

Severe disruption: M1 South Yorkshire southbound

BBC News Travel

M1 South Yorkshire southbound severe disruption, between J31 for A57 Sheffield and J30 for A616.

M1 South Yorkshire - One lane closed and heavy traffic on M1 southbound between J31, A57 (Sheffield) and J30, A616 (Worksop), because of a broken down vehicle.

To report traffic and travel incidents dial 0330 123 0184 at any time

Man jailed for causing death of teen hit by car

Maryam Qaiser

BBC Local Live

A man has been jailed for three years for causing the death of a teenager who died when he was hit by a car.

Jack Archer, 14, from Newton, Nottinghamshire, was hit while riding his bike on Chapel Lane, in Bingham, in July.

Steven Mills, 29, of Closes Side Lane, East Bridgford, admitted causing death by careless driving and failing to stop after the collision.

He was sentenced to three years and four months at Nottingham Crown Court.

Nottinghamshire officers to assist with crowd safety in Manchester

Maryam Qaiser

BBC Local Live

Officers from Nottinghamshire Police will continue to assist with large crowd safety over the weekend following the terrorist attack in Manchester.

They will assist Great Manchester Police and South Wales Police in relation to on-going events in Manchester and the Champions League final in Cardiff.

A spokesman from Nottinghamshire Police said: "Officers that have already been in Manchester have received a huge warm welcome from the locals, something that is greatly appreciated.

"Over in Cardiff our specialist officers will be assisting with security as the Champions League final plays out.

"Interactions with the public can make a real difference to our officers' shifts, so if you are at either of the events this weekend, please do have a chat with them – they are very friendly."

Critically injured man 'possibly involved in road traffic collision'

Calum McKenzie

BBC Local Live

Leicestershire Police believe the man found injured in the city centre (see 09:25) might have sustained his injuries in a crash.

The man, who was found in Norton Street, Leicester at around 22:40 last night, remains in a critical condition at the Queen's Medical Centre in Nottingham.

All roads closed earlier for a forensic investigation to be carried out have now reopened.

Police also still want to speak to the occupants of a black Audi who stopped to help the man but left before the emergency services arrived.

Police officers to take part in 200-mile charity bike challenge

Maryam Qaiser

BBC Local Live

Police officers across the East Midlands will take part in a 200-mile bike ride for charity.

COPS UK Police Unity Tour will raise funds for Care of Police Survivors, which supports families of officers who have lost their lives while on duty.

PC Sarah Stables is riding in memory of Nottinghamshire PC Ged Walker who was killed in Bulwell, Nottingham, in January 2003.

Sarah joined the force the same year Ged died and has worked with his daughter.

Copyright: Nottinghamshire Police

Image caption: PC Sarah Stables

PC Stuart Kershaw and PC Malc Shakespeare from Derbyshire Police are also taking part.

The officers involved are setting off from locations around the country, finishing at the National Arboreturm Remembrance Centre in Staffordshire.

Son claims Mick Philpott was framed for fire that killed six children

Calum McKenzie

BBC Local Live

The son of convicted child killer Mick Philpott has told a TV documentary that he believes his father is "innocent" and would never do anything to "put the kids in danger."

Copyright: Channel 5/The Philpotts: five years on

Philpott was jailed in 2013 for 15 years for killing six of his children in a fire at his Derby house.

"I'm 100% positive that my dad's innocent," Michael Philpott (pictured) told Channel 5's The Philpotts: five years on.

"It's just - there's no way on God's Earth that my dad could have done that. I'm 100% positive.

"I don't think he ever would do anything to jeopardise or put the kids in danger – something – that could go so wrong so quick. I just I know I don't…I don't believe he couldn't have done it like that.

"There's no way on God's Earth that my dad could have done that, I'm a 100% positive. Someone's put it on him, someone used his bad name against him."

Netball: Lightning semi-final moved amid Manchester safety concerns

Calum McKenzie

BBC Local Live

Loughborough Lightning's Netball Superleague semi-final has been moved from Manchester following last Monday's arena attack.

Copyright: Pete Matthews/Loughborough University

The Final Four event, staged over 10-11 June, has been moved to Birmingham's Barclaycard Arena.

A statement from England Netball said: "Due to the on-going operation at Manchester Arena and despite the best efforts of England Netball, Manchester City Council and relevant authorities, unfortunately the decision has been made to move the Vitality Netball Superleague Final Four.

"Whilst all parties would have loved to have hosted the Final Four in Manchester, due to recent circumstances and to allow event preparations to be finalised we are moving to an alternative venue."

Lightning will be joined in the semi-finals by Wasps, Manchester Thunder and either Team Bath or Surrey Storm.