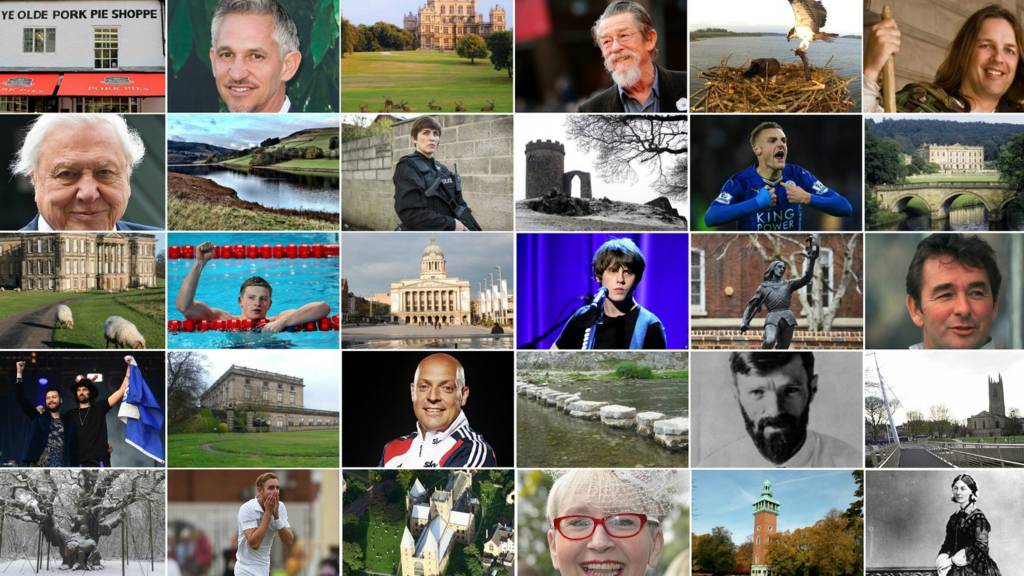 Our live coverage across the day

Our live updates have now ended and will return tomorrow from 08:00. 

Your photos: May across Rutland

Calum McKenzie

BBC Local Live

Thanks to BBC Weather Watcher Pete for this very artistic shot of a horse in Rutland. 

Copyright: Pete/BBC Weather Watchers

Weather: Clear and dry night ahead

Alexandra Hamilton

BBC weather presenter

It'll be dry with variable amounts of cloud and some clear spells.     

Lows of 5C (41F).

Derelict building fire closes Derby road

Aleena Naylor

BBC Radio Derby newsreader

Police have closed a road in Derby while emergency services deal with a fire in a derelict building on Rutland Street. 

Police have closed neighbouring Portland Street at the junction with St Thomas' road. 

Derbyshire Fire Service said the fire was put out just after 17:00 and firefighters are now damping down.  

Tigers prop Cole collects Lions touring kit

Calum McKenzie

BBC Local Live

Here is Leicester Tigers prop Dan Cole at the British and Irish Lions squad's first meeting together ahead of next month's tour to New Zealand. 

The players collected kit and had the team photo. 

Not fancy carrying a chair though, Dan? 

Your photos: May across Derbyshire

"The weather is nuts today"... A great snap taken by our Weather Watcher ericbrew from Shardlow.

Simpson: Form and points under Shakespeare 'speaks for itself'

Calum McKenzie

BBC Local Live

Leicester City full back Danny Simpson has hinted that he would back Craig Shakespeare getting the manager's job full time. 

Copyright: Clive Rose/Getty Images

The Foxes ensured their Premier League safety on Saturday with a 3-0 win over Watford and have won seven of the ten league matches Shakespeare has been in charge for. 

"Since Shakey took over, the football and the results and the form have been speaking for itself," Simpson told BBC Sport. 

"We'll leave it up to the chairman to decide what he wants to do but I think since he's [Craig Shakespeare] taken over we've been right up there in terms of form and points." 

Peak District launches own tartan range

Khia Lewis-Todd

BBC Local Live

When I mention the Peak District what comes to mind?...Besides beautiful views and lots of green.

Well it now has its own tartan which represents the park's moorland, rock edges, lime stone and rivers.

The design - which was registered by The Scottish Register of Tartans - will be used for merchandise and furnishings in the visitor centre.

Copyright: The Peak District National Park tartan

Quote Message: We are delighted to launch this beautiful tartan, which perfectly captures the colours of our dramatic landscapes. We hope that local people will share our pride in the tartan and that it will remind visitors of memorable visits to the National Park." from Sarah Fowler Chief executive of the Peak District National Park

How a UKIP exodus in places like Mansfield could challenge Labour

Mark Mardell

Presenter, The World This Weekend

The jovial Conservative Party chairman Sir Patrick McLoughlin is deep in what should be enemy territory, the market square in Mansfield in Nottinghamshire.  

He bumps into one man who could have been sent by Central Office, if not central casting.

"I was brought up in a mining village, Mum and Dad always voted Labour, but I've started to see a bit of sense. You've got to trust Theresa May, haven't you?"

"I'd like the other lot to get in, but I don't think he's strong enough, really," someone else says.

Read more here.

Former Brewers player dies on charity bike ride

Khia Lewis-Todd

BBC Local Live

Former Brewers player Karl Payne has died whilst taking part in a charity bike ride.

Karl had been riding from Stoke to Llangollen in Wales and back when he collapsed by the roadside.

Copyright: Rocester Football Club

The 44-year-old made 133 team appearances for Burton Albion after joining the club as a teenager and was currently a coach at his former club Rocester FC.  

Burton Albion have sent their deepest sympathies to Karl's family and friends. 

Watch: Men wanted in connection with attempted theft of solar panels

Calum McKenzie

BBC Local Live

Police would like to speak to this pair, captured on CCTV, about the attempted theft of some solar panels. 

Nottinghamshire Police said officers disturbed two men at Stapleford Solar Farm in Bessell Lane on Wednesday 26 April. 

Nothing was taken in the incident.

University of Leicester takes delivery of 'single biggest donation'

Calum McKenzie

BBC Local Live

Here is Colombian businessman and philanthropist Jimmy Mayer (pictured left) with his £2.7m donation for the University of Leicester. 

Copyright: University of Leicester

The cash, the university's biggest donation ever from a single donor, is to go towards kidney research. 

It comes after Mr Mayer's son David (pictured right) was diagnosed with a form of kidney failure in 2012. 

Copyright: University of Leicester

This is the second time Mr Mayer has donated to the university. 

In 2014, he gave them £500,000 to help with kidney research. 

Khia Lewis-Todd

BBC Local Live

Just a quick heads up for travellers this evening...

Comedian Chris Rock set for Nottingham visit

Calum McKenzie

BBC Local Live

Comedian Chris Rock will play a show in Nottingham as part of his first UK tour in ten years.

The American comedian will head to the city on Tuesday 23 January 2018 to perform at the ice arena. 

His last tour in the UK, "No Apologies", saw two nights at the O2 Arena in London sell out.

The shows also broke a Guinness world record for the largest audience at a comedy show at the time.

Your photos: May across Nottinghamshire

Calum McKenzie

BBC Local Live

Thanks to BBC Weather Watcher Buster9 for this pic from Misterton in Nottinghamshire. 

Copyright: Buster9/BBC Weather Watchers

Looks like a nice, leisurely start to the week for this particular herd...

Watch: Gatland backs Youngs' decision to miss Lions tour

Calum McKenzie

BBC Local Live

Lions head coach Warren Gatland has said he fully "respects and understands" Ben Youngs' decision to pull out of the tour on compassionate grounds. 

Leicester scrum-half Youngs announced on Saturday that he would miss the tour to New Zealand to stay with his brother Tom and his wife Tiffany, who has terminal cancer. 

Gatland said: "It was a tough conversation...but we fully respect and understand [the decision] and part of the values I've always had...is family comes first.

"He [Ben Youngs] has made that decision and we know how close they are as well, so like I say we fully respect their decision." 

Nottingham city centre road reopens after reports of a fire

Calum McKenzie

BBC Local Live

Friar Lane in Nottingham has reopened after reports of a fire at a bar there. 

However, there is still some tape round the entrance to the Southbank Bar. 

It is understood to be a cigarette which hadn't been put out properly, not a fire in the cellar as had been suggested locally.