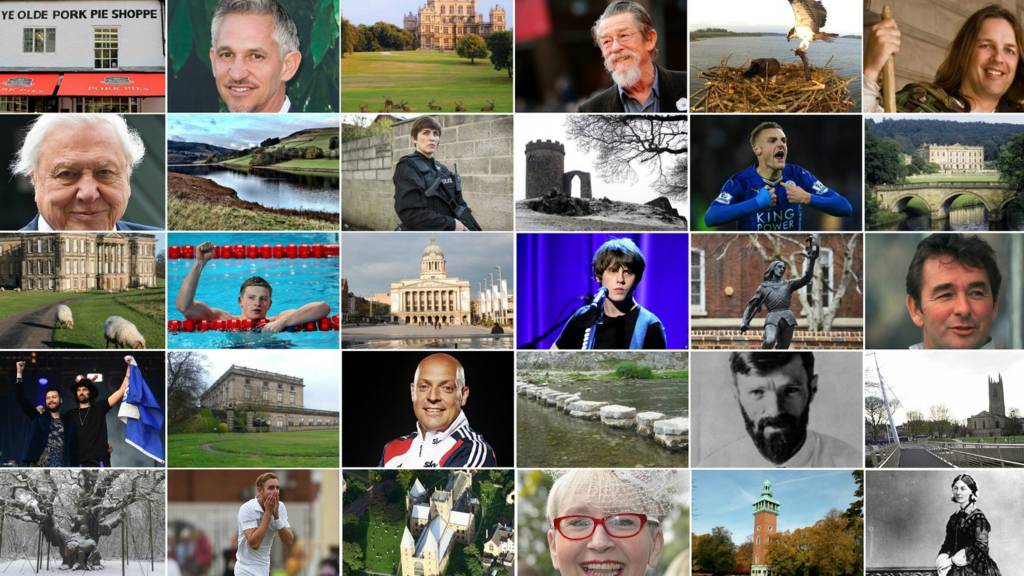 Latest updates: East Midlands Live
Listen live to your BBC local radio station in Derbyshire, Leicestershire and Nottinghamshire.
Our live coverage across the day

That's all from East Midlands Live today.

Join us again on Monday.

Weather: Cloud will thicken with light rain

The cloud will thicken overnight with some patchy light outbreaks of rain at times.

Minimum temperature: 7C (45F).

Water issues in Glenfield

Amy Woodfield

BBC Local Live

Watch: "Smoke" at Nottingham Contemporary

Amy Woodfield

BBC Local Live

Smoke has been rising from Nottingham Contemporary again today - don't be alarmed though.

It's just part of a new exhibition...

Kittens found abandoned in Derbyshire street

Khia Lewis-Todd

BBC Local Live

Six tiny kittens were found crammed into a cat carrier and dumped in a Derbyshire street.

The RSPCA said they were about six weeks old and thought to be very distressed when they were discovered in off Main Street in Long Eaton.

All six kittens are now being cared for by the animal charity.

Quote Message: The kittens had been squashed into this cat carrier and were very distressed when they were discovered. It is appalling to think that someone abandoned defenceless kittens like this. Thankfully they were found and are doing well, but it could have been a much worse situation from Dave McAdam RSPCA inspector

Man, 64, set to run 100th marathon

Amy Woodfield

BBC Local Live

For most people running one marathon would be enough but not for Peter Finn from Rothley.

On Sunday the 64-year-old is running the London Marathon - if he finishes he'll join the 100 marathon club...

Peter began his 100 marathon challenge in 2007 and has since completed marathons all over the world, including New York, Singapore and Hong Kong. 

He didn't even stop in 2013 when he had a hip replacement.

Quote Message: It feels utterly fantastic and unbelievable to be about to run my 100th marathon. I only meant to run the one when I first set out, but the euphoric feeling I got at the end made me want to do another and I got the bug. After my hip replacement, I was determined to not let that stop me running. It hasn't been easy, but I enjoy the challenge." from Peter Finn Marathon runner

Travel: A52 cleared following car fire

Amy Woodfield

BBC Local Live

The car that was on fire on the A52 in Nottingham has now been recovered according to Highways England.

They've said they are now inspecting the carriageway for any damage before re-opening it.

Overturned car near Alfreton causing lengthy tailbacks

Amy Woodfield

BBC Local Live

This is what is causing the delay on the A38 southbound near Alfreton...

Copyright: Highways England

Highways England has tweeted to say they have closed the entry slip road from the B600 to assist with the crash.

Delays are back to the M1.

One driver is said to be uninjured. It is not yet clear what if any injuries were suffered by the others involved.

Travel: Broken down car causing delays

Amy Woodfield

BBC Local Live

Glamorgan claim Dearden wicket

Leicestershire 177-4 v Glamorgan - tea

Nick Webb

BBC Wales Sport

A career-best 87 from teenager Harry Dearden helped Leicestershire to a respectable position by tea, despite losing three partners in quick succession early in the session.

Dearden and Mark Pettini added 90 before Dearden drove over the top of a flighted delivery from spinner Andrew Salter.

Earlier two wickets in two balls from 19-year-old Glamorgan seamer Lukas Carey halted Leicestershire's progress after Dearden and Paul Horton started with a stand of 85.

Travel: Delays on the A38 and M1

Derbyshire - An overturned car on the A38 southbound is causing  20 minutes of delays between the junction with the M1 and the A61 Alfreton.

Leicestershire - There's congestion on the  M1 northbound between junctions J23 and J23A 

Khia Lewis-Todd

BBC Local Live

Highways England have confirmed that the A52 westbound is still closed between the A606 and A60, due to that vehicle fire...

Back-up bus service for rural villages

Amy Woodfield

BBC Local Live

From tomorrow Leicestershire County Council will be putting on some essential transportation for communities affected by changes to bus services.

The council is providing bookable taxi services for people living in Littlethorpe, Cosby, Carlton, Barton in the Beans, Nailstone and Cotesbach.

There will then be a subsidised local bus service for people living in Thurnby.

It's after the bus operator Arriva decided to stop the services in these villages due to the low usage.

Severe accident: A38 Derbyshire southbound

BBC News Travel

A38 Derbyshire southbound severe accident, at B600 affecting M1 J28 Alfreton.

A38 Derbyshire - Heavy traffic on A38 southbound in Alfreton at the B600 junction, because of an accident involving three vehicles earlier on. All lanes have been re-opened. Congestion to Alfreton.

To report traffic and travel incidents dial 0330 123 0184 at any time

Khia Lewis-Todd

BBC Local Live

Four boys who were playing football in Chesterfield were approached by a man who shouted racial abuse at them, police say.

It happened between 12:30 and 13:00 on Sunday 2 April at Highfield Park .

The man has been described as white, around 6ft tall with long grey hair and he was wearing a green coat, baggy trousers and had a black greyhound type dog.   

Anyone with information is asked to contact Derbyshire Police.