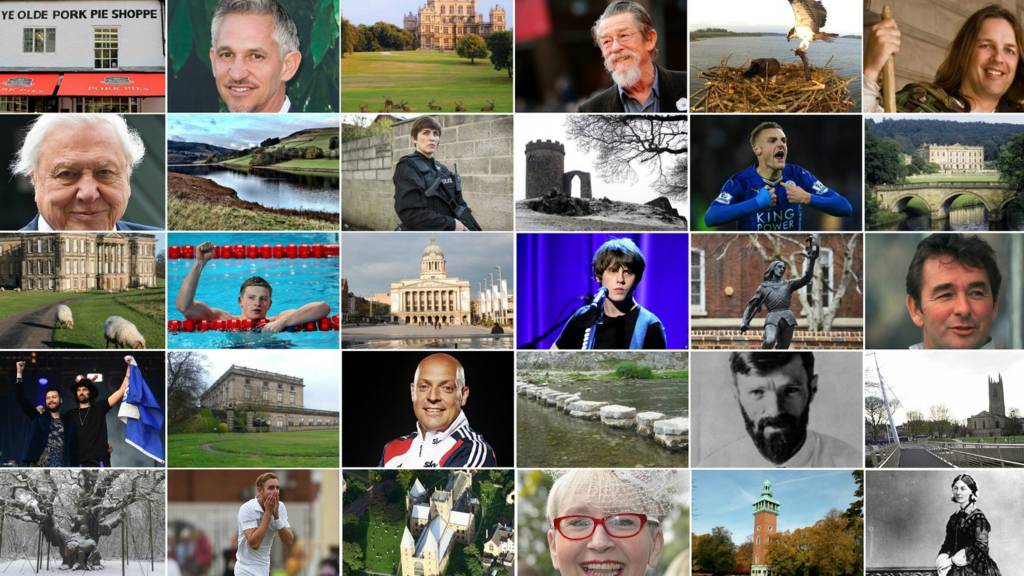 Our live coverage across the day

That's all from Local Live today.

Join us again tomorrow.

A few showers this evening and then a largely dry and cloudy night. 

The cloud could be thick enough to produce the odd spot of rain at times, particularly over high ground.

Minimum temperature: 9C (48F).

Your pictures: Is it a bird? Is it a plane?

Yes and yes.

Aeroplanes and pigeons in flight over Kegworth on this grey day.

Police step up patrols over park vandalism

Khia Lewis-Todd

BBC Local Live

Not long ago (16:42) we told you about the vandalism at West Park in Long Eaton...well over the last week vandals haven't just been targeting trees but outbuildings as well.

Derbyshire police say after the spate of damage which has taken place they are now stepping up patrols.

Copyright: Derbyshire Police

Quote Message: We have been speaking to our partners at Erewash Borough Council and increasing our patrols on the park. These patrols will be both high visibility and plain-clothed. The particularly upsetting part of this damage is that the offenders are spoiling a facility that is there for all to enjoy and so I would encourage anyone who knows anything about the incidents to make contact with us. from Sergeant Damien Shannon Safer Neighbourhood policing

Copyright: Derbyshire Police

Man charged after elderly man attacked in Worksop

A man has been recalled to prison over an attack in Worksop that left a 79-year-old man with serious head injuries.

It happened in Gateford Road in the early hours of Saturday 3 December, police said.

The 33-year-old man has been charged with robbery and causing grievous bodily harm.

He was recalled to Nottingham Prison in December after he was arrested in connection with the investigation.

He is due to appear at Mansfield Magistrates' Court on 18 May where he'll also face two burglary charges and one of fraud by false representation.

Your comments: 'Still can't believe you have left to make cakes'

Our Facebook page has been filled with comments on James Reid who won gold at the international cake competition after leaving his job as a policeman to look after his children.

Scott Riley wrote: "Still can't believe you have left to make cakes (and look after the kids) and you have made it work fantastically!! Top man, well deserved."

Rach Forte added: "Truly deserved Jim, your ideas and cakes are amazing."

Shelley Smith said: "My sons cake was excellent. Fantastic!! Emirates cake. Highly talented is James. Excellent eye for detail."

Severe disruption: M69 Leicestershire northbound

BBC News Travel

M69 Leicestershire northbound severe disruption, at M1 J21.

M69 Leicestershire - One lane closed and queuing traffic on M69 northbound at M1 J21, Leicester, because of a police incident.

To report traffic and travel incidents dial 0330 123 0184 at any time

Beast of Bolsover to stand in general election

An MP since 1970, Bolsover MP Dennis Skinner has seen a lot of elections.

Now it looks like the 85-year-old is going to see another after it was announced he'll stand again in the Derbyshire seat in June.

He was one of the 13 MPs that opposed holding the election in the Commons vote yesterday.

He's given no official word as to why but during PMQs he asked for a guarantee that those Tory MPs under investigation for election expenses would not stand. 

For him, failure to do that would make the whole campaign "the most squalid in my lifetime".

Travel: Motorway lights back on

Council 'disappointed' at M&S closure

The company said it plans to open a new store in Retford.

MP meeting after park vandalism

Khia Lewis-Todd

BBC Local Live

Yesterday we told you about vandals damaging 25 newly planted trees at West Park in Long Eaton over the Easter weekend. 

The MP for Erewash Maggie Throup will be holding a meeting with borough council chiefs over the vandalism.

Ms Throup said the "mindless" vandalism was carried out "by a small minority" and was spoiling what the community had to offer. 

Derbyshire police say they have stepped up patrols in the area.  

Second F1 driver donates £15k for amputee teen

Max Verstappen is the latest F1 driver to add to the ever-growing fundraising campaign for 17-year-old Billy Monger, who lost his legs in a crash at Donington Park.

He's matched Jenson Button's pledge of £15,000 on a JustGiving page set up for the teenager.

Multi-million pound Silk Mill plans unveiled

Earlier this week we told you Derby's Silk Mill is expected to close its doors at the end of the month whilst it undergoes a £16m transformation.

Well today designs for the multi-million pound revamp have been revealed. 

Quote Message: You will get an immediate sense of what this building is about and importantly what it was about. The worlds first factory positioned as a southern gateway on the Derwent Mills site - a real introduction to why the Derby Silk Mill was built and the stories that surround it. from Jim Parkin Silk Mill project worker

Travel: Traffic lights out at motorways junction

Cannabis farm accused appears in court

Lisa Teanby

Newsreader, BBC Radio Nottingham

A man accused of production of cannabis after a farm was uncovered inside a former restaurant, has appeared in court.

Amarildo Spahiu, 26, of no fixed address, was remanded in custody at the hearing at Nottingham Magistrates Court.

Police discovered over 1,000 plants growing inside the building in Brinsley yesterday.

He'll next appear at Nottingham Crown Court on 18 May.