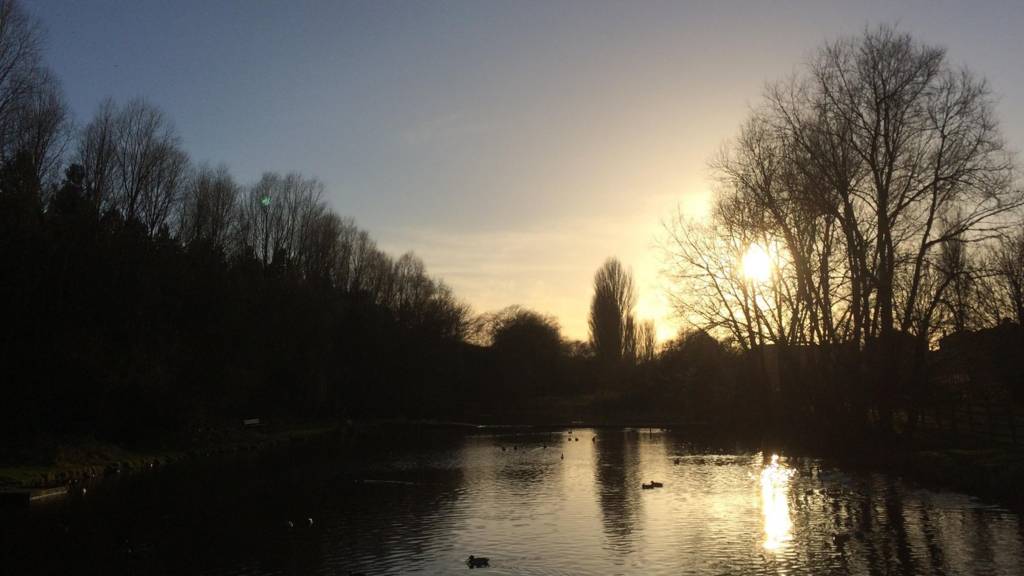 Latest updates: Nottinghamshire Live
Summary
Updates for Tuesday 7 March 2017
School closed after playground sewage leak
Calls to remove QMC anti-abortion vigil
£2,000 reward offered for info on wanted man
Burglar jailed for ramming police car
City council tax rise of nearly 5% approved
Bendtner leaves Forest for Rosenborg
News, sport, travel and weather updates resume at 08:00 Wednesday
Our live coverage across the day

That's all from Local Live today.

Join us again tomorrow.

Weather: Heavy rain overnight

Cloud will thicken up with a band of rain  arriving from the west overnight. 

The rain will be heavy at points but become lighter and patchier by dawn.

Minimum temperature: 6C (43F).

Delays this rush hour on the A453 northbound between Clifton and the A52
Slow traffic on the A52 westbound around the Priory Island
Congestion on the A1 northbound at the A46 junction in Newark

Anti-abortion protesters 'insensitive'

Mixed views on our Facebook page over the "prayer vigil" being held throughout Lent at the QMC by anti-abortion campaigners.

Kev Bills wrote: "These people don't know how hard it is for people to come to this decision as it is."

Jayde Morrison posted: "While agree with you on this ... I do think it insensitive and inappropriate to protest on this subject directly outside of a building where people are making choices about their abortions or actually having them."

Copyright: 40 Days For Life

Your pictures: Blooming spring

Flowers are springing up all over Notts it seems...

Here are some crocuses in Stoke Bardolph...

Daffodils in East Leake....

And (not strictly flowers, but) willow catkins in Netherfield...

Broadmarsh 'could be demolished this summer'

Could things finally be moving with the much-anticipated Broadmarsh re-development?

The city council has submitted a planning application to demolish the bus station and car park, with work planned to start in June and finish by the end of November.

However, it's one of two possible options for the site, with the other being a major refurbishment of the existing buildings.

A spokesman for the authority said: "We haven't committed ourselves to either option yet. We want to get planning permission for demolition in place so that if we decide to rebuild it we could go ahead as soon as we're ready."

Road rage man punches woman in face

Police are looking for information after a lone woman driver was punched in the face several times by a man in an apparent road rage attack last month.

The man was in a silver Volkswagen Golf which stopped in front of the woman's car in Beeston Road, just off the Dunkirk Island, on 13 February.

He got out of the car and hit the woman several times in the face leaving her with bruising.

She was left shaken but didn't need hospital treatment.

The man was described as black, 6ft, in his 40s and was wearing a black jacket.

Album of the day honour for band

Nottingham's Sleaford Mods are getting well-deserved praise for their new album...

Your pictures: 'Sun dogs' spotted in Notts

BBC weather presenter, Charlie Slater, reckons these partial rainbows are examples of "sun dogs".

A sun dog is an atmospheric phenomenon which creates bright spots of light in the sky, often as a luminous ring or even a halo around the sun. 

This one was photographed in Bilsthorpe...

And these were snapped in East Leake.

Have you seen something unusual in the skies..? Let us know.

M1 phone crash nurse struck off

Gavin Bevis

BBC Local Live

A nurse who caused a fatal pile-up on the M1 after losing control of her car while on the phone has been struck off .

Christy George, from Nottingham, hit a lorry which then careered into six other cars, killing one man and seriously injuring a woman, in November 2014.

The 39-year-old was jailed for five years after being found guilty of causing death by dangerous driving.

A Nursing and Midwifery Council hearing concluded her conviction had impaired her fitness to practise. 

Nottinghamshire caddie Dave Musgrove laid to rest

The world of golf will pay its last respects to one of the game's great characters when caddie Dave Musgrove's funeral takes place at Mansfield Crematorium later.

"'Muzzy", as he was known, first began caddying for members as a 12-year-old at his local club Hollinwell, before going on to help win four major titles.

He's pictured here at his second Open win with Sandy Lyle in 1985.

But the first of his four majors was at Royal Lytham in 1979 when he helped Seve Ballesteros win his first Open - and perhaps sums up Musgrove's reputation as a big character, with lots of great tales and equally good one-liners. 

When the late Seve was stood over his ball on the final green so he could take four putts and still win, Muzzy reportedly said: "No you can't - I've got a bet on you to finish under par!"

Police will be called if abortion protesters cause 'nuisance'

The anti-abortion group that's holding a "prayer vigil" on the QMC site said there are about 50 people protesting  in shifts until the end of Lent.

Louise Aldred, from the group, said the international campaign has saved "many babies" across the world by offering their help and support.

Copyright: 40 Days for Life

However, Rachel Strong from Nottingham Pro Choice said this was a "patronising standpoint" and their presence was "intimidating" for women accessing healthcare there.

Nottingham University Hospitals Trust said: "While we respect people's legal rights to express their views, our priority remains the safety and wellbeing of our patients, visitors and staff.

"The police will be asked to take action in the event of any disturbance, nuisance or anti-social behaviour demonstrated by the group."

Playground sewage leak closes school

We've just been told a school in Elston, near Newark, has been forced to close after raw sewage has leaked on to the playground.

The waste has also leaked on to public footpaths and a children's playpark at All Saints Anglican Methodist Primary School.  

Flight diverted to East Midlands after Romanian plane drama

A flight had to be diverted to East Midlands Airport after RAF jets intercepted a Romanian plane early this morning.

The MOD said it scrambled Typhoons from RAF Coningsby in Lincolnshire after the civilian aircraft issued an alert.

They escorted it to Birmingham International Airport, closing the runway for 30 minutes.

As a result, one plane from Dublin was diverted to East Midlands Airport.

A spokesman said the response was routine and part of the RAF's air defence role to protect UK airspace.

Norway move offers Bendtner 'stability'

Nicklas Bendtner posted on his Instagram that Rosenborg will give him the "stability he's missed" since his time at Arsenal.

"I will only promise one thing: I'm still hungry on football, still hungry to score goals," he said.

Good news. Kyle Scott, the 14-year-old missing from Worksop, we told you about earlier has been found safe and well.

Burglar jailed after ramming police car

A man who deliberately rammed a police car with a stolen vehicle after burgling a Chinese takeaway has been jailed.

Nottingham Crown Court heard this morning David Stewart, 33, of no fixed address, broke into the Express takeaway in Worksop using a claw hammer on 5 February. He stole a laptop and the keys to the owner's son's Toyota.

Judge Gregory Dickinson said he then drove off in the car but the owner located it using a tracking device.

"You deliberately reversed at speed into a police car, ramming and shunting that police car," he said.

"Then you sped off, stopped using a handbrake turn, and ran off."

Stewart was sentenced to a total of 26 months for burglary, driving while disqualified and aggravated vehicle taking. He was also disqualified from driving for three years and one month.

Have you seen missing teenager?

Kyle Scott, 14, was last seen in the Manton area of Worksop at about 14:00 yesterday.

Copyright: Nottinghamshire Police

Police said they believe he may have his black BMX bike and a sleeping bag with him.  

Panthers players named as GB potentials

Panthers quartet of Stevie Lee, David Clarke, Robert Lachowicz and Robert Farmer are named in the preliminary GB squad.

Sherwood Budgens to close

A Budgens in Nottingham is one of 34 set to close after the company failed to find a buyer for a chain of the stores .

The Sherwood branch on Mansfield Road will close on Thursday.

Owner of the affected stores, Food Retailer Operations Limited, was put in administration a month ago after hitting "difficult" trading conditions.

The closures do not affect the remainder of the Budgens chain, which has more than 100 stores.

The Budgens brand is owned by food wholesale giant Booker, which is currently in the process of being taken over by Tesco.