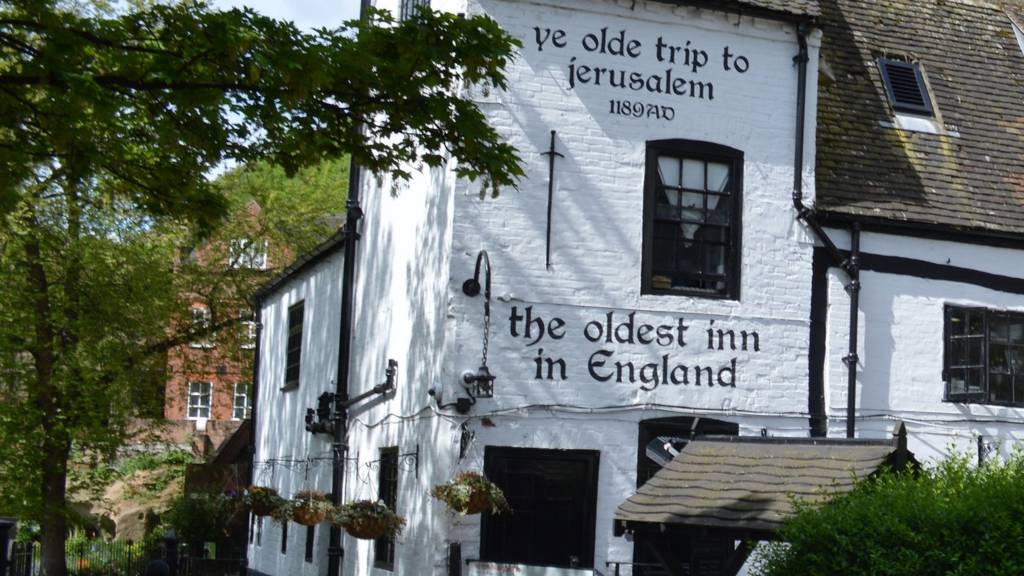 Latest updates: Nottinghamshire Live
Our live coverage across the day

Our live updates have now ended and will return tomorrow from 08:00. 

Weather: Frost or ice around overnight

Alexandra Hamilton

BBC weather presenter

It'll be cloudy with scattered showers in the first half of the night. Skies will be clearer in the early hours. 

Lows of 2C (36F) in towns and cities. 

It'll be cooler in rural spots with the chance of frost or icy patches forming.

Kids enjoy Shrove Tuesday fun

Calum McKenzie

BBC Local Live

It looks as if kids from the Woodborough Woods Foundation School were allowed to ditch maths to take part in a pancake day race. 

The event - which has been running for about half a century - sees race winners get £1. 

Can't be bad. 

Copyright: Woodborough Web

Cricket club 'expecting return to profit this year'

Calum McKenzie

BBC Local Live

The club's AGM heard that it had made a profit of more than £1m in 2015, having hosted an Ashes test match.

Members were told the club was hoping to return to profit in 2017 and 2018. 

Cricket club posts six-figure loss

Nottinghamshire CCC have announced a pre-tax loss of £741,076 for the year to Sept 2016.   

The loss is being put down to there being no test match at the ground last year. 

Stags set for play-off spot?

Calum McKenzie

BBC Local Live

Leaving the UK's road network momentarily - a win or point for Steve Evans and Mansfield could see them move into the League Two play-off places.

Copyright: Harry Trump/Getty Images

Down the bottom end of the table, Notts County could be eight points above the relegation zone if they can beat second placed Plymouth. 

Simple. 

Magpies and Stags in midweek action

Calum McKenzie

BBC Local Live

I'd also add - who comes up with these ridiculously long midweek trips? 

Long midweek trips for Stags and Magpies

Calum McKenzie

BBC Local Live

Spare a thought for Notts County and Mansfield fans this evening who face respective 500 and 400 mile round trips this evening to south west England. 

Copyright: Dan Kitwood/Getty Images

Notts are at Plymouth, while the Stags are at Yeovil. 

I hope those of you going haven't got to be at work first thing tomorrow morning... 

Your photos: Swanning around in Newark

Calum McKenzie

BBC Local Live

Thanks to Lynne Heathcote for this picture of what appears to be a swan at Balderton Lake in Newark.  

Copyright: Lynne Heathcote

I'm happy to be corrected if it is, in fact, a type of duck? 

Answers on a postcard - or let me know via email.

Funeral of MRI 'pioneer' set to take place tomorrow

Calum McKenzie

BBC Local Live

University of Nottingham tweets. 

You can read more about Sir Peter and his links to Nottingham here.

Tunisia attack inquest 'an emotionally draining experience'

Calum McKenzie

BBC Local Live

The family of John Stollery has released a statement following the conclusion of the inquest into his death in the Tunisia terrorist attack in 2015. Here is a short extract: 

Quote Message: The information shared through the inquest process, and from those giving evidence, has been extremely difficult to hear and comprehend. It has been particularly heartbreaking to hear about the lives of all those who never got the chance to come home, the impact of their loss on their families and what they are experiencing. It has been an emotionally draining experience we will never forget." from Stollery Family

Hoardings to pave way for building work

Calum McKenzie

BBC Local Live

The venue has also confirmed that hoardings will go in June so building work can begin. 

That then allows them to do the majority of the renovations during August and September. 

Theatre changes about creating 'a real buzz'

Calum McKenzie

BBC Local Live

Robert Sanderson, the venue's managing director, has said the project is about trying to get more people in during the day. 

Copyright: Theatre Royal & Royal Concert Hall

"The new canopy will rise up out of the pavement over the first floor roof terrace to create a real sense of space and a real buzz," he said. 

New cafe and terrace for theatre

Calum McKenzie

BBC Local Live

The Theatre Royal and Royal Concert Hall in Nottingham will be refurbished in August and September to update its cafe bar and upper floor roof terraces. 

Copyright: Theatre Royal & Royal Concert Hall

The work will also see the creation of a new entrance to the venue. 

Calum McKenzie

BBC Local Live

A British Transport Police spokesman  said it was unusual for track to be stolen.

Copyright: Peter Macdiarmid/Getty Images

Much of the police investigation has been dedicated to locating what those involved were doing with it, the spokesman added.     

Track 'possibly being smelted down'

Calum McKenzie

BBC Local Live

Here is some more on the story my colleague Dave brought you at 11:37 about the £2m worth of rail track that had been stolen.

Officers said the track, some of which was from Nottinghamshire, was possibly being smelted down and sold on through scrap metal dealers.  

East Midlands weather update: Rain around this afternoon

It will be fairly cloudy through the afternoon with some outbreaks of rain. 

The rain could fall as a wintry mix over high ground.

Evans continues good early season form

Calum McKenzie

BBC Local Live

Dan Evans appears to be a man in a hurry. 

Copyright: Andre Ringuette/Getty Images for LTA

The 26-year-old, who trains at the Nottingham Tennis Centre, needed just 51 minutes to brush aside Dustin Brown at the Dubai Tennis Championships. 

Evans will now face world number 12 Gael Monfils in the last 16. 

Coroner rejects hotel neglect finding

Calum McKenzie

BBC Local Live

Judge Nicholas Loraine-Smith (pictured) described how each of the victims came to their deaths.

In reaching his conclusion, he also rejected a finding of neglect against the tour firms and the hotel.   

Copyright: Judicial Office/Crown Copyright

Tunisia beach attack victims 'unlawfully killed,' coroner says

Calum McKenzie

BBC Local Live

The 30 Britons killed in a terror attack on a Tunisian beach were "unlawfully killed," a coroner has concluded.

Copyright: Stollery Family

John Stollery (pictured), 58, from Nottinghamshire, was among those killed in Sousse in June 2015.