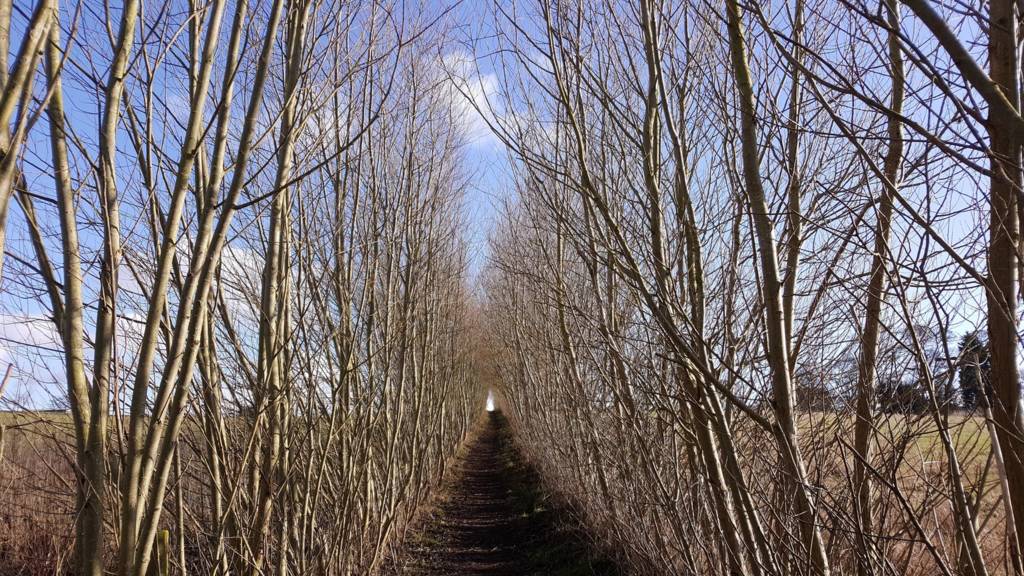 Latest updates: Nottinghamshire Live
Summary
Updates for Wednesday 8 February 2017
Motorists fined at Nottingham "bus gate"
Is there a right way to pronounce Southwell?
Celebrations in Market Square last night for Panthers
News, sport, travel and weather updates resume at 08:00 Wednesday
Our live coverage across the day

Our live updates have now ended and will return tomorrow from 08:00.   

Weather: Freezing night ahead

A cold and rather cloudy night with scattered wintry showers. A widespread air frost is expected.

Minimum temperature staying just above freezing in urban areas but will be -1C in the countryside.

Sandish Shoker

BBC News Online

Limited edition Kanye West trainers are not on sale in the UK until Saturday, but this group of men are already queuing outside one of the stores that will be selling them.

The Yeezy Boosts, which cost £150 a pair, are sold out in a lot of places online and are apparently only going to be available at this Bridlesmith Gate store. 

Copyright: Richard Rudkin

Online firms should 'fight against crime'

Jeremy Ball

Social affairs correspondent, BBC East Midlands Today

Amazon told us they don't want to comment. 

But Amazon's not the only website that Paddy Tipping is worried about. 

He says the time has come for all internet firms to do more to keep us safe and fight against crime. 

Man bought terrorism-related documents online

Jeremy Ball

Social affairs correspondent, BBC East Midlands Today

Smith,46, saw himself as a crusader and claimed he wanted to protect this country from the so-called Islamic State.

He was found guilty of stockpiling dangerous explosives and having a copy of the Anarchy Cookbook Version 2000 that he'd bought online at his home in Clifton.

Copyright: Nottinghamshire Police

Now Mr Tipping wants online retailers to be held responsible for what they're selling.

He said: "If they're providing material that's dangerous - and it is - if they're not prepared to take it down voluntarily through a code of practice, then I think ultimately we'll get to the position where companies can and should be prosecuted,"

Police commissioner wants internet firms to do more

Jeremy Ball

Social affairs correspondent, BBC East Midlands Today

Pub landlord named as tourism finalist

Gritters heading out tonight

Sandish Shoker

BBC News Online

With a cold and frosty night ahead, the council's gritting team are expecting a busy night.

Watch: Anna Soubry on Brexit

Here's what Broxtowe MP Anna Soubry had to say to BBC News earlier today.

She was with Labour MP for Pontypridd Owen Smith. 

Is this the biggest family photo ever?

Sandish Shoker

BBC News Online

This story on the BBC website about 500 relatives meeting for a family photo has caught my eye this afternoon.

I'm seriously impressed with how they managed to get everyone together for it!

Copyright: Zhang Liangzong

Residents discuss level crossing options

People in Attenborough are being given the chance to express their views about the future of three level crossings today.

Network Rail want to close the crossings to improve safety along the railway line but many residents disagree with the idea, saying they make the village and surrounding areas more accessible.

The meeting is taking place now until 19:30 at Attenborough Village Hall.

Sandish Shoker

BBC News Online

We told you earlier about a police appeal for missing Lee Hobster.

They said he has now been "found safe and well".

Sandish Shoker

BBC News Online

The former Notts County striker has applied to become the new boss at Worcester City.

He's been at the National League North side for two years and in his 22 years in the game has worked with 28 different bosses.

Your photos: The A610 at dawn

Steve A was up early and took this photo of Ikea island at dawn.

Man charged after dealership fire dies in prison

Sandish Shoker

BBC News Online

A man charged with arson after a fire at a Birmingham car dealership was found dead in his cell at Nottingham Prison last week.

The prison service confirmed Marcin Dlugolecki's body was found on 1 February and an independent investigation is now being carried out.

Copyright: @prtizdabarber

Mr Dlugolecki had been due to appear at Birmingham Crown Court on 15 February.  

Traffic lights have been vandalised

Tory MP 'a realist' over Brexit deal

Sandish Shoker

BBC News Online

Broxtowe MP Anna Soubry has been talking to BBC News this morning about another day of debating in the Commons.

She said: "I trust my Prime Minister and the government, but I'm also a realist". 

She said it would be "impossible" for the government to get a good deal for Britain on trade, customs, security, and many other issues, within two years.

Al Hasawi delays chief exec decision

There's been more criticism over the last 24 hours of the under-fire Forest Chairman Fawaz Al-Hasawi.

He'd suggested last week he'd appoint a new chief executive at the club, but it now seems that's been delayed. 

The Kuwaiti issued a statement last night saying they can't rush the decision and that until the "right candidate is ready", he has confidence the current staff at the club are more than capable.       

MP throws head in hands over debate

The Brexit debate in the Commons was all too much for Anna Soubry yesterday...

Drivers confused by signs

Mike O'Sullivan

Reporter, East Midlands Today

Most people I spoke to thought the sign wasn't warning about a bus lane camera.

"That sign tends to represent a speed camera," one man told me. "If 11,000 people have been fined, it's obvious that it's not visible enough or not clear enough for people to see or interpret what the signs are saying."

Another man said: "I'm not a local. I must admit that would confuse me or I wouldn't necessarily see that, it's fairly small isn't it."

Another driver told me his sat-nav tried to take him down the road but he turned round when he noticed a pedestrian in the street.