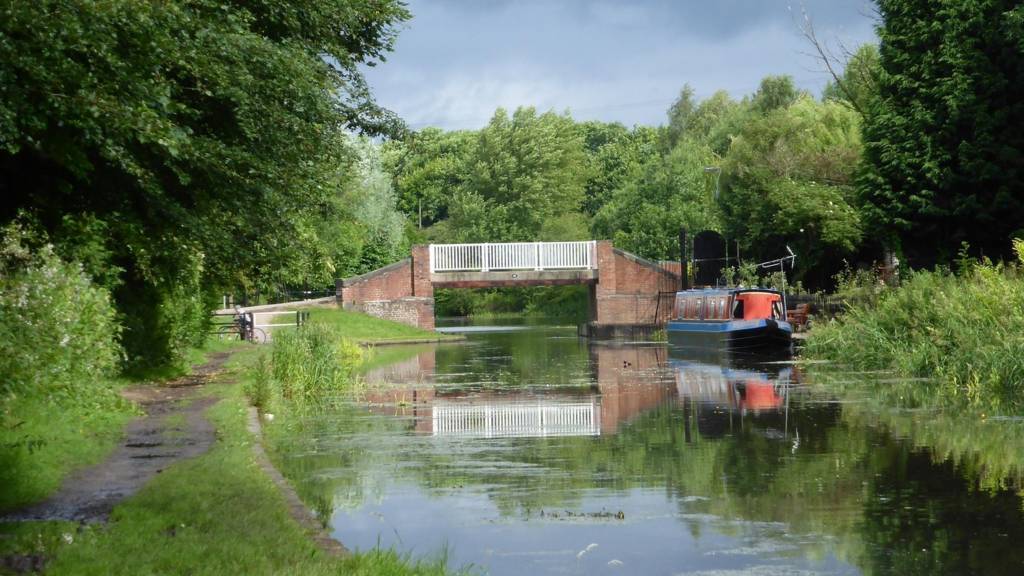 Latest updates: Nottinghamshire Live
Summary
Former judge jailed over will forgery
SPOTY Unsung Hero' being forced out' of gym
Mum to sue trampoline park after son's injury
Prison officers suspended over police probe
Notts County out of FA Cup after defeat
Updates for 21 December 2016
Our live coverage across the day
That's all from us for today. We'll be back with more at 08:00 tomorrow.
Weather: Getting cold tonight

Kay Crewdson
BBC weather presenter
Staying dry through the evening and overnight with clear skies and lighter winds.
This will cause temperatures to drop quickly, with frost and a few fog patches possible through the early hours.
Cricket: All-rounder returns for T20

Nottinghamshire have this afternoon announced that Australian all-rounder Dan Christian will return to the club as one of their overseas Twenty20 players next year. 
Christian captained Notts to Finals Day last season, and it seems likely he'll skipper the side in the shortest form next season.
The 33-year old hit three half-centuries for Notts last season, including one of just 16 balls, against Leicestershire. 
Couple admitted charges against them

Sandish Shoker
BBC News Online
During their trial last month Mrs Hampshire pleaded guilty to fraud and two counts of forgery while her husband admitted one charge of forgery, in writing the fake will, and two matters of theft.
The couple had also taken £23,000 from another relative to convert the house belonging to Mr Blanche and a neighbouring cottage into a larger house.
A hearing will be held next year to determine whether the Hampshires should pay any financial compensation.
Woman worked as judge during fraud and forgery

Sandish Shoker
BBC News Online
The pair, from Essex, doctored the will of Mr Blanche, who lived alone, in order to wrangle ownership of his cottage near Newark. 
The offence happened while Margaret Hampshire was still working as a tribunal judge.
Jailing her, judge Gregory Dickinson said: "You abused your knowledge and experience gained as a solicitor, forgetting or ignoring the need to act with integrity."  
Couple jailed for will forgery

Sandish Shoker
BBC News Online
An ex judge and her husband have been jailed for six months for forging a will to get their hands on a Nottinghamshire cottage.
Former solicitor Margaret Hampshire, 69, and her husband, 67-year-old Alan Hampshire, had admitted drawing up a sham will for illiterate Martin Blanche, who died in 2007.
Jailing the couple at Nottingham Crown Court, a judge described their crimes as "shameful and astonishing" and said they "abused" their positions of trust and authority.
Travel: Traffic slow in city centre

Latest headlines for Nottinghamshire

Sandish Shoker
BBC News Online
The city council has offered to help an award-winning boxing coach find a new gym after he said he was being forced with eviction
A new 24-hour urgent care centre has been officially opened in Newark after a campaign for improvements
Cricket: Australian all-rounder Dan Christian will return to Nottinghamshire as one of their overseas T20 players next year
Good news for boxing coach

Sandish Shoker
BBC News Online
It seems Marcellus Baz's struggle to find a permanent boxing space has moved on very quickly this afternoon.
After seeing BBC Sport's article, Nottingham City Council, which has not had any involvement in the tenancy issue, has offered to find him a new venue.
A spokesman for the council said: "We're aware of this situation and are already exploring possible alternative premises which could be suitable for Mr Baz to continue his work with the community in St Ann's."  
Extra police in Arnold after assault on teenager

Sandish Shoker
BBC News Online
Extra police officers are being drafted into Arnold in the run up to Christmas because of a serious assault last Friday. 
A 16-year-old boy ended up in hospital after being attacked on Front Street and today police charged an 18-year-old with assault and possession of an offensive weapon. 
The force has called the attack a "rare event" and anyone causing trouble in Arnold will now be asked to leave the area.  
Have you sent your cards?

Sandish Shoker
BBC News Online
I've just received my first Christmas card of the year from a colleague. 
Starting to feel all Christmassy now....
Travel: Accident causing problems in city centre
Coach hoping for council support

Sandish Shoker
BBC News Online
I really hope the local authority can support us with a place - with a permanent home we can double or quadruple what we are already doing. There is so much more good we can do...I want to run more workshops, improve on what we are already doing."
Coach looking for permanent space in St Ann's

Sandish Shoker
BBC News Online
Mr Baz won the award on Sunday for his work with vulnerable children across Nottingham. 
But tenancy issues, and problems with other groups who use the space at his St Ann's base, mean he is now facing eviction.
Mr Baz told BBC Sport he had been offered other spaces to use in Nottingham, but while he appreciated those, he needed a gym in St Ann's where he holds his biggest sessions. 
They're attended by more than 50 young people.
Nottingham Unsung Hero winner 'forced out of gym'

Nottingham boxing coach, Marcellus Baz, is being forced out of his gym, just 13 days after winning the BBC's national Unsung Hero award.
Council working to fix fault

Sandish Shoker
BBC News Online
While lights on Hucknall High Street continue to shine brightly, residents told BBC Radio Nottingham this morning the Market Place tree was looking bare and "a bit pathetic".
Ashfield District Council said the lights had not been switched on on the tree and one street column for the last week because of a "technical fault".
A council representative said they had identified the fault and contractors were working to resolve the issue "as soon as possible". 
Hucknall residents upset over bare tree

Sandish Shoker
BBC News Online
There's been a bit of uproar in Hucknall with their Christmas lights...or lack of.
Some of the town's lights have been out since last week - leaving this tree in the Market Place looking a little miserable.
The lights broke just a week after they were switched on by Olympic gymnasts Becky and Ellie Downie. 
Thousands spent on new centre

Sandish Shoker
BBC News Online
The new centre will be open 24 hours and seven days a week. 
Its revamp has cost £700,000, although campaigners claim very little has changed at the hospital since a minor injuries unit opened. 
Travel: Roadworks causing delays in city centre
Doctors say new centre will bring services together

Sandish Shoker
BBC News Online
Dr Andy Haynes, medical director at the Sherwood Forest Hospitals Trust, said the new-look centre would now bring together the minor injuries unit and the GP out-of-hours service. 
He said their service would now be "more streamlined" and would make a difference to patients with professionals all in one place. 
He also said it was unlikely the centre would ever shift back to an A&E department despite continued calls from campaigners.
Newark's urgent care centre reopens

Simon Ward
East Midlands Today Reporter
The new Newark urgent care centre has officially reopened this afternoon. 
It was downgraded from the hospital's A&E to a minor injuries unit in 2012 but health campaigners were not happy about that.
Fire destroys first floor of Clifton house

Sandish Shoker
BBC News Online
Nottinghamshire Fire Service has shared photos of a fire in Glenloch Drive, Clifton last night.
It was called out at 21:20 and found an upstairs bedroom was "well alight" with the fire having spread to the attic.
No-one was injured in the fire but the first floor and attic were severely damaged.
No chance of a white Christmas

Sandish Shoker
BBC News Online
OK I've just checked the weather forecast for Sunday and it's disappointing.
It's expected to be 13C...That's definitely too warm for snow!
Lorry driver dies in M1 crash

Sandish Shoker
BBC News Online
The M1 southbound was closed for several hours yesterday after a crash near Leicestershire.
It involved two lorries and police have now told us one of the drivers has since died. 
The man, a 41-year-old man from Stoke-on-Trent, was taken to hospital by air ambulance but died later.
Gritters out as temperatures expected to drop

Sandish Shoker
BBC News Online
Nottingham City Council says its gritters will be out tonight as temperatures are expected to drop to below freezing.
Could snow be on its way in time for Christmas?? 
Prison officer arrested after probe

Sandish Shoker
BBC News Online
We told you briefly about a Nottingham prison officer being arrested and seven others suspended from duty over a police investigation.
BBC News Online now has more on this.
The Prison Service confirmed eight people had been suspended from HMP Nottingham but said it would be "inappropriate to comment further" while a police investigation was ongoing.
Your photos: Beautiful sunrise over Nottinghamshire

Today is the winter solstice, a pagan tradition which marks the start of the longer days leading up to summer solstice in June. 
And there were some lovely sunrises about this morning too. Here's one from East Leake.
Travel: Road reopens after crash

Park Lane in Sutton Bonington has now reopened. It was shut after a serious accident at midnight.
GP surgery reopens after improvements

A GP surgery in Mapperley which was shut down by the Care Quality Commission after it was deemed "inadequate" has reopened. 
Officials closed the Mapperley Park Medical Centre in September over continued concerns about staffing levels, infection control and record keeping.  
The practice said it is now addressing the CQC's concerns and reopened to registered patients on Monday.
Latest headlines for Nottinghamshire

Sandish Shoker
BBC News Online
Council investigating trampoline complaint

Sandish Shoker
BBC News Online
Mansfield District Council said its environmental health team is investigating Mrs Jukes's complaint and it expects all businesses to comply with health and safety legislation.
British Gymnastics and The Royal Society for the Prevention of Accidents (RoSPA) has called for more safety regulations at these trampoline parks.
A safety manager at RoSPA, David Walker, told the BBC that waivers "have very little effect at all" and many trampoline parks are working to ensure the risks for all jumpers are reduced.
Trampoline park defends safety procedures

Sandish Shoker
BBC News Online
Oliver had been due to go on his first holiday abroad to Lanzarote on Boxing Day and says he can't now, which has "ruined Christmas".
Now his mum Amanda from Blidworth wants there to be more safety measures in place at trampoline parks.
The i-Jump centre opened at the start of this month and bosses said they carry out a number of safety checks, with all participants expected to sign a waiver and watch a safety video before jumping.
They said an accident report would be sent to Mrs Jukes this week.
Mum doesn't want others to suffer same 'misfortune'

Sandish Shoker
BBC News Online
Eleven-year-old Oliver had to have surgery at the weekend after breaking his leg at i-Jump trampoline park in Mansfield Woodhouse.
He had been there for a Christmas party with his rugby club but he said when he jumped onto an air bag it failed to soften his fall.
His mum Amanda Jukes told BBC Radio Nottingham: "Everybody is health and safety mad these days, yet you go somewhere like this that's supposed to be a proper place for kids to jump about, and this happens.
"I don't want anyone else to suffer this same misfortune." 
Mum sues trampoline park over injury

Sandish Shoker
BBC News Online
Trampoline parks seems to have become the new craze with them popping up in every town and city.
But a Nottinghamshire mum is taking legal action against one of them after her son broke his leg during a visit.
Magpies miss out on trip to Chelsea

Charlie Slater
BBC Radio Nottingham sports reporter
There will be no early Christmas present for Notts County fans after they crashed out of the FA Cup, losing 2-0 at Peterborough last night.
The Magpies were hoping to squeeze through to the third round of the competition and set up a trip to Premier League leaders Chelsea, but two early goals for the Posh and a missed penalty for Notts saw them lose.  
Watch: Wednesday's weather outlook

A cloudy and breezy start to the day with a small amount of drizzle.
A few brighter intervals will develop ahead of a band of rain through the early afternoon, which could be heavy for a time.
Maximum temperature: 9C (48F)
Pair taken to hospital after car hits tree

Two people have been taken to hospital following the accident in Sutton Bonington.
A car hit a tree on Park Lane at around midnight and one person had to be cut free.
The road is still closed this morning.
Travel: Crash closes Sutton Bonington road

Join us for today's updates

Sandish Shoker
BBC News Online
Christmas Day is getting closer and I've been noticing a lot of houses lit up this year. It seems there has been more than usual.
Here's one house in Nuthall which raises money for charity with its lights display.
If you've decorated your house send us your photos and we'll share the best ones. 
As well as that, we'll have news of a medieval ring that's been found in Nottinghamshire and problems with injuries at a trampoline park.