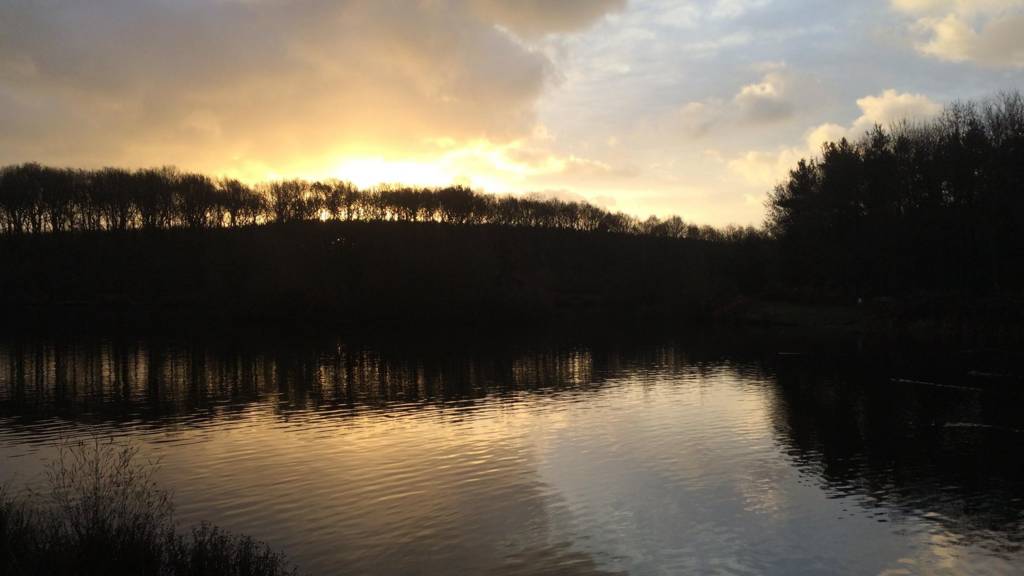 Latest updates: Nottinghamshire Live
Summary
Power cut affects traffic signals and thousands of homes
Man who died in A617 crash named
Teenager appears in court over Sneinton stabbing
Man arrested over historical sex abuse at Nottingham children's home
Injury woes for Forest ahead of tomorrow's game against PNE
Updates for Tuesday 13 December 2016
Our live coverage across the day

That's all from Local Live today.

Join us again tomorrow.

Charlie Slater

BBC Weather presenter

A number of showers around through this evening and the first part of the night before these fizzle out leaving a dry but cloudy night with lows of 8C (46F).

Your pics: December in Notts

It certainly has been colourful so far...

Here's a selection of the best shots we've received this month.

Copyright: BBC Weather Watchers

Thanks to Weather Watchers ValeBelvoir, windyshepherd, Annbie, Emmyloo, JB, Jacquies Walks, Buster9, Phil, GeoBerni, molesend, South of the Trent and Steve A.  

First time patient has contracted 'superbug' at City Hospital

Nottingham University Hospital Trust has issued a statement after a "superbug" outbreak closed one of the wards at the City Hospital.

Two patients are carrying the CRE bug but neither patient has had symptoms or signs of infections.

Both cases are probably linked, the trust said, with one or both probably getting infected in the hospital - the first time this has happened.

Quote Message: The bug is very resistant to many antibiotics and can cause serious infections. We are taking all practicable measures to prevent further cases of this bug. We quickly isolated the two affected patients. We have closed the ward to new admissions, restricted visiting and patient movements from the ward, and enhanced ward cleaning. The importance of washing hands with soap and water has been reinforced to all staff and visitors." from Dr Stephen Fowlie NUH Medical Director

Some properties get power back

It appears as though the power is back on for some.

WPD's map now says 3,987 are affected by the power outage in NG6 and NG8 postcode areas.

Travel: Power cut affecting A610 lights

Power cut affecting over 9,000 properties

Western Power now saying 9,459 properties are affected by the outage.

Travel: Power cut affecting trams

Power cut: List of affected traffic lights

Travel: M1 affected by power cut

The power cut's affecting 17 properties, according to Western Power Distribution.

Check out the power cut map here.

This is what's caused the traffic signals to fail in the area.

Not great as we enter the rush hour.

Travel: Multiple traffic lights out in city

Canning Circus attack man 'not stabbed'

Police have confirmed that a man who was attacked and robbed in Canning Circus at 00:45 this morning was not stabbed.

They issued an appeal earlier today saying the 49-year-old was hospitalised with chest injuries after two men assaulted him.

He was due to be released from hospital this morning, a force spokesman said, adding that he was punched and kicked.

Superbug closes City Hospital ward to new admissions

Travel: M1 slip road delays

Teenager charged with stabbing near Coventry

A teenager, from Nottingham, has been charged after a stabbing in Warwickshire.

A 31-year-old man was treated for a stab wound to his lower back after he was attacked in the Miners Welfare Park in Exhall, near Coventry in October.

The 17-year-old was due to appear at Warwickshire Magistrates' Court today, charged with wounding with intent, affray and possession of an offensive weapon in a public place.  

Breaking

Man who died on A617 named

Such sad news so close to Christmas - the man who died in a crash on the A617 near Hockerton yesterday has been named as Stephen Marshall.

The 58-year-old from Mansfield Woodhouse died during the collision between a van and a lorry at about 08:00 yesterday.

Breaking

Man arrested over children's home sex abuse

A man has been arrested in connection with historical sexual offences at a children's home in Nottingham.

Police confirmed a 63-year-old man had been arrested on suspicion of six offences which relate to five victims in the early 1980s at Hazlewood Children's Home.

The arrest was part of Operation Equinox, an on-going investigation into allegations of historical abuse at children's homes and other institutions in Nottinghamshire.