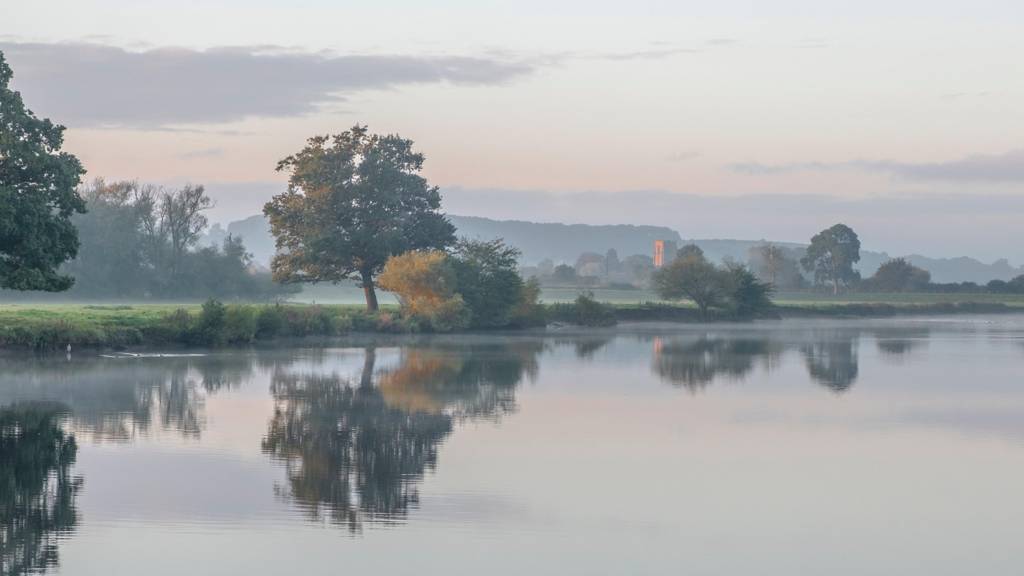 BBC Local Live: Nottinghamshire
Summary
Updates for Friday 14 October 2016
More news, sport, travel and weather from 08:00 on Monday
Our live coverage across the day

Local Live has finished for the week.

Join us again on Monday.

Weather: Patchy rain pushing in

Kay Crewdson

BBC weather presenter

Cloud continuing to increase from the east, with western parts hanging on to some good sunny spells. 

Gentle easterly breeze and highs of 13C (55F).

It'll be cloudy this evening with patchy rain pushing up from the south east through the night - lows of around 10C (50F).  

Latest headlines for Nottinghamshire

Here's this week's final round-up for you:

Bands descend on Beeston for charity takeover

BBC Introducing East Midlands

It's the Oxjam Beeston takeover tomorrow - dozens of bands are playing across the town for charity.

Good luck to all involved - the line-up looks great! 

Coverage on tomorrow night's programme.

Beer festival getting busy already

Sandish Shoker

BBC News Online

Nottingham's Robin Hood beer festival is in full swing this afternoon...

Electric vehicles 'don't solve congestion problem'

AA president Edmund King said giving separate rules for electric cars would "baffle" drivers.

Quote Message: "Incentives for electric vehicles such as use of bus lanes or preferential parking are good short term catalysts but when EVs become mainstream congestion will still be the big issue. We are still somewhat baffled as to how EVs can realistically be given priority at traffic lights" from Edmund King AA president

Forest sale deal 'close' - Fawaz

Forest owner Fawaz Al Hasawi has confirmed that a deal to sell the club is "close".

He wouldn't say who deal was with but we understand former San Diego Padres owner John Jay Moores is likely to take over the club.  

We understand the deal is for 80% of club, with Al Hasawi retaining 20% in the short term.

Electric car route under way

Work on Nottingham's Eco-Expressway - a six-mile route just for electric vehicles has already begun.

Nottingham won a successful bid for £6.1m to build the lane which will be open late next year and connect Gedling to the east of the city.

Copyright: Nottingham City Council

But Defra's changes will give electric cars even more priority in the city.

The new rules might even mean electric vehicles get preferential parking spaces and lower charges in a bid to encourage people to use them.

Electric cars could be exempt from city road rules

Nottingham and Derby could soon be changing the rules of the road for electric car drivers.

They're two of five cities designated to be clean air zones by 2020 because of high levels of air pollution.

Defra has now said that electric vehicles in the five cities could be given priority at traffic lights and exempted from one-way systems.

The government's planned clean air zones are intended to encourage drivers to choose less-polluting electric cars.

Bank of England governor in city

Mark Carney, the governor of the Bank of England, has been in Nottingham today.

He said food prices are going to be the first to rise because of the fall in the value of the pound.

He was speaking at a public roundtable with charities and other third sector organisations in Nottingham earlier.

Cyclist warnings fitted to HGVs

A haulage firm in Huthwaite is one of the first outside London to invest in new technology which warns cyclists when a lorry is turning. 

Taylor and Sons has spent £60,000 turning its fleet into "talking lorries". 

They're designed to warn both drivers and cyclists on the road.

Travel: Train engineering works

If you're planning on using the train over the next few days take a look at this....

Your pictures: Sunrise over Notts

A few of our Weather Watchers were up early enough to catch the colourful sunrise over the county this morning.

Here's Wollaton...

Mansfield Woodhouse...

And East Bridgford.

Mansfield swimmers get freedom of town

Massive congratulations to Paralympic swimmers Ollie Hynd and Charlotte Henshaw, who are set to receive the Freedom of Mansfield after their successes in Rio.

It's the highest honour the town can give to its citizens and has been awarded only four times since the council was formed in 1974. 

Copyright: Mansfield District Council

Ollie, who won two golds and a silver in the pool this summer, said it'll be a memorable moment.

"To have an honour of this level is fantastic but for it to be from my hometown where I grew up and had all my training it makes it that little bit more special," he said.

Metal pole wielding thief robs Post Office counter

Police have released new CCTV footage of what must have been a terrifying armed robbery in a supermarket in Top Valley.

Staff were threatened with a metal pole by a man demanding money at the Post Office counter in McColl's on Bestwood Park Drive West.

It happened at about 13:00 on Friday 9 September.

The man, described as white and about 6ft tall, escaped towards Brownlow Drive.

Weather: Getting cloudier

Turning increasingly cloudy through this afternoon, one or two brighter intervals still in the mix though.

Light easterly breeze with a maximum temperature of 13C (55F).

Appeal to find fraud trial man

Have you seen this man?

Wayne McCreery, 43, of Whitefield, Manchester, failed to appear for a trial at Nottingham Crown Court last month, police have said.

Copyright: Nottinghamshire Police

He was due to face charges of conspiracy to commit fraud and conspiracy to commit blackmail.  

Splendour and Dot to Dot festivals win awards

It was a fantastic awards ceremony for a Nottingham-based company, which runs live music venues and festivals across the country.

At the Live Music Business Awards on Wednesday night, DHP Family scooped two best festival awards for Splendour, held in Wollaton Park, and city centre-based Dot to Dot.

The firm, based in the Lace Market, also won an award for its first London venue, Oslo, in Hackney.

DHP Family also runs Nottingham venues, Rock City, Rescue Rooms, The Bodega and Stealth.