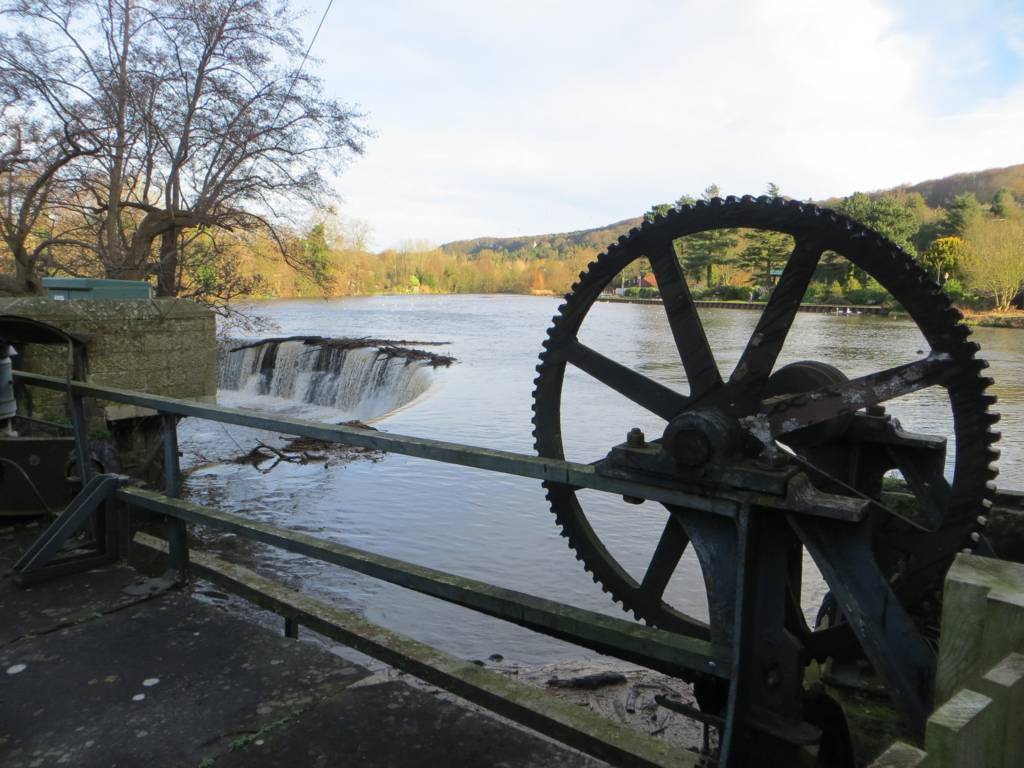 BBC Local Live: Nottinghamshire
Summary
Updates for Tuesday 11 October 2016
More news, sport, travel and weather from 08:00 on Wednesday
Our live coverage across the day

That's all from Local Live today.

Join us again tomorrow.

Kaye Forster

Weather Presenter

There will be a few showers continuing this afternoon and one or two will keep going through the night too. 

It will be a cloudy night and there will be more of a breeze so it won't be as cold as recent nights. Lows of 7C (45F).

Boots job losses 'will devastate' community

Nottingham North MP Graham Allen has said he's "very disappointed" with the news that 700 voluntary redundancies are being offered at Boots.

"This is ordinary people's lives we are talking about. Boots are a vital part in Nottingham's economy and I am pleased that they are committed to staying in the city," he said. 

"However, I hope that Boots will reconsider their decision, as it will have a negative impact on communities, including Nottingham North."

Severe disruption: A1(M) Nottinghamshire northbound

BBC Travel

A1(M) Nottinghamshire northbound severe disruption, between J34 for A614 Bawtry Road and J35 for M18.

A1(M) Nottinghamshire - One lane closed and queuing traffic on A1(M) northbound between J34 A614 Bawtry Road and J35 M18, because of a broken down lorry.

Check local traffic and travel reports for:

Boots: Compulsory redundancies not ruled out

Boots has confirmed that around 200 staff have left the company since it announced it needed to make 700 job losses last summer. 

It said the majority of the staff reduction needs to be made at its Nottingham Support Office site in Beeston.

A spokeswoman said they cannot speculate on whether there will be compulsory redundancies. "We will assess this once the application stage has closed," she said.

Man runs away after trying to rob jewellers

CCTV footage has been released of the moment a man attempts to rob a jewellery shop in Carlton.

It happened on Saturday 1 October at about 09.45. 

The man was challenged by staff and ran away empty-handed.

Police say the man was described as black, of stocky build and about 5ft 10ins tall.

Travel: Still lane closed on A46

Ex-Neighbours star pops in to studio

No, that's not Kylie Minogue, but, yes, that IS Jason Donovan. 

Don't worry, you've not gone back to the '80s, he's starring as legendary record producer Sam Phillips in Million Dollar Quartet at the Theatre Royal in Nottingham tonight.

He popped in for a chat with Verity Cowley on her BBC Radio Nottingham show just now.

Severe disruption: M1 Derbyshire northbound

BBC Travel

M1 Derbyshire northbound severe disruption, between J29 for A617 and J29a for Markham Lane Markham Vale.

M1 Derbyshire - One lane blocked and heavy traffic on M1 northbound between J29, A617 (Chesterfield) and J29a, Markham (Markham Vale), because of a broken down vehicle and surface water.

Check local traffic and travel reports for:

Boots 'remains committed' to city

Quote Message: We are committed to supporting our colleagues through this process and remain fully committed to Nottingham as one of the largest employers in the area. We will continue to invest in the city for example, through the Nottingham Enterprise Zone and also our business incubator, MediCity which is based on our site." from Boots

Hundreds of Boots staff offered voluntary redundancy

Boots has offered hundreds of staff, mostly at its headquarters in Beeston, voluntary redundancy.

Last summer the firm announced 700 non-store based roles would be axed over a three-year period.

Today they've announced they're offering voluntary redundancy to meet the reduction.

The Nottingham Post is reporting that 200 roles have already gone, which means the firm needs 500 people to take redundancy,  

Catalogue of errors at Autumn Grange

Mike O'Sullivan

Reporter, East Midlands Today

The inquest heard about numerous problems at the home:

In July 2012, the Clinical Commissioning Group said there'd been a medication error 
In August, a former member of staff said she was not CRB checked while she worked there 
In October, two residents had been involved in a fight and one of them had been injured and was taken to hospital. Two members of the night staff were dismissed
Later that month, an email from a whistle-blower and that led to the unannounced inspection in November 2012

Ivy Atkin inquest hears of more problems at home

Mike O'Sullivan

Reporter, East Midlands Today

The inquest was told that in February 2012, the home had received a warning from the CQC about infection control, cleanliness and hygiene.

There were also safety concerns about the suitability of the premises and failure to keep records, and the home did not have a registered manager.

At a later inspection in April, the hygiene and cleanliness issues had been addressed but there were further problems, including that a member of staff, who had been suspended, was allowed back to work because the home was short of staff.  

Travel: A46 rolling road-block

There's been anfalseaccident on the A46 heading into the county from Leicestershire. 

There's a rolling road-block in place between the A6006 in Willoughby-on-the-Wolds and the A606 Melton Road in Widmerpool.

'People of Nottingham so helpful'

Sandish Shoker

BBC News Online

In tonight's documentary Jamie visits Caribbean groups in Nottingham and carries out an interview on BBC Radio Nottingham in the hope of finding Leonard. 

"I feel I'm Welsh through and through but knowing I'm born in Nottingham and going round the streets was different," he said. 

"The people were so helpful and that meant a lot to me. There was a lot of tears, a lot of fun and a lot of sadness too."

Being Jamie Baulch: The Search For My Birth Dad, is on BBC One at 23:45 tonight.

Jamie met his mum in 2014

Sandish Shoker

BBC News Online

Jamie traced his birth mother Teresa through a similar documentary in 2014. 

She told him his father was called Leonard, was in his 60s, lived in Castle Boulevard and liked football. 

Teresa was 19 when she fell pregnant but said her parents disowned her and Jamie's dad left her, so she gave him up for adoption. 

She died last month after a battle with cancer.

Olympic athlete's search for his dad

Sandish Shoker

BBC News Online

"I just want to know who I am," says former sprinter and gold medallist Jamie Baulch, who's been searching for his biological father in Nottingham. 

The Olympic athlete was born in the city and adopted by a couple from South Wales when he was six months old. 

Until 2014 he didn't know his birth parents or his father was Jamaican, which he said could explain his speed. 

Now, 43, Jamie's taken his search back to Nottingham and been followed by cameras for a BBC documentary, which airs tonight.

'Residents sat in own urine' at Autumn Grange

Mike O'Sullivan

Reporter, East Midlands Today

After an email from a whistleblower, there was an unannounced inspection by the CQC in November 2012. 

The inspector Lesley White told the inquest that on that day the home was chaotic, residents were sat in dirty clothes, in their own urine, people were screaming and the care records were all over the place, she said. 

Under questioning from the coroner, Mrs White denied she'd missed anything in an earlier inspection in September, saying: "No, a home can go downhill quickly." 

The owner of the home, Yousaf Khan, was jailed for three years and two months in February this year after admitting corporate manslaughter. The inquest continues.

'Chaos' at underweight resident death care home

Mike O'Sullivan

Reporter, East Midlands Today

A Care Quality Commission inspector has told an inquest of the "chaos and screaming" at a care home on the day of an unannounced visit sparked by a tip-off from a whistleblower. 

The inquest in Nottingham is looking into the death of 86-year-old Ivy Atkin, who was severely underweight when she was removed from the home.

Copyright: Family handout

Ivy Atkin, who had dementia, weighed just 3st 13lb when she died, just 18 days after being removed from the Autumn Grange care home in Sherwood Rise, Nottingham.