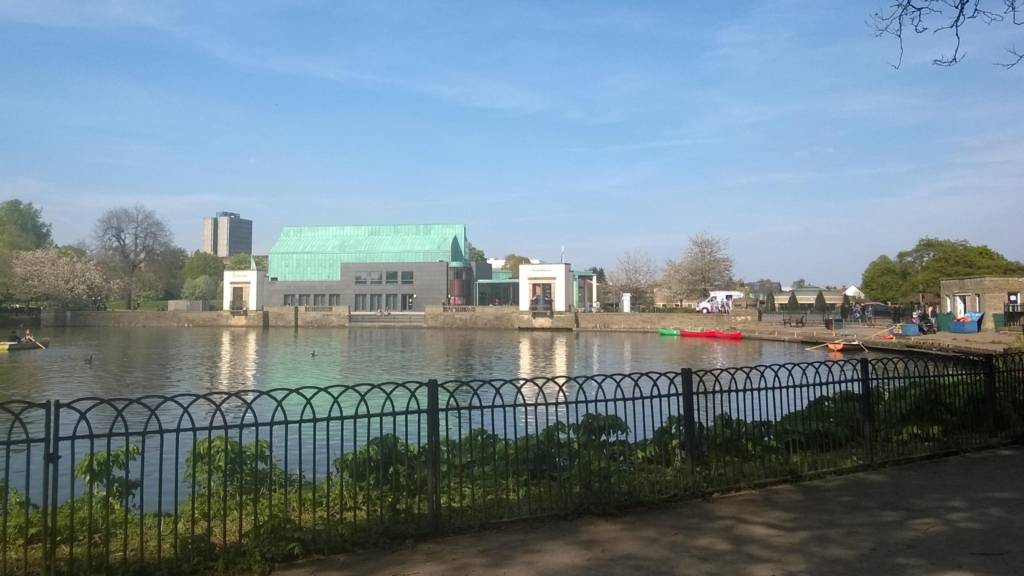 BBC Local Live: Nottinghamshire
Summary
Updates for Monday 26 September 2016
More news, sport, travel and weather from 08:00 on Tuesday
Our live coverage across the day

That's all from Local Live today.

Join us again tomorrow.

Kay Crewdson

BBC weather presenter

Cloudy with showery rain continuing to move eastwards, occasionally heavy although as it's showery there'll be some drier spells at times. 

Gentle to moderate southerly breeze with highs around 14C (57F).

A pair of pigs made a bit of a great escape in Newark earlier...

They fled a small holding near Clay Lane in Newark and were found in nearby gardens.

They've been safely escorted home now, police said.

'I don't get to be a grandmother'

Sharon Brown, Lousie Wright's mum, gave an emotional interview outside Derby Crown Court earlier.

She said the judgement and sentencing was fair.

"I don't get to spend any more time with her, I don't get to spend a future with her, I don't get to witness her being a wife, a mother, I don't get to be a grandmother," she said.

"It's so sad, I miss her so very much, I wish that she was here but I just have to carry on as best I can."

Forest v Fulham a 'must-win' game - Montanier

Forest head coach Phillipe Montanier says tomorrow's match against Fulham is a must-win game after two consecutive defeats.

He adds that Damien Perquis is nearing full fitness again and could be involved.

Power back on at Bulwell hub

Sat Bains is contender for Chef of the Year

The AA has announced the shortlist for its annual Chef of the Year award - and a Nottingham chef is in the running.  

Ghost bike appeared after cyclist's death

A ghost bike and other tributes were left close to the spot where Louise was killed instantly at the junction of Lower Parliament Street and Pennyfoot Street.

Bike death: Judge 'balanced justice and mercy'

Jo Healey

East Midlands Today

Judge Jonathan Bennett said he had to "balance justice and mercy" in sentencing Haywood.

"There are no winners in this particular case," he said.

Lorry driver caused cyclist's death

Sandish Shoker

BBC News Online

Cyclist Louise Wright was killed in the accident two years ago.

During the trial, the jury heard how Haywood was stopped at the lights on Lower Parliament Street when Miss Wright cycled down the left side of his lorry and waited near the front of his vehicle.

Jurors were told it is not illegal for a cyclist to come up the inside of a lorry, but the Highway Code recommends not to do so.

Copyright: Family handout

Notts MP attacks shadow chancellor's 'magic money tree'

At the Labour conference in Liverpool, Nottingham East MP Chris Leslie, a former shadow chancellor, says Labour needs "credible policies that don't send taxpayers running off into the hills."

Driver avoids jail for crash

Sandish Shoker

BBC News Online

Adam Haywood has been handed an eight-month prison sentence, suspended for two years.

He has also been banned from driving for two years, handed 150 hours of unpaid work and told to pay £1,500 in costs.

Driver guilty of cyclist death

Sandish Shoker

BBC News Online

The driver of a brewery lorry has been found guilty of causing the death of a cyclist in Nottingham by driving carelessly. 

Louise Wright, who was 29, was cycling to work two years ago when she was dragged under the lorry at the junction of Lower Parliament Street and Pennyfoot Street. 

Copyright: Nottingham Post

This afternoon, the jury at Derby Crown Court has found Adam Haywood, 31 from Whitwell, Derbyshire guilty. He'll be sentenced later today.  

Magpies legend Sewell dies

One of Sewell's goals for the national team came in 1953 in a game described as the 'Match of the Century', when England lost 6-3 to the Olympic champions Hungary at Wembley. 

He scored 104 goals in 193 appearances for the Magpies and helped them to promotion from Football League Third Division South in 1949-50. 

He transferred to Sheffield Wednesday in 1951 for a record fee at the time of £34,500. 

In total he made six appearances for England, scoring three times, before retiring in 1961. Read more here.

Nottingham station 'average' and 'not large'

A few of you seem to disagree with Nottingham being named the UK's best large railway station...

Pretty much sums today up.

Thanks to Weather Watcher Amie in Nottingham.

Weather: Dry spells between showers

Alexandra Hamilton

BBC Weather

Showery rain will continue to move westwards for much of the day, with drier spells between the showers. 

Highs of 14C (57F).

Strike over job cuts and working conditions

Virgin Trains says, despite the strike, it's running a full timetable on Monday.

The RMT union said the action was being taken over threatened job cuts, as well as disputes over working conditions and safety.

It said talks aimed at resolving the issues had failed and staff had been instructed not to work any shifts between 00:01 and 23:59 BST on the day.