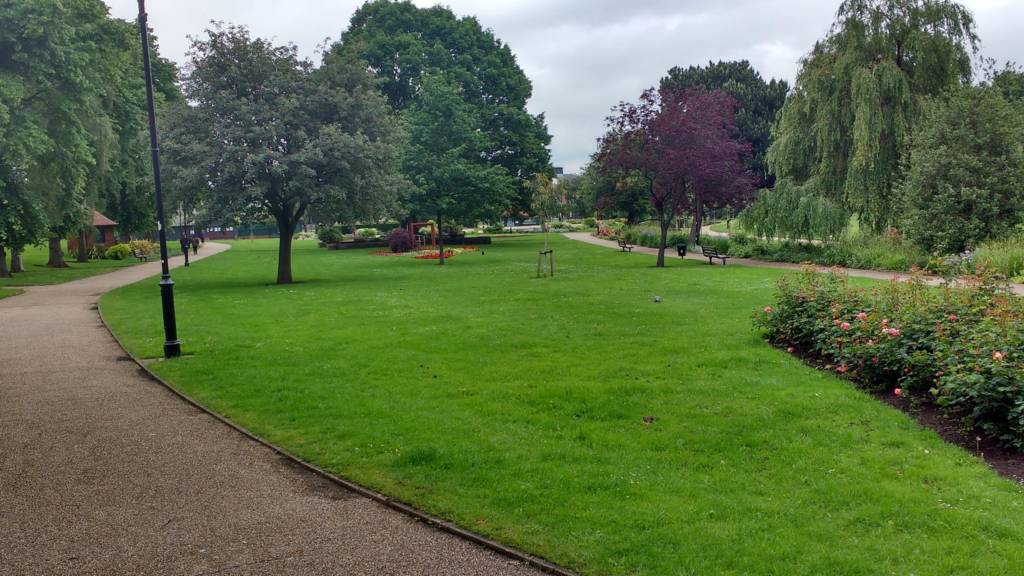 BBC Local Live: Nottinghamshire
Summary
Updates for Thursday 4 August 2016
More news, sport, travel and weather from 08:00 on Friday
Our live coverage across the day

That's all from Local Live today.

Join us again tomorrow.

Weather: Clear spells overnight

Winds become more north westerly to end the day and the showers ease so a drier, fresher feel this evening with any remaining showers clearing overnight. 

Some clear spells developing leading to a cooler night than of late, particularly in more rural areas. Lows around 13C (55F).

Supporters of Labour leadership hopeful meet

Peter Saull

BBC Radio Nottingham Political Reporter

Owen Smith supporters, including Labour city MPs Chris Leslie and Lillian Greenwood, Gedling's Vernon Coaker and PCC Paddy Tipping, meeting in Nottingham today.

New Magpies striker on loan

New Notts County striker Vadaine Oliver says he understands his loan to January is with a view to a permanent deal.

MP demands apology over 'sickening' newspaper joke

Tony Roe

BBC East Midlands political editor

Sick joke in local Nottinghamshire newspaper (circulation around 2,000) prompts call from Broxtowe MP Anna Soubry for an apology...at least.

Lisa Teanby

Newsreader, BBC Radio Derby

A man has been taken to hospital with stab wounds after an assault in Kirkby-in-Ashfield this afternoon.

The victm's injuries are not life-threatening, police said.

A 20-year-old man has been arrested on suspicion of grievous bodily harm.

Teen admits dangerous driving over road death

Alex Smith

BBC News Online

A teenager has denied attempted murder after a pedestrian was hit by a car which failed to stop.

However, James Smith, 19, of Summergangs Lane, Gainsborough, admitted causing grievous bodily harm and dangerous driving at Nottingham Crown Court today.

Nottinghamshire Police said the charges relate to a collision involving a 4x4 on the A631, near Beckingham (pictured), in April, following which the victim, also aged 19, was airlifted to hospital with serious injuries.

Smith was remanded into custody to appear again at the same court on 12 August.

Forest: Pre-match presser

And main points from Forest's press conference with manager Phillipe Montanier ahead of Saturday's game against Burton Albion

He says he wanted to sign Pajtim Kasami two years ago when at Rennes  
Doesn't sound like new signings are imminent
On Assombalonga Notts County rumours: "I need all the players in the squad, but don't want to comment on rumour"
On captaincy: "I need more than one captain/leader on the pitch...you will find out on Saturday!" 
Chris Cohen an injury doubt for Saturday, but Pajtim Kasami fit to play  

Travel: Robin Hood Festival delays

Magpies: Pre-match presser

Main points from Meadow Lane press conference ahead of game against Yeovil Town on Saturday.

Notts County manager, John Sheridan, says he favours a 3-5-2 formation 

He'll tell the players who his captain will be tomorrow.
He intends to play Aborah in a more forward position this season, he says.
He also reveals he still wants to add another player to his squad.
Michael O'Connor is back in training but will not be involved at Yeovil   

The planned EDL march in Nottingham on Saturday has got you talking over on Facebook.

Mark Nffc Shepherd wrote: "There is a time and a place and where is going to be loads of children well that's definitely NOT THE PLACE."

Whereas, Mark Clark said: "Don't agree with their views but they have every right to protest as anyone else. If you want to live in a country that bans that then ill pay for your flight to north Korea or Zimbabwe if you like"

EDL march: Clashes in city in 2009

Nottingham is no stranger to EDL demonstrations: In December 2009 there were violent clashes between supporters of the far-right group and anti-war and anti-fascist protestors near the castle. 

The EDL billed it as a peaceful protest against Islamic extremism but opponents claimed all they wanted to do was provoke community tension.  

Police: March will go ahead

Notts Police has said the English Defence League march will go ahead on Saturday but the situation "remains under constant review".

It said it has a "legal obligation" to keep the public safe and allow peaceful protest to take place.

The force assured people it was taking "all available steps to minimise disruption".

"Having reviewed all available information, intelligence and human rights obligations, the specific conditions required to prevent a planned procession from taking place have not been met," a spokesman said.  

Kay Crewdson

Weather presenter, BBC Look North

Talking of showers ... HELLO SUMMER

Weather: Sunshine and showers

Kay Crewdson

Weather presenter, BBC Look North

Still humid and breezy with cloud, some sunny spells and showers, some heavy.

Winds becoming more northwesterly, so a fresher end to the day.

Listen to this BBC Radio 1 and 1Xtra special on the riots, five years on...

It features untold stories from witnesses.

Nottingham riots: Five years on

We're approaching the fifth anniversary of the worst riots in England since the 1980s.

Violence kicked off in north London, following the police shooting of Mark Duggan.

Trouble spread across the country, including here in Nottingham, where Canning Circus police station was firebombed (pictured) and scores of vehicles damaged across the city.

Our colleagues at BBC Newsbeat have been looking back at those eventful nights in August 2011.

Over on Twitter, you've been having your say about the potential £60 fines for leaving your bin out too long in Gedling.

Cricket: 'Worry' over Hales

Nigel Bell

BBC Radio Nottingham

The former Nottinghamshire and England cricketer Graeme Swann says he's worried about the form of Notts and England opener Alex Hales. 

He only scored 17 yesterday as England made 297 in the third test against Pakistan.