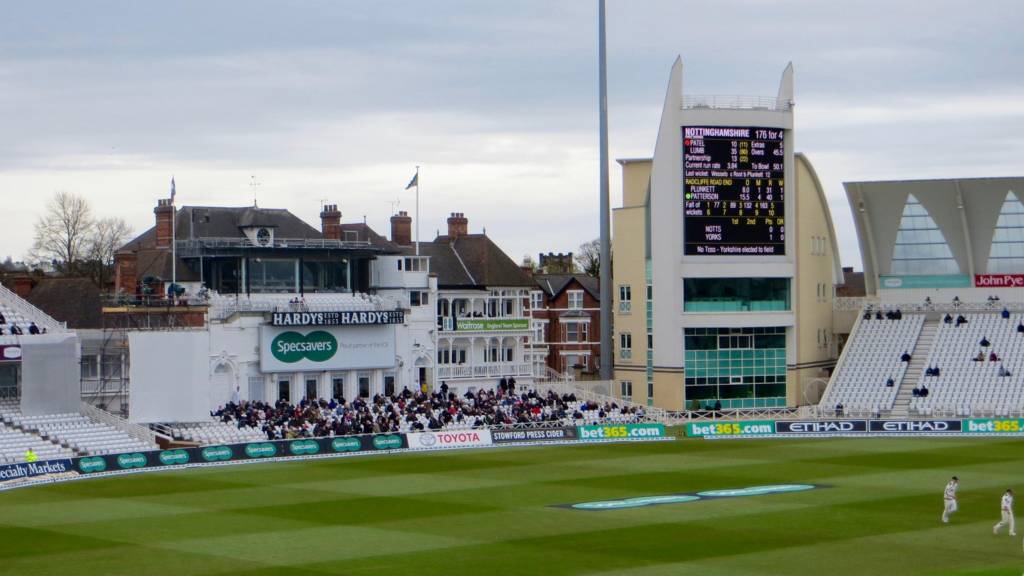 BBC Local Live: Nottinghamshire
Summary
Updates for Wednesday 22 June 2016
More news, sport, travel and weather from 08:00 on Thursday
Our live coverage across the day

That's all from Local Live today. 

Join us again tomorrow.

Weather: Scattered showers

Kaye Forster

Weather Presenter

There will be a few showers this evening but they won't be too troublesome and they will fizzle out into the evening. 

It will remain dry overnight with a fair amount of cloud. It will stay muggy and warm with a minimum temperature of 14C (57F).  

Amnesty organised before city stabbings

Nottinghamshire's first knife amnesty in two and a half years was arranged before a recent spate of stabbings in the city.

It means sharp blades can be dropped off anonymously and it has the backing of Marcellus Baz whose boxing career was ended after a machete attack in the city. 

He said: "There can be very devastating effects where one kid loses their life and another is going into prison for life, and it has a rippling effect on effect on communities."

£27m college building opens

Simon Ward

East Midlands Today Reporter

A new campus at New College Nottingham has been officially opened by city MP Graham Allen.

The development at the college's Basford Hall site has cost £27m.

Arrests after Low Wood Road fatal crash

Three men have been arrested in connection with a crash near Nuthall last week in which a 21-year-old man died.

James Horton, from Warsop, died in the collision and two others were injured on the A6002 Low Wood Road on Friday evening.

The men aged, 37, 19 and 21, who were arrested on suspicion of causing death by dangerous driving, have all been bailed.

Police are still trying to trace the drivers of a DAF lorry and a dark-coloured Renault Megane who stopped at the scene.

Heather Burman

Journalist, BBC News Online

All Brits are out of singles at the Nottingham Open now as Daniel Evans loses 7-6, 6-7, 4-6 to Pablo Cuevas of Uruguay on centre court.

£2K reward to find suspect in jewel theft

Do you know this man?

Matthew Porter, from Boston in Lincolnshire, is sought in connection with a robbery at Andrew Michaels Jewellers in Newark on 6 January.

He was arrested a few days later on suspicion of conspiracy to commit robbery but failed to answer bail.

Copyright: Nottinghamshire Police

Crimestoppers have put up a £2,000 reward for information leading to his arrest. 

Police thought child wouldn't survive

Nottinghamshire Police said the outlook was "extremely bleak" for the child, who they said was not expected to survive.

"However, contrary to all odds, the child did make a full recovery," a spokesman said.

They went on to say the case was "distressing and disturbing", with the court being told there were about 40 marks on the child's body "consistent with physical abuse".

Rare gull breeds in Notts for first time

Birdwatchers are said to be flying high after a rare breed of gull bred successfully in Notts for the first time.

A young Mediterranean gull chick has been spotted amongst a black-headed gull colony on Clifton Pond at Attenborough Nature Reserve.

Copyright: Nottinghamshire Wildlife Trust

Originally from the Black Sea and the Mediterranean, the gull has bred on the south and east coasts before but this is a first for Nottinghamshire.

Throughout early May one of the Mediterranean gulls could be seen sitting on what appeared to be a nest but it became hidden from view by growing vegetation.

Man jailed for 'waterboarding' child

A Nottingham man who almost killed a child in what a judge described as a "waterboarding" episode has been jailed for 13 years and three months.

Earl Jason Romans, 29, forced his victim to consume over five pints of water in a short period of time, medical reports showed.

Copyright: Nottinghamshire Police

Romans pleaded guilty to grievous bodily harm with intent against an infant child during his trial at the city's crown court yesterday.  

There's heavier than usual traffic on the M1 southbound before junction 24A.

Travel: Crash outside city centre

Mansfield and Ashfield worst for OAP abuse

Ex-police officer's crimes 'shocking'

More now on Anthony Critchley, the 64-year-old former Nottinghamshire Police officer who has been jailed today for sex offences against a boy in the 1970s.

The court heard how the victim and his mother trusted Critchley because of his position in the force.

Det Insp Amy Styles-Jones, of Nottinghamshire Police, said: "This is a shocking example of how a serving police officer took advantage of his position and abused a young and vulnerable person whom he had made contact with through the course of his duties."

Tennis: Baghdatis victory

Heather Burman

Journalist, BBC News Online

The crowd erupts as Baghdatis wins first match 1-6, 7-6, 6-4 at the Nottingham Open.

The Cypriot lost the first set to Sam Querrey, of USA, 6-1.

He returned in the second set to win 7-6 after a tie break, much to the delight of the crowd on centre court.

Missing opus not in archive

The sheet music for the missing wedding march is nowhere to be found.

"I've looked through all the opus lists and I can't identify it myself from the music scores in the archive. But I'll just have to keep hunting," said Sarah.

Mystery of missing wedding march

Sarah Bradwell, who's campaigning with a group of Gaze Cooper's former pupils and musicians to bring him back into people's memories, is also searching for a lost piece of music.

He composed a wedding march for her parents' wedding, which was played on the organ at Sawley church, and at her own wedding.

"My daughter's getting married next year and she would like it played at her wedding but sadly we can't find it," she said.

Latest headlines for Nottinghamshire

The family of a Nottingham composer are campaigning for him to be more recognised for his work
Nottingham is to hold its first knife amnesty in almost three years

Former police officer sentenced for historic sex offences

Eric Simpson

BBC News Online

I've been down to Nottingham Crown Court where a former Nottinghamshire Police officer has been sentenced to two years for sex offences from the 1970s.

Anthony Critchley, 64, from Wollaton, was convicted of three counts of indecent assault and one of indecency with a child.

The offences were committed against a 13-year-old boy during bird-watching trips while he was off-duty in 1974.

The judge, Rosalind Coe, said the offences were a severe breach of trust by Critchley, who was aged 22 at the time.